I have a little car lover at home and for a while I have brainstormed a creative car craft for kids to enjoy during school break.
I love DIY projects with toilet paper rolls because everyone has got them and nothing brings me more satisfaction that re-purposing something that otherwise would be thrown away! And they turn out so cute, like our paper roll unicorn craft here.
If you have any racing car admire in your house, this is a great way to get their creative hands working on a cool project.
I know many schools also have a transportation art and craft week or month theme so if you are wondering how to make a simple car for school project this project is perfect for you too!
The best thing is that you can make as many as the kids want and have a real racing car collection. Perfect to play on your racing track carpets.
So read on to learn how to make your very own racing car crafts for preschoolers.
For more wonderful crafts for kids, check our craft page here!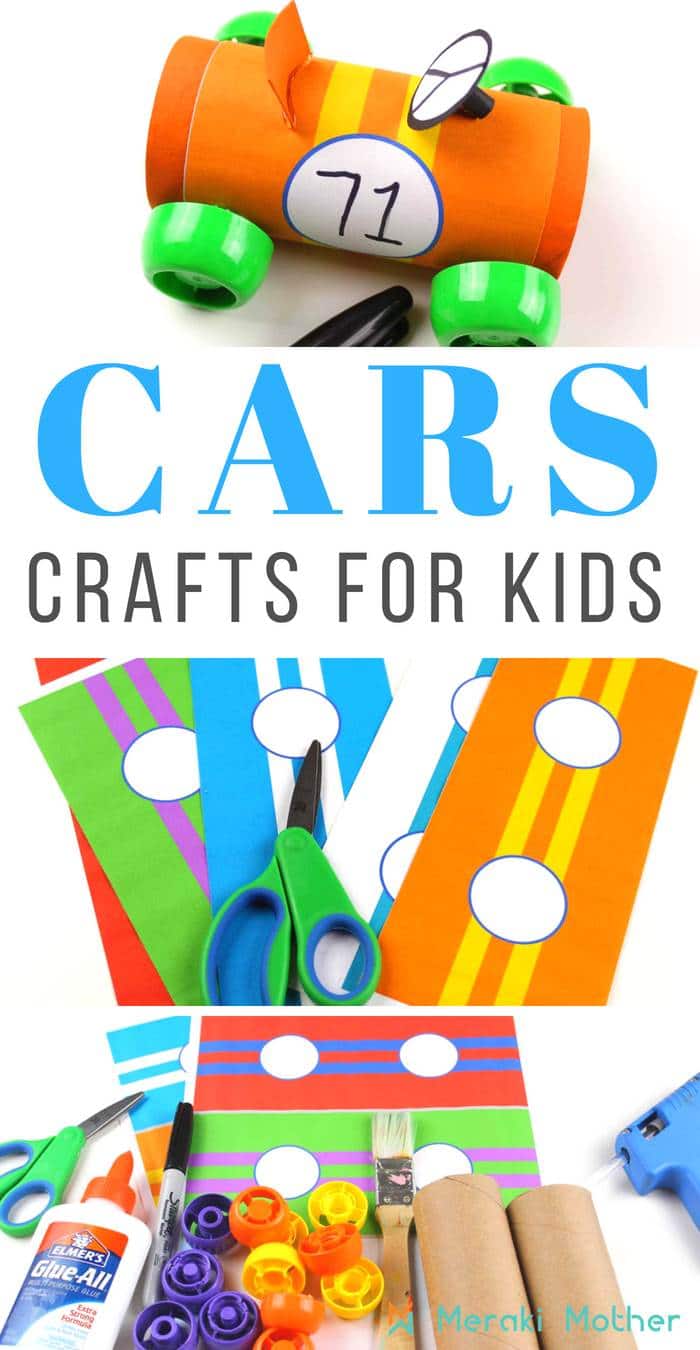 Racing Car Craft For Kids
Supplies:
Glue
Hot Glue
Scissors
Black Marker
Paint Brush
Paint
Applesauce Caps
Toilet Paper Tubes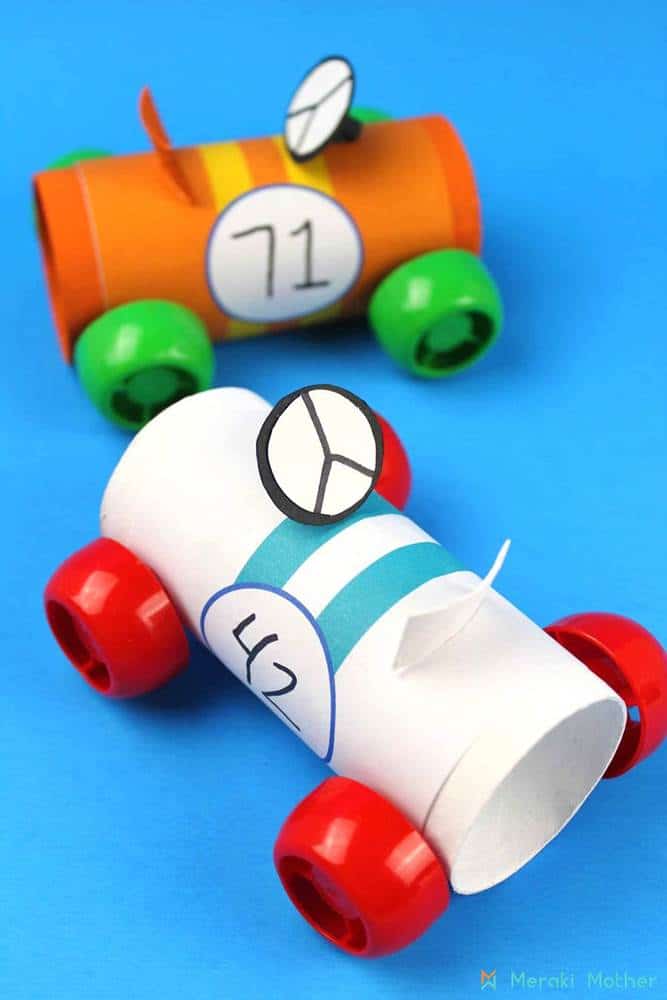 Instructions:
First download and print out the racing stripes car craft templates.We have 2 options so download number 1 here and number 2 here.
Now cut the stripes into sections using your scissors.
Note that some toilet paper rolls are a larger than others, measure and adjust the size of your printable to suit the length accordingly.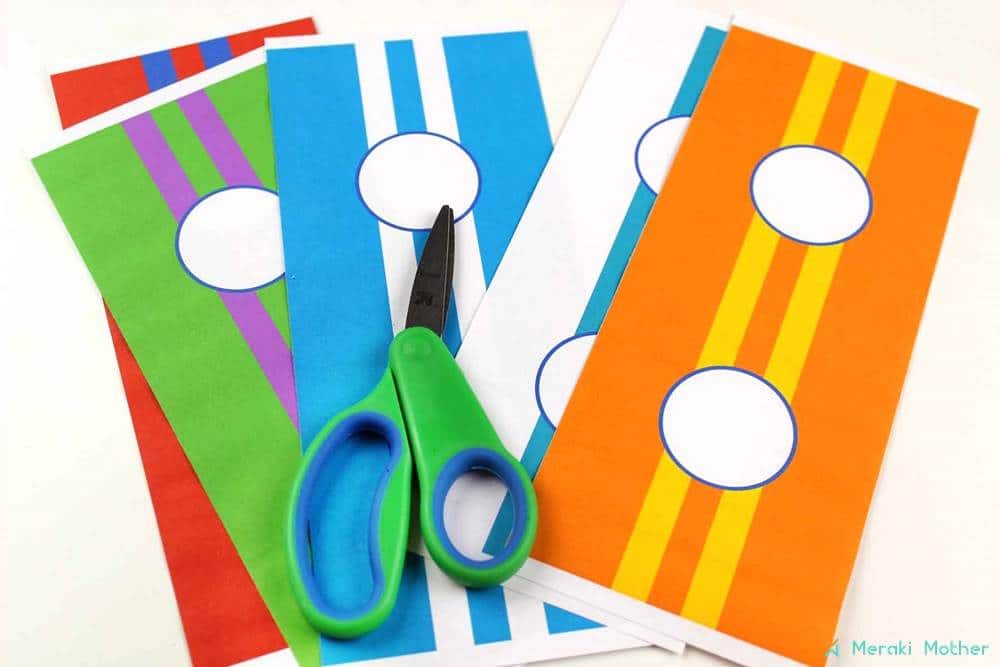 Using a paint brush, paint your toilet paper tubes to match the color of the stripes or any other color you prefer. To cover the cardboard with kids craft paint it will require 2 or 3 coats. Allow the paint to dry completely.
Tip: you don't need to paint the middle since you'll be covering it with the racing stripes next.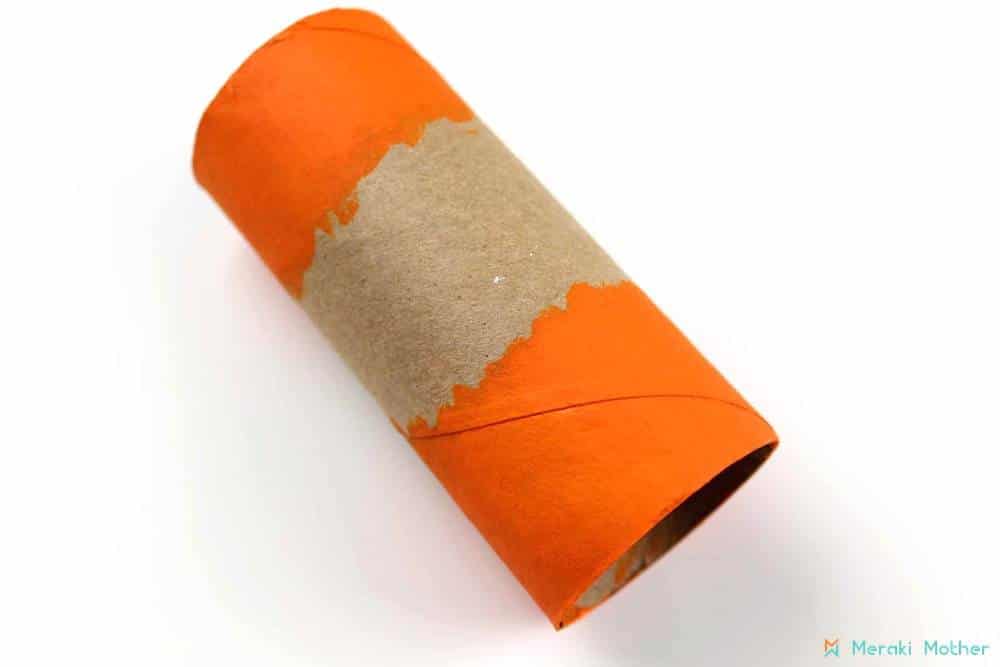 Wrap the racing stripes around the tube and secure with glue.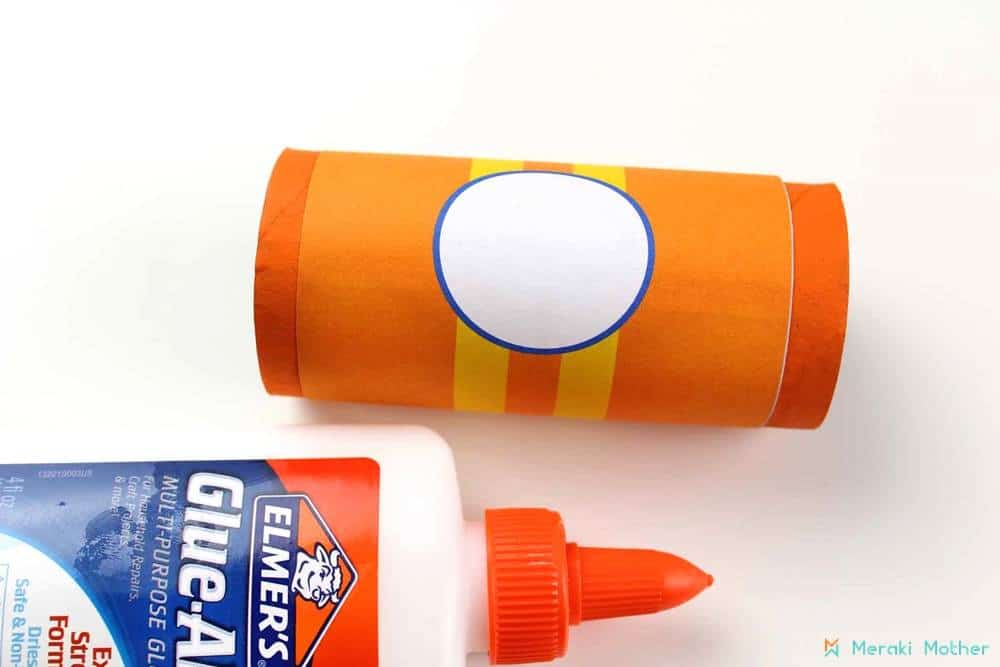 Use a hot glue gun to glue applesauce caps onto the toilet paper tube to make the wheels.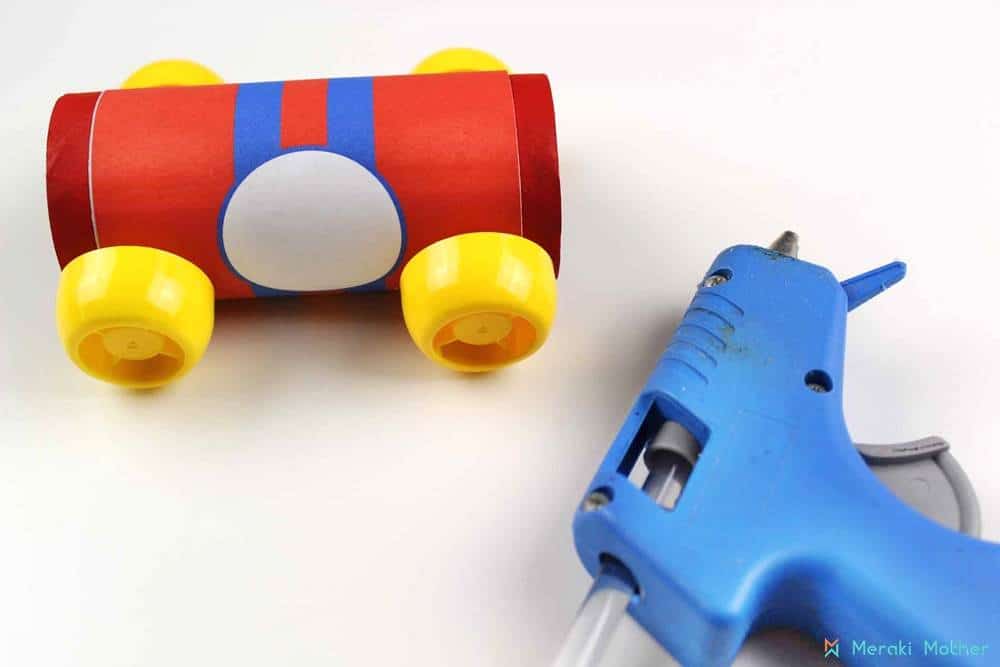 Cut small rectangles from an extra toilet paper tube. Cut a bit of a curve into one end.
Paint the rectangles the same color as you painted your car.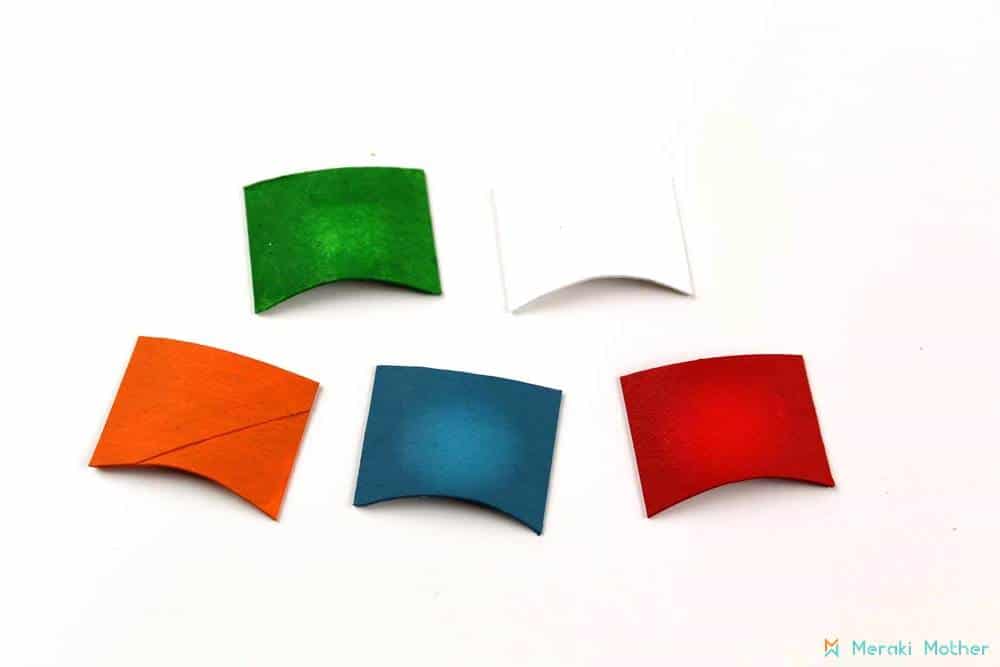 Cut circles from the cardboard tube and flatten them well. Paint them black and allow the paint to dry completely.
Cut a white circle just a bit smaller than your black circle. Glue into the center of the black circle.
Use a black marker to add detail to the steering wheel.
Cut tiny strips of cardboard from the toilet paper tube and roll up. Secure with glue and then paint them black.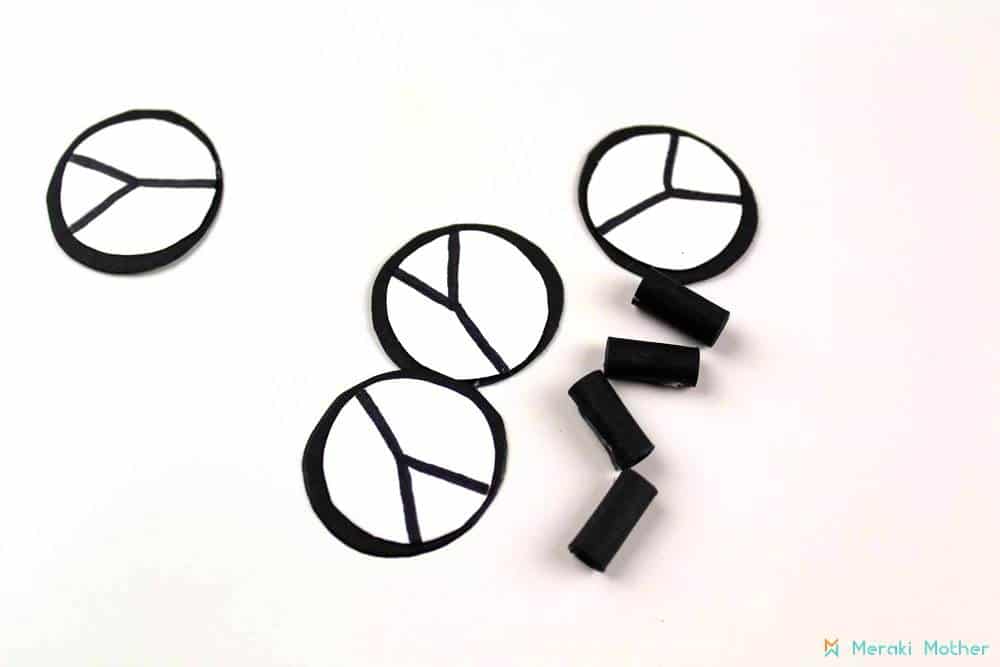 Glue the steering wheel pieces together and then glue onto the toilet paper tube car.
Glue the seat rest onto the toilet paper tube car.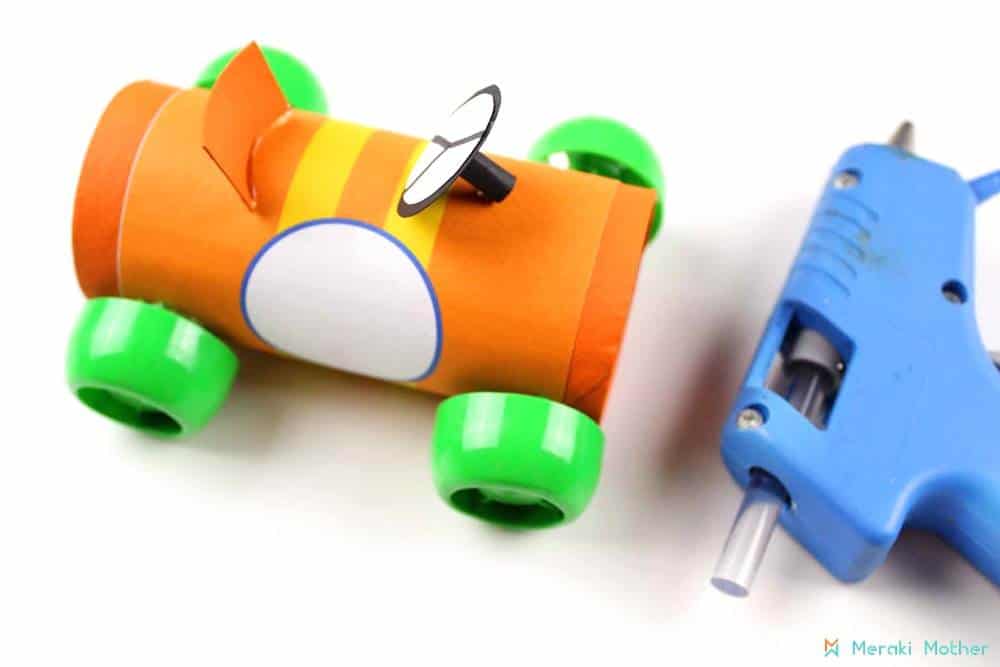 Use a black marker to add your lucky number to the car and then your craft is finished!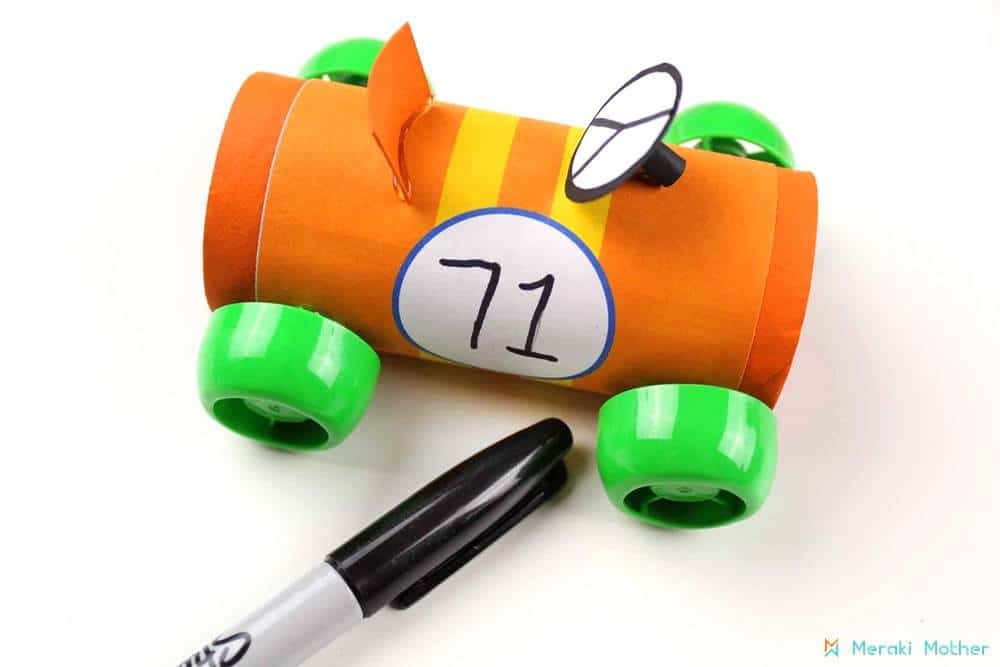 How cool are these cars?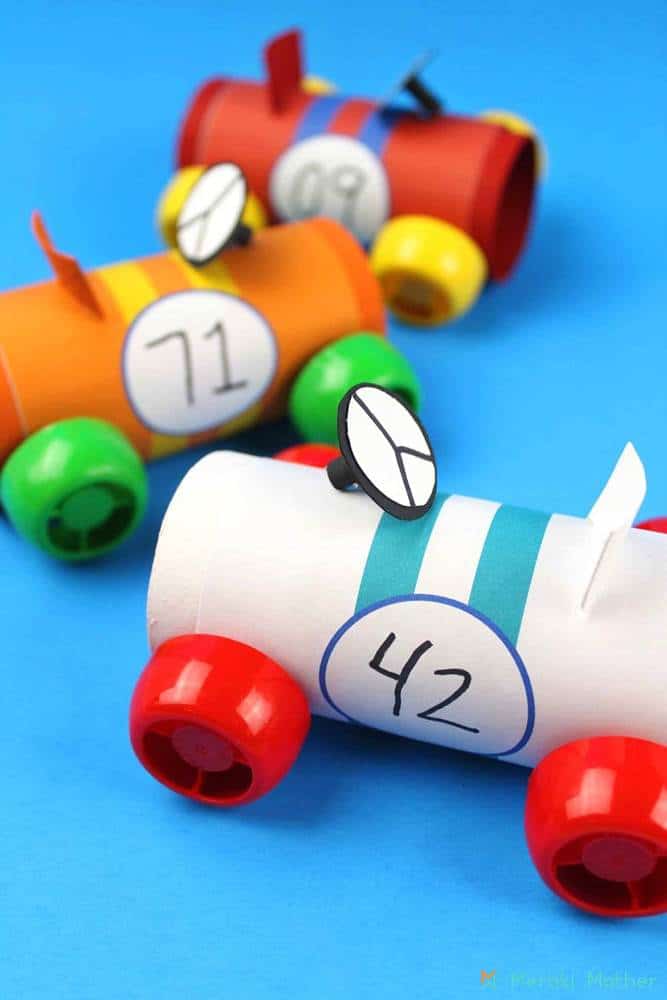 Road Traffic System Playmats
Here are our favorite racing tracks and road traffic play mats:
1. Melissa & Dough Speedway Race Track Rug
2. Toddler's Racing Games Carpet
---
I hope you enjoyed making these Racing Car Craft For Kids. More Fun activities for kids and preschoolers that you might like: