These sheet pan steak fajitas are the perfect quick and easy weeknight meal that will please the whole family.
If you ask my kids what they want for dinner, THIS is what they will tell you they want! Sheet pan steak fajitas! Well, they'll say "burritos" because they're kids, but this is what they mean. I have a major carnivore in the family (she's 7), and she just loves to eat the meat plain. It's her favorite food.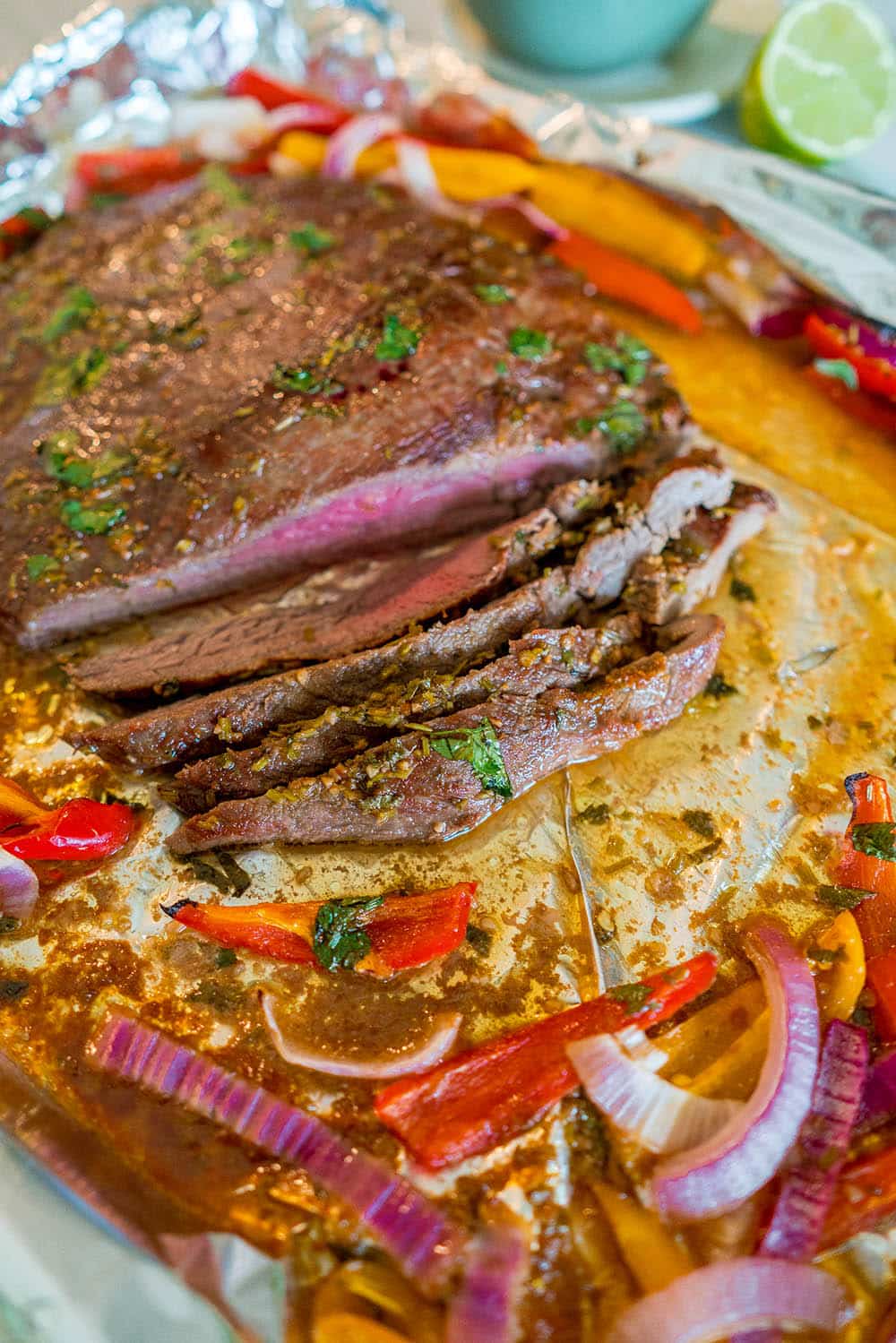 The thing I love about these steak fajitas is that they can be mostly prepared in advance. I'm a busy mom and like to make meals that I can get ready in under 30 minutes on a busy weeknight. I try to prepare most of my meals for the week in one go and I usually like to make 2 of them: One for this week and one to pop in the freezer for next week or in a few weeks. This strategy has been a total lifesaver.
One more thing I love about this recipe is that in only requires ONE PAN!! I love baking dinner on these Nordic Ware Baking Sheets. I've seriously had mine FOREVER so they really hold up. And if you use foil on the pan, the clean up is seriously so minimal that you will thank me!
Picking out your steak
The real key to getting this recipe right is picking out the right kind of steak. You'll want to use flank steak or skirt steak which is a flat and wide cut of beef. You can find it at most grocery stores. I like to get mine at Costco because they are big, they come in packs of two and are usually a really good price (About $25 for 2).
Once you've selected your steak, you will probably have the rest of the ingredients at home.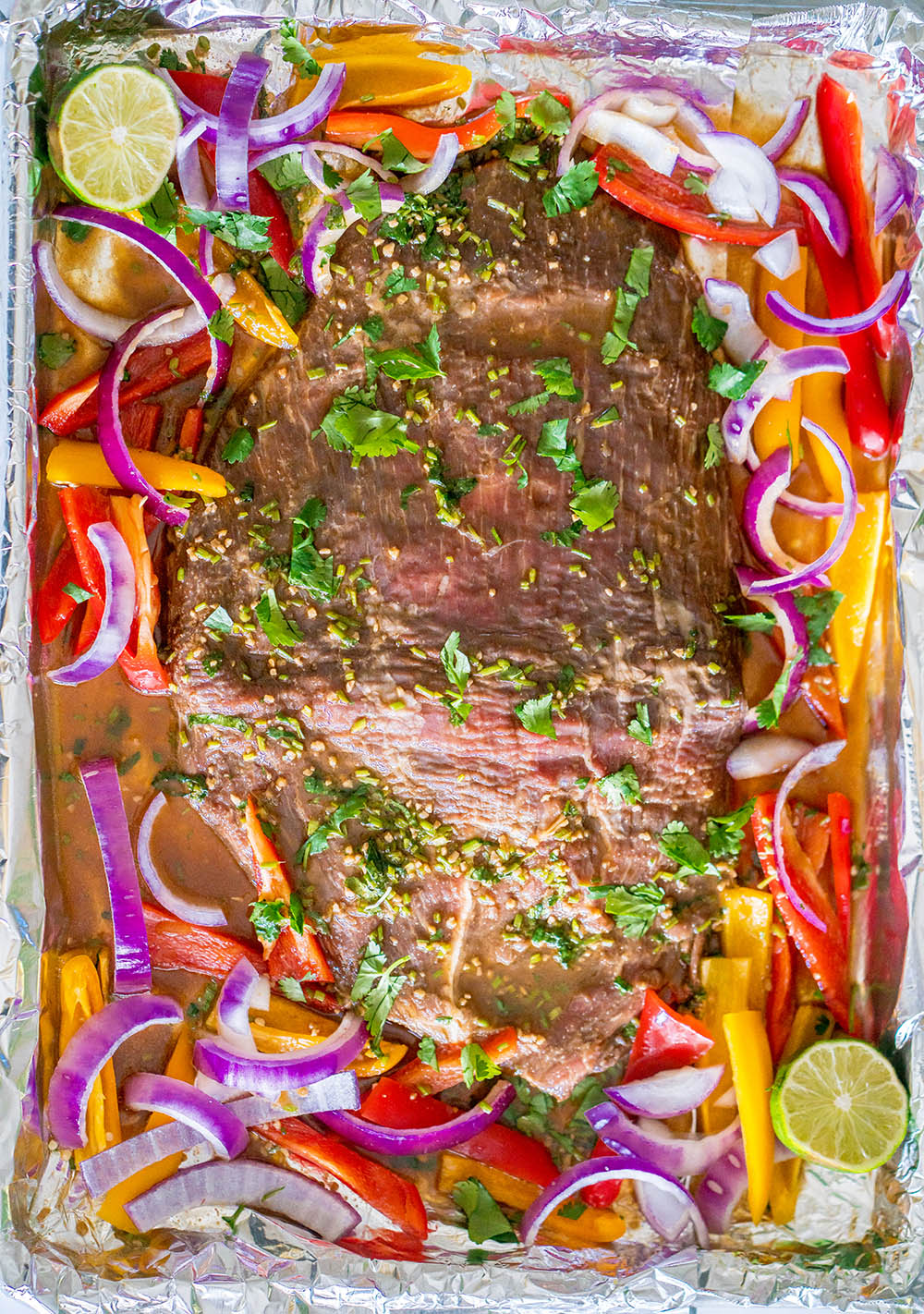 I like to double my marinade and put one steak in the fridge overnight and the other in the freezer for the following week. When I'm ready to make fajitas, I just pull out my bag of meat and let it get to room temp before doing a quick cook on it.
Another amazing thing about these steak fajitas is that everything is cooked in ONE pan! You know what that means right?! LESS DISHES! You're welcome!
Important things to remember about your sheet pan steak fajitas:
Buy Quality Meat
Marinade at least 6 Hours
Don't cook meat straight from the fridge
Let the steak rest after cooking
Cut against the grain
Sheet Pan Steak Fajitas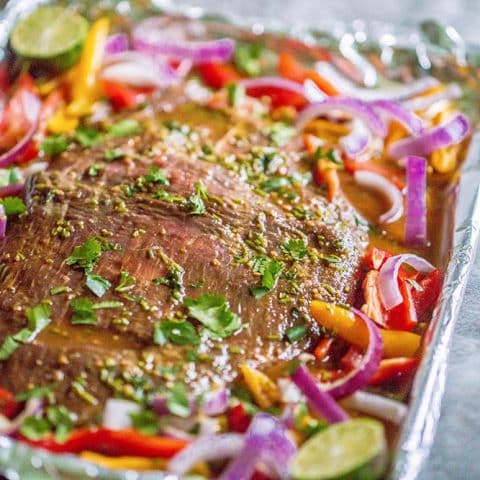 These sheet pan steak fajitas are seriously delicious, bursting with flavor from the marinade and smothered in tasty toppings. But the best part is that they are simple to make, all in one pan in the oven.
Ingredients
Marinade
1 cup lime juice or juice of 5 limes
2 Tbs brown sugar
1/3 cup soy sauce
2 Tbs minced garlic
1/2 tsp chipotle chili powder
2 tsp cumin
1 tsp paprika
2 tsp coriander
1 tsp onion powder
1 bunch of cilantro (stems only, diced)
1/4 cup olive oil
Fajitas
2 lbs flank steak or skirt steak
2 bell peppers
1 large red onion
To serve
Corn or Flour tortillas
Avocado
Limes
Additional chopped cilantro
Cheese
Sweet Corn Cake
Guacamole
Salsa
Sour Cream
Cilantro leaves
Instructions
Mix all marinade ingredients together and pour into a dish or gallon zip lock bag.
Marinate in the fridge for 6-48 hours.
Remove from the fridge for 2 hours until about room temperature.
Preheat Oven to 400. Line a large baking sheet with foil.
Chop onions and peppers into 1/2 inch thick slices.
Place flank steak in the center of the pan and surround with onions and peppers.
Place in the oven for 10 minutes. Raise the temperature to 450 and bake for another 10 minutes. This will put a nice smoky glaze on your steak.
Remove from the oven and let the steak rest for another 10 minutes.
Slice into long, thin strips, against the grain. This will make the steak easier to chew.
Serve immediately in tortillas with garnish.