Looking for a home-made Easter cake?  Take a look at our easy Easter dessert. With its beautiful colors and fun Easter decorations it is sure to be a hit at your Easter event, maybe even the Easter Bunny will hop on over for a slice?
Amazing Easter Cake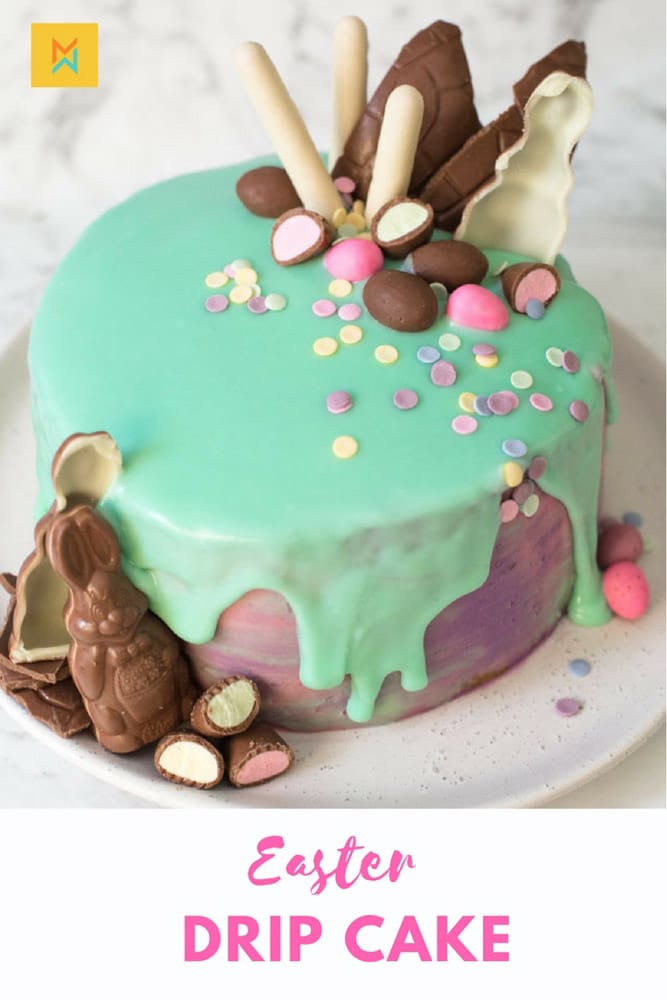 This Easter layer cake may look complicated but you will be surprised at just how easily you can make this cake for Easter dessert. Trust us, it is so much easier than many of the Easter cake ideas you will find.
The first step is to decide on how high you would like your cake. We recommend at least two layers, but if you are planning a big Easter brunch or event, adding an extra layer of two is a great idea.
Next, decide what cake recipe you want. Maybe a white chocolate Easter cake or how about an Easter sponge cake? We love this One-bowl white chocolate cake recipe.
If time is a factor, don't be afraid to buy plain, un-iced Easter cakes from your local bakery. They will probably have some delicious Easter cake recipes and you save time, that's a win-win in our view.
Looking for some gorgeous Easter craft ideas? Check out these amazing Galaxy Easter Eggs here. 
Pastel Rainbow Buttercream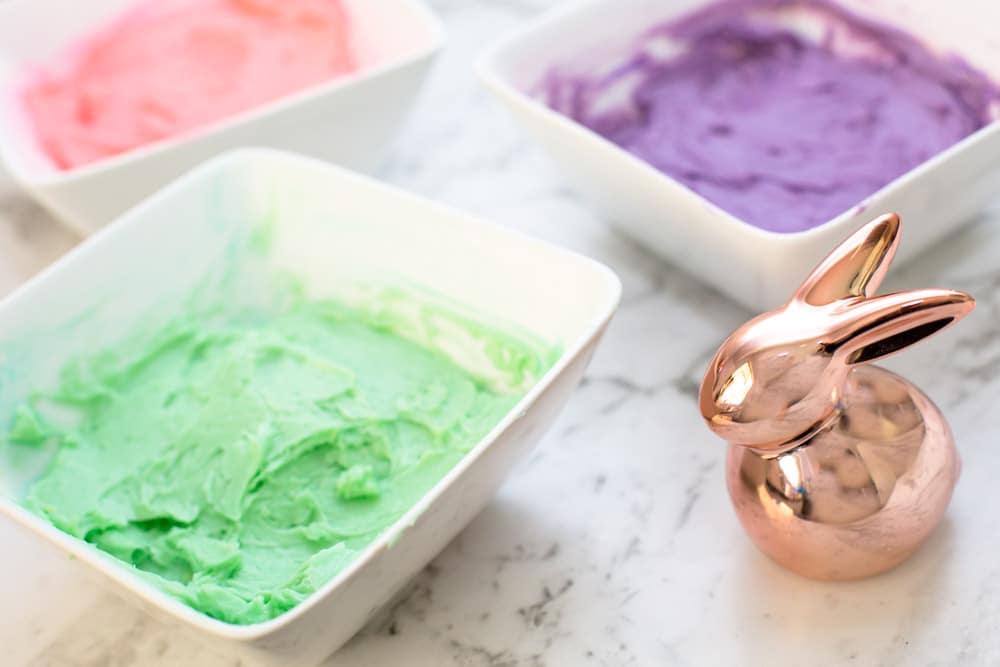 As soon as you have your layers ready you can start decorating. To create our beautiful pastel rainbow effect we used buttercream.
If you already have a buttercream recipe you love, use that or follow the best buttercream recipe here: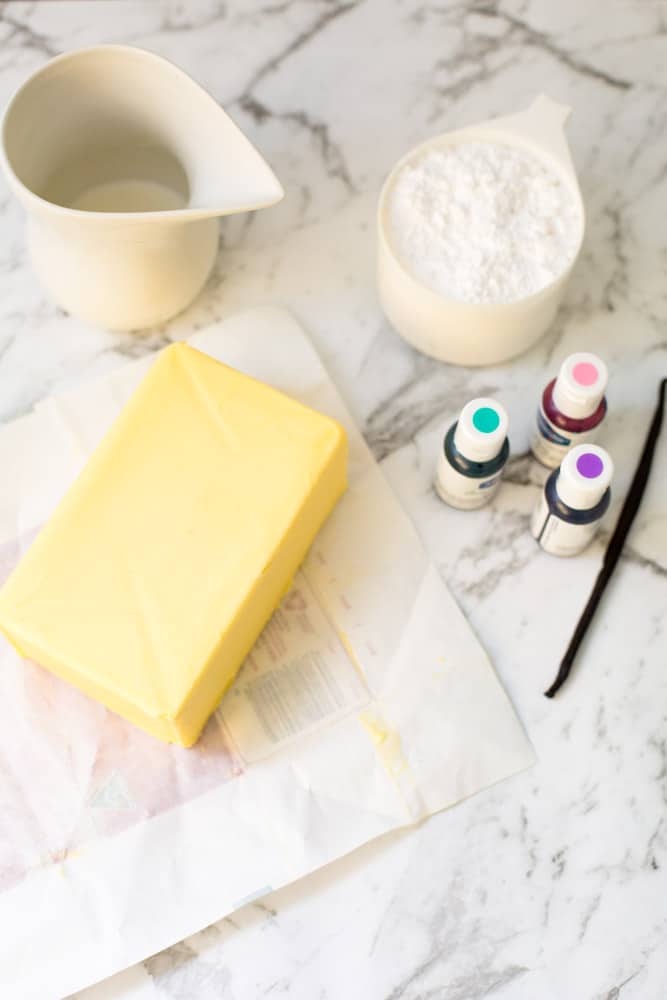 Ingredients:
1 3/4 cup butter, at room temperature
2 1/3 cups icing sugar
1 tablespoon milk
Food coloringcoloring of your choice. We used pink, purple and aqua.
Vanilla essence, to taste
With electric beaters, beat the butter in a bowl until the texture is soft and fluffy. Slowly add the icing sugar until the mixture goes creamy and is a light color. Next, add the milk and vanilla essence, then keep beating until mixture is beautiful and smooth.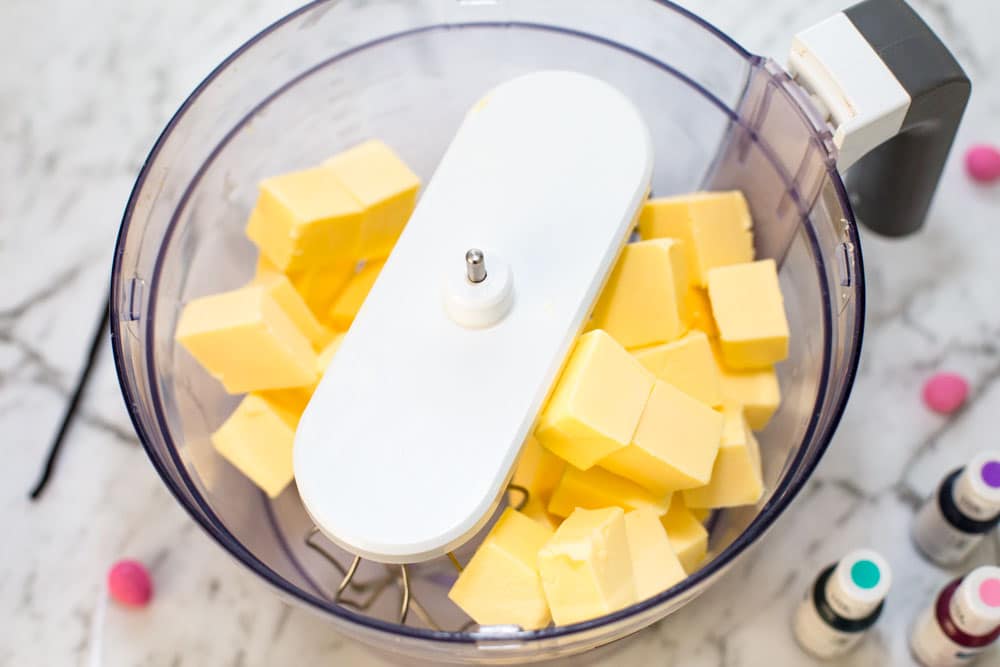 Leave some buttercream aside then separate the remaining buttercream into bowls for each color you have picked. Add the food dye until the cream is the color you want.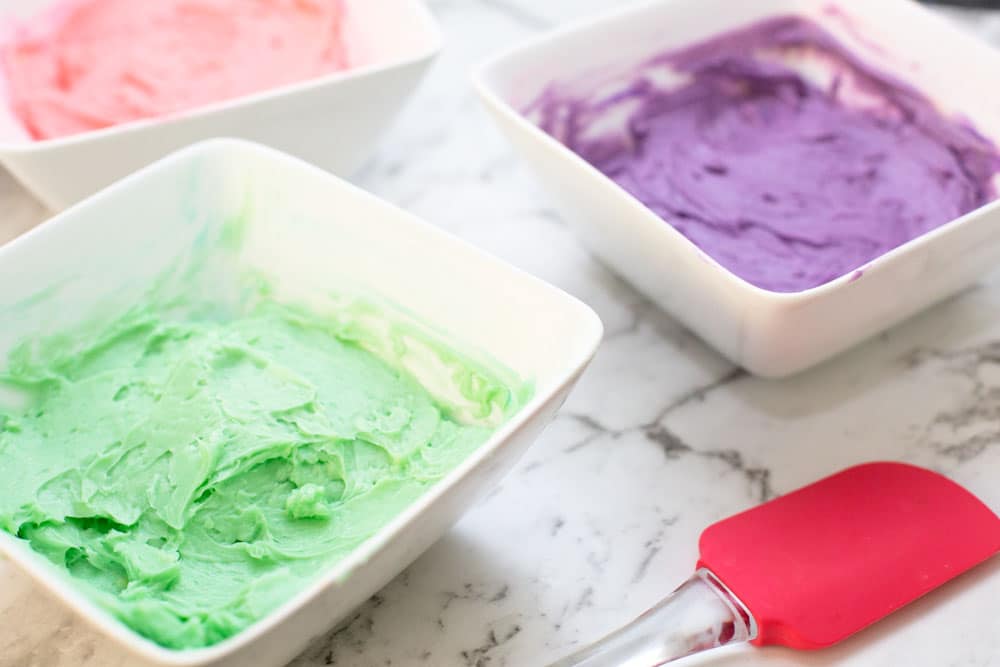 Note:  You may need more or less buttercream, depending on the height of your cake.
How to decorate an Easter Cake
To put your Easter themed cake together. Firstly, cut each cake in half. Make sure that each layer of cake is flat, by trimming off any rounded tops with a serrated knife. Then place your bottom layer on the cake stand you have chosen for your Easter decor. Spread a little buttercream on the top of the cake and top with your next layer of cake. To make sure it is in place, press firmly but gently. Repeat this until you have the number of layers you want your cake to be. We mixed our colors but you may prefer one color, or a different color each layer.
We added some fun sprinkles into our layers.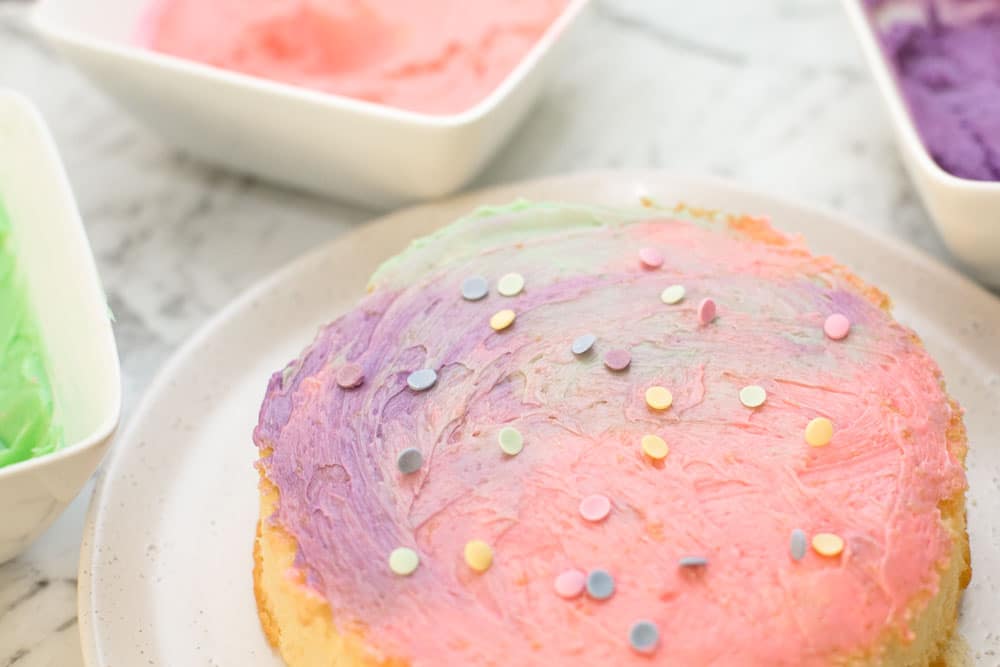 Spread a thin layer of the plain buttercream over the entire cake, covering the top and sides. This makes a crumb layer and stops bits of cake coming off into your buttercream decoration.  Use a cake scraper to level this layer and pop into the fridge to chill for around one hour.
Finally, remove the cake from the fridge and apply your decoration layer of buttercream. You will need a thicker layer of buttercream for this level and the cake scraper again to create a smooth finish.
To get the rainbow effect, put the different color buttercream on in sections. It doesn't matter about neatness with this part.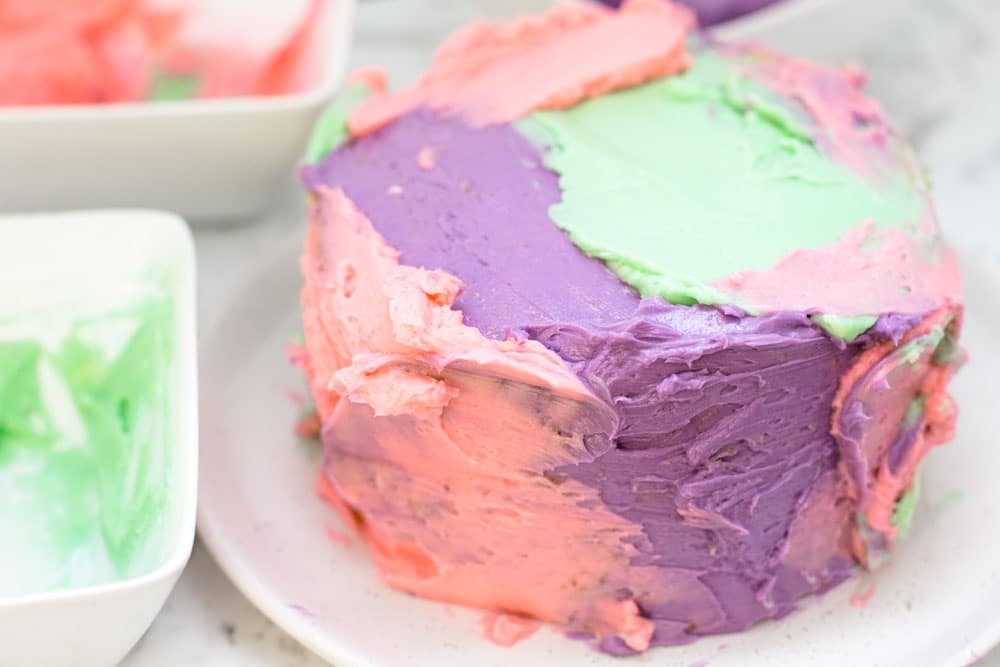 Then smooth with the cake scraper. To stop your colors from blending too much, smooth one way then smooth the opposite way if it needs a little more scraping.
We love this clip from Sweet Bake Shop if you need help getting a perfect smooth buttercream look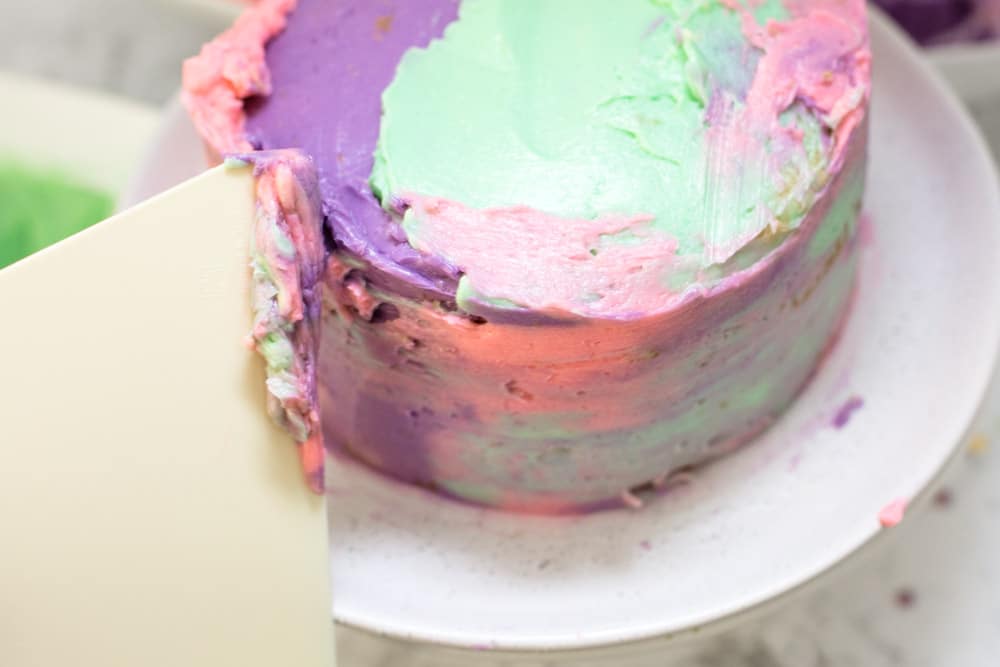 Pop your cake back in the fridge to set. While your buttercream is setting you can create the chocolate drizzle.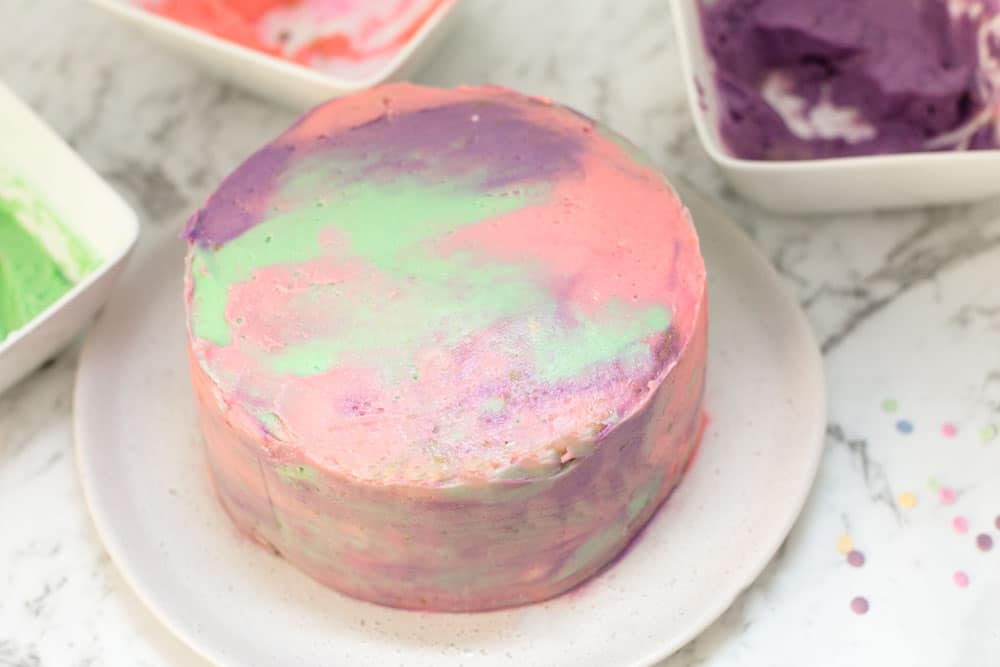 Chocolate Drizzle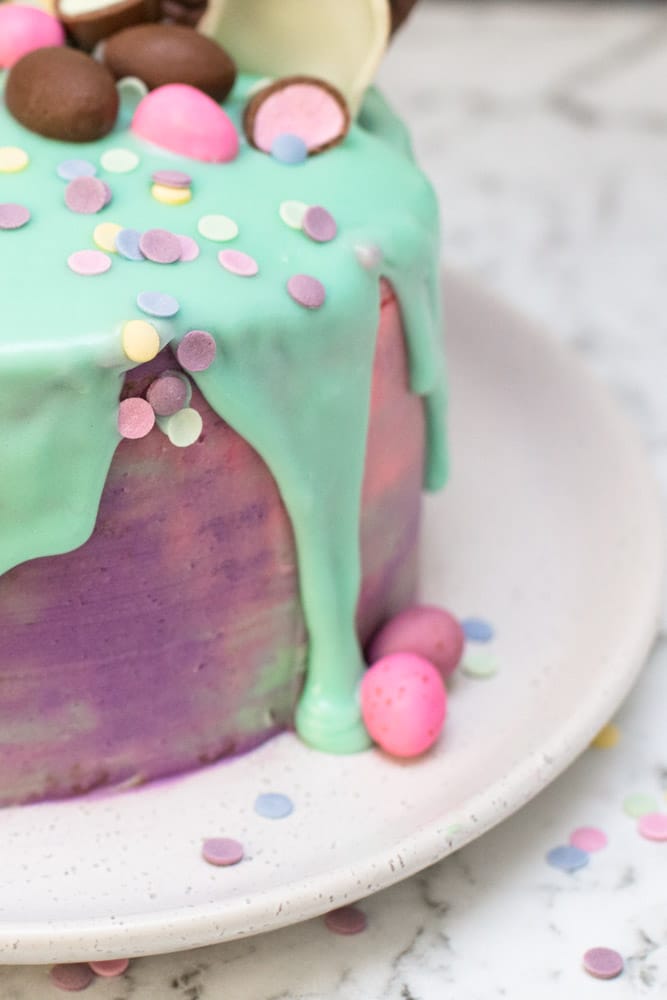 Ingredients:
3 1/5 oz white chocolate, chopped
1/2 cup cream
1 tablespoon liquid glucose
Food coloring of your choice. We used aqua for our Easter cake.
Mix all of the ingredients in a heatproof bowl. Melt until mixture is smooth, either in a microwave on high for around 1 minute or on the stove, over a pan of boiling water. Let cool to room temperature before proceeding.
Take the cake from the fridge and pour the chocolate drizzle over the top of the cake. Be sure to pour in the center of the cake then, with a palette knife,  draw the chocolate to the edge of the cake. The chocolate will drizzle slowly over the sides.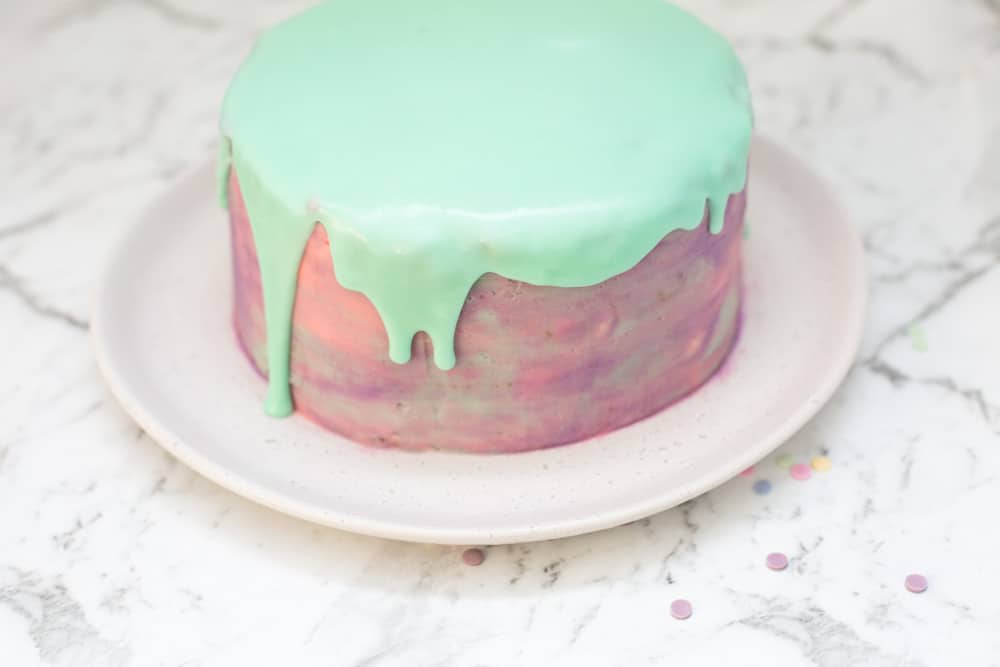 Easter Cake Decorations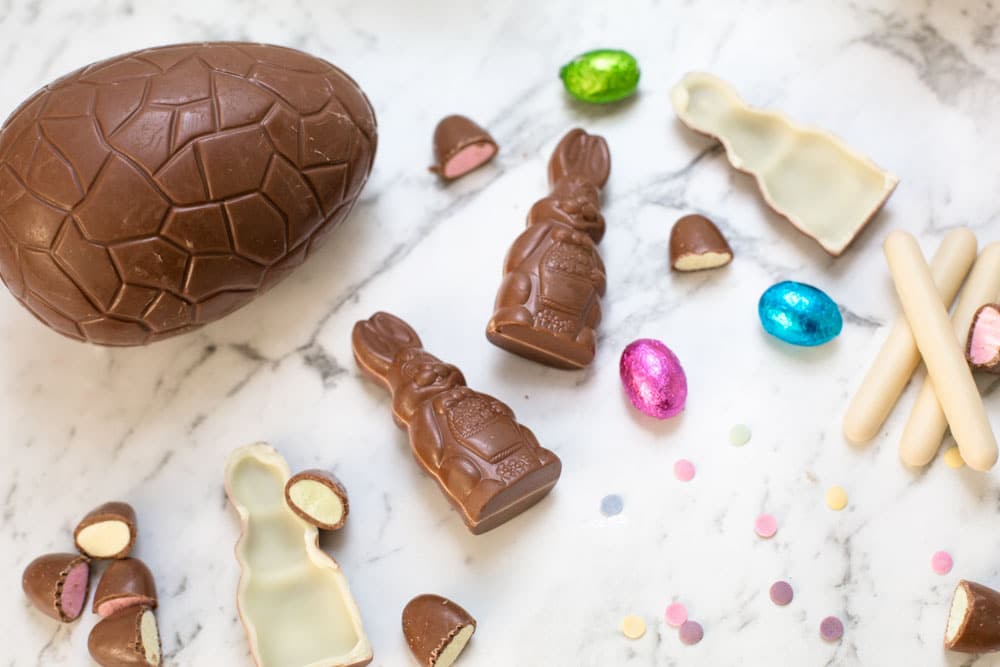 For the easter cake toppers we added chocolate eggs, sugar eggs, edible confettiand other fun Easter themed candy.  Some Easter cake decorating ideas can be found here.
To keep candy in place just use a little of the buttercream.
If you are looking for Easter desserts for kids, this part of the cake decorating is perfect for getting the kids involved. They will have so much fun smashing Easter eggs and placing the Easter bunny chocolate.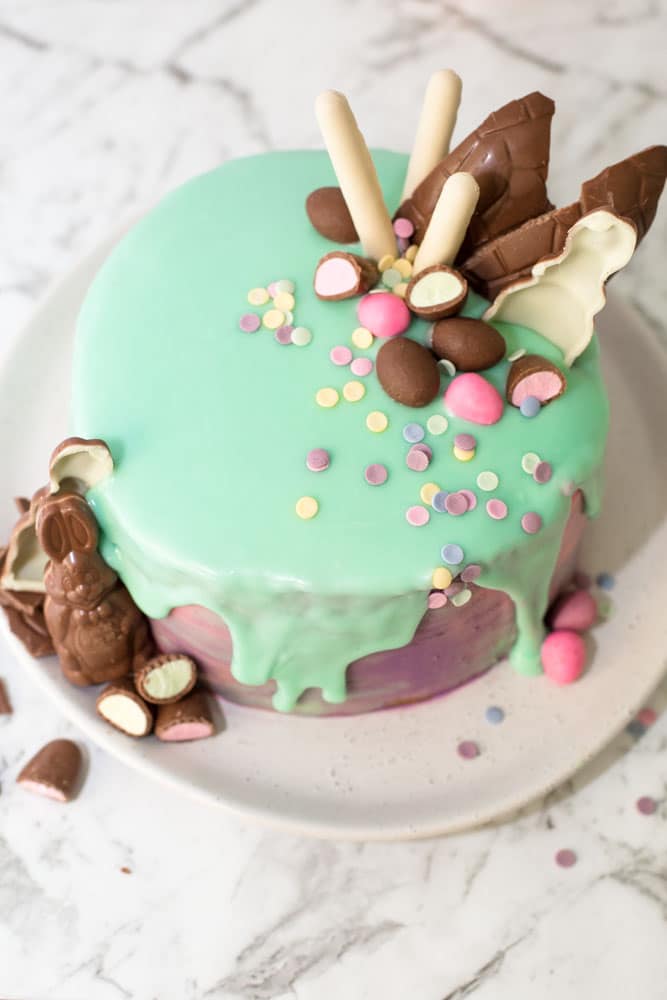 We hope you loved our fun Easter dessert. Although it is a little different from a traditional Easter cake we think that it will be a great hit at your Easter party.
Love the rainbow theme? We also recommend checking out our Rainbow Toast here.
SaveSave