Fresh Strawberry Lemonade Recipe
This Fresh Strawberry Lemonade recipe is a great way to kick off a hot summer day! The fresh strawberries make this super refreshing.
It's starting to get really hot this summer! Like, sweat dripping hot. But the kids want to be outside, which is wonderful! But I'm trying to keep them cool and keep my sanity at the same time.
Ever since we got our Soda Stream (which I'm obsessed with for making healthy drinks with) I've been experimenting with different fancy beverages. After the kids go to bed I like to play around with different ingredients.
This fresh strawberry lemonade drink doesn't require the use of a soda stream or any sparkling beverage, but it would be fun to make a sparkling strawberry lemonade sangria mocktail.
I bought too many strawberries at the farmers market this weekend, so I experimented and I've created the perfect refreshing drink for summer!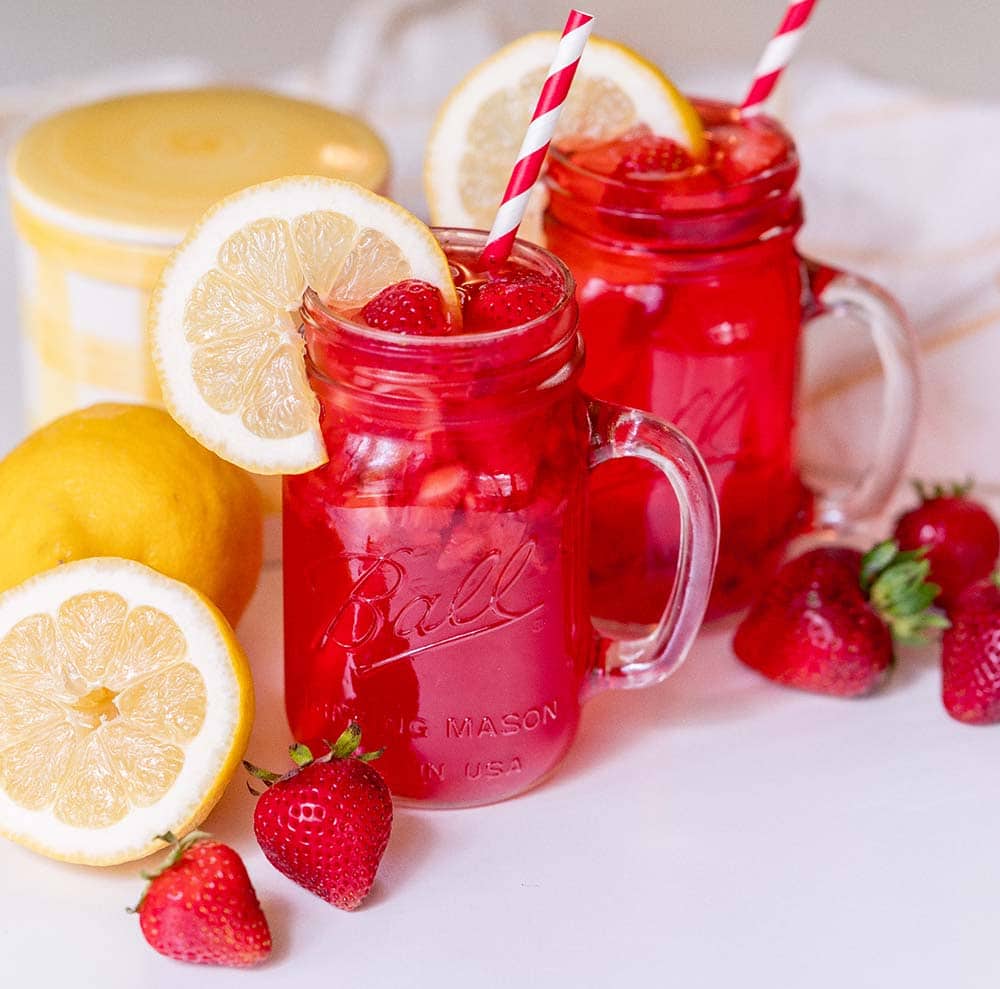 Our strawberry lemonade is so easy and quick to make, and will satisfy your craving for something cool, refreshing and sweet on a hot day.
This is an easy strawberry lemonade recipe for any kind of spring or summer party, baby shower, bridal shower, or birthday party.
So read on to learn how to make strawberry lemonade mocktail.
How To Make Homemade Strawberry Lemonade
Find below my tips to make the best strawberry lemonade juice:
Make Ahead: You can make this strawberry lemonade recipe in advance which will even enhance the flavor. Sometimes I will puree the strawberries, mix the sugar water and squeeze the lemons and mix it all together, store it in the fridge and then mix in the water when I'm ready to serve it. This takes up less space in my fridge but saves me a ton of time.
Switch it Up: If you're feeling like putting a twist on your Fresh Strawberry Lemonade, turn it into Fresh Strawberry Limeade. All you need to do is substitute lemons for limes in your recipe. Easy! Sometimes limes can be a bit less tart, so my kids actually prefer the fresh strawberry limeade.
Make it Fancy: To really dress up this fresh strawberry lemonade, pour it into these adorable mason jar glasses and add a cute paper straw! I also like to garnish the drinks with strawberries, a lemon slice and a sprig of fresh basil or mint for an added touch of class!
Make it Bubbly: Instead of adding plain cold water to your strawberry lemon mixture, try using a Soda Stream to make sparkling water or use any bottled sparkling water.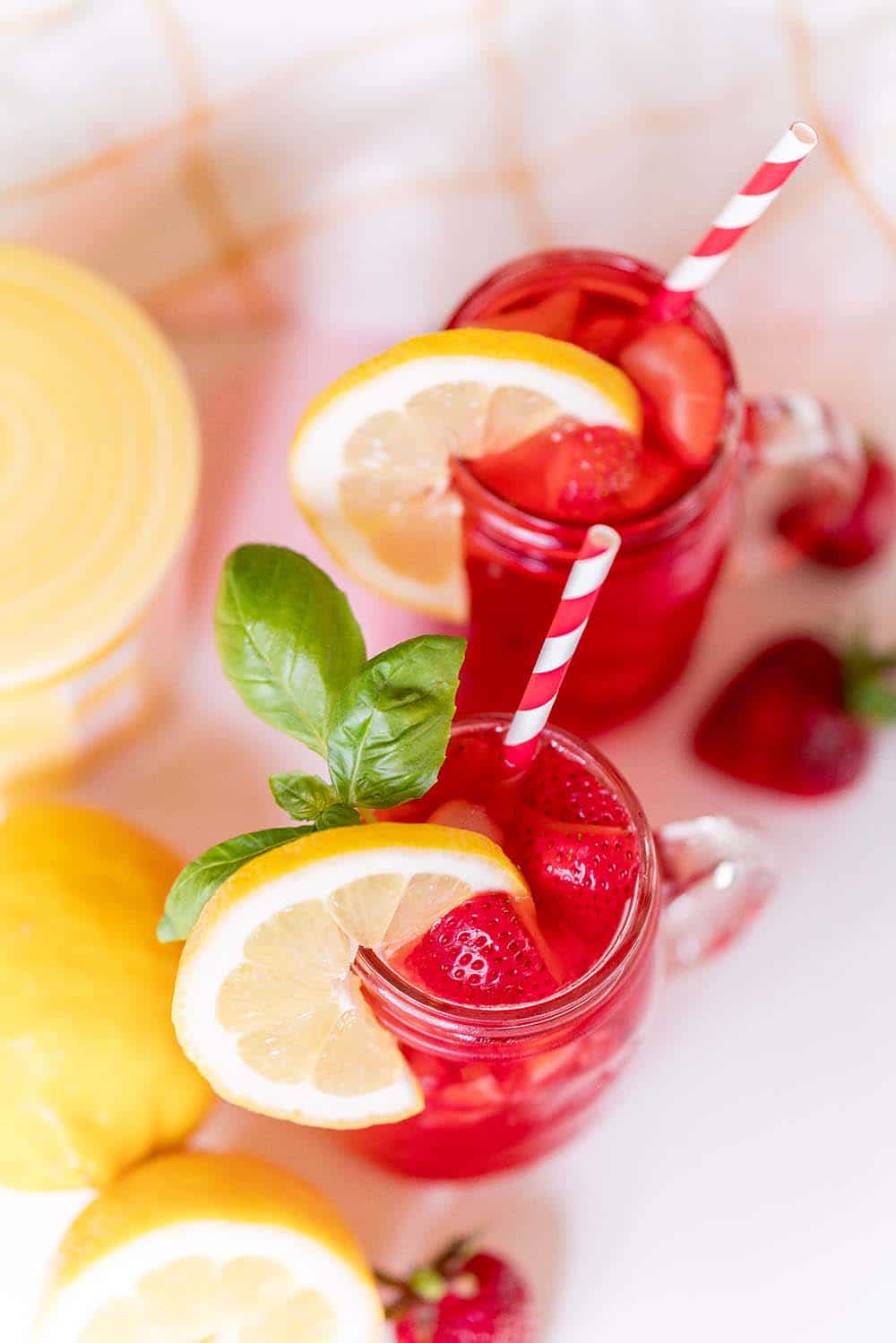 Fresh strawberry lemonade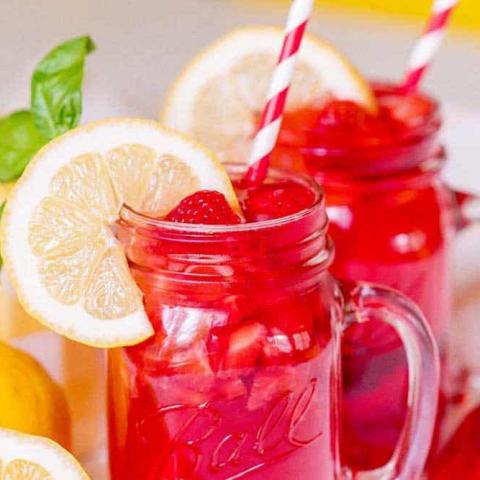 This Fresh Strawberry Lemonade is a real crowd pleaser, especially in the summer months! The key is to use fresh strawberries to give it that extra refreshing flavor!
Ingredients
1 cup sugar
1 cup water
1 1/2 cup lemon or lime juice
2 cups fresh strawberries
5 cups cold water
Extra chopped strawberries and lemon slice for garnish
Ice
Instructions
Boil your sugar and 1 cup water together to fully dissolve the sugar, then let cool.

Meanwhile, blend your strawberries until smooth. Add some of your cold water if necessary.

Mix the strawberry puree, sugar water and lemon juice together until combined. Add your lemon strawberry mixture to your cold water, mix and pour into a pitcher with ice.

Pour into glasses and garnish with chopped strawberries and a lemon slice. Serve cold on a hot summer day!