This honey mustard dipping sauce is a tasty versatile dip that the whole family will love!
For some reason, my kids will eat ANYTHING as long as there is some sort of dip involved.
Ever since our youngest was able to eat real food and mumble made up words, she would request "dippit" and since then we tend to have "dippit" with almost anything we eat.
Make Your Own Honey Mustard Dipping Sauce
This dipping sauce is great honey mustard dressing for vegetables, chicken, corn dogs or really anything!
It reminds me of chic-fil-a sauce. If you've never had it, you're missing out!
It also doubles up as a homemade honey mustard salad dressing recipe that is healthy and yummy to add to any fresh salad.
I love having these little glass condiment bottles on hand to put my homemade sauces in. Sometimes I pack honey mustard sauce into my kids' lunches using these small disposable condiment containers.
How to Make Honey Mustard With Yellow Mustard
Honey Mustard Dipping Sauce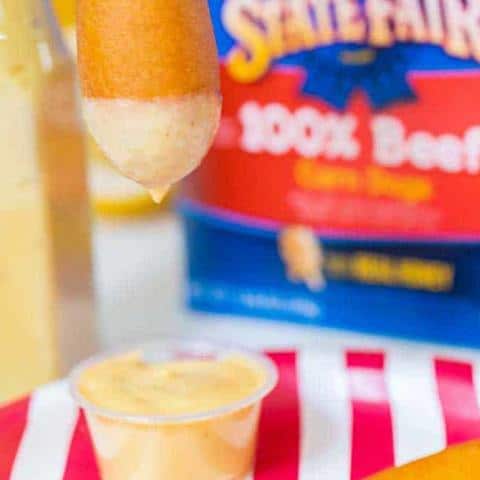 This easy honey mustard dipping sauce recipe is an easy family favorite that we use for almost anything we eat.
Ingredients
3/4 cup mayonnaise
3 tablespoons honey
2 tablespoons yellow mustard
1 tablespoon lemon juice or juice from 1/2 lemon
2 teaspoons Horseradish (add more or less to taste)
2 tablespoons orange juice (until you achieve desired consistency)
Instructions
Mix all ingredients together and whisk until smooth and creamy.
Be sure not to let it get too watery.
Save the horseradish for last so that you can choose your strength. Let rest in the fridge for an hour before use.
Store in an airtight container for up to a week.