Are you lucky enough to have an office at home? Then home office organization is probably often on your to-do list.
If you're anything like me, your home office is buried under a crazy unorganized mess of things, or you have that one desk in a corner of the house that you need to fit all your home office supplies on.
And if you're also like me, you don't have a huge budget for being able to get some cutesy home office organizing ideas rolling. This usually means organizing my home office space is constantly put off.
Well, you don't have to do that anymore! Organizing your home office doesn't have to cost you lots of money.
Here are a few ideas on how to organize your home office that will help you get your office in order, with a cute look. Not to mention, it's cheap and easy.
Click here to find even more home organization hacks. The best organization ideas for every room.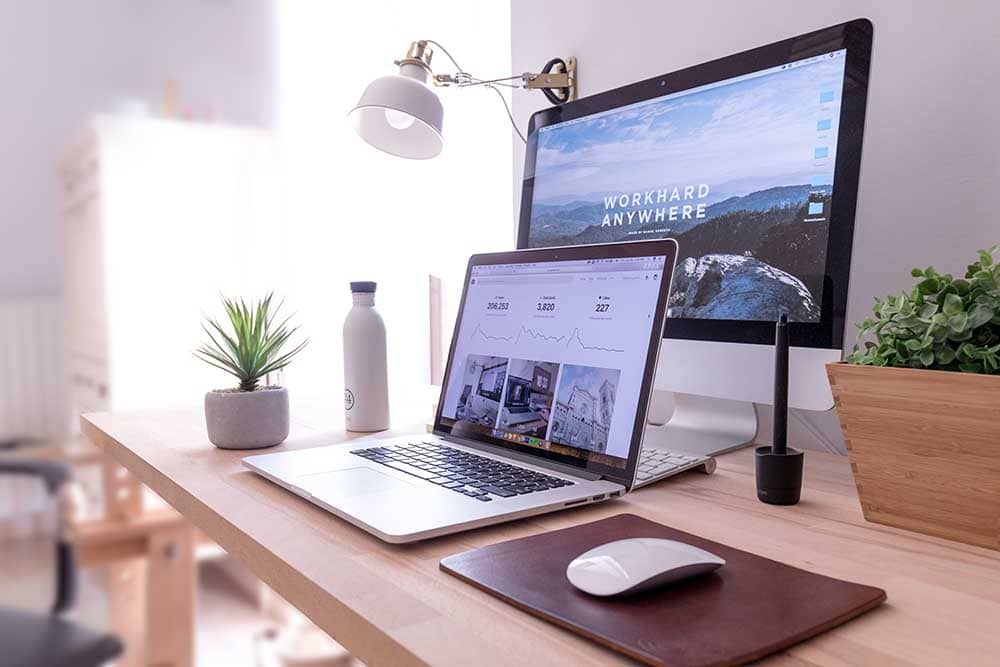 How To Organize Your Home Office
Keep reading to find some simple home office organization supplies that you can order online.
I have found that the best way to keep my office neat and tidy is to have home office organization systems in place. By creating a place for everything and making it simple to put things in that place, I find it much easier to keep my office neat as pin.
Another great tip is DIY home office organization ideas. Although all those images of pinterest home office organization look amazing, it is possible to do it at a much lower cost.
Below are a few of the best home office organization products I have found.
Home Office Wall Organization Ideas.
Plastic Crates for Storage
I, personally, have the issue of never having enough storage in my home office. However, it can get expensive finding the right shelving which always makes me pass on the idea. This idea of attaching these cute, colorful, plastic crates together for a cheap and sturdy shelf is brilliant. Can you believe how much cheaper than normal shelving it is? I can't!
Find Plastic Storage Crates here.
Baskets on the Wall
Being able to make my office cute and with a homey feeling is a must for me. These baskets make a great home office wall organizer. It would take little effort to hang them and they add a great look to the room.
Find great baskets for this DIY project here.
Clothes Pins on the Wall
Even though this photo shows the clothes pins being using for photos, I thought it would be a great way to hang bills or paperwork that needs to still be completed. Sort of like a to-do list but, with the actual physical item hanging up on the wall as the reminder. Such a simple wall organization system for the home office.
Get the best price on clothes pins here.
Small Buckets on the Wall
These cute, little, colorful buckets can be found on Amazon any time of the year.When I look at a home office hanging organizer online they are usual so expensive. Colorful buckets are a great way to store office supplies while adding a bit of character to your home office organization for cheap.
Find colorful and plain metal buckets here.
How To Organize Home Office Papers
Industrial Wire Baskets
Use these cheap amazon baskets and add a quick coat of paint for a cute mail or important paper holder. You can choose any color or design you like and prefer for your own home office. Get little wooden plaques and add the title of the basket to the front, if desired, for an extra personal touch. One of the easiest ways to organize your home office!
Get The Best Priced Industrial Wire Baskets Here
Cardboard Boxes for Files
If you can't afford a fancy filing cabinet (the one I want is nowhere near my budget), you can use white cardboard boxes as it shows through the link. An easy, cheap, and adorable home office file organization without having to offer up an arm and a leg in payment.
Choose the perfect color for your office here.
How To Organize Office Supplies At Home
Ice Cube Tray Organizer
This is one of my favorite ideas for organizing your home office desk. Offices are notorious for those little supplies that seem to get everywhere. Thumbtacks, paper clips, etc. There's no easy way to try and store these and the packages they came in from the store are usually of no help. Try using a cute ice tray to store all these little supplies in. I like to keep mine in a drawer but, it's nice to open the drawer and it all be right there in a cute organized dish.
Find these funky ice trays here.
Pill Organizer for Small Office Supplies
Pill organizers are cheap and are a great little box to store those smaller office supplies in. With the separate sections on a pill box, you could hold quite a few different supplies without leaving a mess in your drawer or taking up a lot of room. Of course, I suggest the larger pill organizers since the smaller ones won't help much in the way of very many supplies.
Find the best sized pill organizer for you here.
Shower Ring for Rubber Bands
I thought these shower rings would be a great idea for keeping rubber bands in one spot. I don't know about you but, my rubber bands seem to get all over the place. When I need one, they're not there but, when I don't need one, they're a nuisance. You can find some pretty cute shower rings to use for this idea.
Home Office Desk Organization Ideas
Cord Organizer with Clear Cups
Every home office is filled with cords. Whether they're cords that are always in use or cords that get used every once in a while, they can become a tangled mess and get in the way. Not to mention, they can be quite unsightly. Get some cheap, but cute, plastic cups, line a basket, and keep those cords organized and out of the way.
Get cheap supplies for this great organization hack here.
Bread Twist Ties
I'm back to the cord issue again. Some cords that get used nonstop in an office can't be rolled up and stored in a cutesy storage container. This doesn't mean they don't get in the way a lot. I mean, they still hang there looking unsightly. This is where bread ties come in handy. Just twist them around any cords, preferably in a spot they can't be seen as much and voila, you've got cords that no longer stick out everywhere.
I love the idea of color coding them too but if you prefer you can stick to white. Easy home office desk organization that makes everything look so neat and tidy.
Get super cheap bread ties here.
Jars Under the Counter
This one seems like a pretty neat idea if you've got plenty of leg room under your desk. I could just see myself now, knocking my knee into one of those jars and either hurting myself or ending up with a broken jar and office supplies all over the place.
However, if you have some leg room or even a shelf already hanging in your office, you could attach these jars and turn it into a cute addition for storing those extra supplies. It would make them easy to find as well. It's also a great way to add some extra storage if you are looking for small home office organization.
Find the perfect jars for this office organization hack here.
I hope you enjoyed these amazon home office organization ideas. There are so many fun ideas for home office organization that it was hard to narrow it down to just a few.
I love finding ideas that were even cuter than I had before but, cheaper and easier on top of it. I look forward to tackling some of these ideas with my own home office. I would love to know what you've done to organize your own home office and if you've used any of these ideas and how it worked for you!
Started Organizing and want to do more? Here are some great Organizing and cleaning posts to help you do the whole house..