We've rounded up the best kids bedroom ideas on Instagram. Get inspiration from real kids bedrooms! 
The Best Kids Bedroom Ideas on Instagram
You know you've seen those picture-perfect bedrooms in magazines and catalogs. They're beautiful, no doubt, but sometimes it's nice to get some inspiration from real people, who may only be showing you the best parts of their lives, but at least they're not fake showrooms.
We've rounded up the most real and adorable kids' bedroom ideas on Instagram for girls and boys, from modern to shabby chic.
Mountain Cabin Kids Bedroom
I love this mountain-themed themed room. Perfect for little ones who want an outdoor retreat on the inside of their bedrooms.
Educational Kids Bedroom
Be sure to check out Wandering Darlings entire house for a major dose of beauty inspiration! Lindsey is a homeschooling mama who's kids bedrooms will make you want to pull your kids out of school so they can play with all the beautiful wooden toys! It's colorful and happy! Wait until you see her dining room wallpaper!
We love this beautiful wooden stacker for only $7
Farm House Chic Kids Bedroom
This adorable pioneer chic bedroom from @bonniesfarmhouse is a dream come true for every little girl who's ever dreamed of being of being Laura Ingalls Wilder.
Modern Kids Bedroom
This modern kids bedroom idea from @ourcoloradohome is simple and sleek with a bit of industrial charm with the exposed brick wallpaper. It would be good for boys or girls. The string lights give it such a nice touch too. We love these ones!
These gorgeous lights are only $15
Dreamy Kids Bedroom
This whole set up from @indy_and_bear is just dreamy! The draped canopy is just the icing on the cupcake!
This gorgeous mosquito netting is only $10 
Floral Princess Kids Bedroom
From the floral wallpaper to the chandeliers, this floral princess inspired kids bedroom is perfect for a pair of girlie sisters.
Simple Superhero Kids Bedroom
This simple, understated superhero room is perfect for a minimalist who still wants to make a splash. Look at that wallpaper!
Explorer Kids Bedroom
Maps are in, travel is in…what could be better than a giant map as wallpaper?! We LOVE this adorable Map Wallpaper! 
Boho Kids Bedroom
This minimalist boho kids bedroom is just beautiful and calming. Shouldn't all kids have a teepee in their rooms? I love this affordable Teepee.
Simple and Rustic Kids Bedroom
This simple and rustic kids bedroom is perfect for boys who need lots of space with less stuff.
Western Bohemian Kids Bedroom
I love the little touch of the Cow on the wall in this western bohemian kids bedroom.
Cactus Themed Kids Bedroom
How beautiful is this cactus wallpaper?! And I'm obsessed with those adorable beds from IKEA!
Minimalist Travel Kids Bedroom
This kids bedroom is simple, but another wall map to the rescue to add a huge splash of color!
Do you have a favorite kids bedroom idea that you love? We'd love to hear all about it! Be sure to follow our Pinterest Boards for more kids bedroom ideas and inspiration!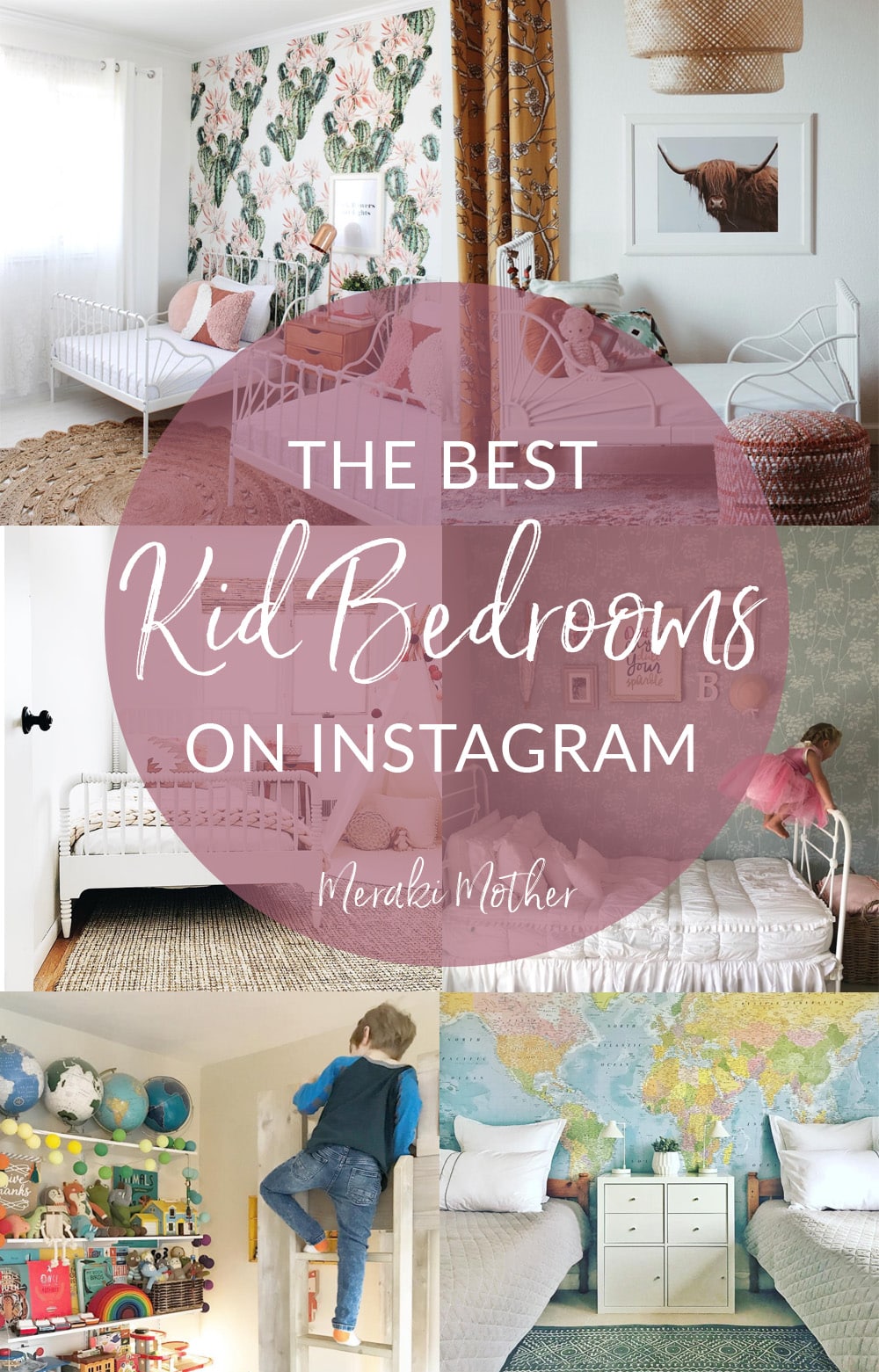 SaveSave
SaveSave