If your child loves color, being creative and getting messy then a kids art and painting party theme is the perfect birthday celebration.
Whether you call it an arts and crafts party, little artist painting theme party or just a crayola birthday party, we have the ideas you need!
We show you some easy and fun paint party ideas including party food, favors and activities.
Cheap and Fun Kids Painting Party Decorating Ideas
Art Birthday Party Invitations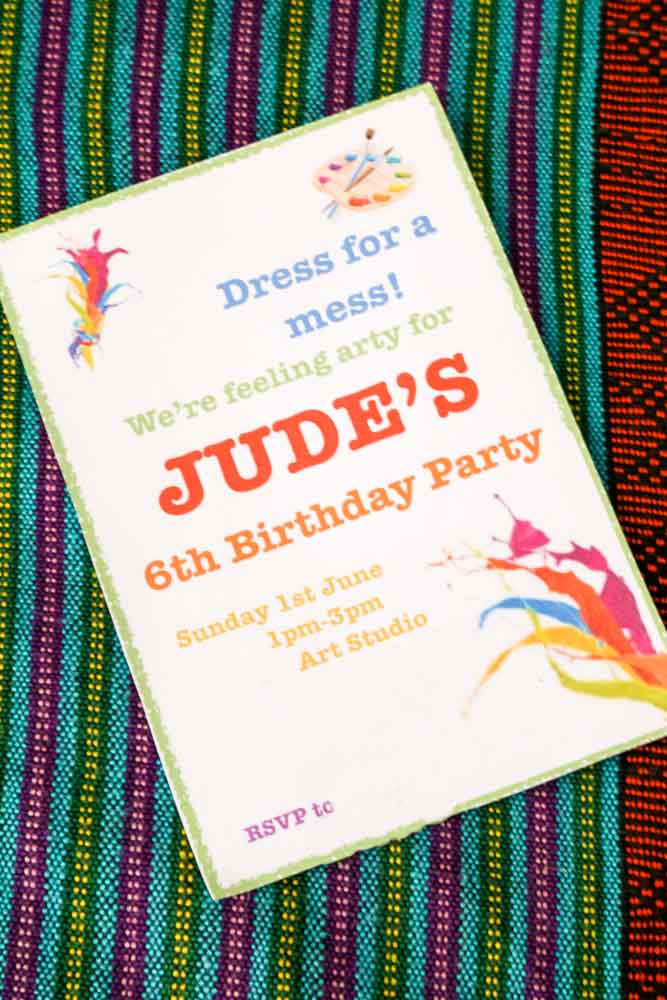 Getting a fun themed birthday invitation is the best way get your guests in the mood for your party.
Creating paint party invitations is so easy!  Think bright and messy. You could get the kids to make their own with some fun art supplies or buy some colorful invites for a quick and easy option.
This one we made ourselves and printed in cardboard. You can easily replicate it with an image editor program.
If you plan on getting the kids to paint artworks or get messy be sure to let the parents know on the invites – so they dress for the mess!
Paint Party Decorations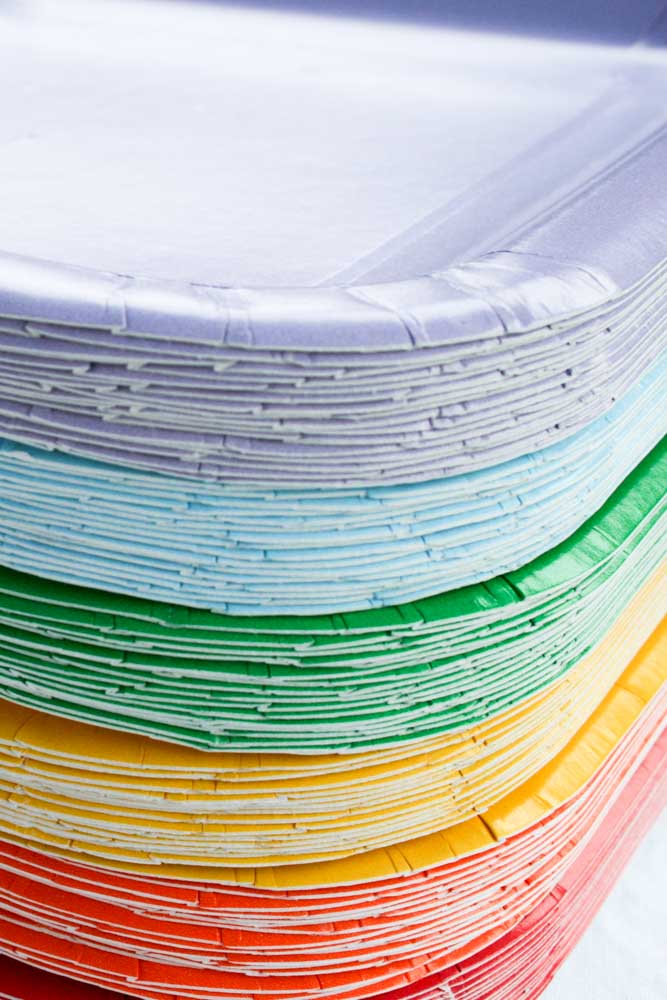 As long as it is bright and colorful there isn't really any limitation here.
For our party we had some brightly coloured plates to place the food and snacks on the table.
Other partyware to complete the art theme decor includes balloons (lots of them!), banners, paint splatter party decorations such as plates, center piece and table cover.
Click on the picture to go the art party supplies.
Art Party Theme Food
Now for the fun part, to make colorful food!
To create an amazing party make sure you add lots of color and quirky art themed food.
Here is our list of painting party food ideas.
Paint Brush Snacks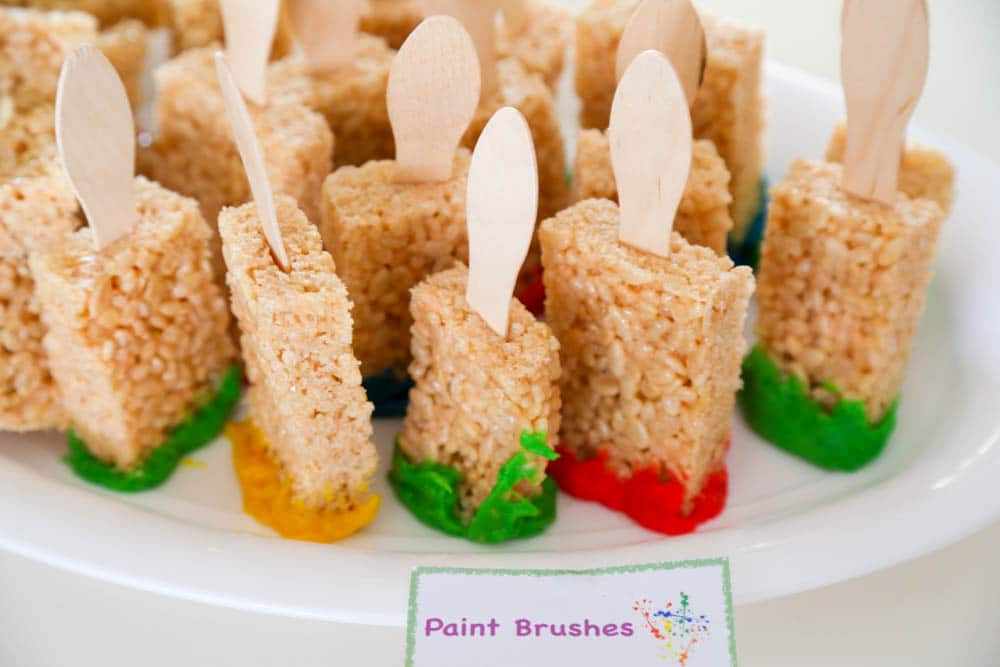 These rice krispie treats are turned into delicious art paintbrushes with popsicle sticks and white chocolate dyed in bright colors.
The kids had a blast helping me make them! Just make a hole with the knife to slide the popsicle stick in and let the kids cover them in "paint" by dipping the krispies into the colored chocolate. Put them on grease paper to cool down.
Creative Juice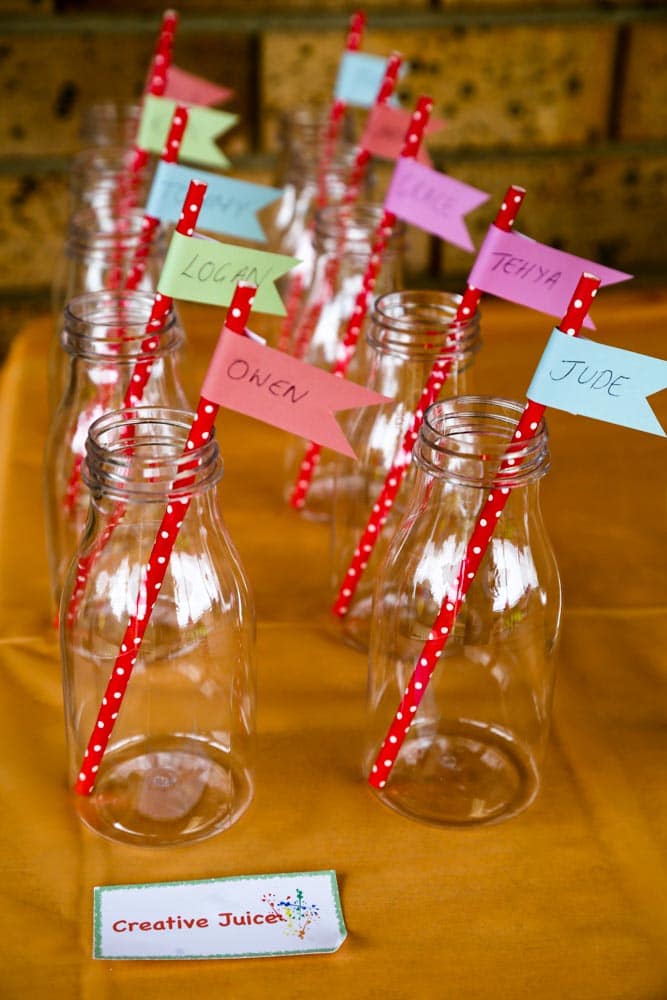 Make your child's favorite juice into "creative juice". Or even fill with water but add icecubes dyed with drops of food dye.
Cupcake Sprinkle Splatter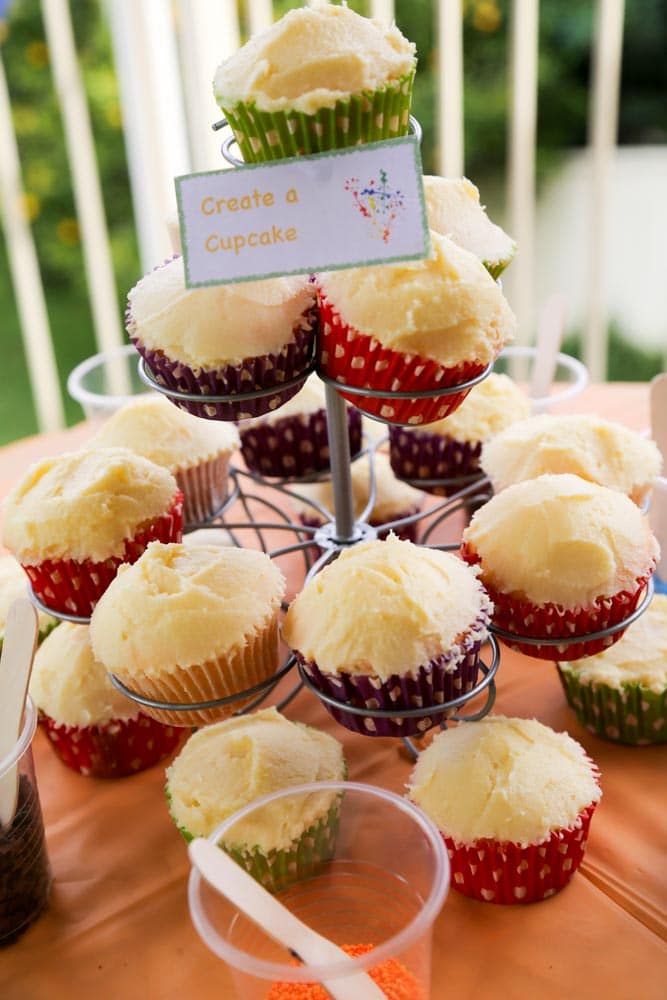 Why not keep with the creative theme and get the kids to decorate their own cupcakes.
This was one of our paint party games but I am mentioning it here since it is edible. Keep reading for more activities.
The cupcake is super easy to make. Just frost your plain vanilla cupcakes.
Fill cups with various colorful sprinkles, candy and other fun decorations. The kids can splat the colors or just carefully place them to make a portrait.
If you want a healthier party food option you could chop up colorful fruit to decorate a yummy healthy muffin.
Take a look at a gorgeous and healthy rainbow fruit platter here.
Art Party Cake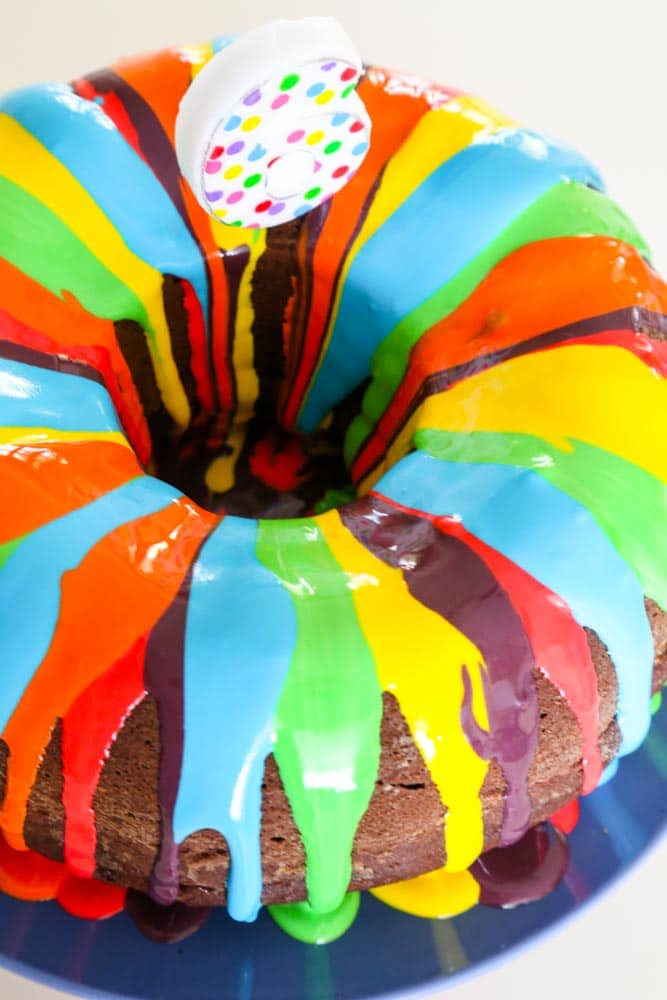 Anything goes with a fun art party theme cake. Just be sure to make it bright.
We love the fact you can get away without perfection with this theme. We created this art cake with a basic chocolate bundt cake and royal icing, dyed with bright colors drizzled over the top.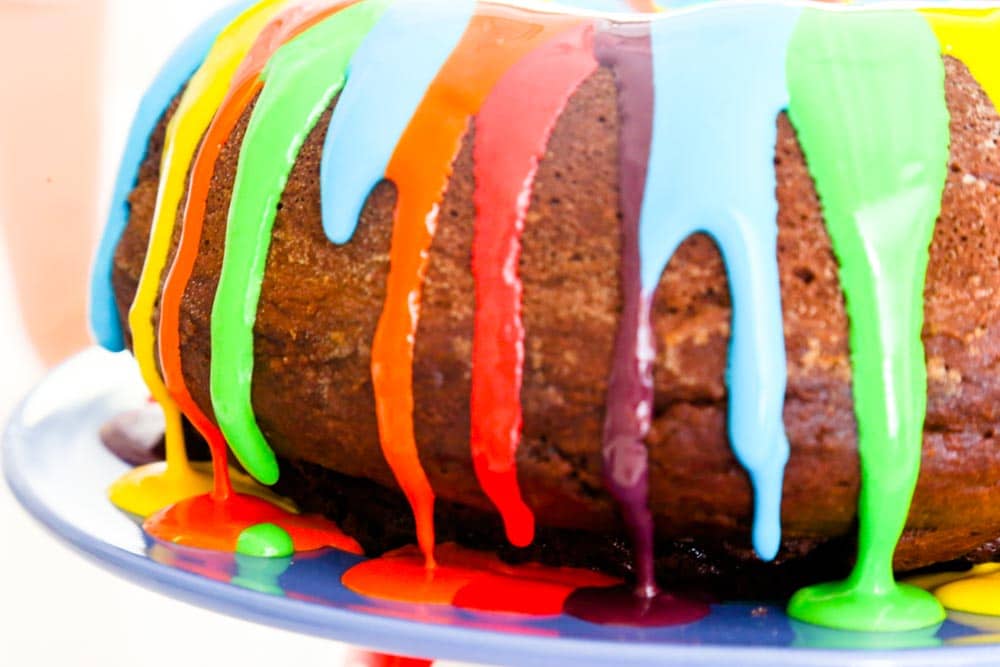 Messy, fun and delicious. As you can see everybody loved it!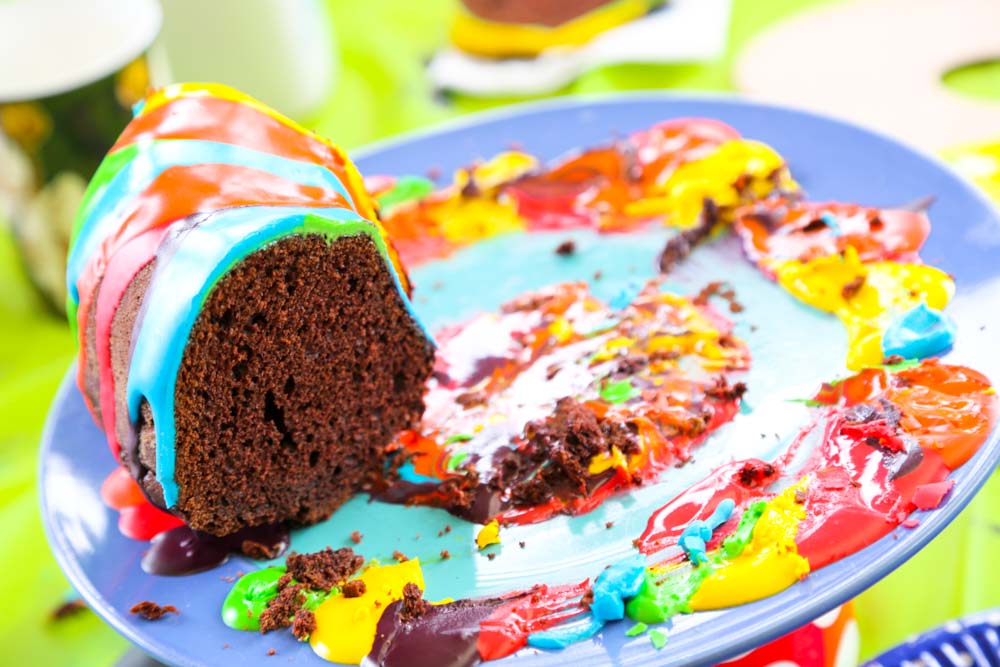 Art Party Games and Activities
An art party is a perfect excuse to let children get messy and have fun while learning and improving their fine motor skills.
There are many paint party games that you can organize with little effort but that the kids will have a total blast with!
Canvas painting activity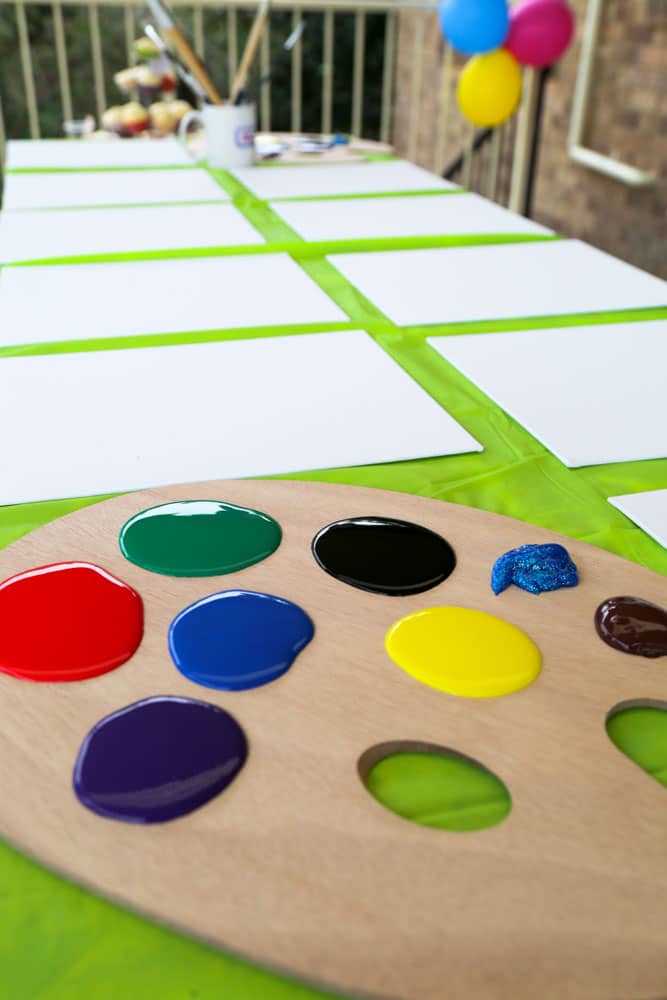 Be sure to set up an art table with lots of fun art supplies.
Our favorite option is to get a blank canvas for each child and let them create a masterpiece they can take home to treasure.
Chalk painting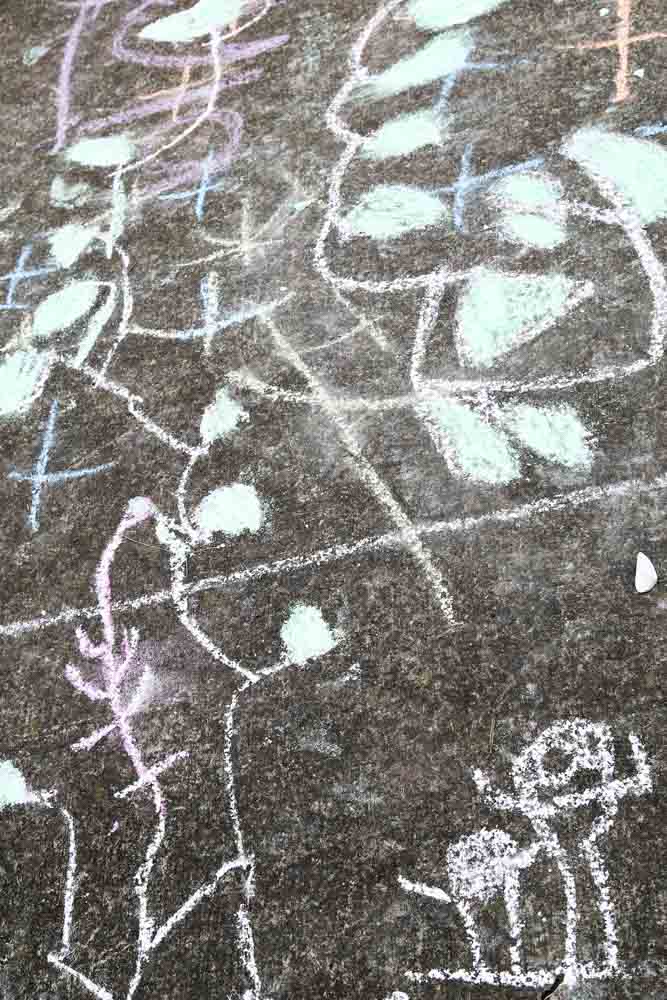 Another fun and easy option is to buy some colored chalk and let them create games and drawings outside.
They have fun and next time it rains your driveway is back to normal! Help them out with some old school games like Hopscotch.
Art Party Pinata
Pinata is a fun activity for any kids party!
Grab this colorful pinata in the age of the birthday boy or girl and it will be a hit!
Art Party Favors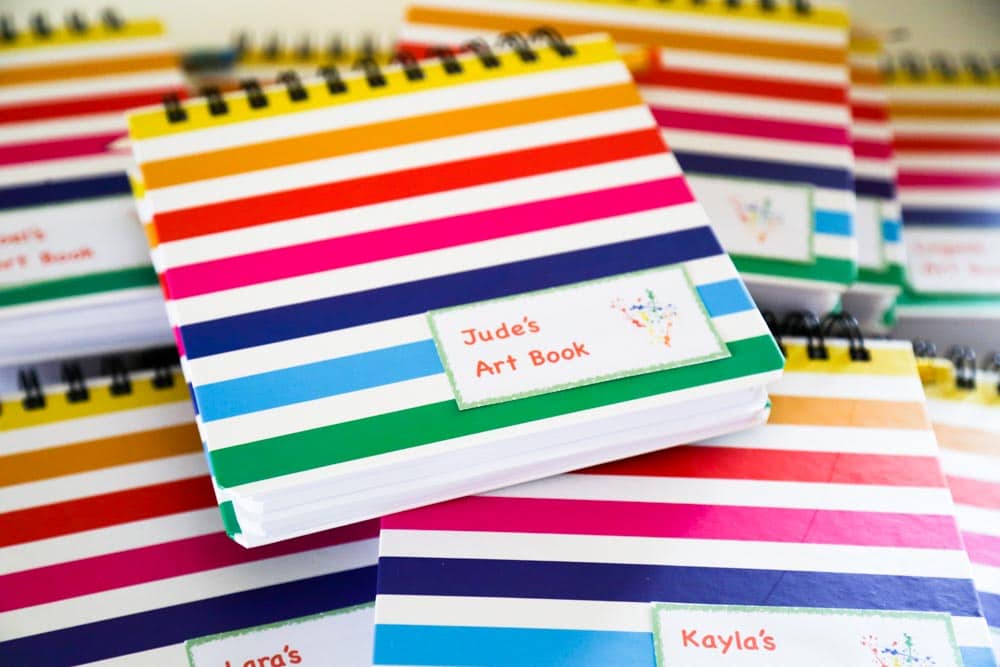 Why not help your guests get creative at home?
Sending each child home with their own art book and matching art supplies is a thoughtful touch and the other parents will love the non-sugar favor.
Another great sugar free idea is to make up some gorgeous bright home made playdough. Pop into sealed containers and hand them out for the kids to play with at home. Click here for How to Make Playdough Without Cream of Tartar. 
You can add the canvas the kids made during activities to their paint party favors too!
We hope you loved all our painting birthday party ideas. Make sure you Pin for later.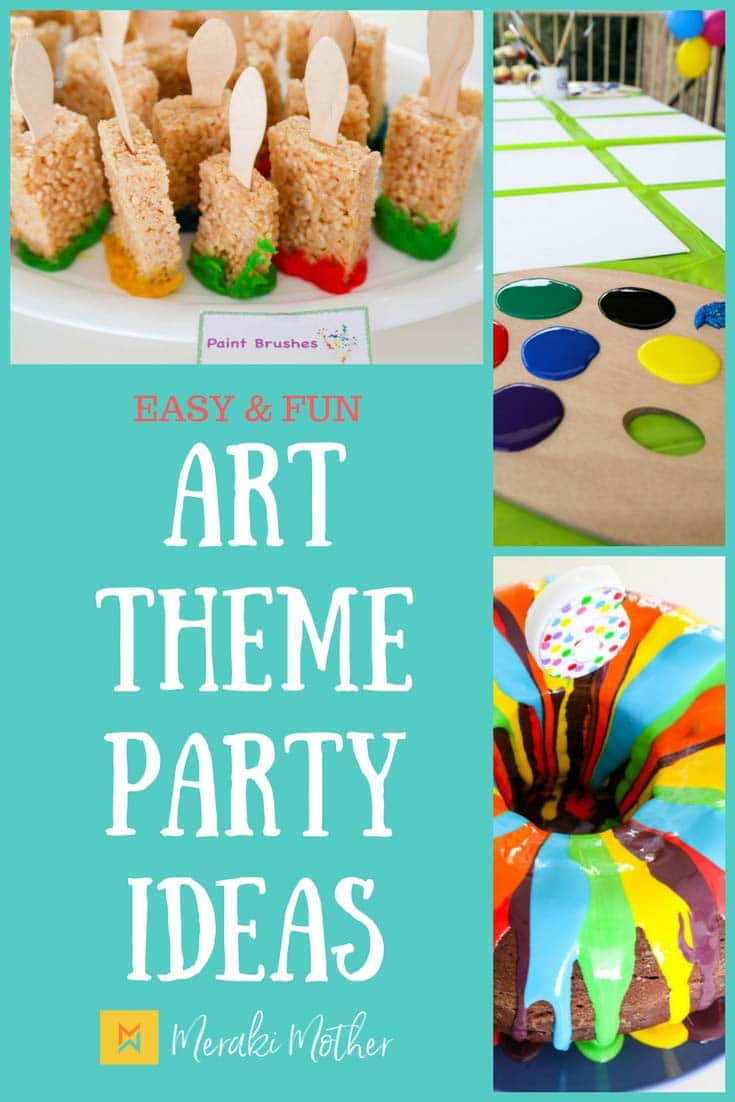 SaveSave
SaveSave
SaveSave