Fall is by far my favorite season. The colors and smell of Fall, combining with the cozy weather and the fun holidays of the season, makes me look forwards to this season every year.
It also helps sparkle our creativity as we normally have so many fun activities such as pumpkin painting for kids, pumpkin carving, Halloween costumes making and the Fall sensory playdough activities that are always a favorite here at home.
Carving a pumpkin is not only a fun play activity but it is also a valuable messy sensory experience and great fine motor skill activity for any child.
Don't miss the chance to have fun in the season. Read on to learn more about our pumpkin ideas for toddlers and school aged children.
We also have a STEP BY STEP tutorial for kids on how to carve a pumpkin below.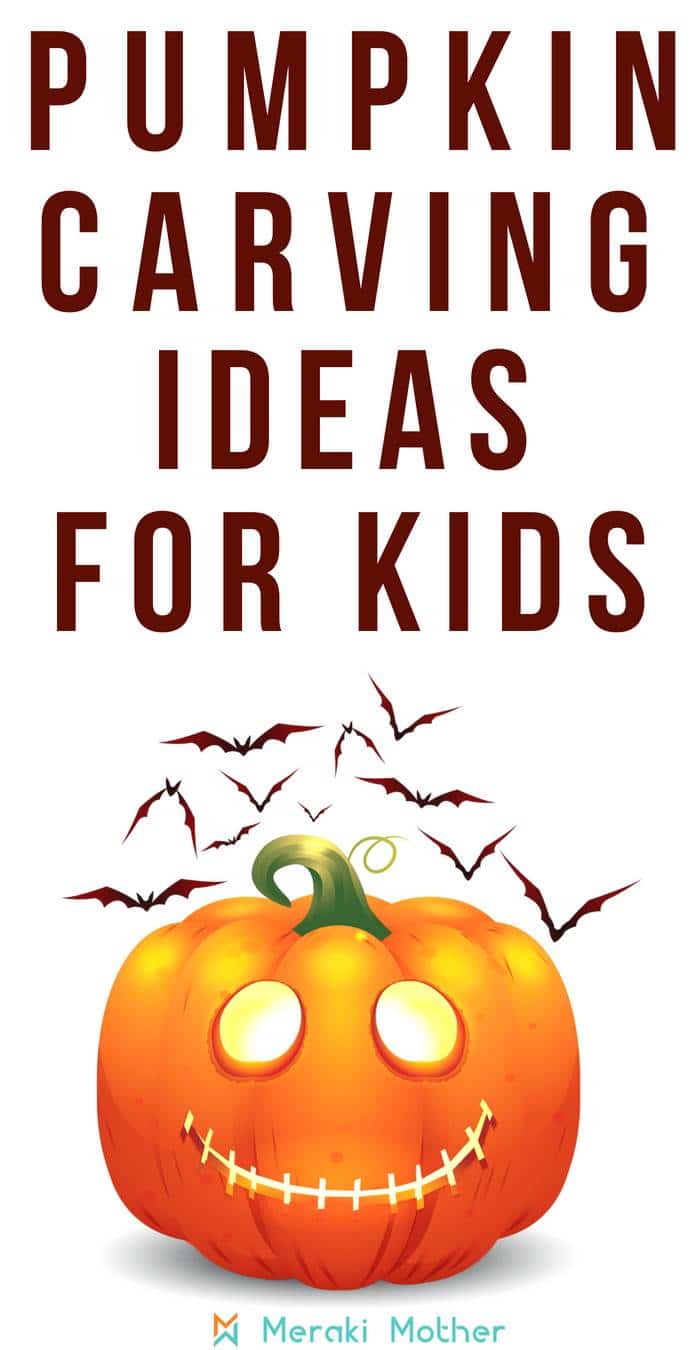 Pumpkin Carving Ideas For Kids
Kid Safe Pumpkin Carving Tools
The right tool is half the job in any project! It is no different if your project is carving pumpkin designs for kids.
You could of course use your everyday kitchen knife but hey, they may not be safe for young kids! Also your project will likely take longer won't produce the beautiful end result that the kids want to see.
Keep that in mind and get yourself some kid safe carving tool now.
Below we have some of our favorite tools.
Designed specifically for the purpose of pumpkin decorating for kids, this carving kit has no knife so you can use in your project of pumpkin ideas for toddlers or younger kids who can't handle a sharp tool yet.
Although this tool is meant is meant to make pumpkin carving for toddlers an easy activity, it is also useful for older kids. Just mark the shape on the pumpkin and let the kids follow with a carving knife. Such an easy way to have many Jack-O-Lantern pumpkin carving ideas for toddlers!
Grab your No knife pumpkin carving stencils for kids here!
This is a fun full pumpkin carving set that comes with the pumpkin scooper, a large saw, a small saw, a drill, a poker wheel, 2 LED candles and easy pumpkin carving ideas for kids.
It has no blade so it is a lot safer than kitchen knife. However, please remember that kids must be supervised at all times while doing any activity with these tools.
So if you are looking for tools for easy pumpkin carving for kids activity, grab your Pumpkin Carving Tool Kit now!
Here is another set that is going to make creating a jack-o-lantern job that the whole family will enjoy!
The tools are made of durable plastic and stainless steel blades. It includes everything you need for carving: a candle (with holder), a pumpkin scoop, a marker, 3 carving tools and 6 kids pumpkin templates. These
stencils are great to help your family make pumpkin faces for kids.
This set comes with a convenient storage box where all pieces are easily organized. Get your Carving Tool Box here!
If you already have the carving tools and only need a few more ideas of pumpkin designs for children, then you should get these cool stencils here.
This is a fun way to get the kids into the Halloween mood and protect them during this activity because it can get really messy!
Get these cool Halloween aprons here!
For more kid friendly crafts, check out our craft page here!
Carving Pumpkin For Kids
Here is our tutorial on how to carve a pumpkin for kids – just follow our step by step tutorial!
After you have bought the proper kid safe tools and your big pumpkin from your local market it is time to start our pumpkin carving for children activity.
You will want to lay all of your tools on the table and get the kids wearing their Halloween Aprons.
Step 1: Cut a hole in the top part of your pumpkin. Parents should help the kids here! The hole can be of any shape you like, it could be a round cut or a star-like shape like the one we did below.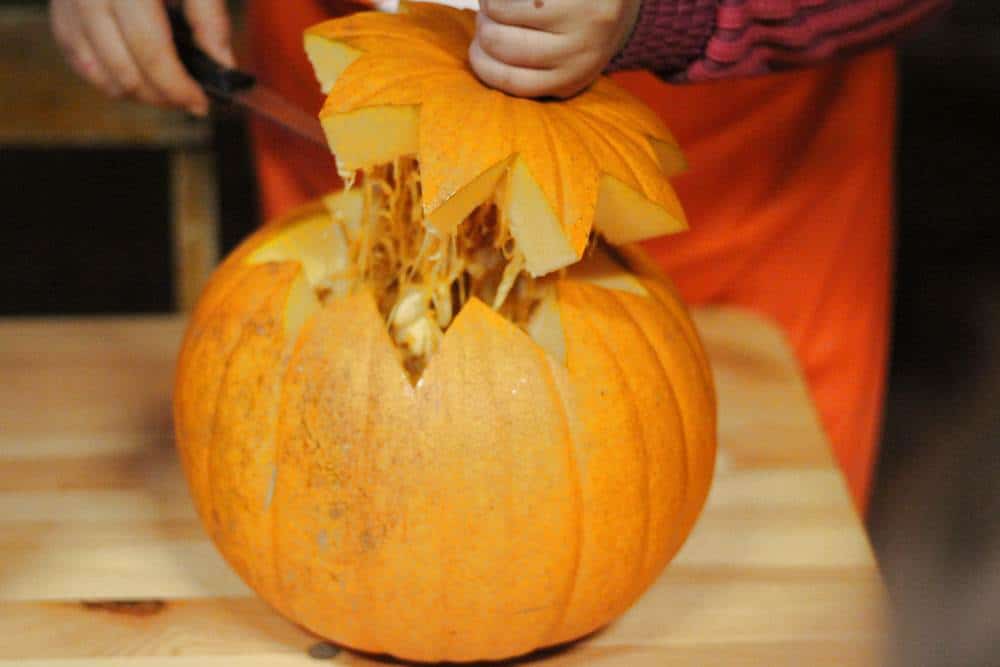 Step 2: Clean the seeds from the lid of the pumpkin. You can use the seeds and other left over pumpkin pieces from this project to make yummy food, like a pumpkin soup! Nothing goes to waste!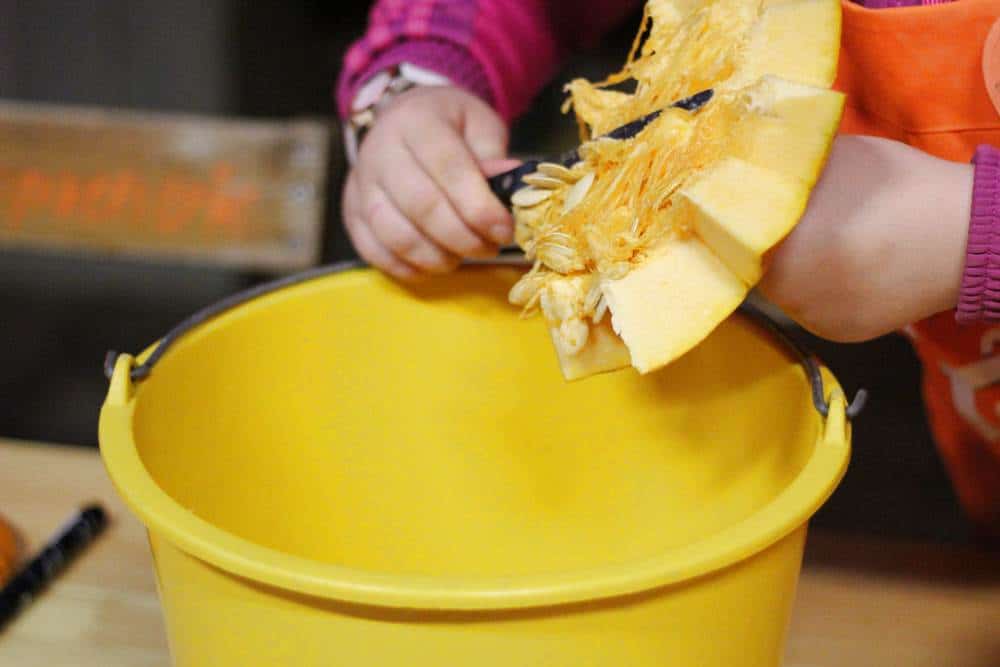 Step 3: Now it is where the real sensory fun start! Get the kids to empty the inside of the pumpkin!
You can use the pumpkin scooper here (the ones that come in the kits I showed you above) but kids are allowed to get their hands dirty too. Kids of all age can help in this step and everyone will have something to do here.
Depending on how big your pumpkin is and the age of the kids, this step can take some time. When they have taken most of the seed out you can help clean it further with the scooper and make the inside smooth.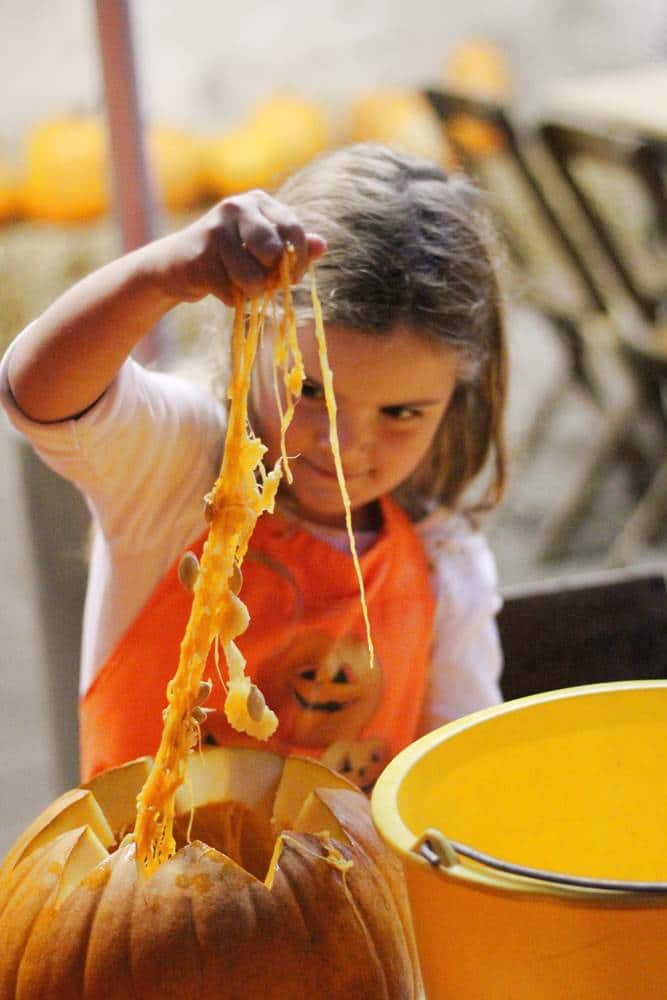 Step 4: When the pumpkin is totally cleaned up, you can mark the face on the pumpkin. Use the pumpkin stencils or thepunch kit for pumpkin decorating ideas.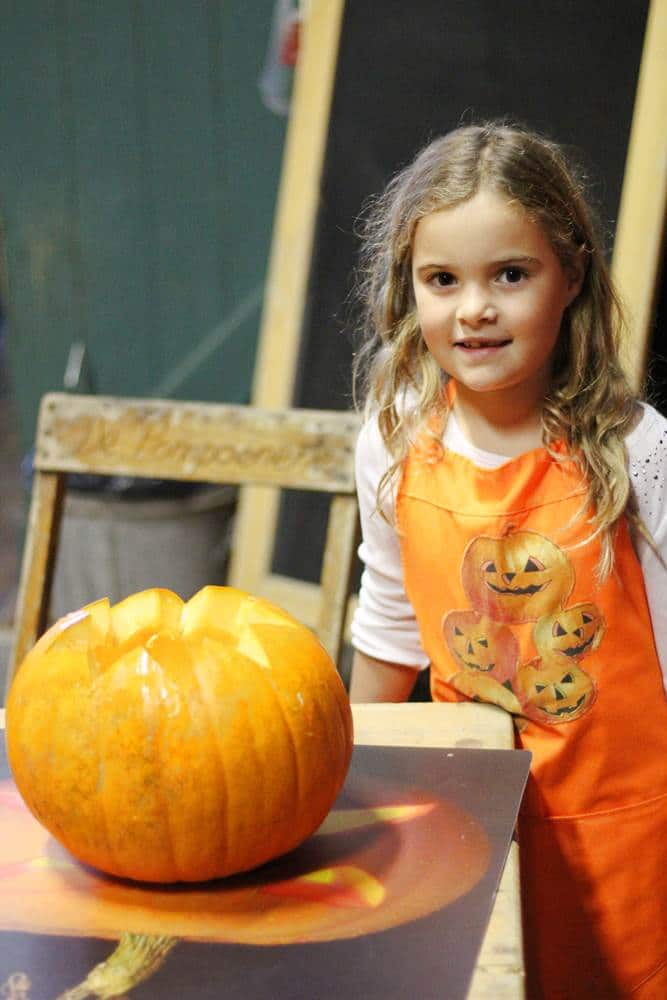 Step 5: This is the fine motor activity in this project; to cut out the face shapes with a small saw. The kids have to insert the saw all the way in the pumpkin and slowly saw the shape of the eye following the template marked. The challenge here is to keep sawing on the marker line.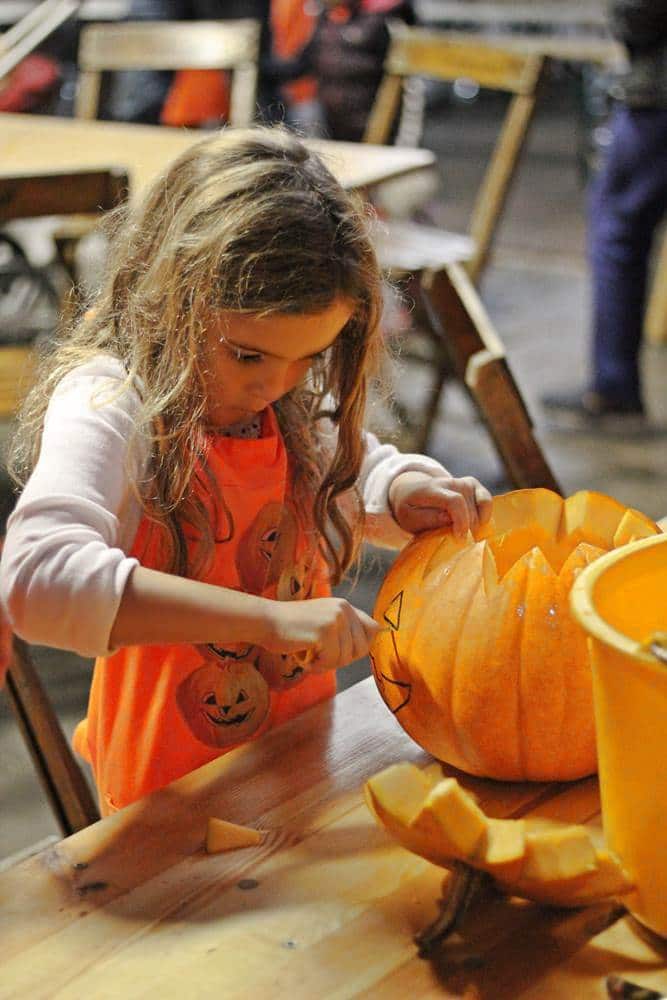 First cut the eyes, then the nose.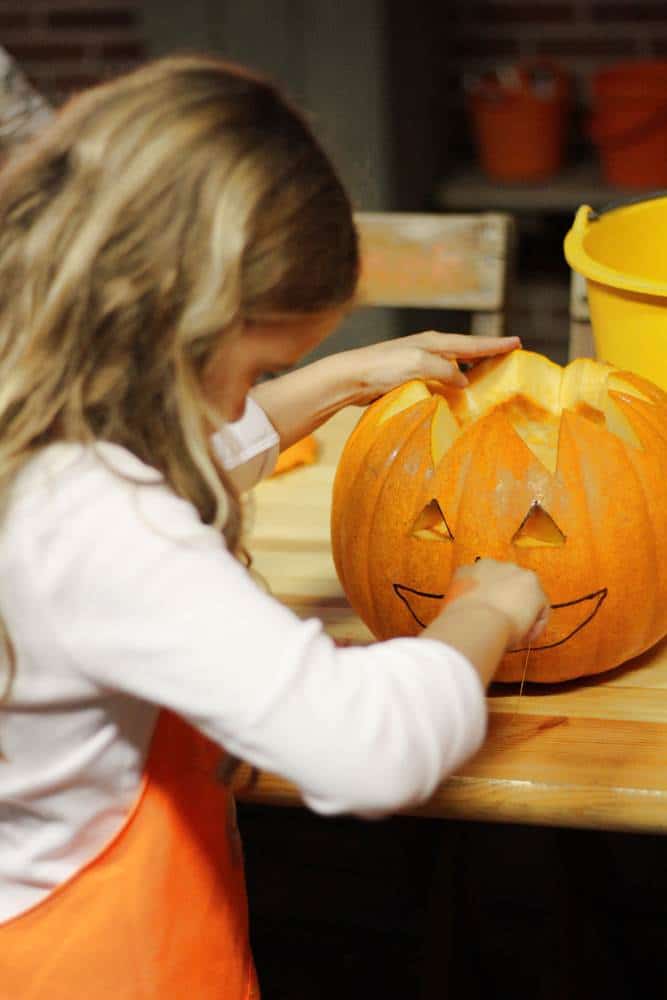 The last and most challenging part is to cut the mouth.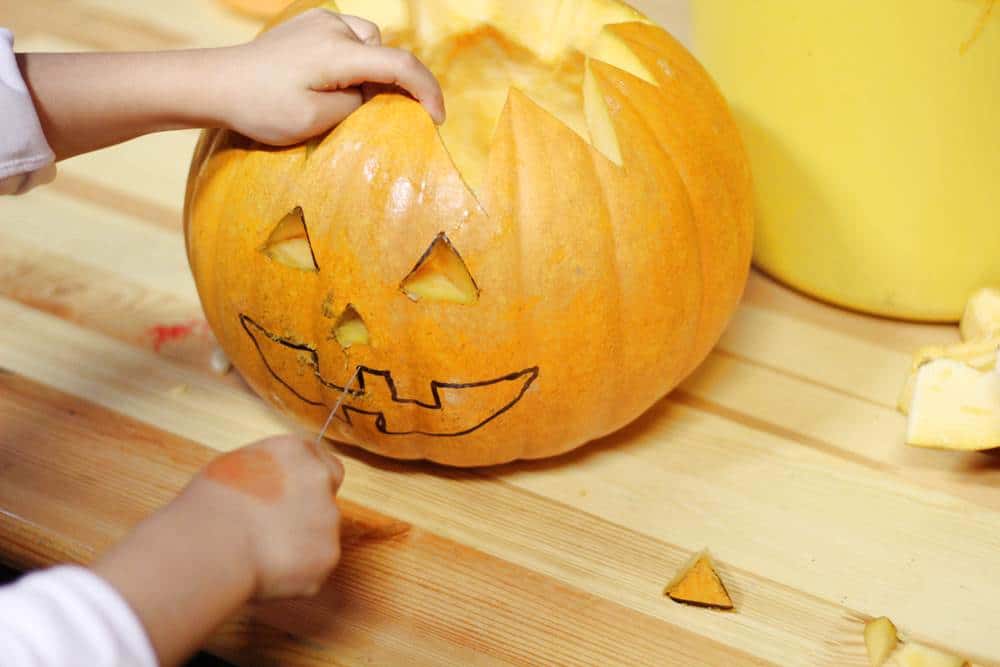 We made 2 ears too using an adults carving punching tool.
And here is our final result!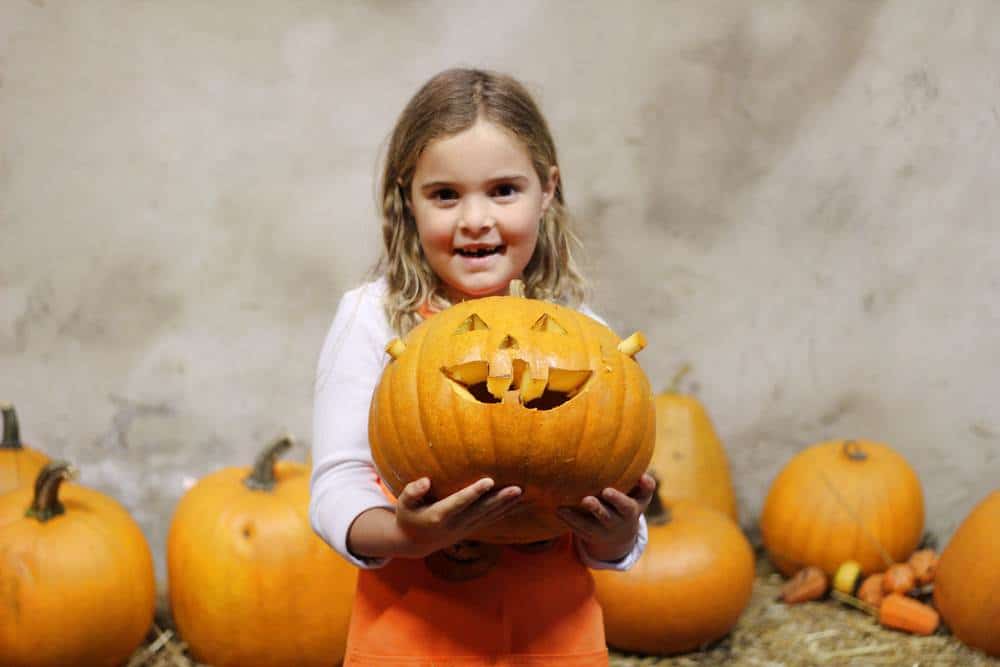 To finish your pumpkin lantern just place a candle or led lamp inside.
The lamp can last up to 10 days outside depending on the temperature (it normally lasts longer outside than inside) so it is a good project to make on the week of Halloween.
Related: Check this post for Halloween activity ideas for couples.
Kids Pumpkin Ideas
Looking for kid friendly pumpkin carving ideas?
Try these cool and easy pumpkin designs for kids and have your home ready for Fall and Halloween!
If you are searching for no-carving pumpkin decorating ideas for kids, don't worry, we have the solution for you too!
Just a few pieces of cardboard or felt are needed for these easy pumpkin ideas for kids where no knife is needed!
Fox Pumpkin Decorating For Preschoolers
Owl Pumpkin Decorating Ideas For Toddlers
Mummy Halloween Pumpkin Ideas For Kids
Emoji Children's Pumpkin Decorating Ideas
Easy Moon Pumpkin Carving For Children
Cat Pumpkin Carving Designs For Kids
Cupcake Kid Pumpkin Carving Patterns
Harry Potter Pumpkin Carving Ideas For Children
Minnie Mouse Children's Pumpkin Carving Templates