This Easy Guacamole Recipe is simple and delicious. It can go on anything from Fajitas to salads!
The Best Easy Guacamole Recipe
I grew up in Southern California, practically on the border of Mexico. All of my school friends were from Mexico, I spoke Spanish, and can you guess what kind of food I grew up eating? If you guessed Mexican food, then you're right! Since I grew up eating the authentic stuff, I'm pretty picky about what people label "authentic Mexican food" and get pretty annoyed if I see avocados being blended together with sour cream and called guacamole (please, never do this)!
I've been mixing my own guacamole since I was a little girl and could probably do it in my sleep. I hardly ever measure my ingredients, but for your sake, I decided to take my time and do a little recipe testing. This easy guacamole recipe will be your new go-to guacamole and you'll never have to buy those mixes from the store ever again!
Some might call this a chipotle guacamole recipe because there is chipotle chili powder in it. I LOVE anything chipotle, but I know it's a personal preference. I don't add much in this recipe, so if you're a fangirl like me, feel free to sprinkle away, and if not, just omit it. This easy guacamole recipe is really forgiving, as most easy recipes are, so if you don't have something, don't sweat it!

How to Pick a Good Avocado
The key to any good guacamole recipe is a good avocado. But do you know how to pick a good avocado? It can be a little tricky. Luckily, my best friend growing up lived on an avocado orchard where I spent about 90% of my time playing. Her landscaper father taught us how to pick a good avocado with these simple steps:
Check the color: Most grocery store varieties will be Haas Avocados. Look for dark green, nearly black avocados first.
Squeeze your avocado: Give your avocado a gentle squeeze. A perfectly ripe avocado should have a little give and not feel like a rock, but should not be squishy like a hacky sack. Even though you are mashing your avocados to make guacamole, you still want firm avocados.
Check the stem: Peel off the stem cap from the avocado, if underneath is green, you're good to go, if it's brown, your avocado is overripe.
Now that you know how to pick a good avocado, you're all set to make your guacamole. The other ingredients should be easy to find. I generally tend to leave out the onions and the jalapenos from this recipe because 1. I just can't do uncooked onions (thank me later) and 2. my kids are wimps when it comes to spice, so they're not jalapeno fans. I feel like the chipotle powder gives it just enough kick and spice without making it too spicy. Sometimes finding chipotle chili pepper can be a challenge. You can always buy it here.
If you're looking for something to put this guacamole on (I mean really you could eat it straight, it's that good), try these amazing one pan steak fajitas! I make these at least once a week and they are AMAZING!
Easy Guacamole Recipe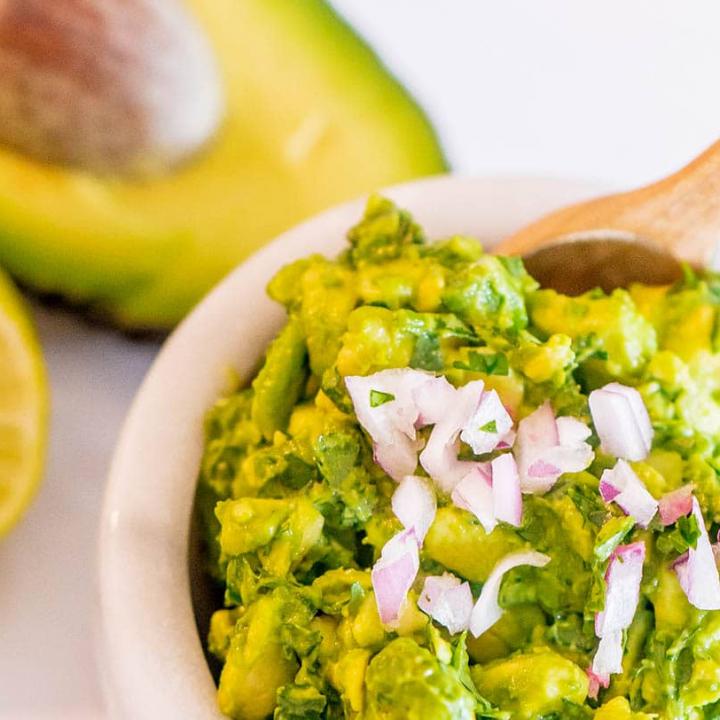 This easy guacamole recipe is so fast and delicious that you can make it in a pinch and most of the ingredients can be found in your home already. I love that you retain the rich avocado flavor, while still spicing it up just enough!
Ingredients
3 ripe avocados
1 lime, juiced (or 2 Tbsp bottled lime juice)
1 tsp garlic powder
1/4 tsp salt (or more to taste)
1/4 tsp chipotle chili powder
1 Tbsp diced jallepeno (optional)
1/4 cup chopped cilantro (optional)
1/4 red onion diced (optional)
Instructions
Cut the avocados in half lengthwise and remove the stone.
Scoop avocado away from the skin and into a bowl.
If your avocados are firm, use a knife and roughly cut them in the bowl. If they are soft, mash with a fork.
Stir in lime juice, spices, cilantro, and onions.
Taste and add salt as needed.
Serve immediately.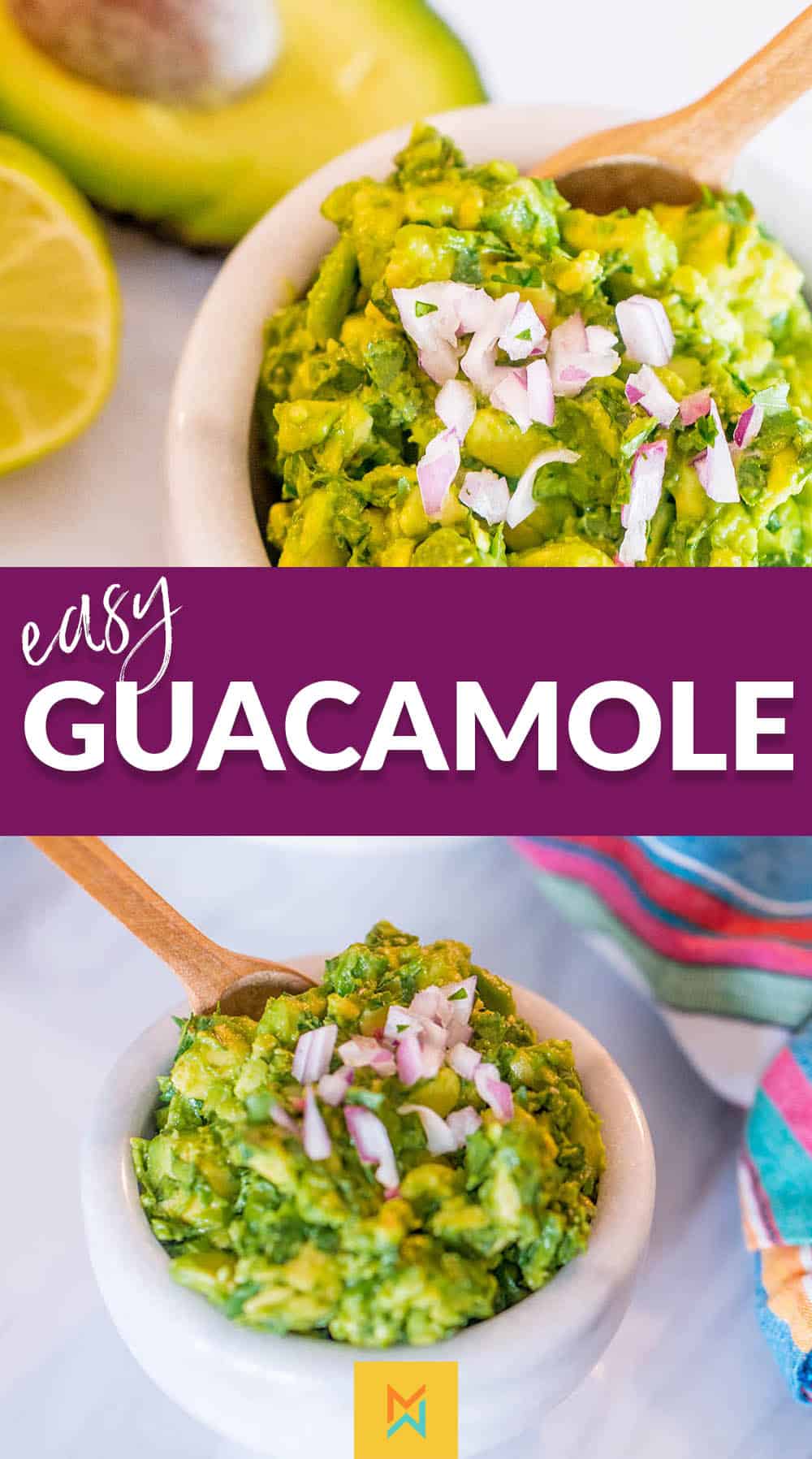 SaveSave