Victoria Sponge Cake is a classic British recipe and a necessity for any proper afternoon tea!
Victoria Sponge Cake
When our family went to England for 3 months, we fell deep, deep in love with British culture, and British food in particular! I think it gets a bad rap sometimes, but oh how I love me some sausage rolls, meat pies, fish and chips, scones, clotted cream, and of course a classic Victoria Sponge Cake!
Like my beloved scones and clotted cream, Victoria Sponge Cake can be readily found in most tea shops and bakeries around the UK and is a staple in many homes for celebrations and tea time. It is a simple cake to make, without too many ingredients or too much difficulty.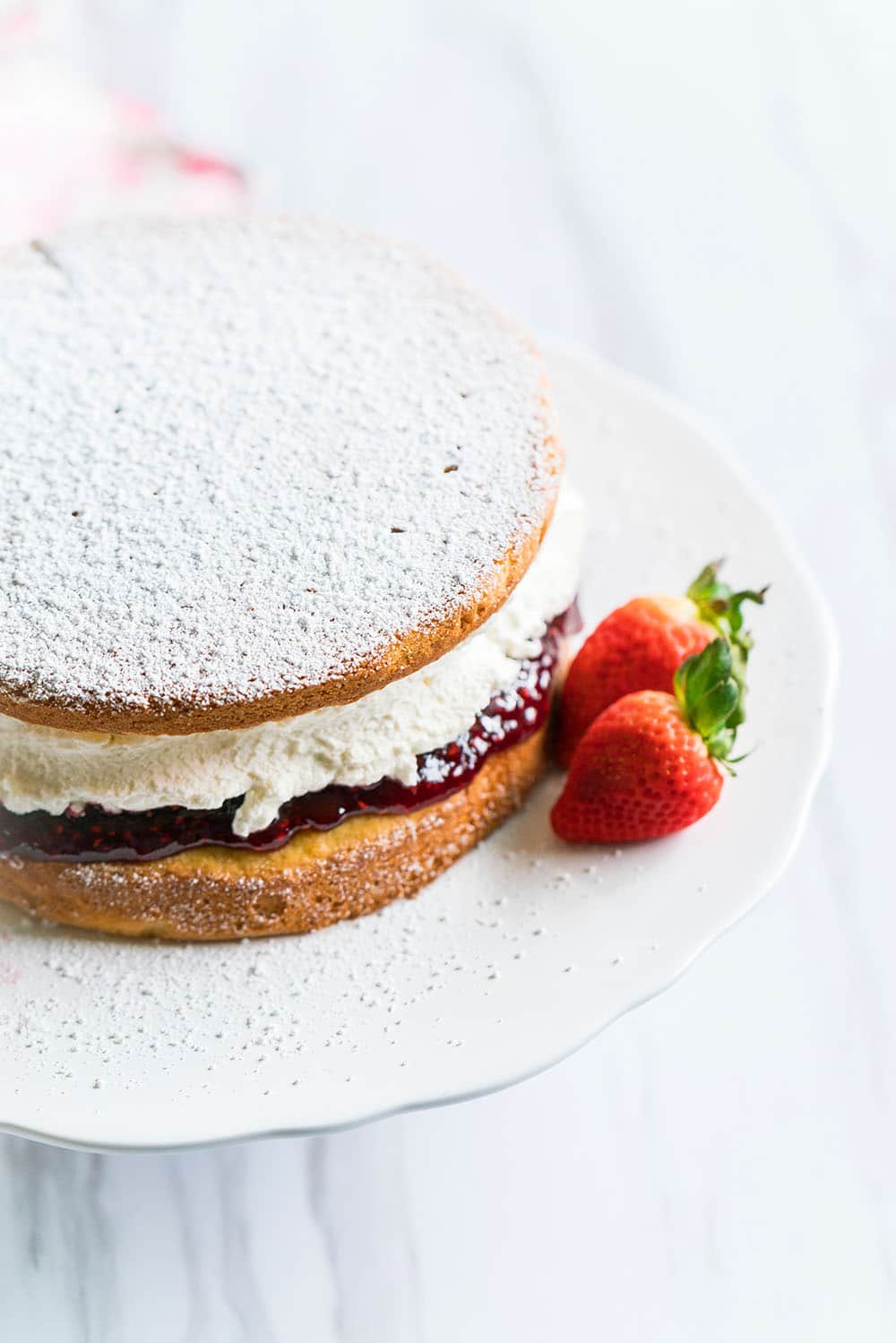 My family fell so in love with Victoria Sponge Cake that I had to learn how to make it when we got back to the US for pretty much every single birthday. In the UK you will usually see it made with a buttercream frosting filling along with jam, but I like to lighten up the cake by using whipped cream and jam.
One thing I've found extremely helpful for making this cake is to use a spring form pan vs. a regular cake pan. Since this is essentially a "naked cake" and you won't be able to frost over any imperfections, it is crucial that the cakes remain intact. These are my favorite spring form pans.
A history of Victoria Sponge Cake
Anna, the Duchess of Bedford, one of Queen Victoria's ladies-in-waiting, is believed to be the creator of teatime. The Duchess suffered from "a sinking feeling" at about four o'clock in the afternoon.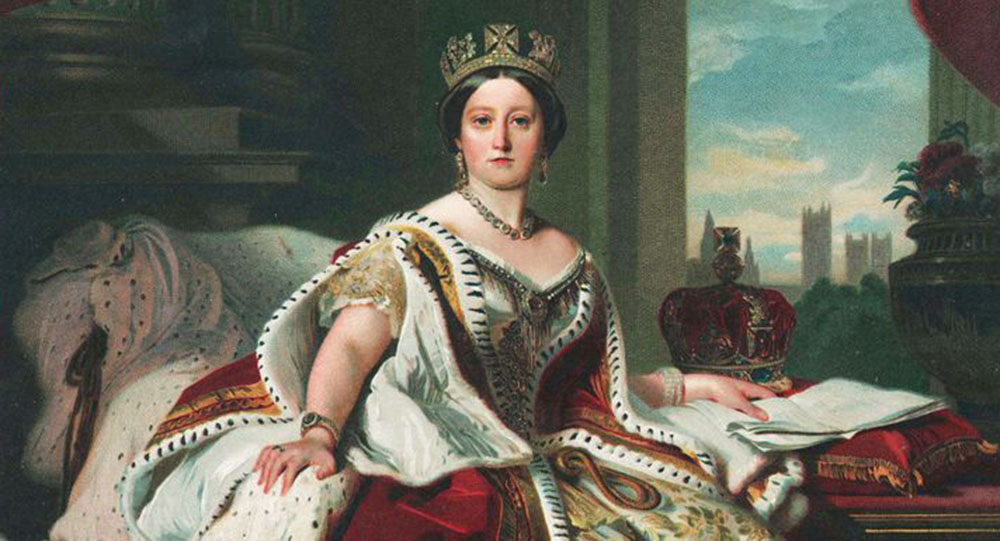 At first, the Duchess had her servants sneak her a pot of tea and a few treats into her dressing room. She then began inviting her friends to "tea," then bringing the practice with her to London, where it quickly became the fashion, and soon a British tradition that has lasted nearly two centuries!
This simple cake was one of Queen Victoria's favorites, known originally as a "Victoria Sandwich," with any type of jam layered between two pieces of sponge cake.
Not much has changed in the last two centuries. People are still having afternoon tea all around the world and still eating Victoria Sponge Cake to their hearts' content.
I love making this cake because it transports me back to England and also back in time!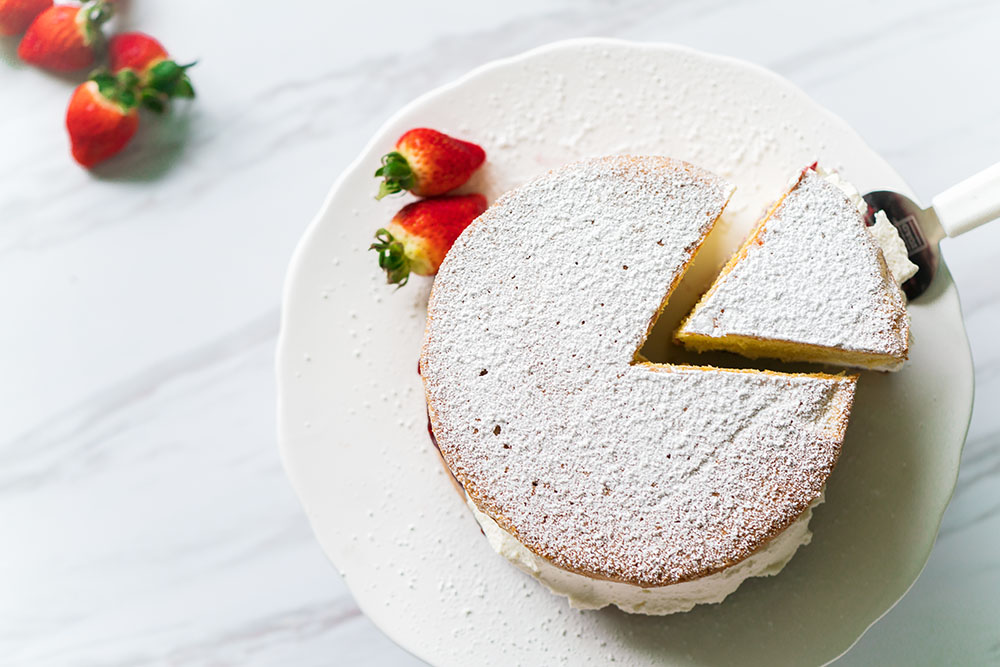 A few things to remember when making Victoria Sponge Cake
You will need a Spring Form Pan for this recipe
Be sure to alternate the flour and eggs
Don't over-bake your cake or it will be dry
Be generous with your jam
Put the jam on the bottom and cream on top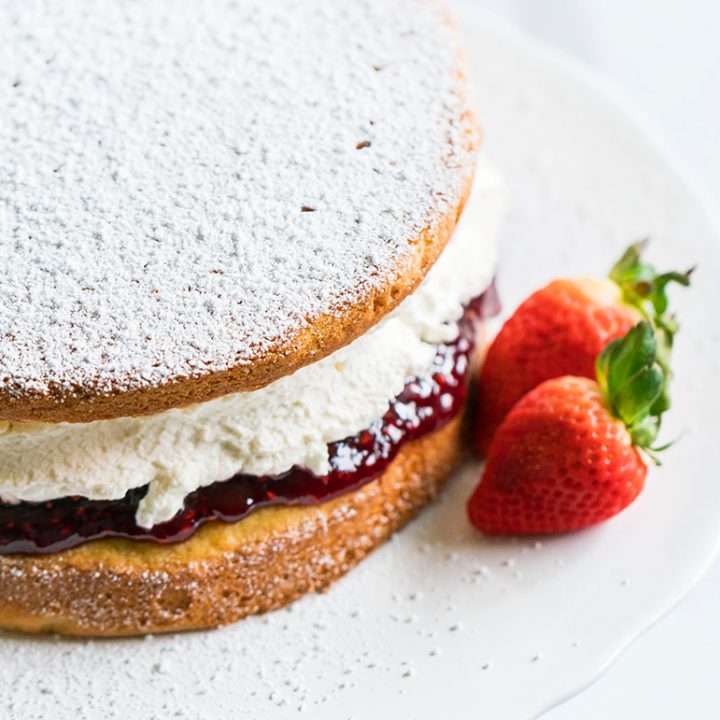 This delicious classic Victoria Sponge Cake is great for an elegant or casual afternoon tea, or any occasion!
Ingredients
Sponge Cake Ingredients
1 cup unsalted butter, softened
1 cup superfine sugar
2 cups flour
2 teaspoons baking powder
1/2 teaspoon salt
4 eggs at room temperature
2 Tablespoons milk
Filling Ingredients
Strawberry, Raspberry, or preferred flavor of jam or preserves (not jelly)
8 fluid ounces heavy whipping cream
Powdered Sugar for dusting
Instructions
Set your eggs and butter out to soften.
Preheat your oven to 350 degrees
Grease your spring form pans
Mix together butter and sugar until fluffy
Whisk together flour, salt and baking powder in a separate bowl
Add the eggs and flour to the butter mixture in alternating thirds, mixing on low
Add the milk
Divide cake batter evenly between two pans
Bake for about 25 minutes until golden on the top and a toothpick comes out clean
Let the cakes cool completely
Once cool, place one cake (the larger, if they come out uneven) on a cake stand.
Layer generously with jam or preserves
Whip your cream (add powdered sugar if you like your cake sweeter)
Add whipped cream on top of jam and top with the remaining cake
Dust the top of the cake with powdered sugar
Serve and enjoy!