Summer is just around the corner and everyone is gearing up for some time in the sun and on the sand, but before you pack up your tribe and head to the coast, be sure you have all the best beach essentials to help your family have the best beach day ever!
We spend a lot of time at the beach as a family. After growing up in Southern California and living in Hawaii for several years, I've pretty much got a fool-proof system for packing up beach essentials for the perfect beach day.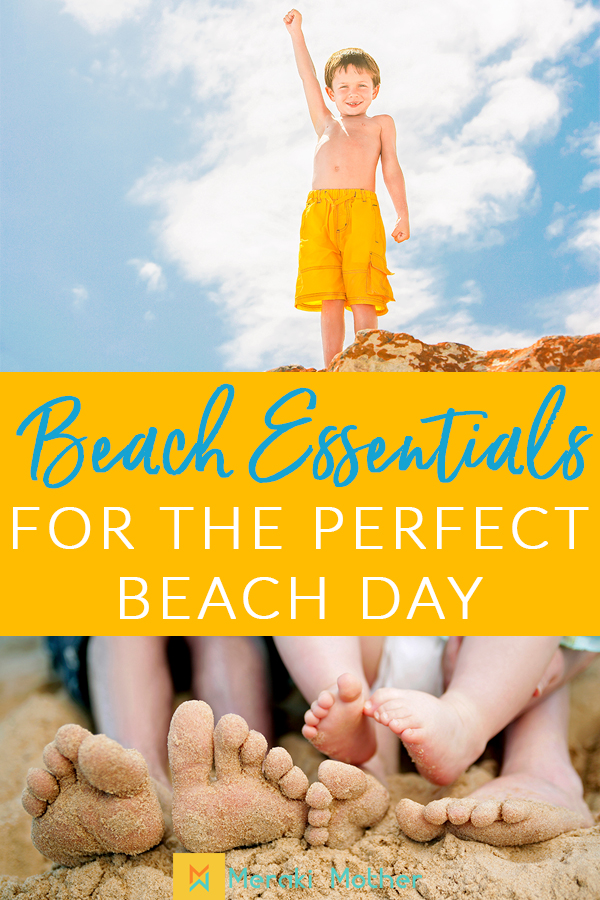 What To Bring To The Beach
Probably the most important beach essential is a good beach caddy that will get all of your beach essentials from your car or house to the shore. I love this one because of its wide wheels that maneuver over the sand like a dream. Be sure to get one that's not too heavy or clunky or you'll never make it far.
Looking for some more free and fun activities to do with kids? 
If you're planning a full day at the beach, you'll want a place to sit and relax. As much as I'd love to lie in the sun all day, I know I'll be on lifeguard duty most of the day, and these chairs will be a life saver. As much as I love regular beach chairs, I find camping chairs easier to pack in the car and haul to the beach. And you can use them for camping too, so less waste and excess!
If you plan on staying all day at the beach, a packed lunch will be essential! We tend to need heartier meals after hours of playing in the ocean, such as big sandwiches stuffed with meat and cheese. I love putting cut up fruit and vegetables in the cooler too. Being in the sun always makes me want to eat healthier!
A good beach bag will help keep you organized and all your beach essentials dry and hopefully sand free. I like mesh ones like these so I can see all my goods.
As much as I love a nice tan and some Vitamin D, I last about 10 minutes before I need some shade! I never go to the beach without a good umbrella! Nothing is worse than not being able to get your beach umbrella into the ground, so I like this one with extra flaps to help it stay in place.
It's not a trip to the beach without building a sand castle! I have several kids who love to play in the ocean and one that won't go near it. But he will happily sit in the sand and build sandcastles all day long! We usually buy this pack once a year and slowly lose all the toys by the end of the summer!
My older kids love boogie boarding, so we bring these any time we have a beach day. I also like that it acts as a floatation device if they need it!
A good beach day is half about play and half about food. Along with sandwiches in the cooler, I always pack an arsenal of snacks for  hungry little bellies. I love these Crave Boxes from Amazon that offer a good selection of healthy snacks for kids and adults.
Of course, if you're spending all day in the sun, you'll need plenty of water. We love Hydroflask canteens. They are sturdy and cute and the best part is that they keep water cold for 24 hours or more! Seriously the ice never melts! I love them! Nothing is worse than drinking warm water when you've been in the sun all day!
If you're taking food to the beach, please be sure to bring a garbage bag and take your own trash out. Nothing makes me sadder than litter on the beach. I always bring an extra garbage bag and help the kids pick up any trash we see on the beach. It's just a small act, but if everyone does this, it could go a long way!
Bringing paper towels and baby wipes is super helpful, especially when you're dealing with sandy hands wanting to eat!
After our family's scare with skin cancer, we don't go anywhere without sunscreen! Use a waterproof sunscreen and be sure to reapply ever two hours. I'm a huge fan of the coppertone spray. It goes on clear, sprays well and is strongly waterproof.
Faces need extra sun protection since they seen sun every day! This is where skin cancer is most likely to occur, so I always add this extra protection for me and the kids.
I LOVE this sand-free beach mat that helps keep the sand at bay.
You'll want nice fluffy, big beach towels to dry off after your fun in the ocean. I love this 4-pack of towels at a great price.
Beach Essentials for Baby
If you're going to the beach with babies, you'll need a few more beach essentials, like this portable popup beach tent. I love that it zips up completely, so if baby needs to take a nap or just needs a break from the sun, they can sleep and play, protected.
If you plan to spend time in the water with your baby, don't forget swim diapers!
I always put life jackets on my toddlers or my weak swimmers. I try to be a good lifeguard at the beach, but sometimes my eyes can't be everywhere. The lifejackets give me peace of mind.
Now that you've got all your beach essentials, you're ready for the perfect family beach day! Have fun and stay safe!
PIN FOR LATER!