Using your Bullet Journal as a tracking system to organize your life is a wonderful idea. But have you thought about tracking your emotions with a Mood Tracker Bullet Journal page?
Mood trackers are one of my most favorite pages on my Bullet Journal. It is so good to look back in time and see if there were connections between your mood and the things happening in your life at that time.
Self care is so important but often we take care of everyone around us and neglect our own needs. That is when a Mood Tracker Journal comes in handy. You will be surprise at how much you learn about yourself, things that positively affect you or times that bring in the extra stress!
Also this page is where you can let your creativity flow and adjust every month if needed, so simple but effective tracking!
So don't only track your bills, things to-do and appointments. Take the time to monitor your emotions and adjust your schedule to include more self care points accordingly.
Looking for some ideas on self care? click to see our tips on self care for moms.
If you don't think yourself a great artist or if you feel intimidated by the the drawing skills of some of the Mood Trackers, you will want to check out our Super Simple but Amazing Mood Trackers that even not artistic people can make! And this one is one of them!
I will walk you through all the steps to make this fun Tulip Field Bullet Journal Mood Tracker.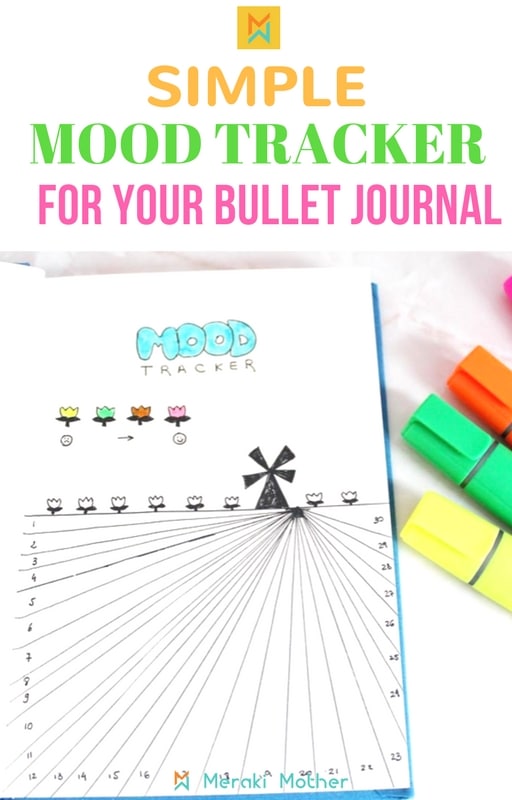 Tulip Field Bullet Journal Mood Tracker
Spring is such an important season to me. Winter is long and cold and it does affect my emotions in a big way. I long for the Spring season with longer warmer days and the beautiful green color that we see everywhere.
I thought it would be a great idea to make my April Mood Tracker a Tulip Field. I lived in The Netherlands for 10 years and although I honestly think Autumn is the prettiest time to be in Holland, the tulip fields are indeed a stunning experience. And the fact the flowers don't last that long, it makes it all that special to enjoy while you can.
So here I am, celebrating Spring with my mood tracker.
How to Make a Tulip Field Mood Tracker
Materials:
Instructions:
1. First use the gel pen and ruler to draw the horizon line. TIP: If I had to start this mood track spread again I would probably turn my bullet journal 90 degrees and make this horizontal line parallel to the longest width of my page. This would increase the amount of space I would have to draw the fields in the next step.
2. Pick any point in that line to start to draw the field lines. This will give the illusion impression that the fields run for miles and meet somewhere in the horizon, far far away. It also reflects the tulip season reality, there are tulips as far as the eye can see.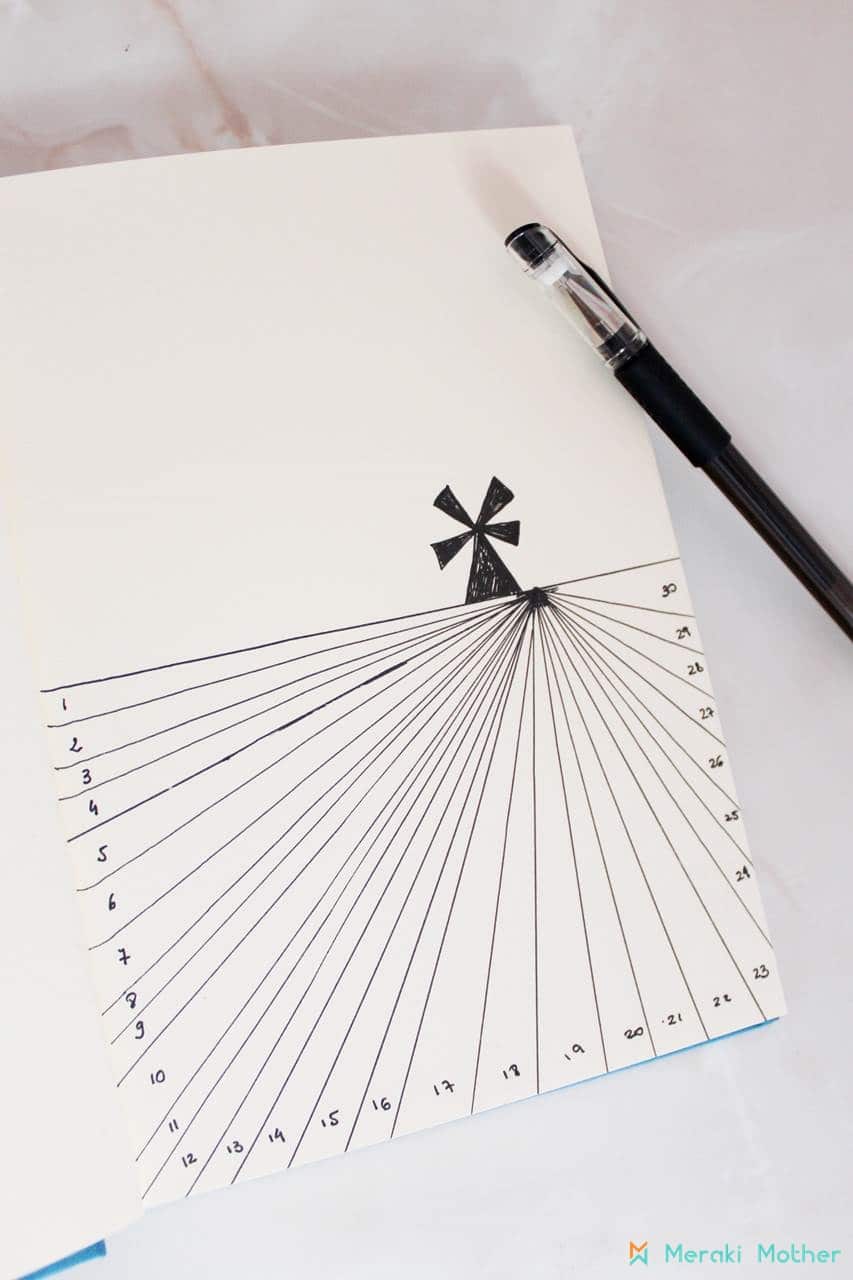 3. Randomly draw lines all starting from the same point. Make enough lines for the days according to the month you are tracking and number them.
4. Because my tulip fields are in the Netherlands I made a windmill. If your tulip fields are somewhere else, you might have mountains or barns. Decorate as wish!
5. Add some tulip flowers in the horizon. I have a spread with drawing instructions in the bottom of the post.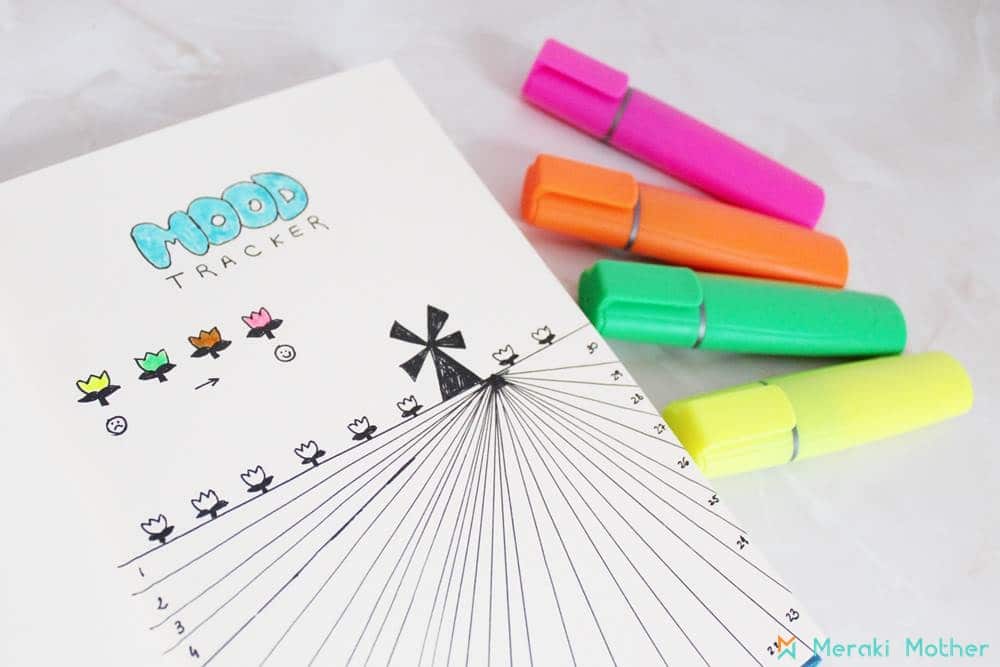 6. Now to make the mood measurement that you will track. You can track specific moods such as happy, tired, busy, stressed etc. I like to track them more as a relative measure than an specific one, meaning that I compare how I feel in general to the day before or compared to an average day.
I find this way I can really understand my day because when I tried to track specific feelings I got that in-between possibility all the time. For instance, some day I may have been busy but also happy – it was harder to track like that.
Now I have a relative measure from very good to very bad day. If you are just starting tracking down your emotions or daily mood you might have to try different ways to measure it until you find one that suits you. It is all about you! Find what works for you.
For this spread I used 4 colors that relatively track how my day went, from sad face to happy face, from very bad day to very good day. I added 4 tulips and marked their respective colors with my highlighters.
7. Added the Mood Tracker sign and colored it. And I am ready to go!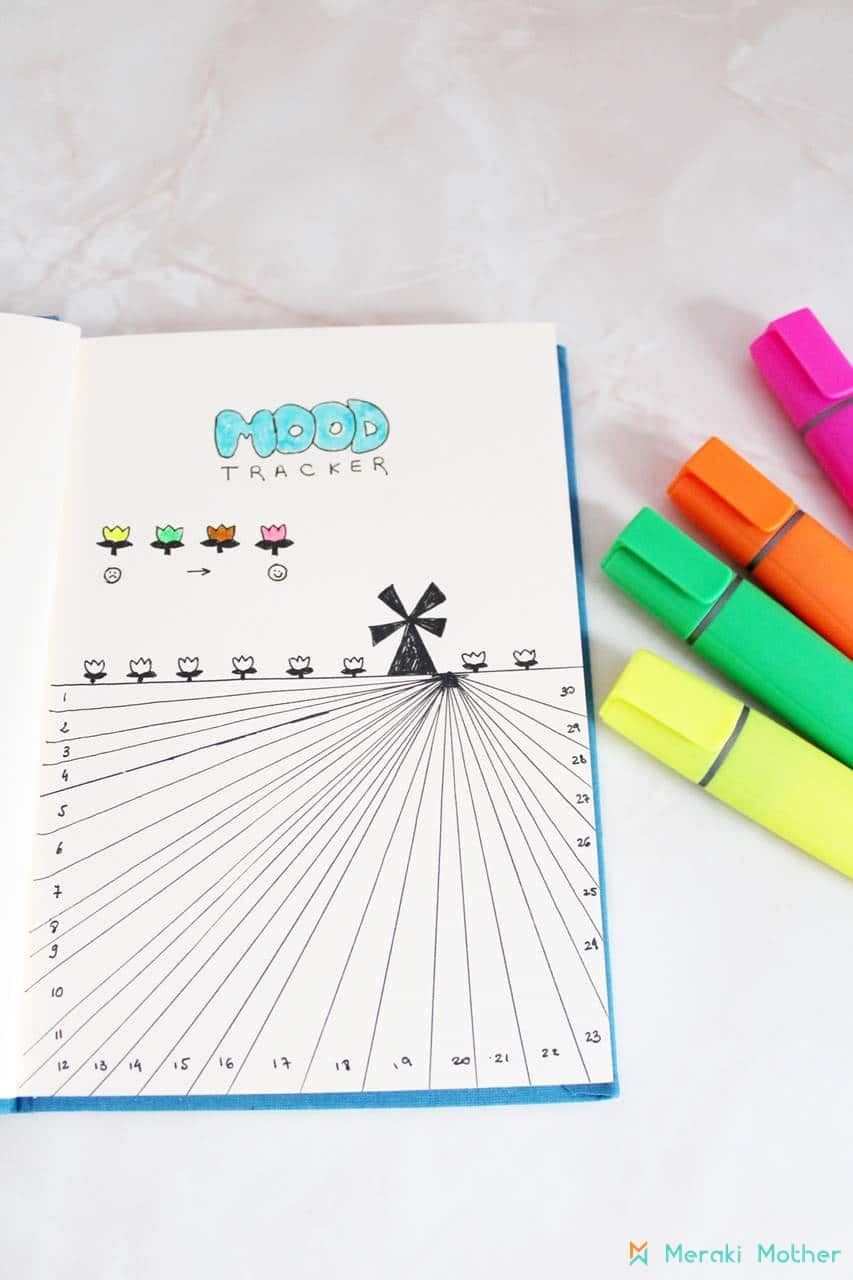 The drawings are really very simple to make but if you need a step by step picture to make your own you can check here: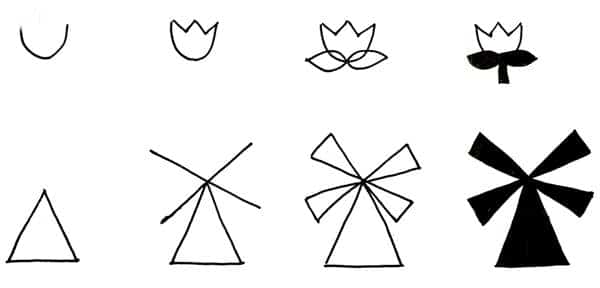 Update 1: Here is my mood track around half way through the month. It has been an average month for me with more highs than lows but the car broke one day and it was not fun. Also some days have been very busy and overwhelming so that is how we stand so far. I will update again when the month is finished.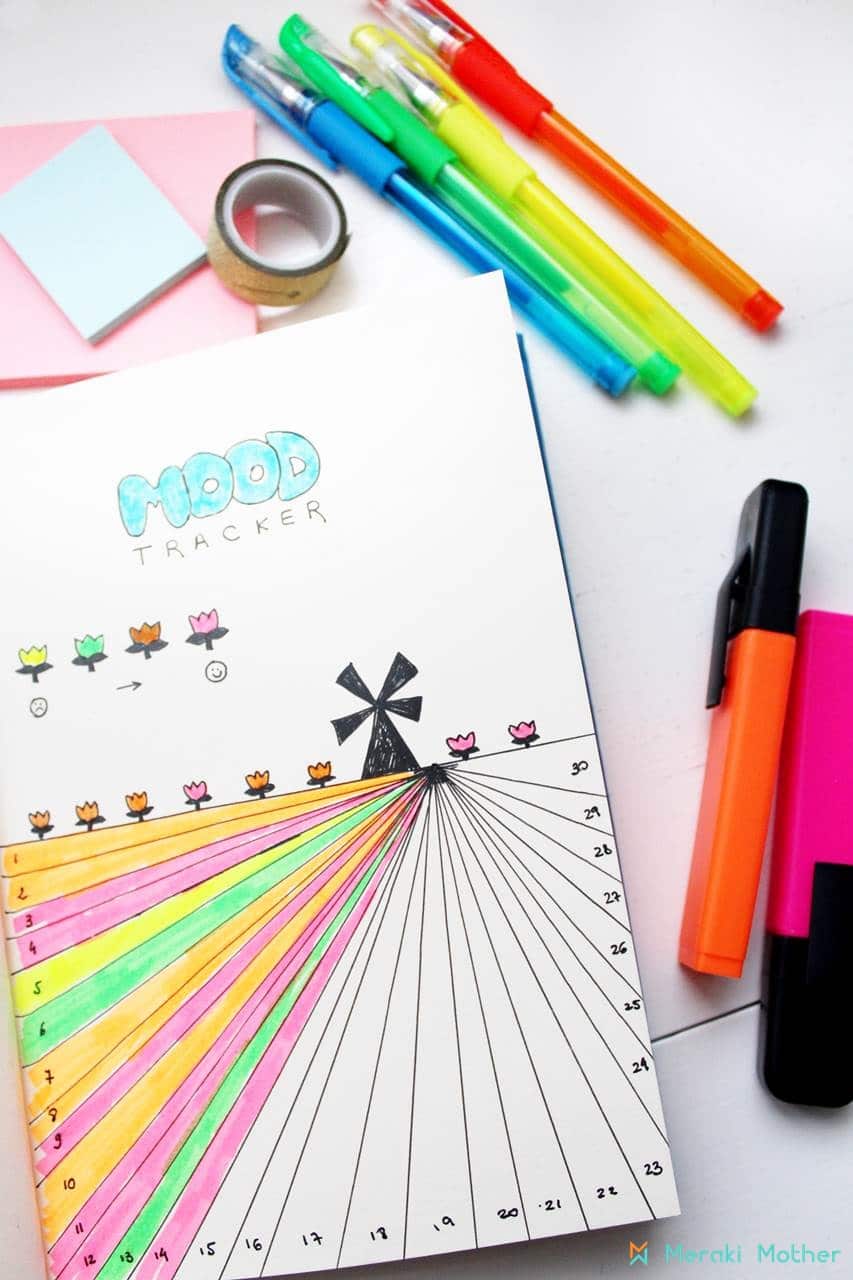 Update 2: This is my complete mood tracker for the month after the pen, looks colorful! I was bored one day and doodled some clouds on the ski. I am happy to see that most of my month was average to good! Those 2 sad yellow lines come from two rather stressful days where both of our cars broke, each on a different day. We were lucky to be helped quickly but car problems really add to the stress as we live in rural area and need them for daily stuff. But in general this month has been good!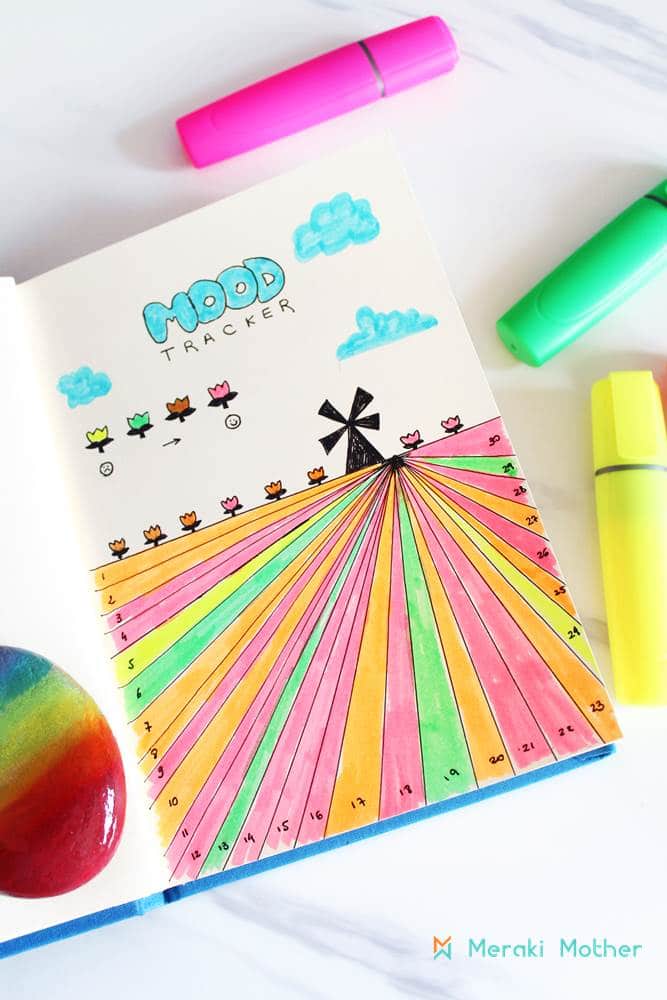 How is your mood tracking going?