They key to a successful blog is traffic, right? When you first start a blog getting that elusive traffic can seem nearly impossible and it is easy to get overwhelmed and quit your blogging journey before you have properly started.
What if we told you that it is possible, and that we achieved 0 to over 23,000 page views in our first two months?
And what if we told you that with some basic strategies you too can learn how to increase website traffic?
We aren't promising that this will be easy because it will take work on your part. But we can promise that it is entirely possible for anyone that is willing to put in the work.
Here are our 5 must-do strategies to increase pageviews.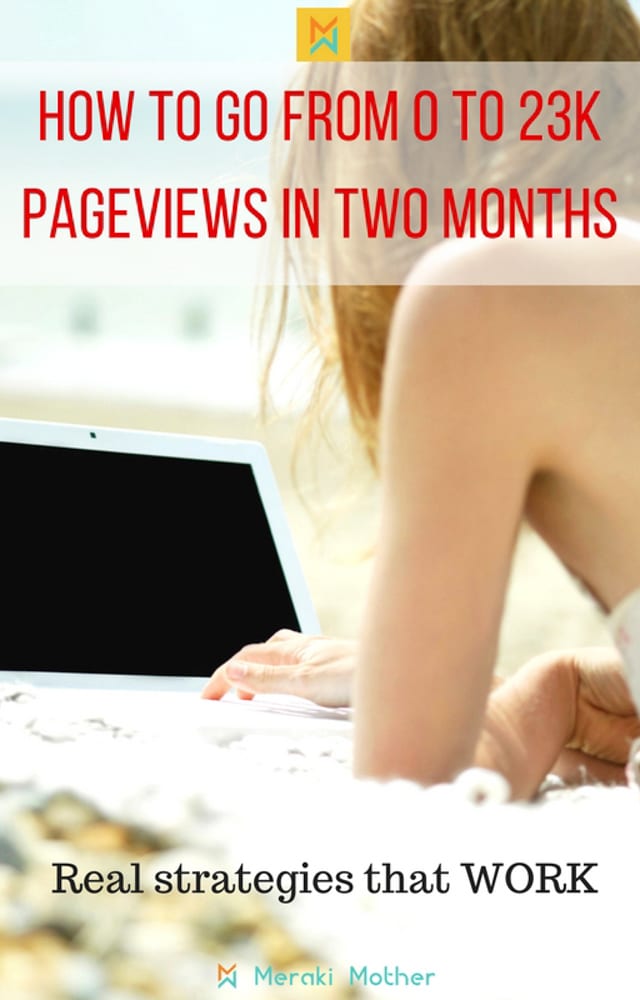 How to Increase Traffic From 0 to 23k Pageviews in Two Months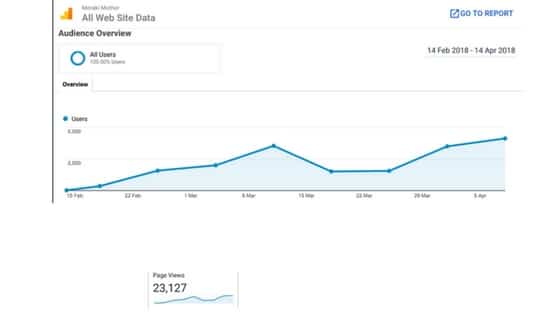 Get Your Website Right
Honestly, you can have the best content on the whole internet but if your blog is confusing to navigate, looks like a preschooler designed it or takes too long to load, people are not going to stick around to read it.
The average person makes up their mind about a website in less than 8 seconds. You have only that amount of time to make an impact before they go looking elsewhere.
Things to consider are:
How easy it is to use your website and find content

Is your website design appealing?

How long does your website take to load?
Tips and hacks on how to increase page views
Look at your website as though you were a new reader or even better ask someone else to head to your website and see how easily they can find certain content or navigate the site.

Use a coaching plugin and compress images to increase site speed.

Find a theme you love. We love and use Elegant Themes, as they're beautiful, simple and so easy to personalize. Our theme is DIVI.

Create Content Readers Love
Obvious, right? But it's harder than you think. It's not going to work by just guessing what you think readers want to know. You need to research.
You also need to create quality content that informs and is relevant to your readers. This means writing in-depth and informative posts about subjects your readers love. 
Tips and hacks to create content your readers love
If you already have an audience try asking them what they want to see more of or what problems and questions they have.

Use programs like Keysearch Pro to discover what people are searching for, then write about it.
Learn how to use Google Analytics to see what your readers love about your site, then do more of it.
Improve your SEO
Search Engine Optimization (SEO) is the process of improving your site, posts and pages so it has a better chance to get organic traffic from search engines.
I know, it sounds hard and seems confusing to begin with.
But if you want to rank anywhere on Google and have it drive traffic to your site you need to use SEO correctly throughout your site. This involves many parameters including in and off page SEO, but keyword research is something you must absolutely do for your posts. 
We use Keysearch Pro to find our keywords and to find out what competitors are ranking for. Keysearch has a super easy interface, you just need to type your idea and ta-dah, it gives you all related keywords that you can use.
You then go and filter it as much as you like to find the best keywords (with higher search volume and low competition).
Keysearch also doesn't cost you an arm and a leg like many other good keyword tools do. You can have different plans to suit your needs and pay less or more as you go, upgrade at any moment and the support is SUPER amazing!
Tips and hacks to do SEO the right way
Use a great SEO plugin. We use Yoast but there are many to pick from so choose the one that suits you.
Invest in a great keyword tool to help you find the perfect keywords. We use and love Keysearch Pro. We know you don't want to spend money but this will pay for itself in no time. Besides it is the cheapest program we know of that gives us great results.
Learn how to do SEO properly. We love the Billionaire Blog Club, but more about that later.
Get the Link Juice Going
Links are vital to traffic. You will want links from other sites directing them to your awesome posts and also internal links. It is so important to pop links into your posts directing readers to related content ON YOUR SITE. So many bloggers miss this step.
Tips and hacks to creating more links for your site
Make friends with fellow bloggers in your niche and check out their content to see if you can make your readers experience better by linking to relevant information from their blog. And maybe they may do the same for you.

Only link to information that is relevant to your post. Adding random internal links to your posts will do more harm than good.

Use your sidebar to show off popular or related posts.

See what we did there! Click through to see how This Easy Strategy Will Help You Make Money From Your Blog
Start using Pinterest…like yesterday
If you aren't using Pinterest already go set up an account…now. This single form of social media is our biggest driver of traffic.
Tips and Hacks to using Pinterest to increase your blogs traffic
Get a great Pinterest strategy going to bring the traffic rolling into your site. We have used Paul Scrivens Pinterest strategy from Billionaire Blog Club and it has made a HUGE impact on pageviews to our site.

Invest in a great scheduling tool like Tailwind so you can use your precious time effectively.

If you are looking for a new Pinterest strategy to help boost pageviews and how to get ahead with SEO we suggest Billionaire Blog Club.

 

This is the course that we have personally used to get 0-23k page views in two months.
So you may have noticed that we are huge fans of the Billionaire Blog Club. We credit Paul with helping us learn all the right strategies to help us grow from 0 to over 23,000 pageviews in two months. To learn more about how you can access these strategies read our review below. 
The Billionaire Blog Club, or the BBC as members know it by is run by Paul Scrivens.
He successfully blogs about multiple niches. With sites about Health and wellness, home decor, personal finance and more. Here's what you get included in with Billionaire Blog Club membership:
A community! Paul uses Slack to create a brilliant space for his students. It is easy to find the right place to ask your questions…and get them answered. Paul is also a very active member.
Getting advice from him personally and the rest of the community is honestly nearly worth the price of the BBC in itself.
Over 120 lessons! Here you will find courses on everything you need to know to make your blog a success. You will find lessons on strategies and information regarding:
SEO

Google Analytics

Pinterest

Email Marketing

WordPress

How to select a Niche

Creating content… writing blog posts that people are searching for and want to read!

and much more
Paul helps you create a clear and working strategy for your blog by using all these individual components. Helping you create content that draws your ideal readers, increase pageviews, increase traffic and monetize your blog. 
BBC also includes great challenges that help you supercharge your learning. These include: How to Reach $1,000 in revenue and beyond, How to gain your first 1000 subscribers and more.
If you join the challenges you will find daily videos with step by step information and tasks, all helping you to reach your next goal.
We also love that Paul is constantly updating and improving his course information. And with the lifetime access option, this is all included in your original cost.
We also love that it's self-paced because..being a busy Mom means you work when you can, right?
You don't have to take my words for it, you can get a feel for what BBC really is for free.
We suggest signing up to Paul's free 12 day bootcamp email series. This is a great way to see how Paul teaches, get information to help you start making a BIG difference in your blogging and help to decide if the BBC will be a right fit for you.
You like things honest. Paul is upfront and will not sugarcoat anything. If you are looking for a get rich quick scheme this is not the place for you. Paul tells exactly as it is. Yes, it is possible to create a successful and profitable blog but it's going to take hard work.
You want to learn from someone that actually has experience making blogs profitable rather than how to make money teaching about blogging. Paul has and runs many successful blogs in various niches. He knows how to make these work and shares his strategies.
So ready to take blogging to the next level? Get the free advice from BBC's creator in your inbox now!
By signing up for the free 12 day bootcamp series you will get:
Information to get your blog up and running.

Tips and information to help you get your blog on the right track for success.
1. If we have a problem or question we have direct access to the collective mind of the BBC Slack community.
It's such an unbelievable asset to have. There is plenty of SEO, Pinterest and Blog experts that are so generous to give you feedback any time. And Paul himself is super active in the group.
2. We have a clear strategy and know exactly what we need to do to reach those goals. Step-by step tutorials meaning you don't have to guess what the next step is, just follow the strategy.
3. Our content is now specifically geared towards our goals. Understanding how content creation and promotion work is the key to getting pageviews.
4. We got our pageviews from 0 to over 23k in just two months, and they keep climbing!
5. We can now analyze our data and understand what is driving our traffic and how to use this to get more traffic and profit. We know what the next step is and how to achieve it.
Should You sign up for Billionaire Blog Club?
Yes, yes and yes! 
It doesn't matter if you want to start a blog, have a blog that is a few months old or are already well on your blogging journey. The information in this course is going to valuable to you and help you create a successful online income.
Education is vital to success and this course will save you time and money. It can be easy to get sucked into buying cheaper courses but as with most things in life you always get what you pay for.
There are so many blogging courses and ebooks available but we genuinely think you will find it difficult to find such a comprehensive online learning course elsewhere.
And if you are anything like me you have probably already spent your hard earned cash on a few courses here and there that haven't delivered anything new.
This is not the case with BBC, you will be ahead of the game. The beauty of this course is you are unlikely to need to buy any other courses once you have access to all this great information.
The BBC however, is NOT open for enrollment all year round, so grab the chance to join the bootcamp, you will also be informed when the course is open.
Need to join the Billionaire Blog Club? Join here or sign up for the 12 day blogging bootcamp here.
Other Blogging Resources We Love
Bluehost – Find out more about hosting with Bluehost on our " How To Start A Blog Post"
EasyAzon – This amazon plugin is hands down the best plugin to promote your amazon products, to use pictures and have carry your affiliate links to other amazon sites.
Elegant Themes – In the blogging world, looks matter. Make your Blog beautiful with these super easy and stunning themes.
Keysearch Pro –  The must-have tool for SEO. Get ahead on other bloggers by making sure you are using the best keywords and know what your readers are really looking for.
Making Sense of Affiliate Marketing –  A great course from a blogger who has used affiliate marketing to create an online income of over $20k per month. Check out our post abut how to use affiliate marketing on your blog.
Tailwind – Tailwind is Pinterest's approval scheduler with an easy interface and lots of powerful features to take your Pinterest game to the next level!
WP Tasty – Love our recipes? We use this gorgeous plugin.
SaveSave