Searching for things to do in Upstate NY with Kids? Look no further, check out our comprehensive guide to New York vacation spots for families!
New York is so much more than New York City. During our time in New York, this was something that we heard people voice numerous times.
When most of the outside world hears "New York," big city, bright lights, lots of traffic, the statue of Liberty are all things that come to mind, but as one of the oldest states in the union, there are so many places to visit outside New York City.
From breathtaking natural beauty, high adventure, historical importance, family fun, and cultural diversity, New York State is the perfect destination for families.
After spending several weeks exploring New York State, we've listed our favorite family attractions in upstate NY by region.
So pack your bags and read on for ideas of things to see and do during your family vacation in upstate New York.
We were kindly hosted throughout these New York attractions by I Love NY, Visit Rochester and Go North tourism offices. However, all opinions and views are without biased and our own.
1.Upstate New York attractions in the Chautauqua-Allegheny Area
Start your upstate NY road trip from here. This is a beautiful are with plenty to do and see. Check out the favorite activities you can do with your family around Chautauqua and Allegheny area.
Holiday Valley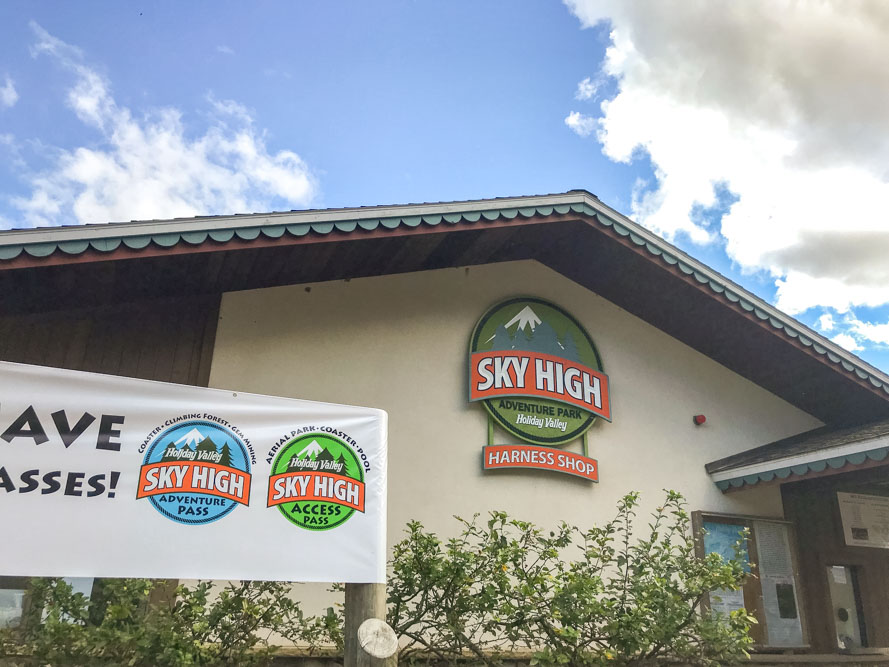 Although Ellicottville may be well known as a ski area and winter wonderland there is so much to do here all year round. As well as plenty of beautiful hikes and bike tracks thrill-seeking kids will love the Sky High Adventure Park. Here you will find Aerial Park, Mountain Coaster Ride and brand new in 2018 is the fun Gem Mining where you can pan for gems, fossils, and even shark teeth!.
The Holiday Valley Sky High Ariel Park has 13 different courses from beginners to advanced and is a great family activity for those with children over 7-years-old. Think of it as an in the air obstacle course which is the largest of it's kind in New York State.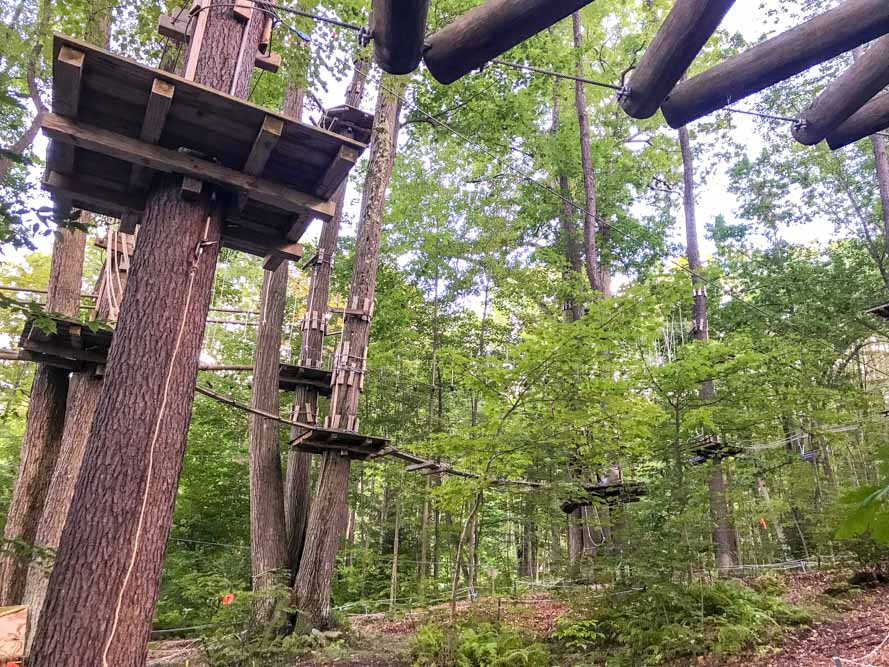 Our favorite though was the Mountain Coaster Ride. Children as young as 3 can ride with an adult on this fun coaster. With you controlling the speed it is perfect for any level of bravery as you spiral, zig and turn down the mountain side through the trees.
To find out more head to the Holiday Valley website here.
Griffis Sculpture Park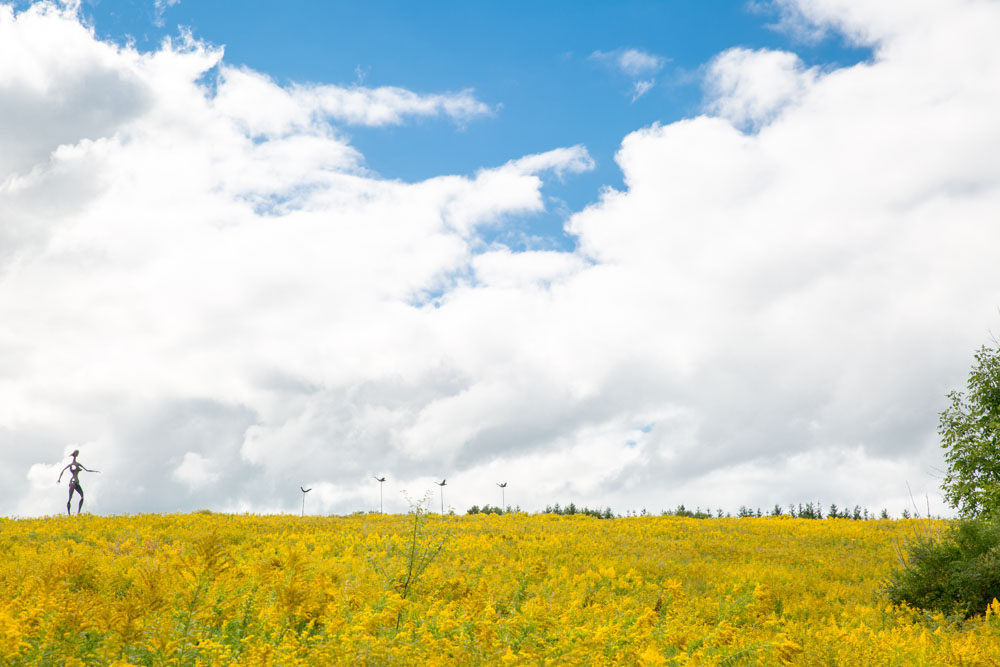 It's not often both parents and kids get to enjoy art together but at Griffis Sculptural Park near Ellicottville the whole family can have an amazing day out. Forget the traditional, 'look but don't touch' mantra as you explore 450 acres of parkland filled with over 250 huge sculptures. You will find beautiful steel sculptures by Larry Griffis, Jr. as well as other local and international artists.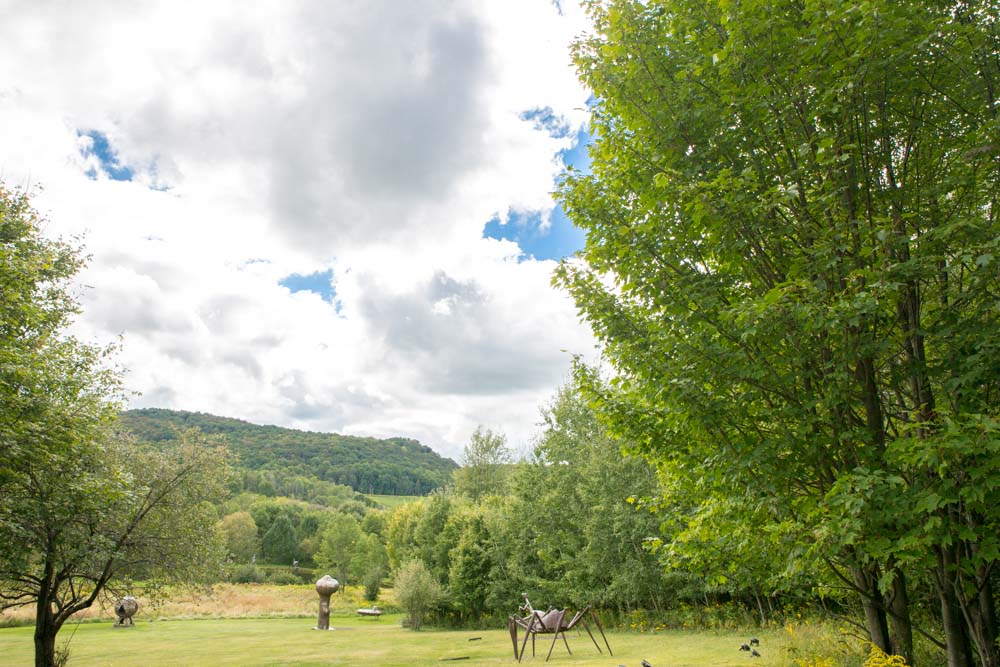 Kids can run amongst surreal giant insects, touch a friendly giraffe and much more here. You will find creations of all sorts in wide open fields, hiding in the woods and even in the park's ponds. Pick a hike, wander at will or plan a picnic.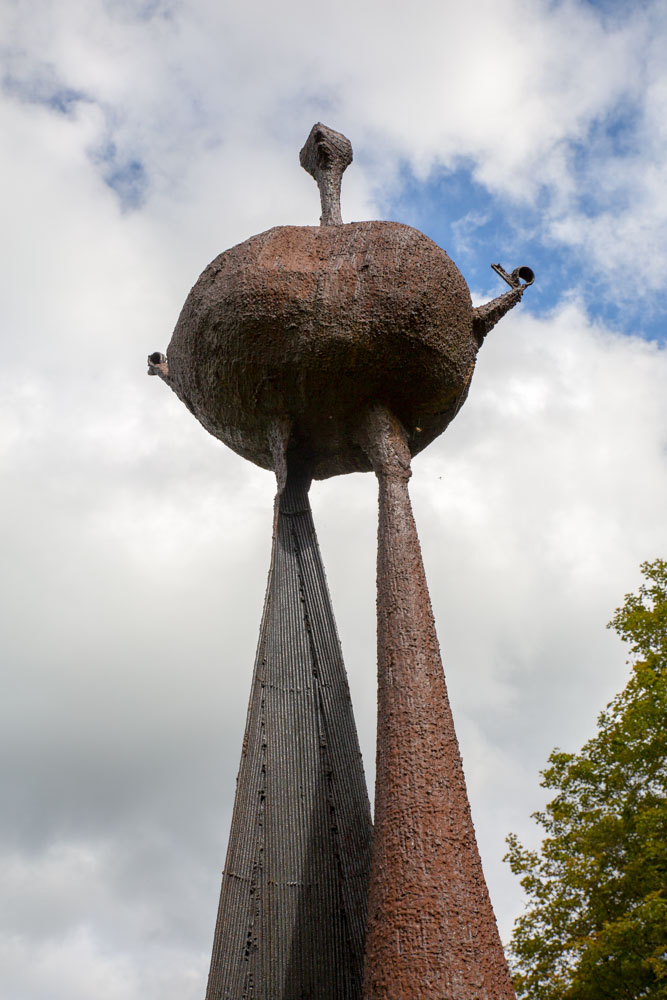 With admission prices at only $5 per adult and children under 12 years free, it's also a great budget-friendly activity to do in New York.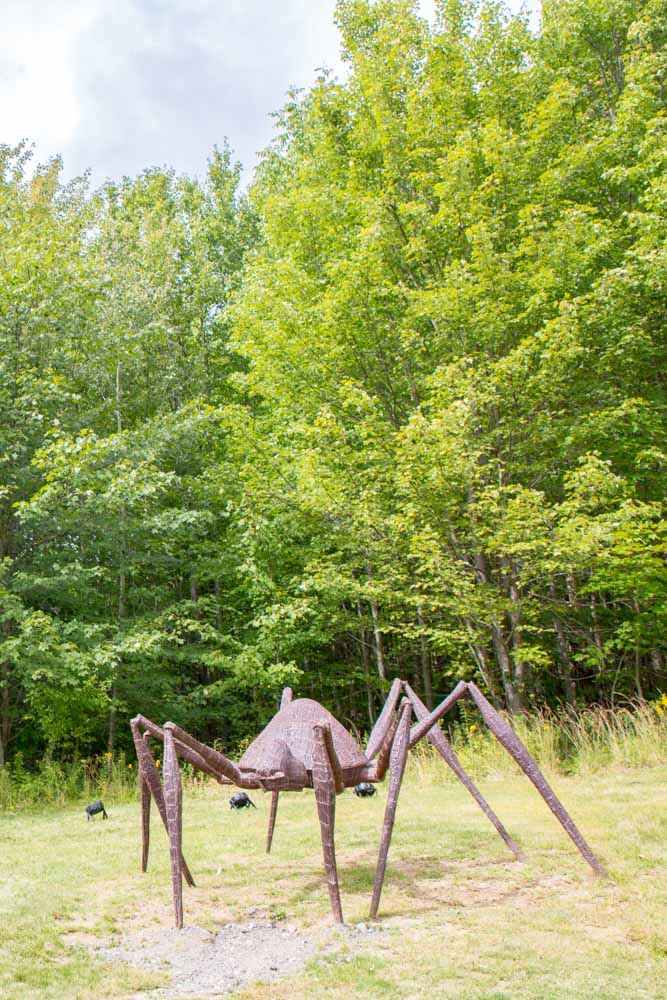 Find out more at Griffis Sculptural Park.
Panama Rocks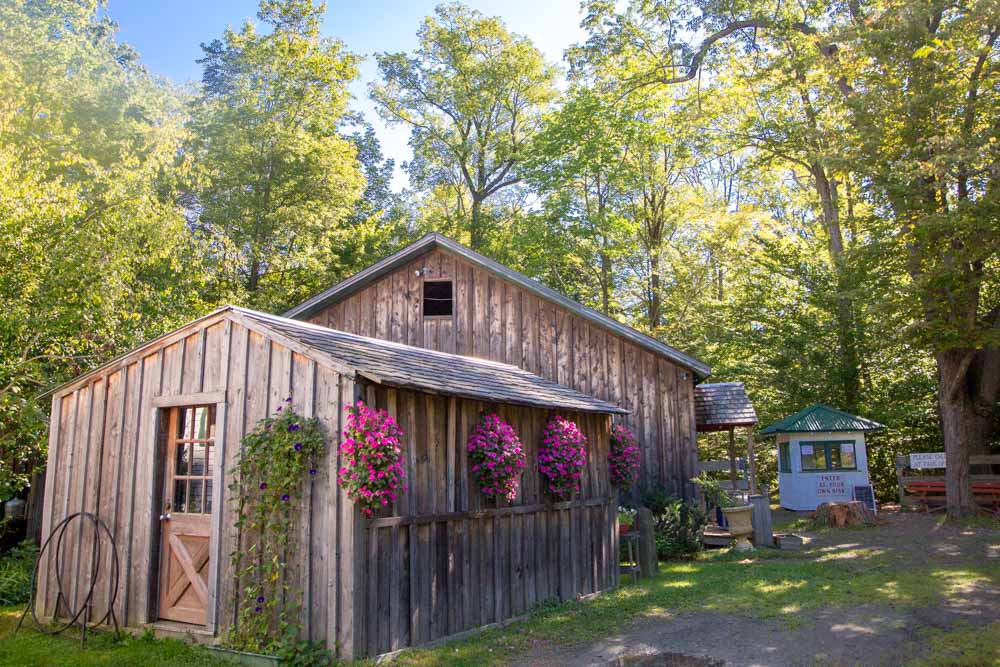 Get back to nature in Panama Rocks Scenic Park. Experience 300 million-year-old rock formations, 60 feet tall crevices and 500+-year-old hemlock trees in this beautiful woodlands. Search for wildlife, do one of the marked hikes or wander through at your own pace.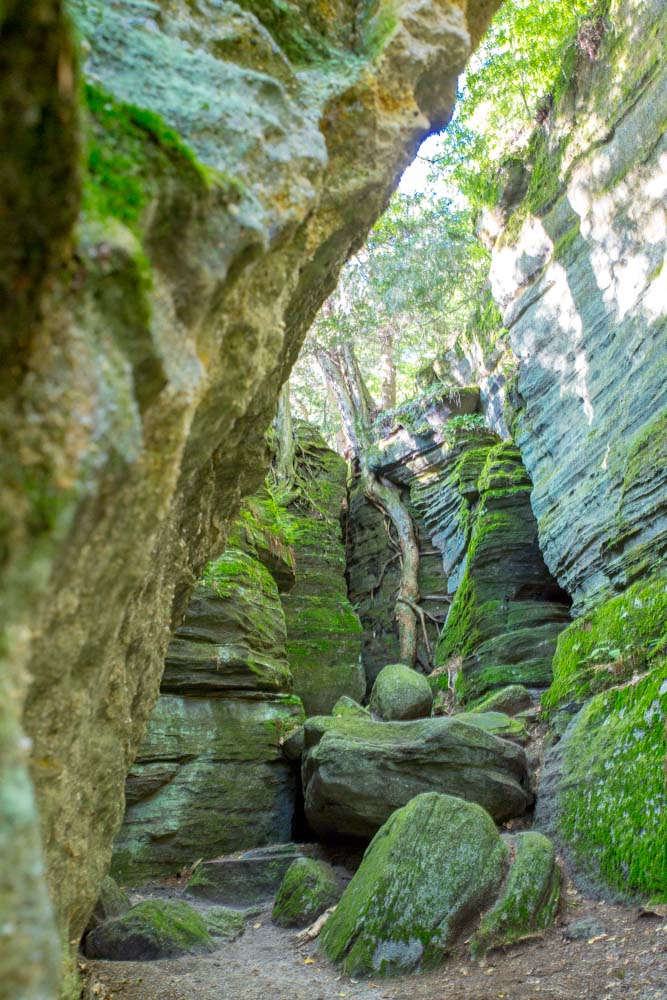 The kids will love the fun treasure hunt based on real-life bank robbers who used to use the area to hide stolen gold in the 1800's. The gold was never found but maybe you will be lucky enough to discover a hidden fortune amongst the rocks?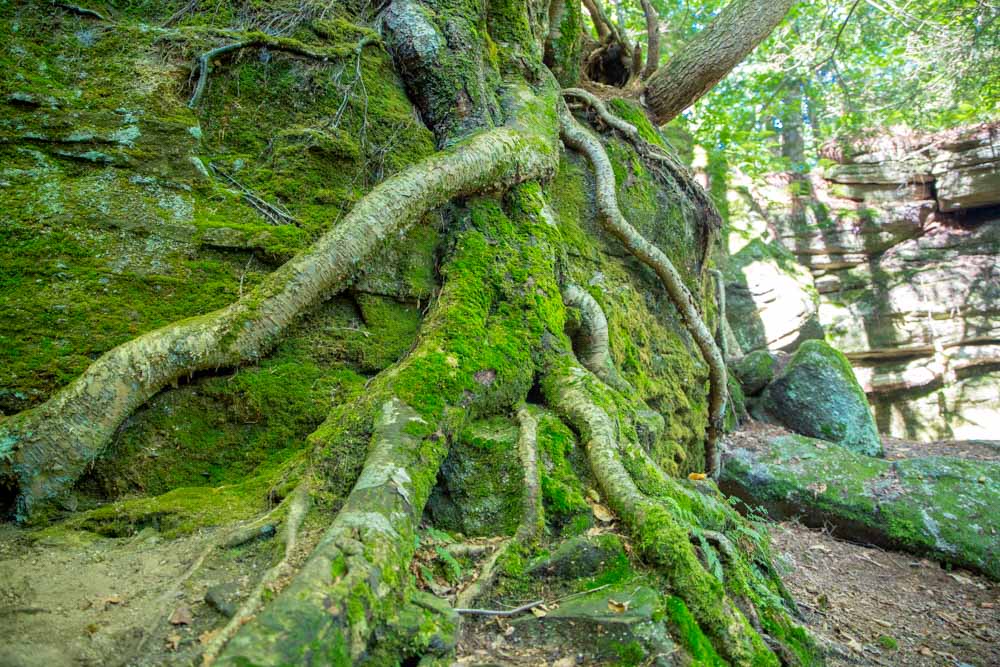 For adults and children over 8-years, you could also try your hand at axe throwing! Be sure to book ahead though. For more information click here.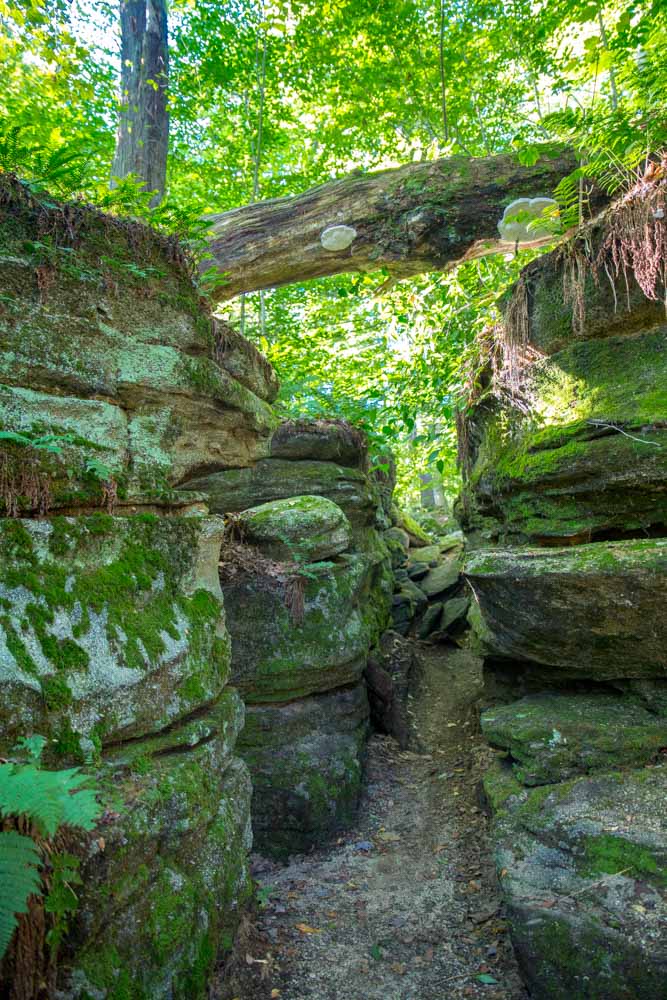 Seneca-Iroquois National Museum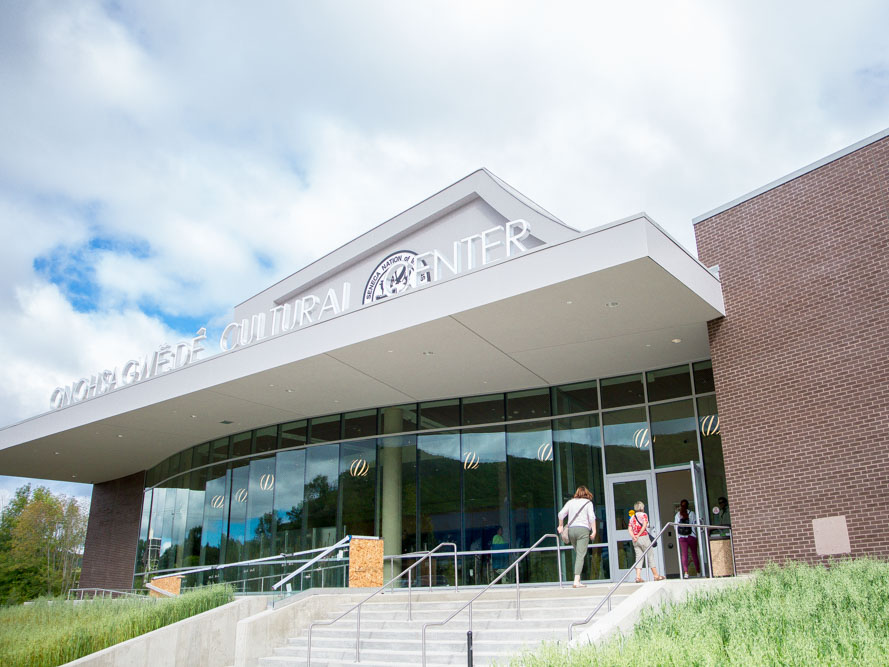 The brand new Seneca Nation Cultural Centre in Salamanca, NY is a fantastic place to learn about the traditions of the Onöndowa'ga:' and Hodinöhsö:ni'.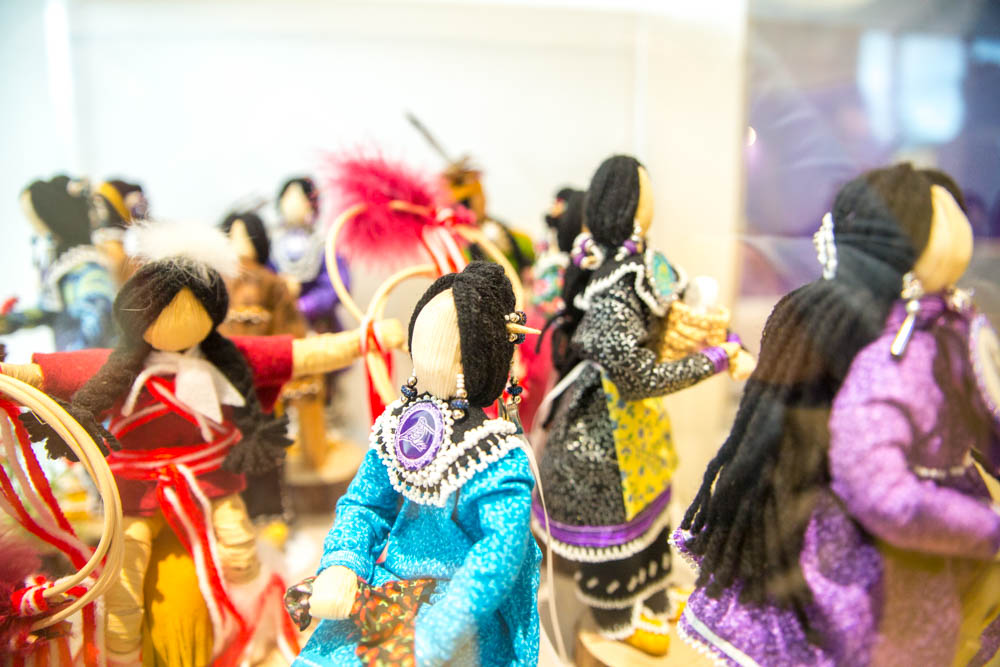 Choose to do a formal tour or wander through the many exhibits at your own pace. With over 85,000 artifacts there is plenty of information to soak up and the whole family will love learning about everything from Lacrosse to experiencing a traditional longhouse.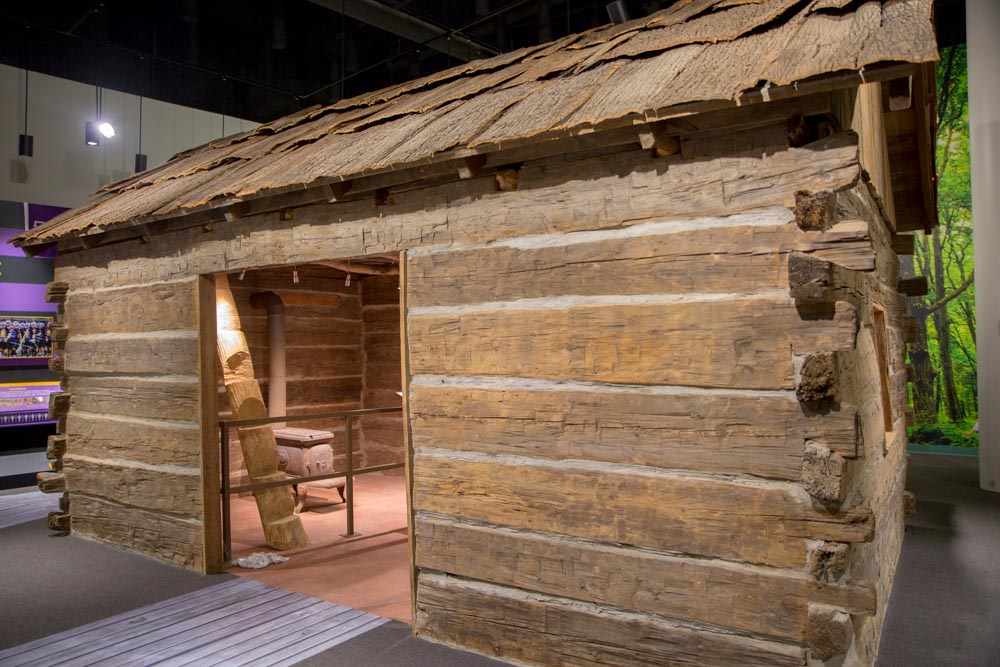 One of our favorites was learning about the Onöndowa'ga:' clans which are represented different animals and birds such as the deer, wolf and heron. Children will love learning about the creation story from the tour guides.
Find out more about the museum here.
Tips: Where to eat and stay around Chautauqua-Allegheny area
Cabana Sams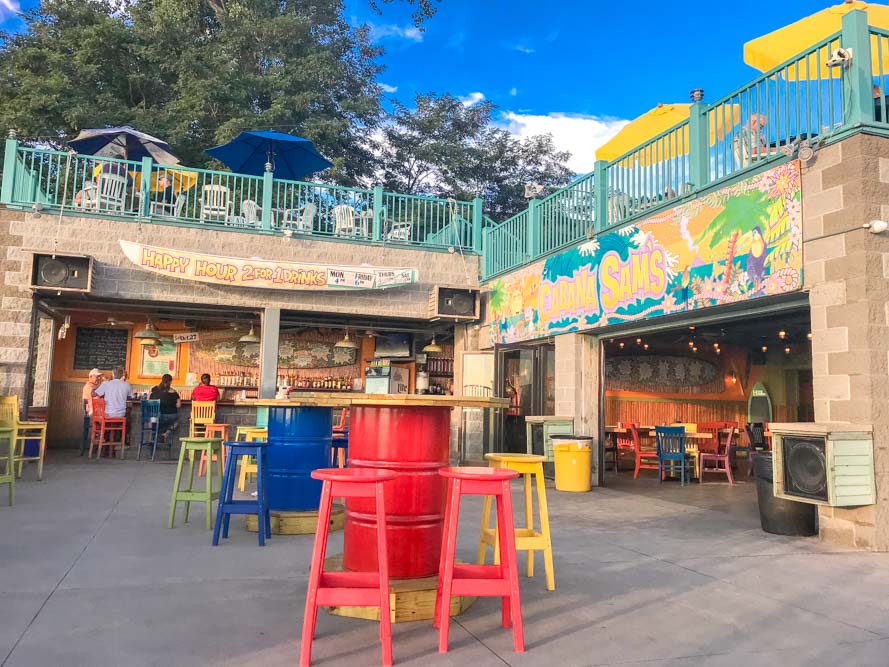 Located on the shores of the stunning Lake Erie in Irving, Cabana Sams is a fantastic place for casual dining, ice-cream, and food with a view.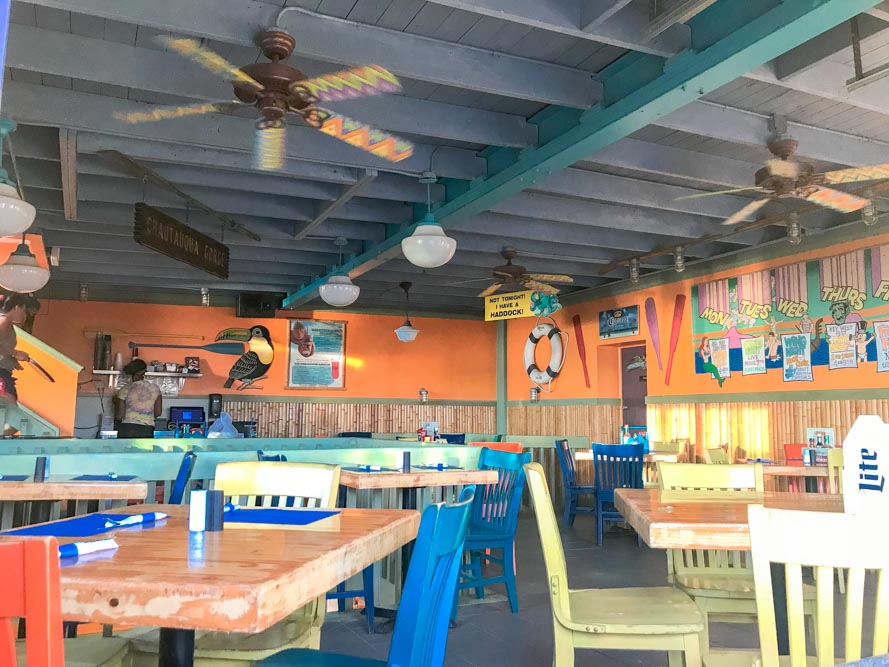 From burgers, seafood and some fun cocktails for mum and dad you can't get much better. The atmosphere is relaxed and the decor is fun and colorful with a nostalgic feel the whole family will love.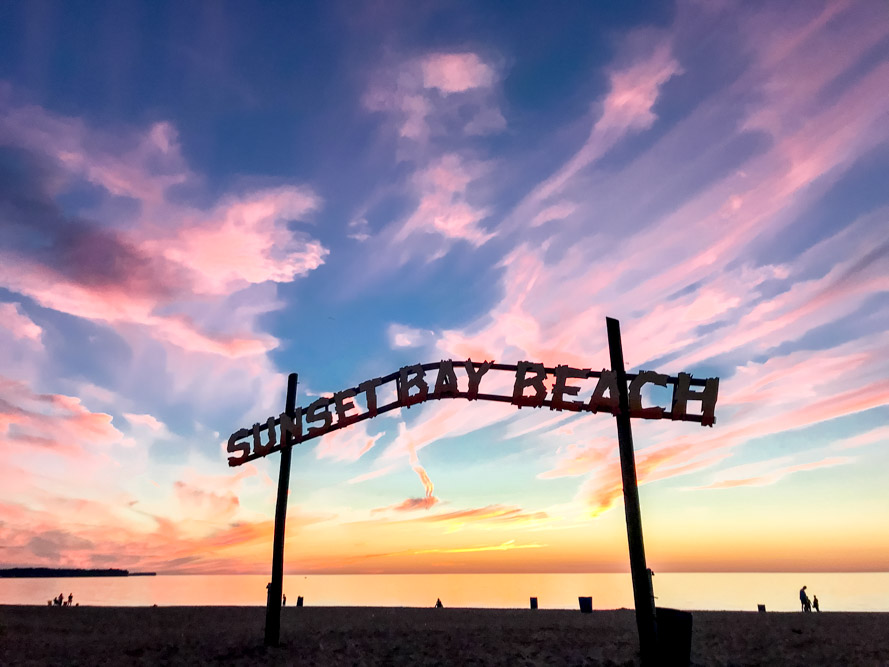 Find out more about their menu and location here.
Chautauqua Harbour Hotel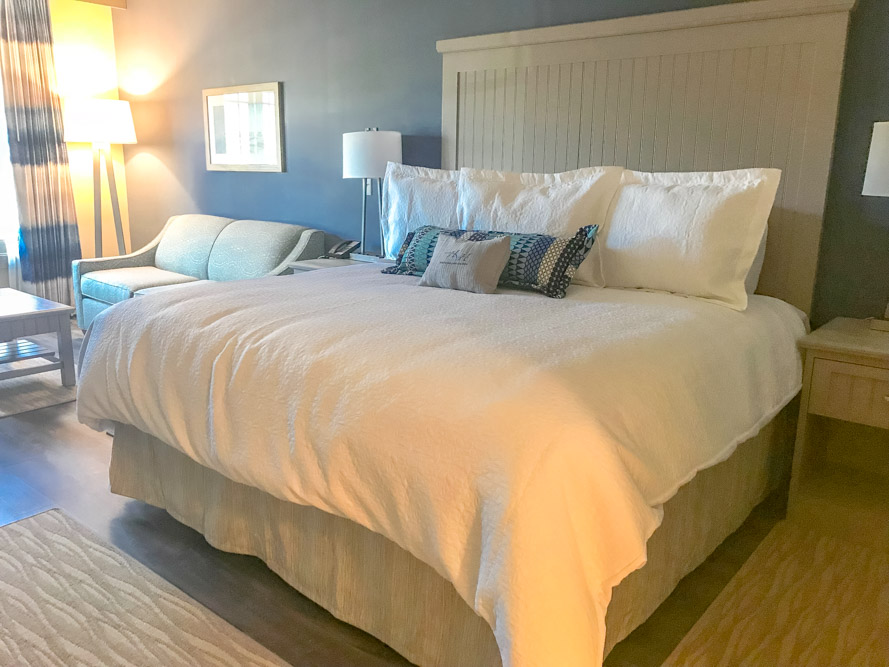 This brand new hotel sits on the old site of the famous Celoron Amusement Park on the shores of beautiful Chautauqua Lake. With both an indoor and outdoor pool, views you won't want to leave and in-house restaurant, it has everything you need if you want a little bit of luxury for your family stay. The beds and linen will give you an amazing nights sleep and honestly, their robes are some of the best I've ever lounged around in!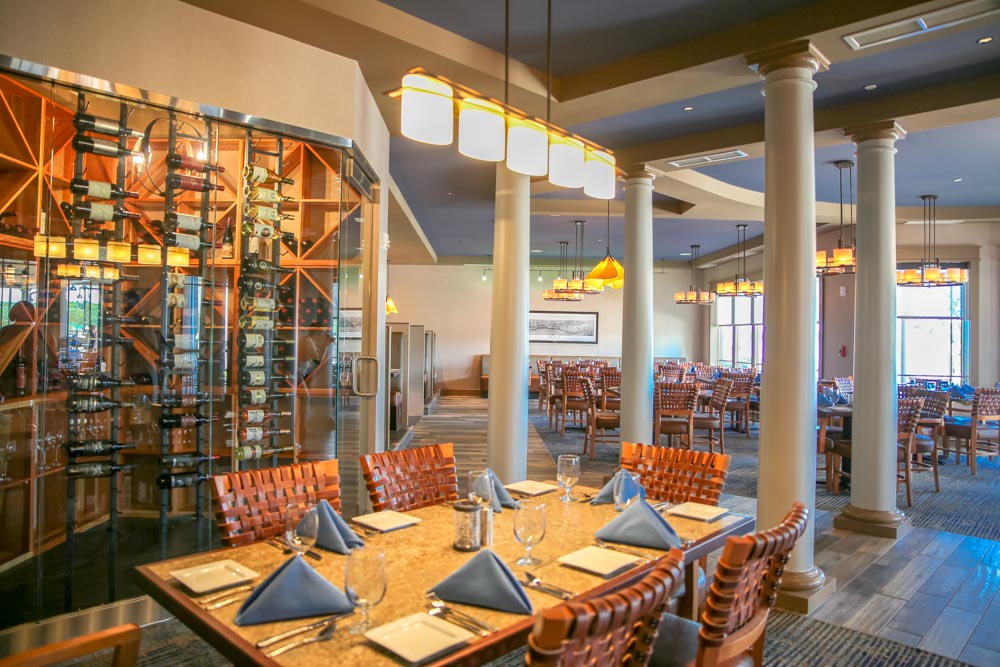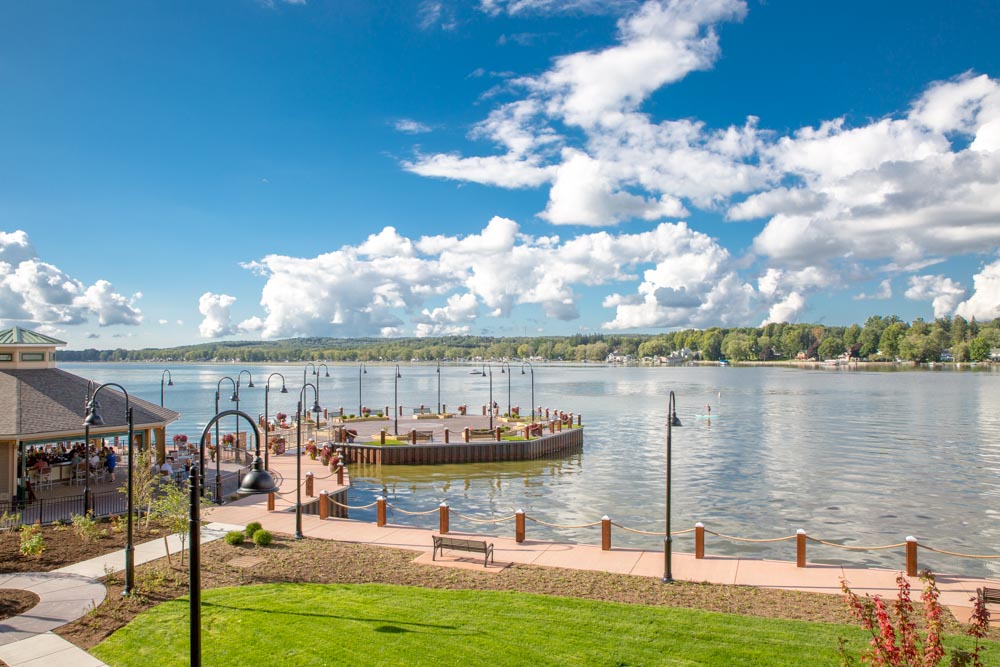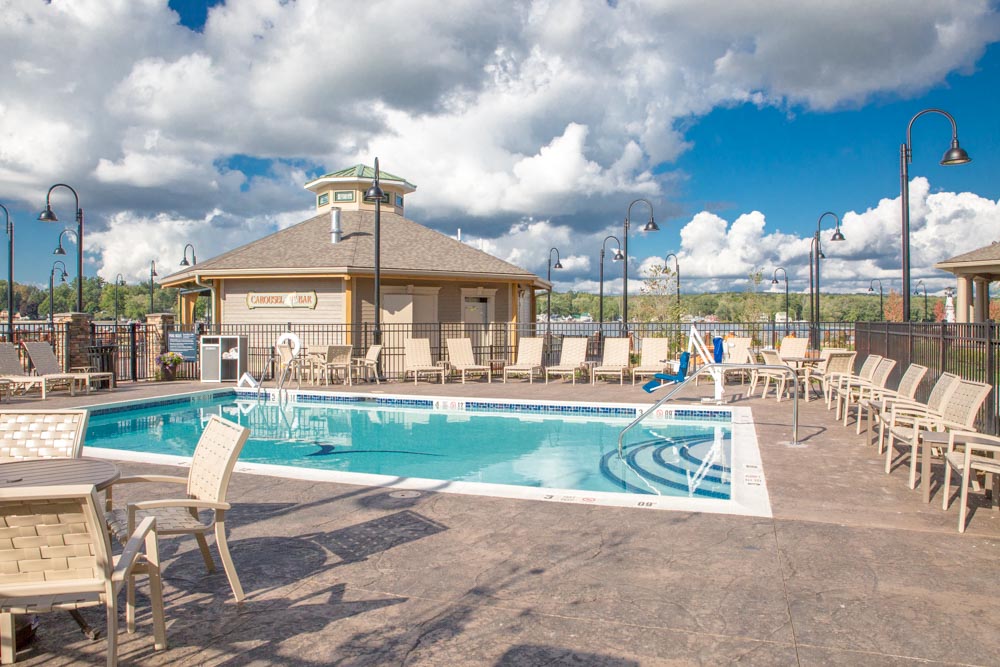 To find out more head here.
2. Niagara Falls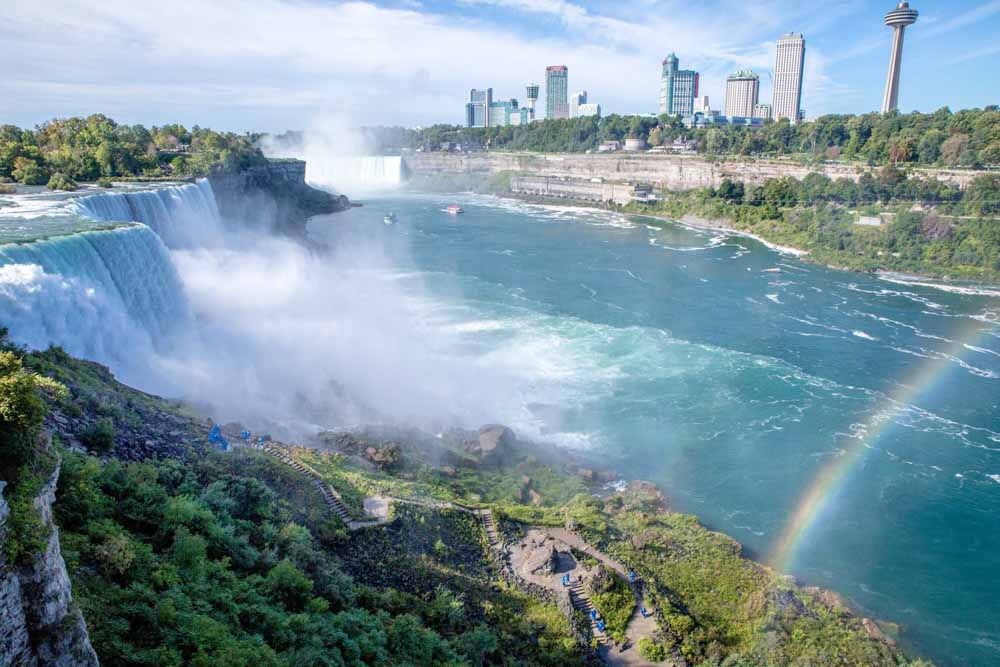 Maybe one of the most iconic Waterfalls in the World, Niagara Falls should definitely be on your must-see list on your New York vacation.
This is one of the most popular New York state tourist attractions. There is plenty to do with kids here too. Take the cute scenic trolley to Goat Island, have an adventure close up to the falls with the Cave of The Winds or just wander around Niagara Falls State Park soaking up the views.
One of our all time favorite activity and New York state attractions for families was jumping aboard the Maid of The Mist. What an experience. Be prepared to get soaking wet though as you get up close and personal to these impressive falls.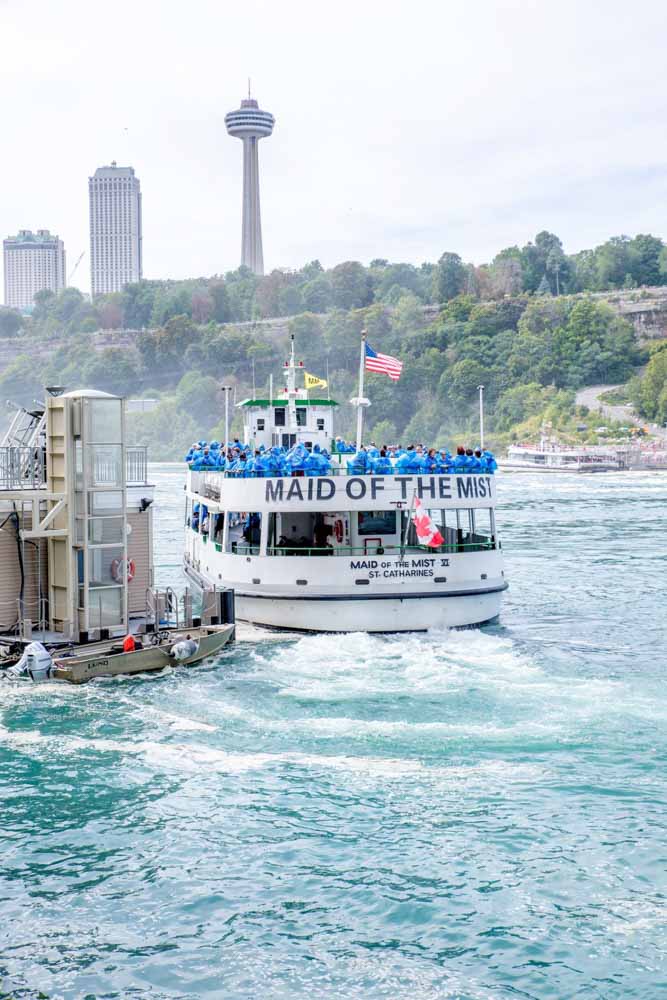 If you are in the area be sure to check out all the amazing activities available in nearby Buffalo.
Related: Things to do early morning in NYC.
3. Visit Rochester with Kids
Rochester, NY is the third-largest city in New York State. It is such a vibrant city filled with amazing family-friendly attractions. From beautiful parks to amazing museums, the hardest part is deciding what to do first!
There are plenty of things to do in Rochester with the kids. If you are planning a day trip with kids or city breaks in upstate New York, then read below to find out the most popular kid-friendly attractions in Rochester.
Read below for the best things to do in Rochester for families below. If you need even more inspiration, check this post with more family attractions.
The Strong Museum of Play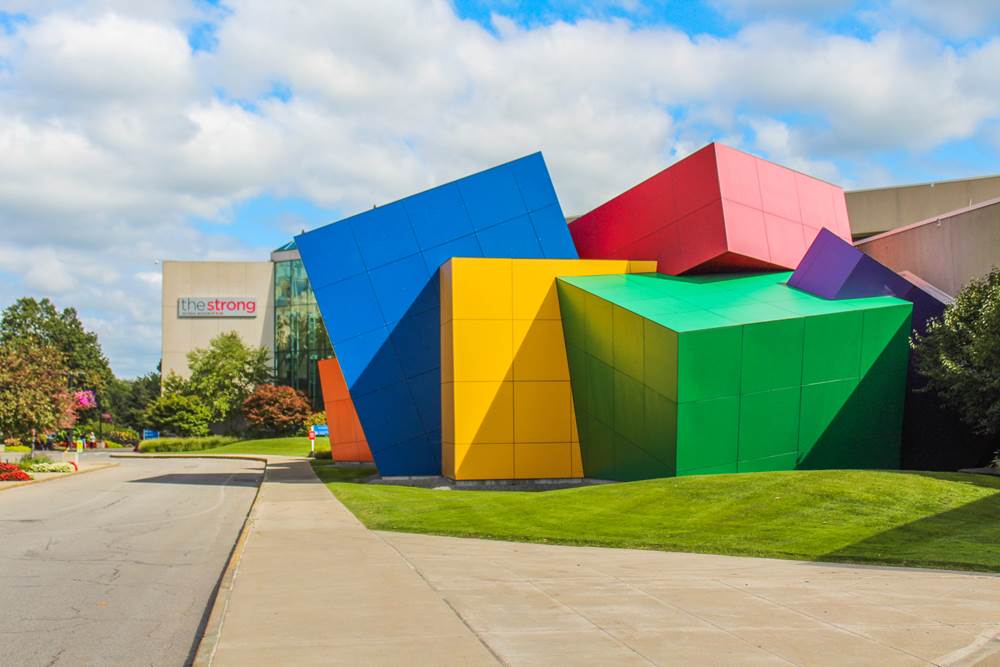 No better place to bring the kids than The Strong National Museum of Play in Rochester. It is unlikely you will ever come across an attraction that is quite like this museum.
It is one of the best-reviewed and rated museums in the U.S. and ti is easy to understand why. The Strong is a museum dedicated to celebrate the history and exploration of play. The multi-story space offers many hands on exhibition and play opportunities such as the National Toy Hall of Fame, the International Center for the History of Electronic Games, a kid-sized Wegmans Supermarket, the Dancing Wings Butterfly Garden and so many more interactive exhibits.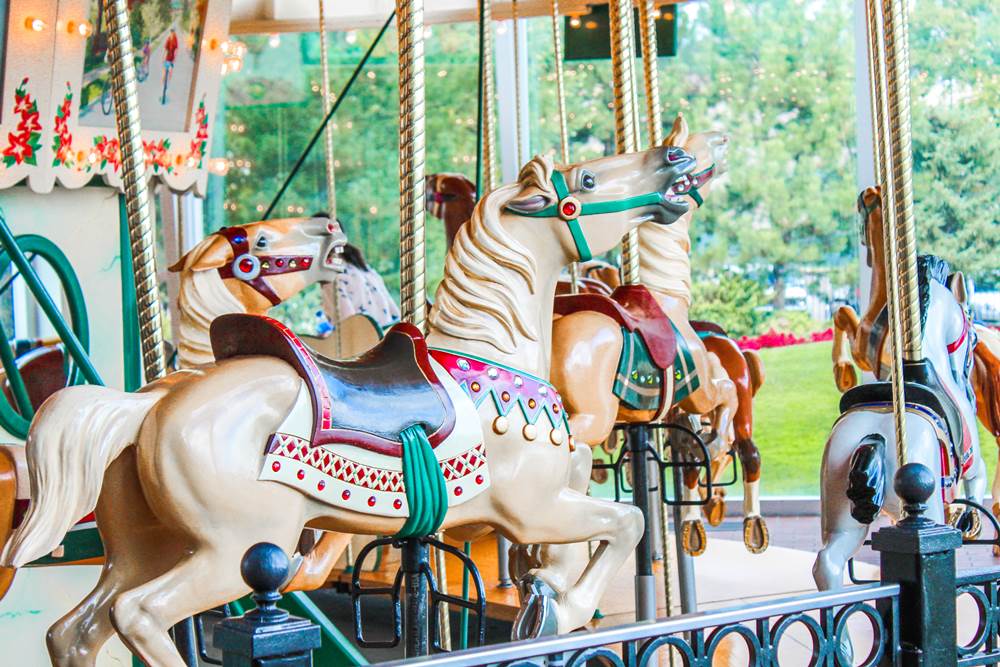 Along with the exhibits the museum also houses more than 400,000 items related to play, including toys, dolls, games and electronic games.
This is a must visit in Rochester, NY with kids!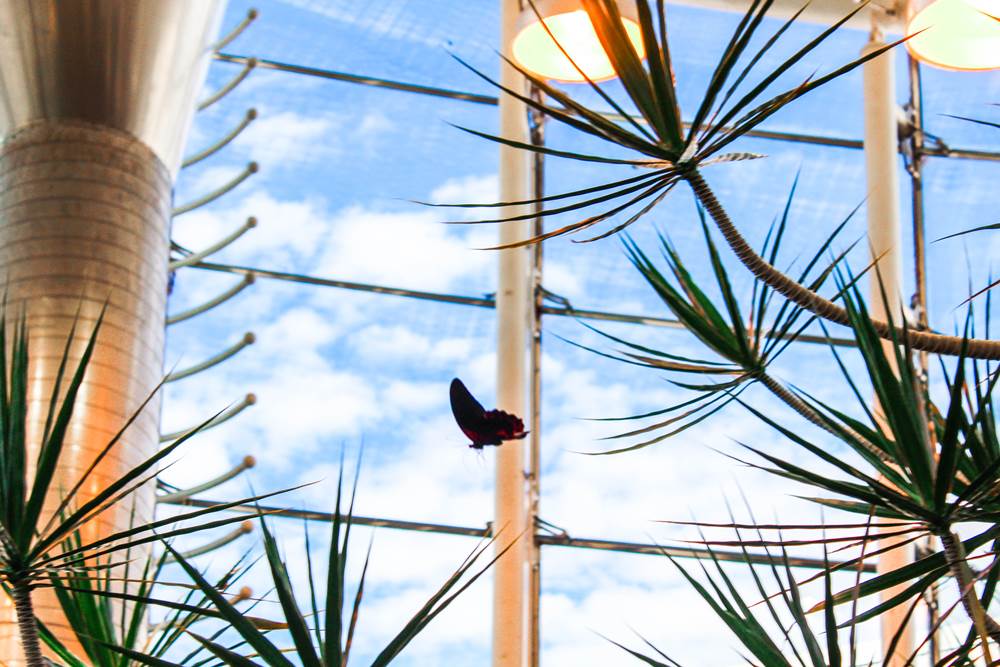 For more information about The Strong Museum of Play, visit their website here.
Explore the Erie Canal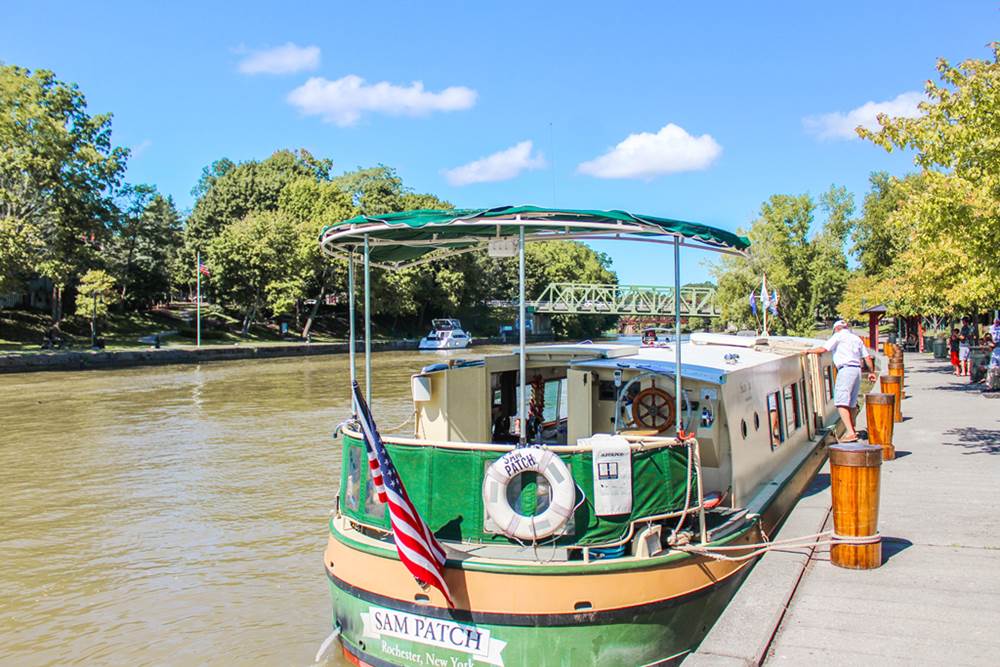 The Erie Canal is a 363 miles of man-built waterways stretching across the full expanse of upstate New York.
Throughout the Erie Canalway National Heritage Corridor you will find heritage and historic canal sites, engineering marvels, and over 200 lively communities to visit.
The Erie Canal provides great recreational opportunities along the canalway trail for cyclists and runners, hundreds of festivals and events over the year and of course more than 500 miles of navigable waterway to explore.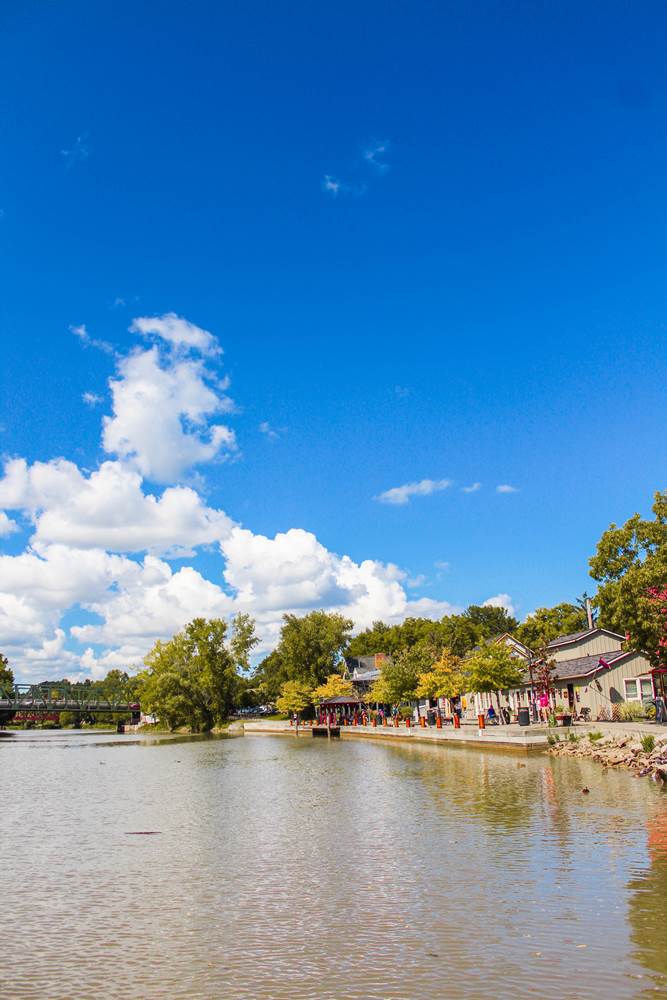 It a safe opportunities for families and children to exercise or relax, learn and discover some of New York's best treasures.
Genesee Country Village & Museum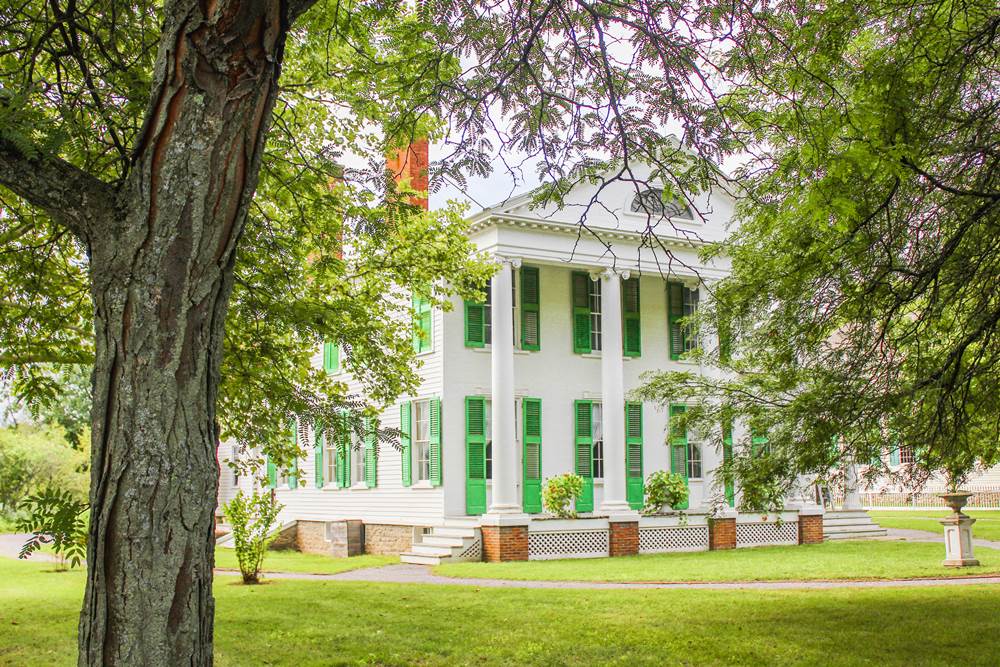 The Genesee Country Village & Museum is located in Mumford, 30 minutes drive from Rochester city center.
It is the largest history museum in New York State and it is dedicated to celebrate and preserve the historical, cultural and architectural heritage in New York State.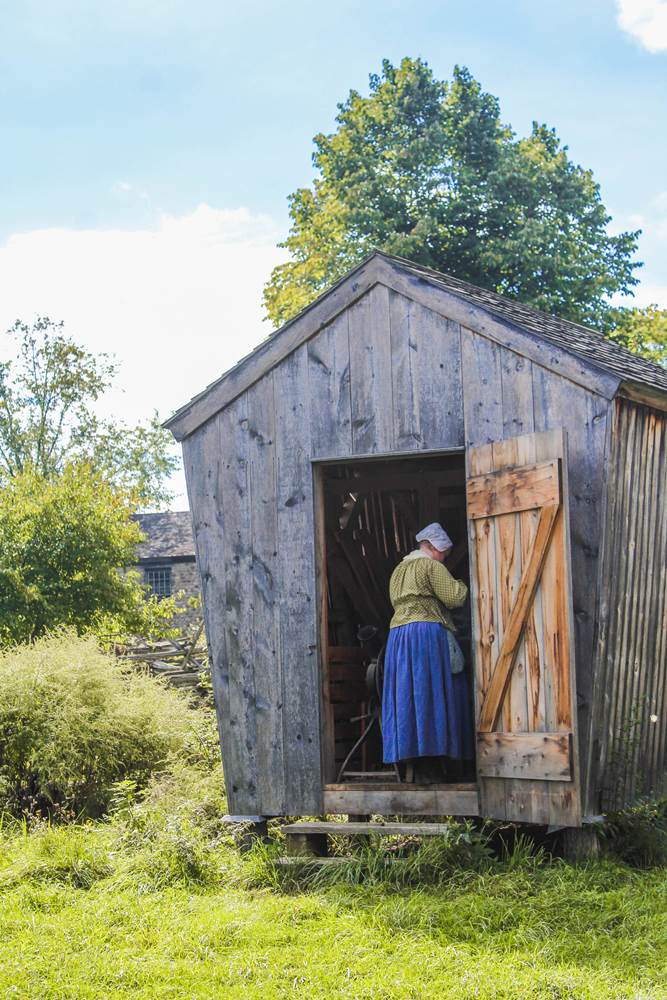 The Village features restored houses, businesses, and places of worship from the 19th century. A stroll through the village is a step back in time and the opportunity to learn and interact with knowledgeable historic interpreters in period-appropriate dress. During these encounters you will learn about stories, objects and techniques used at the time too.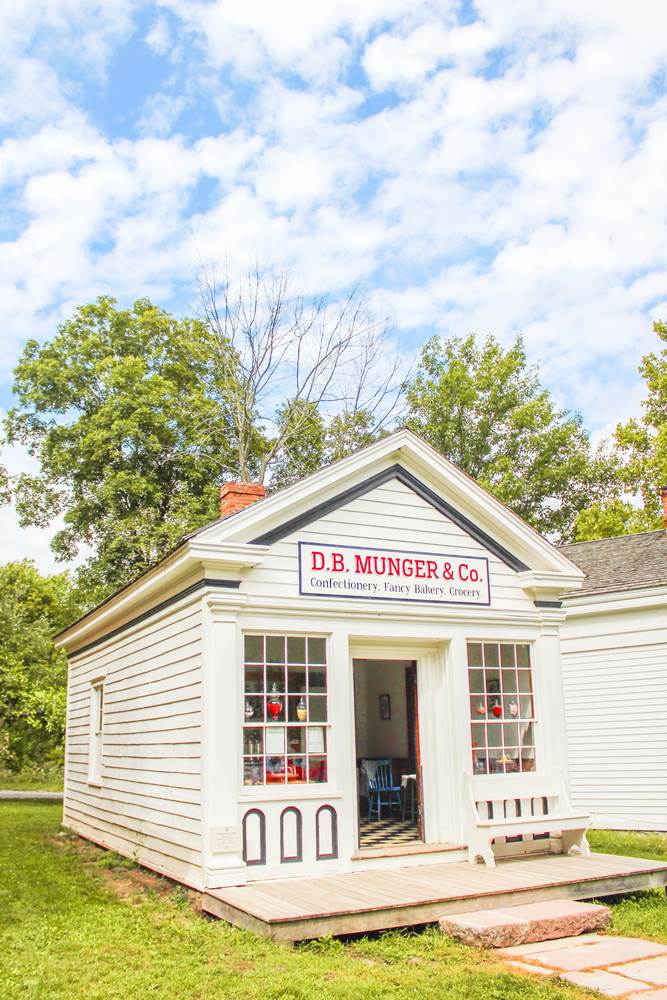 Visitors at the Genesee Country Village & Museum are able to watch craftsmen and villagers perform the everyday tasks of life in the 1800s.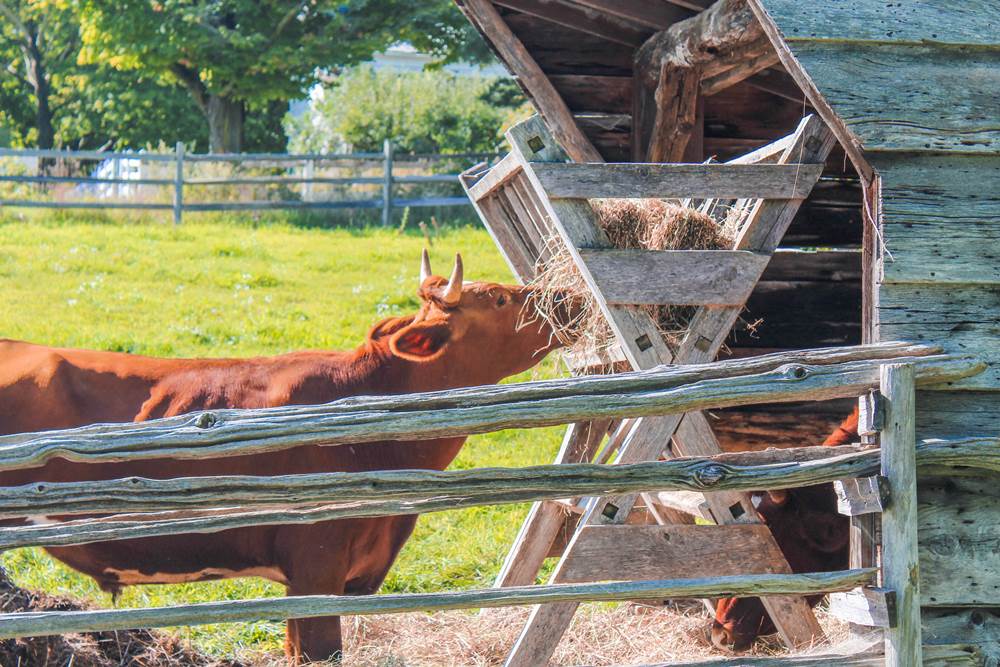 Where to stay and eat in Rochester, NY
Wegmans Burger Bar
This is one of the largest Wegmans store with so many freshly made food options that even the fuzziest eaters will be pleased. From the best burgers in town to salads, sandwiches, and amazing milkshakes, our Burger Bar menu has items you won't find anywhere else.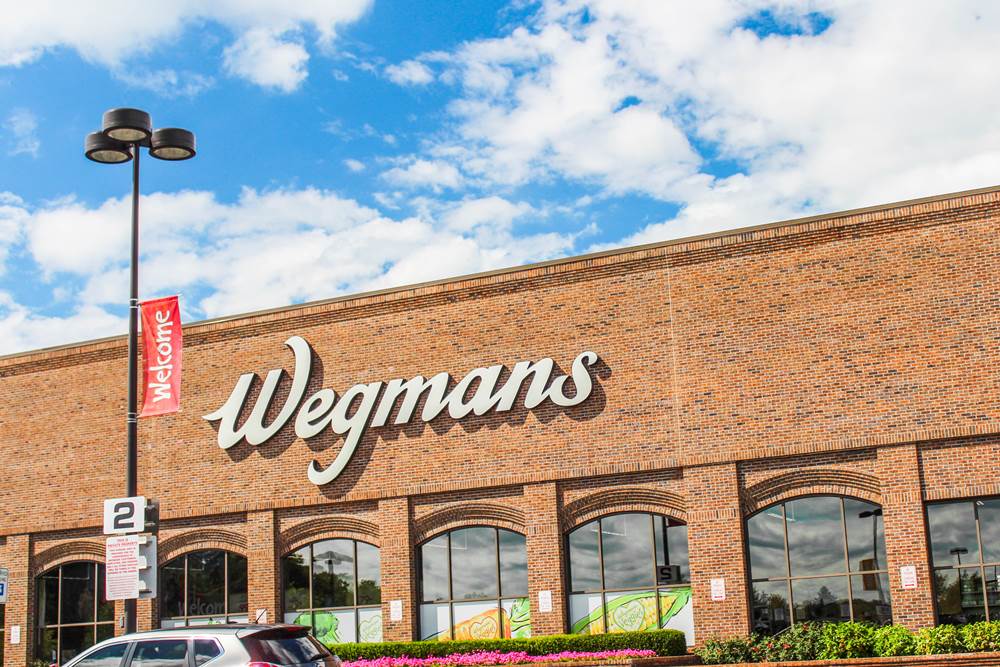 Rochester's Public Market
The Public Market in Rochester has served the community since 1905 and is open Tuesday, Thursday and Saturday, 52 weeks a year.
Apart from the delicious fresh produce, delicacies a specialty items, the market is also a local favorite place to have breakfast and delicious quick snacks. There are many shops and cafes that offer coffee, pastries, empanadas, sandwiches and more.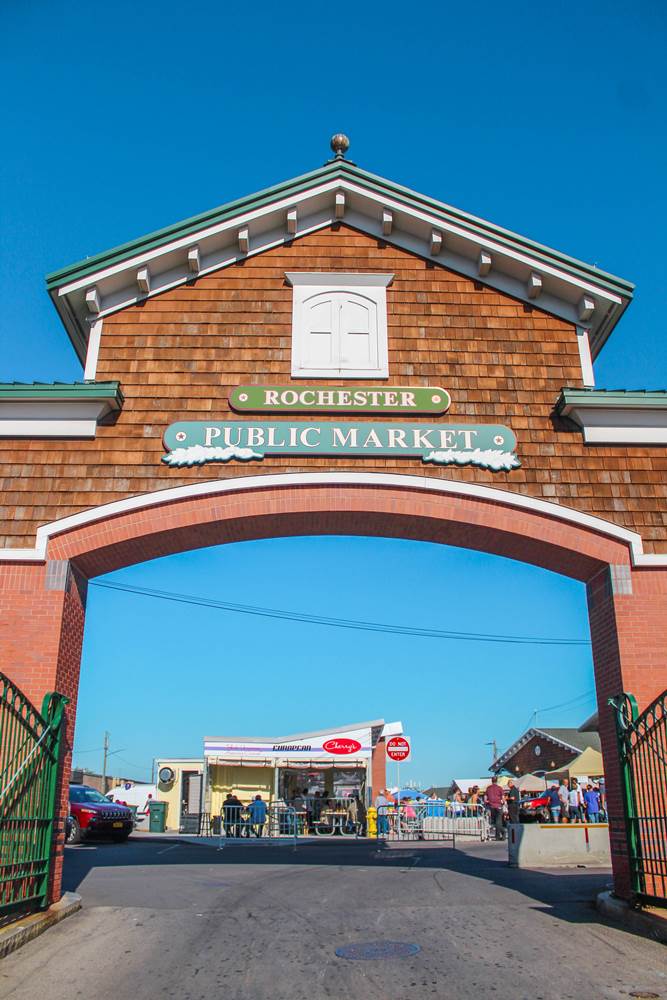 Hyatt Regency Rochester
Newly refurbished Hyatt Regency Rochester is the tallest centrally located hotel in Rochester. Conveniently Connected with the Rochester Riverside Convention Center, you can enjoy breathtaking views, savory restaurants, and exciting entertainment and shopping at your doorstep.
This is the perfect accommodation to stay to enjoy Rochester and its nearby attractions, such as museums, regional wineries and outdoor areas. This is going to be your home away from home in Rochester but also if you take fun day trips in upstate NY.
More about this about Hyatt Regency Rochester here.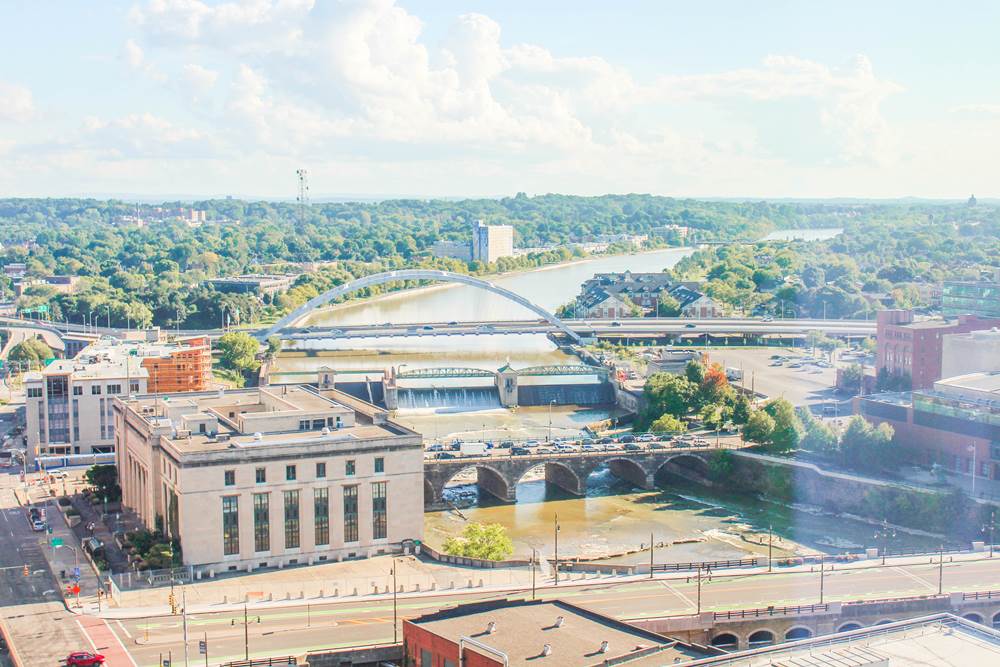 5. Finger Lakes
A wine region may not seem like the first choice of destination when traveling with kids but you may be surprised at what this beautiful area has to offer. In fact, the Finger Lakes region is one of the best places to visit in New York State.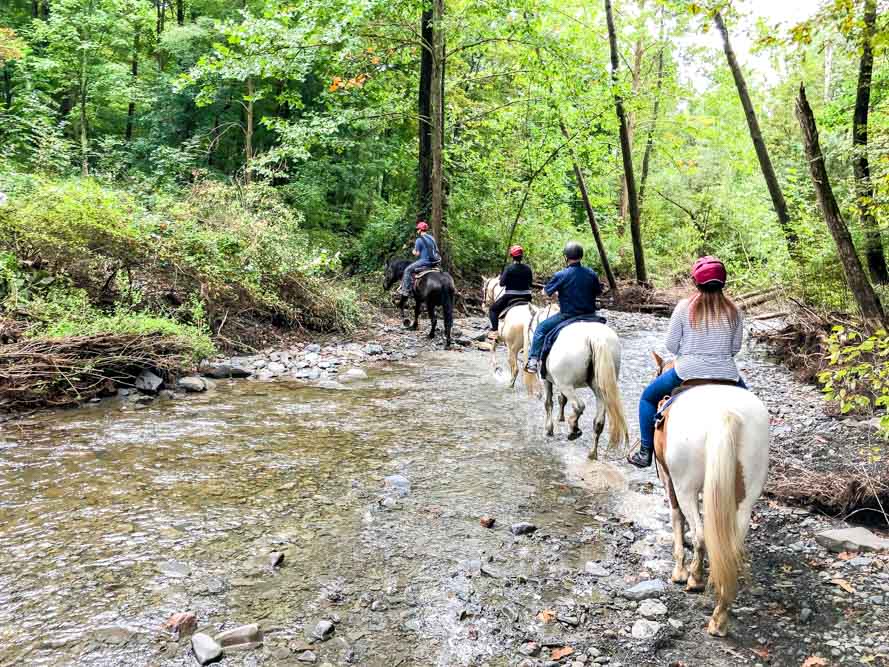 Fingers Lake is the best spot to get out and enjoy nature. Think horse trail riding through beautiful countryside with Erika from Painted Bar Stables. This lady knows her horses and will take great care of your family during your ride. Or maybe Kayaking on the stunning Seneca Lake at Watkins Glen with Summit To Stream Adventures?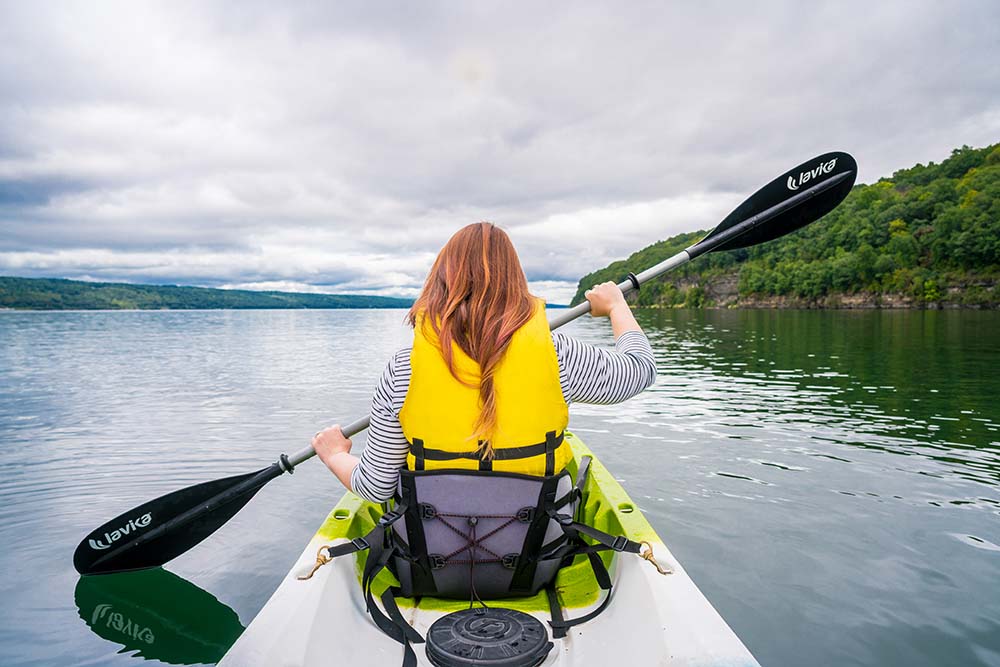 The Corning Museum of Glass is also a must visit. As well as learning about the history of glass and seeing beautiful glass art in their stunning gallery, there are fun glass making and etching classes held daily. There is also an interactive learning center where children can learn all about glass and see some great optical illusions.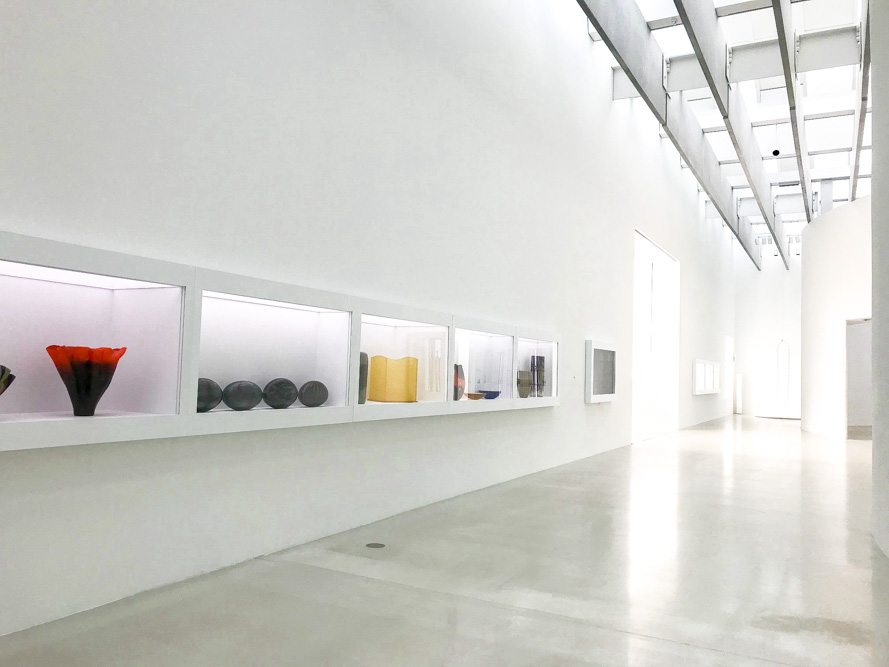 6. Thousand Islands
The Thousand Islands region of New York State is actually made up of 1,864 small and large islands. What is the definition of an island you might ask? To be considered an island, the piece of land must stay above water for 365 days of the year and support the life of at least one tree. Thousand Islands actually spans both the United States and Canada across the St. Lawrence River. Most of the islands are privately owned, but there are still many that you can, and should, visit.
Take a Boat Tour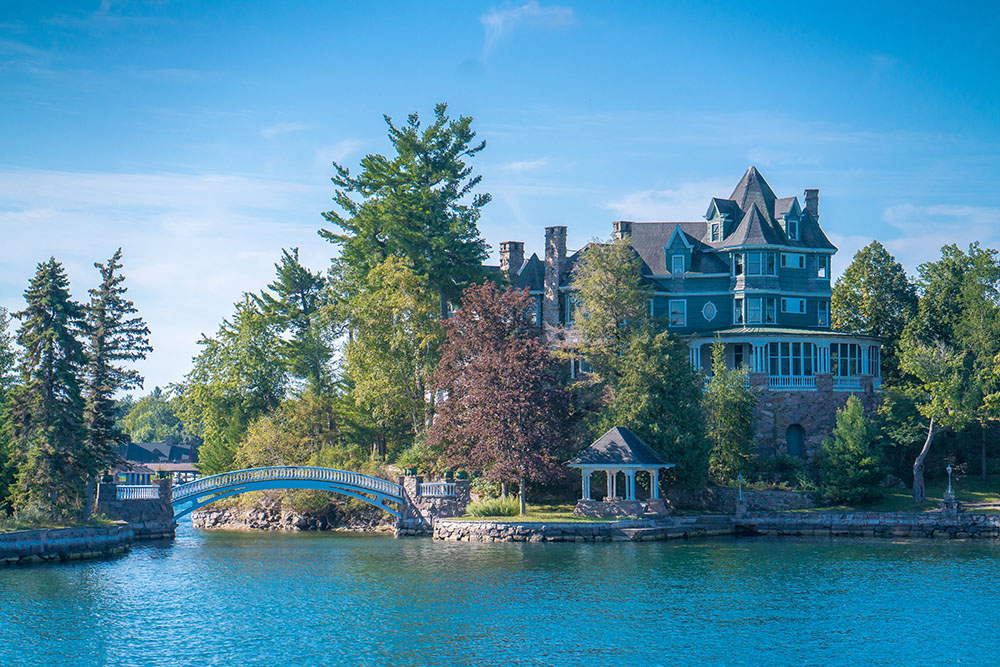 When first arriving to the Thousand Islands, taking a boat tour to view the most popular spots in the area and get a feel for the islands is always a great idea.
You can purchase tickets aboard Uncle Sam's Boat Tour and learn the history of the region as well as see many of the beautiful houses dotting the river on private islands.
Visit the Antique Boat Museum
Located in Sacketts Harbor, the Antique Boat Museum is home to the largest collection of antique recreational boats in the world. Your entrance fee into the museum also grants you a free row in one of the vintage skiffs owned by the museum. Rowing a skiff is harder than you might think and takes some real coordination, but it sure is fun.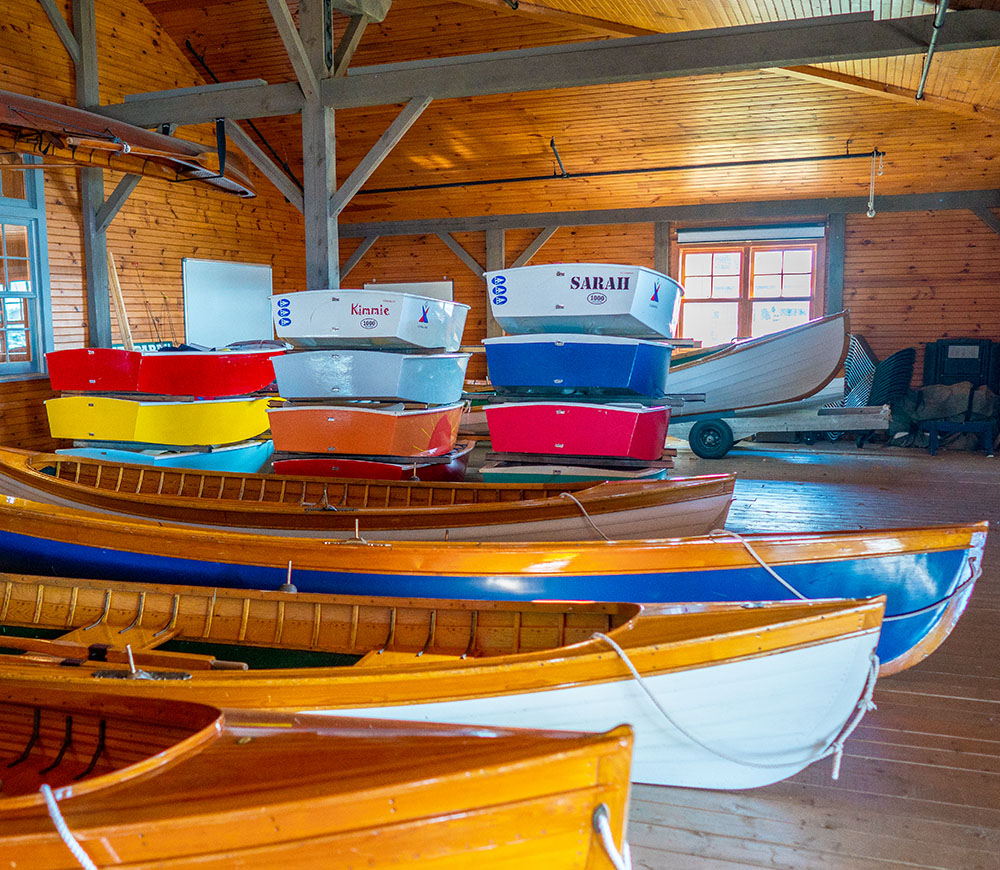 Tour Boldt Castle
This modern-day fairy-tale castle, like all castles, is not without its heartbreaking story. George C. Boldt, millionaire, and proprietor of the famous Waldorf Astori,a had this six-story 120 room castle built for his family's summer home located on Hart Island. No expense was spared when creating this Rhineland inspired mansion complete with tunnels, a powerhouse and a separate tower for his children's playhouse. However, tragedy struck in 1904 when his beloved wife Louise suddenly passed away.
Boldt could not bear to finish the project without her and the castle was left unfinished until recently acquired and restored. Today you can visit Boldt Castle by boat and explore its cavernous rooms and vast gardens. Don't miss the bowling alley in the tower!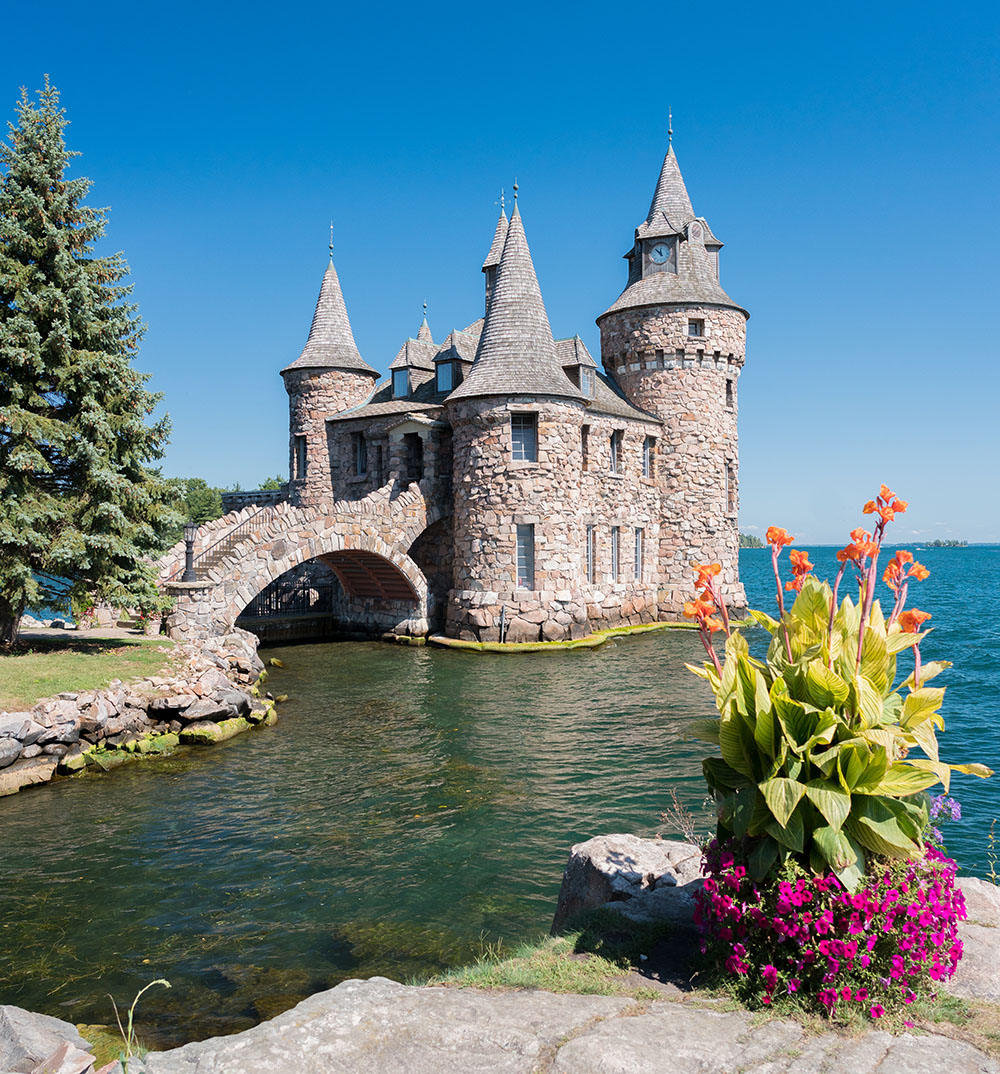 Take a Sunset Sail
The Thousand Islands region is known for having some of the most glorious sunsets in the world. Charter a sunset sail to enjoy an unobstructed view of the horizon.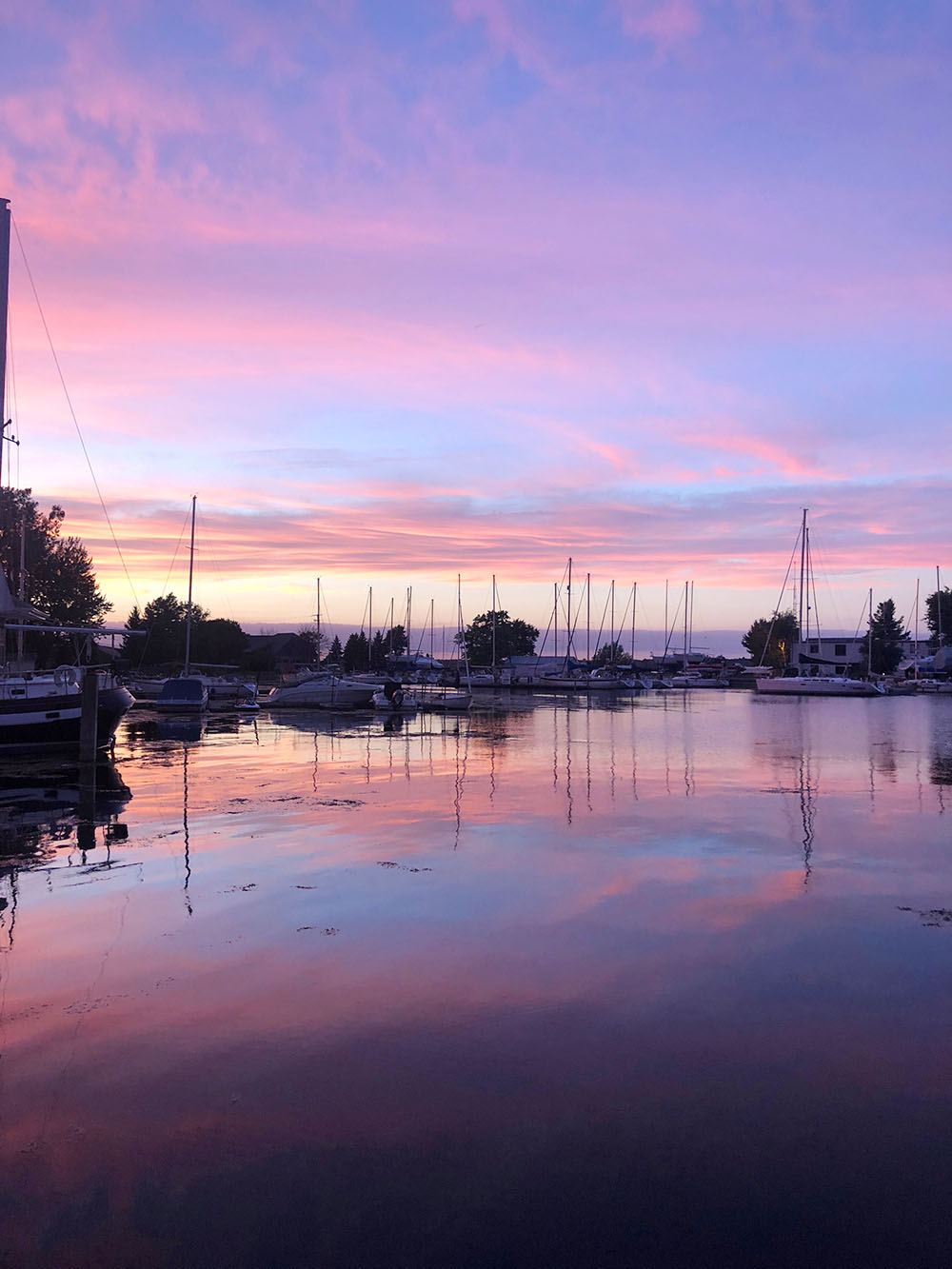 7. Enjoy the Adirondacks
Home to the largest protected land in the lower 48 states, the Adirondacks span over six million acres of lush forested land and rolling mountains that offer natural beauty and family-friendly recreation throughout. The area is perfect for outdoors New York getaways. The Adirondacks are divided into 12 different regions, each offering a unique perspective of the area.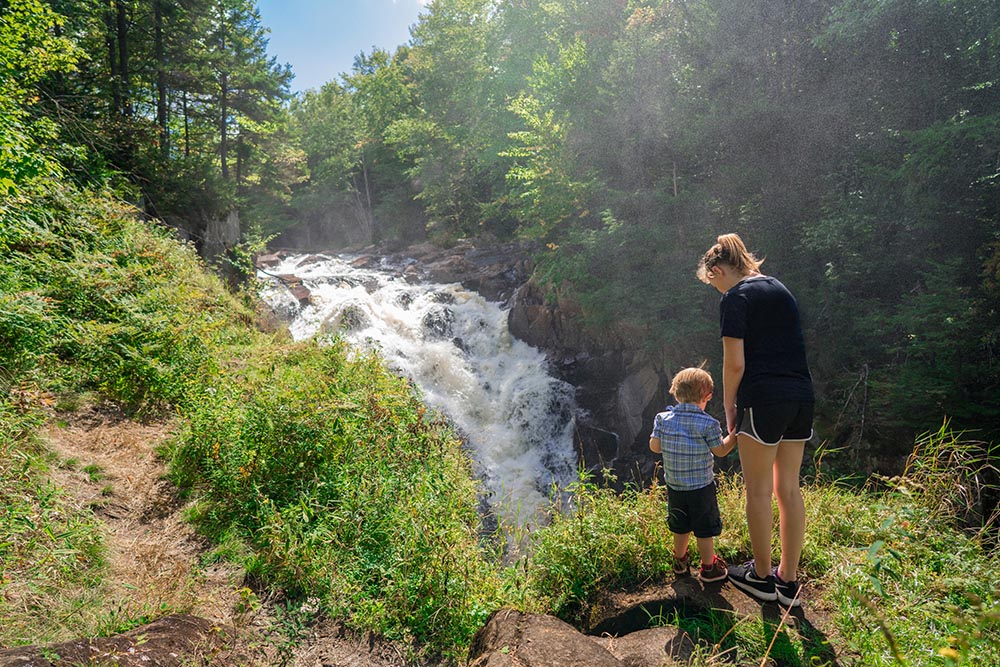 Activities in the Adirondacks vary from relaxing to adrenaline-inducing and include ATV and snowmobile tours, kayaking, rafting, paddle boarding, horseback riding, camping, fishing, hunting, biking, birding, rock climbing, skiing, snowshoeing, golfing, boating, and more.
Get on the River
There are many rivers in the Adirondacks and they are all worth jumping into! Whether you prefer rafting, paddle boarding, canoeing, kayaking, or just a good old-fashioned swim, there will be something for you in one of the many the Adirondack rivers.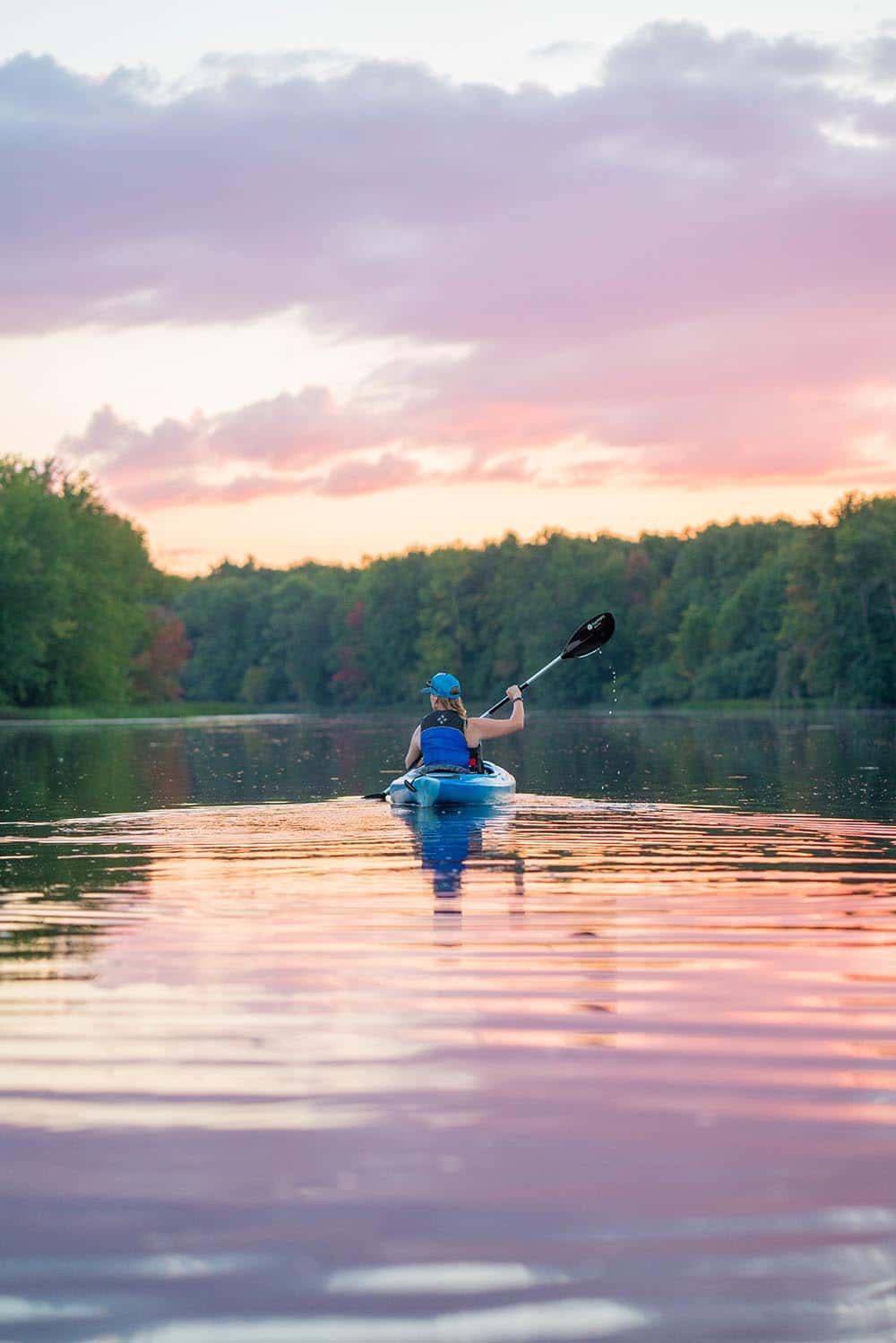 The Wild Center
The Wild Center is a family-friendly favorite in the Adirondacks. This hands-on museum gives visitors the chance to learn about the diverse ecosystems of the Adirondacks' forests, lakes, and rivers. Kids will love the live animals, including river otters, hawks and vultures. The Wild Center offers canoe rides and hiking trails on its 31 acre campus.
Safe Haven Museum
Not only are there a wide variety of outdoor activities in the Adirondacks, but also many cultural experiences and festivals. Families can choose from many museums and historical sites. The Safe Haven Holocaust Refugee Museum in Oswego, New York on the border of Lake Ontario is a museum dedicated to telling the story of the 982 European refugees who were offered asylum by the United States during World War II. These refugees were transported by boat to the United States and taken by train to Oswego where they were housed at Fort Ontario for nearly two years.
When the war was over, the refugees were given citizenship and allowed to stay in the U.S. Many of the refugees went on to accomplish great things, such as the invention of the CAT Scan. At the museum you can see photos and artifacts from this time period as well as hear stories of individual refugees.
Go Fishing
Nothing beats a peaceful and rewarding day on the lake. Charter one of the many fishing boats on Lake Oswego and enjoy a day of fishing with the help of professional guides. You can even save your catch and take it to one of the many restaurants that will clean and cook your fish for you. A perfect fun day and family getaway in NY.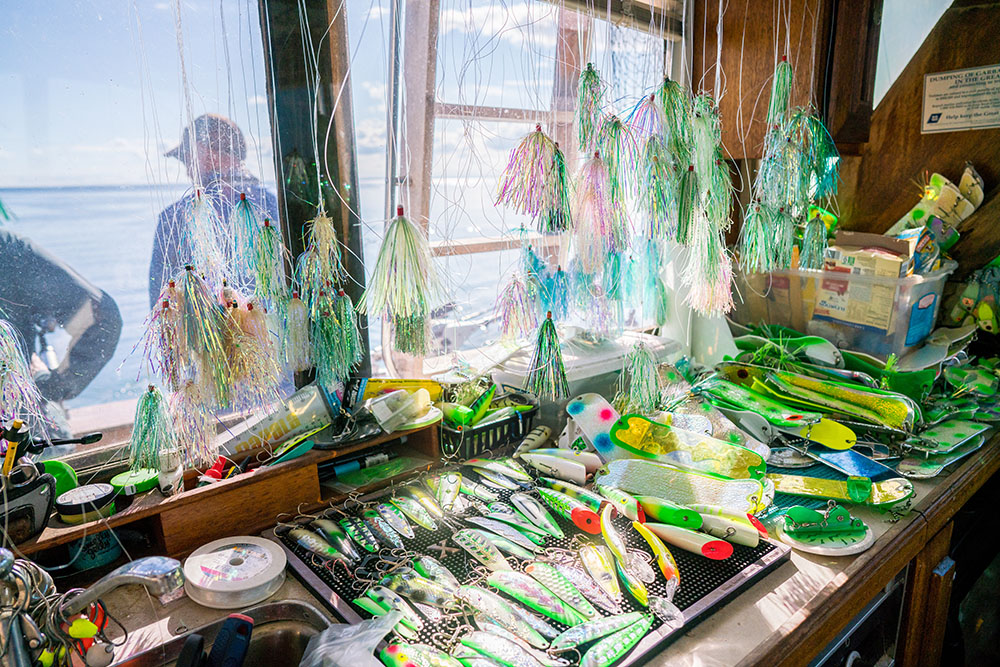 ---
I hope you have enjoyed our guide to family fun in Upstate NY. What are your favorite places to visit in New York State?