Whether it is your first family vacation or you are seasoned family travellers, packing for a family vacation can be a nightmare.
As soon as you have kids you may think that you can no longer pack light. Meraki Mother wants to show you that it is still possible to pack light with kids.
Don't worry, we won't have you wearing the same socks four days in a row or turning your clothes inside out for extra wear.
Instead, we show you what to pack for family vacation, the right way to pack and the must-have travel essentials when travelling with kids. Check our post full of tested and tried tips for packing for a family vacation.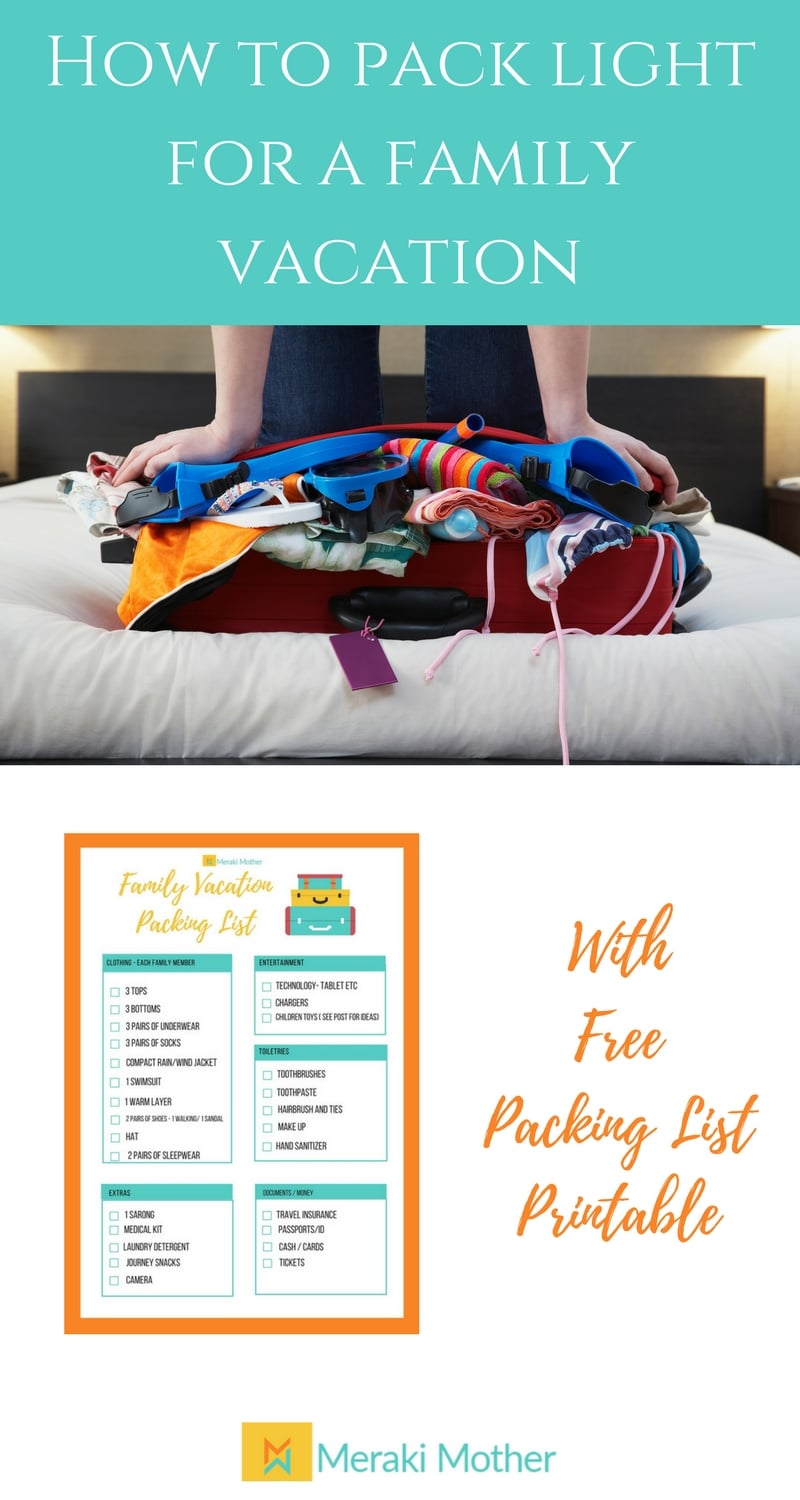 Why Pack Light with Kids?
The main reason we suggest you pack light on a family holiday is logistics. No matter if your family trip is a cruise, road trip or backpacking around Asia for 6 months, not having to juggle lots of suitcases as well as watch out for your offspring is a huge plus.
We guarantee that if you are not stressing about where all your luggage is, trying to get it through airports, into cars or onto trains you will enjoy your family vacation so much more.
You may also find that packing less on trips will save you money. If you are ruthless enough with your luggage and can pack carry-on only, it can save you a fortune in check-in baggage fees.
What to Think About When Packing Light
Make sure you consider the climate you are travelling to and what activities you will do at your destination. We suggest one small piece of luggage and one piece of carry-on as the maximum to take.
Top Tips to Pack Light With Children
Make a Packing List
Getting the kids involved in a packing list is a great way to be prepared for your family vacation. Talk with your kids about your destination, what you will do, the weather and what they think they will need. Get them to make a list with all this in mind. Remind them that they are going to help carry their own luggage.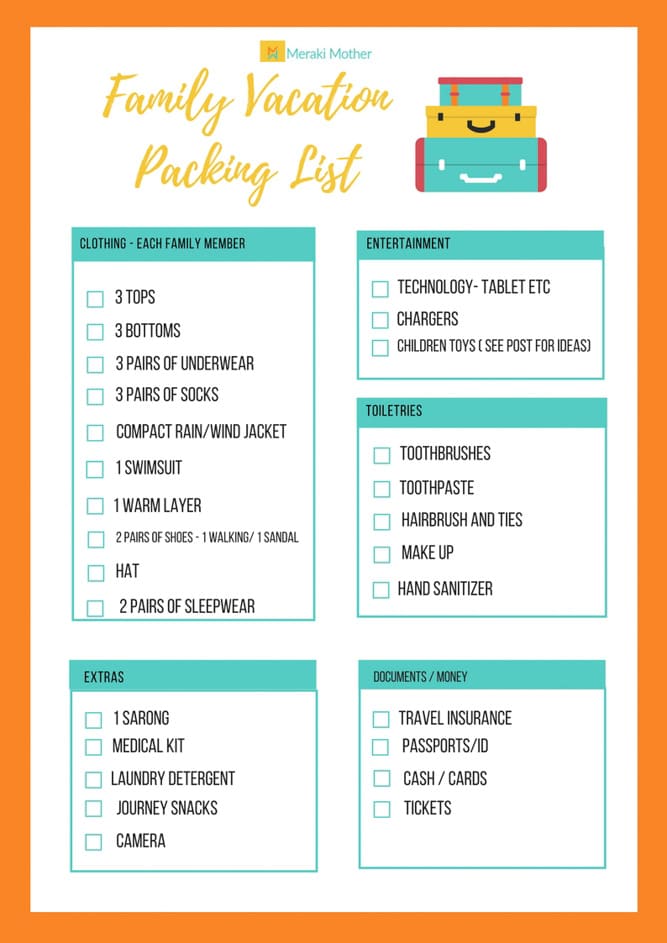 Choose the Best Luggage
The first thing to consider when picking the best luggage for family vacations is what size restrictions you have to follow. If you are flying, check weight and dimension limits with your airline beforehand.
Secondly, you want your luggage to be hardy and on wheels. This makes life so much easier if you are walking through airports or to hotels. Also be conscious of how much the case weighs when its empty. You will want the lightest luggage you can get.
Packing Right
Use packing cubes is best way to pack a suitcase for travel…honestly, they will make every family vacation so much easier and change your life. Even better if you have different color packing cubes for each family member.
Rolling to pack in a packing cube rather than folding will also save you lots of space, allowing you to fit much more in your luggage. Another way to be smart with the space you have is putting items into shoes such as socks.
Layers, Fabrics and Multi-Purpose Items
No matter where your family holiday destination is, packing using layers will save you lots of weight and space. Instead of sweaters, pack thermals, long-sleeved shirts, layered with t-shirts and thin sweaters.
Pack capsule wardrobes for the family. Think of items that you can wear in multiple ways and choose colors that will mix and match. A pair of girls leggings for, example, can be worn as pants or under a dress for added warmth and a different look.
Picking garments that are in a lightweight, easy-care fabric and will dry quickly are great ideas too.
Packing versatile items like a sarong is a must as it can be used as a cover for religious buildings, a beach cover-up and a picnic rug.
Instead of pajamas maybe pack items that can double as daywear to add extra clothing options.
If you need to take bulky clothing like cold weather jackets, wear them for your journey instead of trying to fit them into luggage.
What Clothes to Pack for a family holiday
We all know kids love to explore. But in a foreign environment it may mean that the kids run a bigger risk of getting lost. Of course you should always be attentive and talk to your kids to stay close and listen, so they know what to do should anything happen. However, we recommend you to pack a kids smart GPS watch just in case. Make sure that it does work in the area you are travelling to and test it before you leave your accommodation.
Kids also love getting dirty and making a mess, so be realistic about what clothes to take on a family vacation. We think a bare minimum is three full outfits for each family member ( which will of, course, make more outfits as you will mix and match items). This allows for you to have one outfit being worn, one washed and an extra in case you can't wash one day or items are taking a while to dry.
If you have very young children, or perhaps one that makes a habit of being travel sick, you may want to consider a few extra items, just in case.
Shoes
We suggest packing one pair of good, covered walking shoes and one pair of sandal or flipflops that can get wet. That is it. If you have weight restrictions on your luggage be sure to wear the heaviest shoes during travel.
Entertainment
This is a huge consideration for families, especially if you are flying with a baby or small kids and have long waits at airports etc. Convince your little ones to leave bulky toys at home and instead bring along multi-use, small entertainment.
Here are some of our favorite non-technology entertainment options.
For technology make sure you have a one device fits all to safe space. Tablets can be great to watch movies, listen to music, audiobooks and ebooks and play games. Download all items before you travel. We love downloading a few new apps as well as old favorites, as a surprise to keep children busy for a little while too. Be sure to pack the earphones and be smart with chargers.
Want some great audiobooks for children? Head over to Best Audiobooks for Family Trips.
Toiletries
Toiletries are probably the easiest thing to overpack. Be ruthless. Toothbrushes and toothpaste along with a hairbrush are probably your bare minimum.
If you do need makeup, think tinted moisturizers, and small, big impact items like bronzer and mascara.
Aim to buy things like shampoo, body wash etc at your destination. With such light packing, you may have to purchase laundry detergent to wash clothes. We love these laundry detergent pods.
It is highly unlikely you will need a towel but if you do, that sarong you packed can double as a towel, or take a lightweight micro fibre towel.
Medical Kit
Most items can be purchased at your destination. We do suggest packing a small kit with basics such as rehydration supplies, sunscreen, pain relief, antiseptic and any prescription medication.
Traveling with Kid and Baby Gear
Do your research before you get to a destination. See what equipment you may be able to hire or borrow. Everything from strollers to car seats may be available at your destination, saving you from lugging them around. If you
If you do need to take baby gear on vacation, try to get special travel models. Here are some great ideas to get you started:
If you are looking at traveling with a car seat try this car seat guide to find the best one to suit your family, like a portable car seat.
These are great items, especially if you are flying with a toddler or young child. You will find them less bulky and easier to travel with.
Worried about safety while on your family vacation? Head over to our great GPS watch guide to see how easy it is to keep children safe while traveling.
Do Not Pack What If's
Items like umbrellas can be purchased at your destination if it rains. If you are going somewhere that does tend to have wet weather, pack lightweight rain macs instead.
Documents
The most important thing to pack for any trip is your documents. Make sure you have all vital documents like ID, passports and tickets. For travel insurance documents, hotel bookings, and other documents create an online space to store them so you do not need lots of printouts. It is also a great idea to put a photograph here of important documents like passports and credit cards in case they are misplaced.
We hope that you have an amazing family vacation. Be sure to Pin this post for all your upcoming family trips.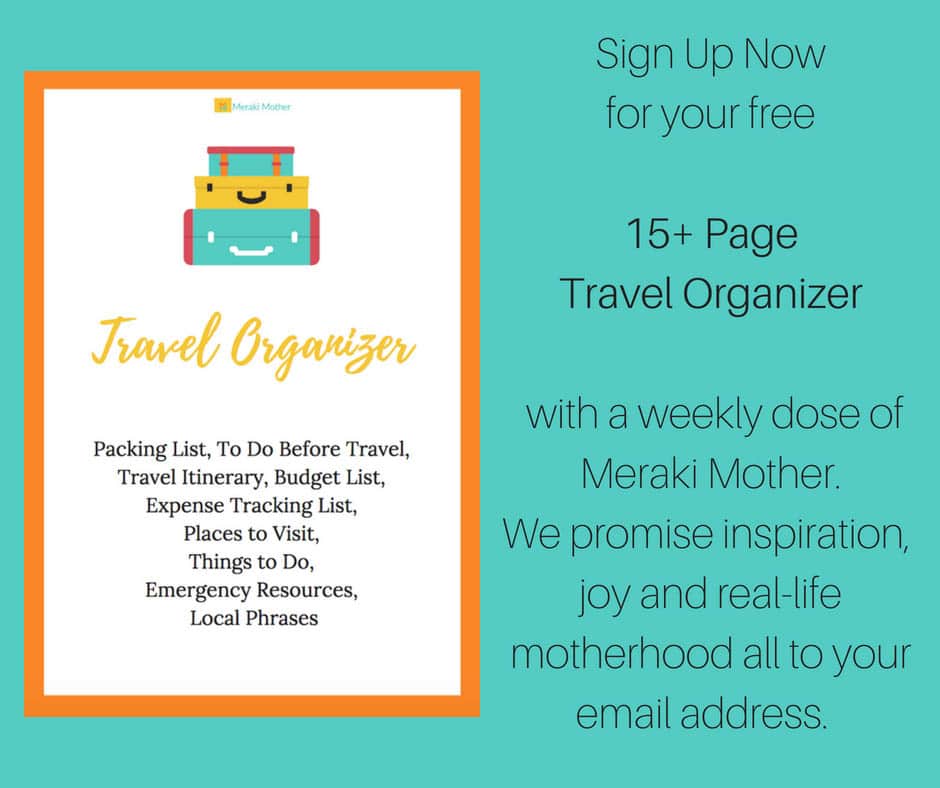 SaveSave
SaveSave
SaveSave
SaveSave
SaveSave