Make Galaxy Playdough for an exciting imaginative play and space themed play dough fun that the kids will enjoy!
We aren't sure who loves DIY galaxy crafts more, us Moms or the kids.
There's something fun and a little bit magical about creating a small galaxy right in your hand.
Here at Meraki Mother we love all things galaxy and have created some fun activities around the universe, stars and planets theme such as the galaxy slime putty as well as this gorgeous galaxy activity here.
But you can never have enough galaxy crafts in your life though, can you? That is why we created this stunning galaxy play doh for kids.
Using a no bake playdough recipe (our favorite!), this easy Galaxy Playdough is simple and will encourage hours of imaginative play.
How To Make Galaxy Playdough
With so many playdough recipe for kids it can be hard to decide which is the best homemade playdough.
Two of our all time favorites are this playdough recipe no cream of tartar and our 2 ingredient dough.
Both recipes are super simple and show you how to make playdough without salt. Also a great solution if you are looking for a uncooked playdough recipe.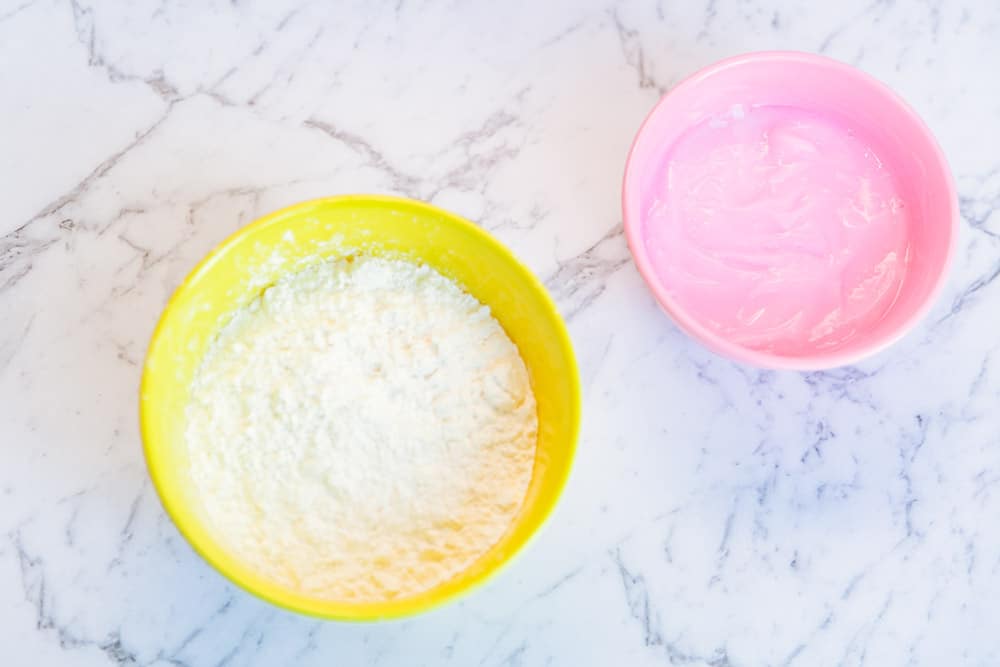 Ingredients for Homemade Playdough
Once you have your ingredients to make playdough you will need to add a couple of extra things to make your Galaxy play dough.
Black Food Coloring
Glitter
Note: Black Food coloring can get very messy so you may want to wear gloves while you are making your galaxy playdough.
How To Make Galaxy Playdough
For our Galaxy Playdough we decided to use our soft play doh recipe as we had all the ingredients at home and with only 2 ingredients it is such an easy play dough recipe. 
Once you have made your dough, slowly add the black food coloring.
This can get messy so make sure you do this on a surface that wont stain and unless you want black hands and fingers for days afterwards, we suggest to wear gloves too.
Next choose the glitter colors you would like your galaxy play dough to have. We picked lots of colours for a fun glitter play dough.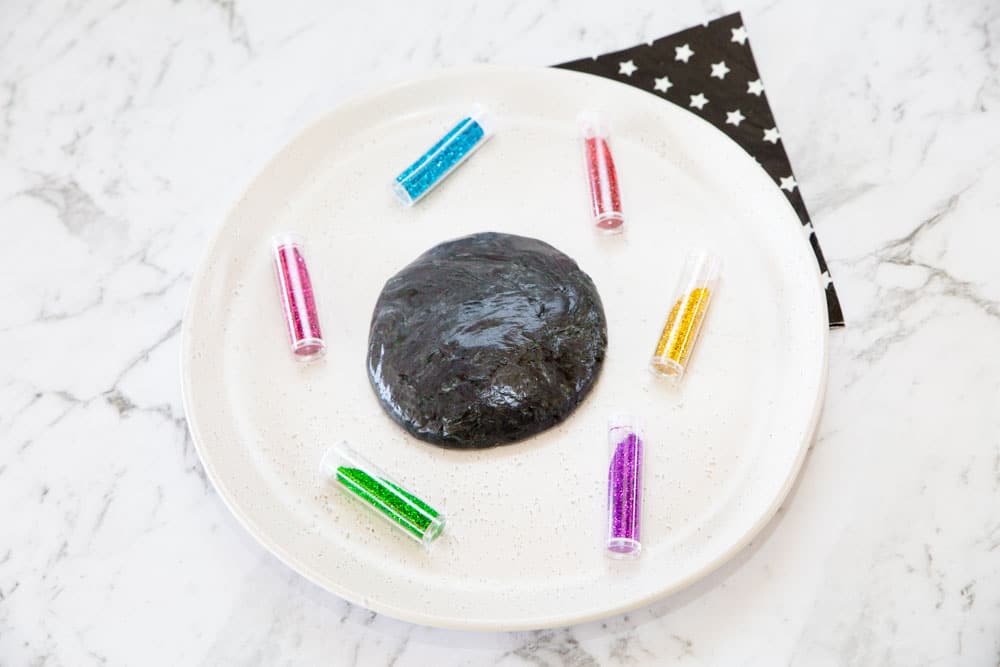 Simply sprinkle the glitter over the black play dough. We honestly don't think you can ever have too much glitter! To help keep mess minimal, you may want to do this on a plate.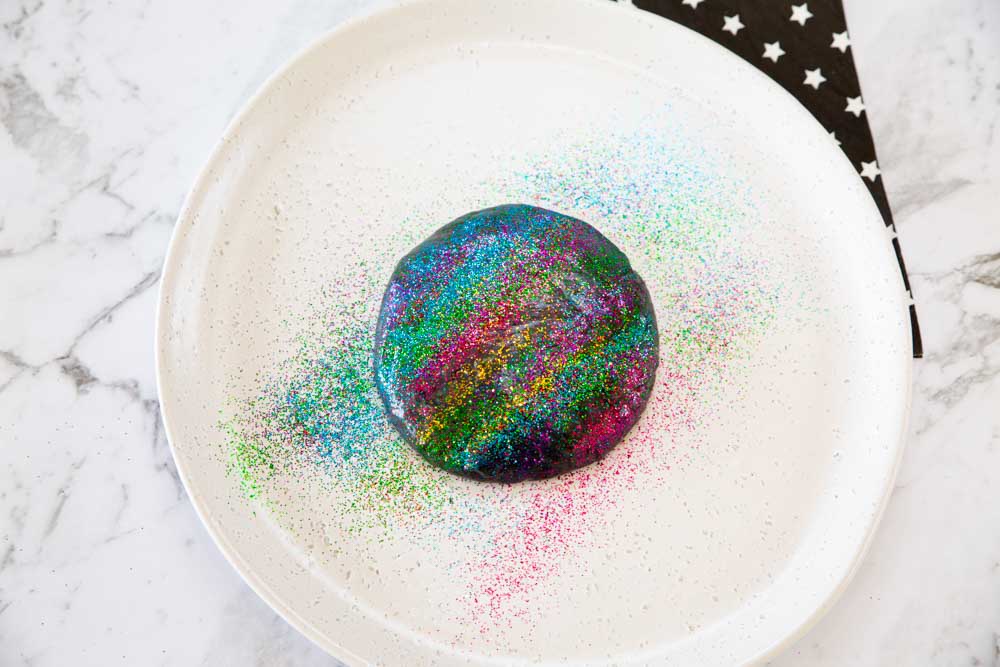 Next, softly knead the glitter into the play dough until you are happy with the result.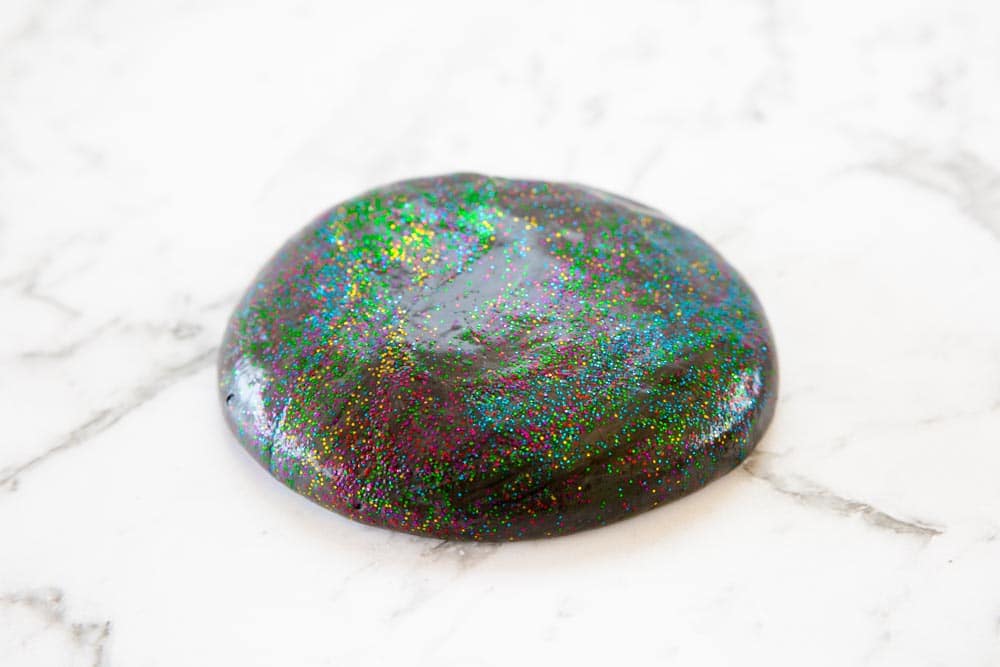 The fun thing about this recipe is you can keep adding glitter as it gets absorbed into the playdough so it never loses its sparkle.
And if you happen to get the ingredient ratio a little wrong, don't worry. It is easy to learn how to make slime out of playdough. If you used the 2 ingredient play dough like us, it simple turns into 2 ingredient slime with a little mixing of the cornstarch and conditioner ratio.
We also have more slime recipes that you can turn into an amazing Galaxy Slime, we have slime recipes with borax and without borax – both work and are super fun to make.
For some extra galaxy fun you could add Glitter stars or glow-in-the-dark stars.
It is also the perfect learning tool to introduce books about planets, our solar system and stars.
Things To Do With Playdough
The best thing about playdough is that it is a brilliant tool  to help develop a child's fine motor skills as well as letting their imagination run wild.
Add child safe scissors, plastic tools, cookie cutters, or even natural play items like leaves and sticks.
You can also add extra sensory items by adding scents like vanilla extract, Peppermint extract or Liquorice extract. And by adding texture with uncooked rice and pulses.
If you need some ideas with how to turn your playdough into a sensory play activity check out our  Ultimate List of Sensory Activities For Kids.
How to Store Homemade Playdough
One of the most common questions we get asked is how long does homemade playdough last, followed closely by questions about how to keep playdough from drying out.
Playdough recipes will vary on how long they last, but most will last between 2 weeks and 2 months if you keep them in an airtight container.. This will also stop playdough from drying out.