Going on a RV family vacation? Check out our essential tips that make the best RV trips for families!
Heading out on the open road is a big dream for many families. Whether its a short road trip or you plan to make the RV life full time, it is possible to travel with kids in an RV?
Living in an RV with kids can pose it's own set of challenges though. With small living space, long stretches of driving and a big change to lifestyle it can take some getting used to life in an RV.
But your RV trips with kids don't have to be uncomfortable or stressful. To help you, we have collected some practical advice about RV vacations with kids from some family travel experts.
Keep reading to see how to make your next RV camping with kids a breeze.
Tips For Your RV Family Vacation
Keep Children Happy and Engaged
Keeping children happy on road trips can be a challenge. An advantage of RV travels is that there is room to carry a few extra activities or games, as well as the ability to pull over at interesting places and have an onboard snack.
We have always made sure to keep each section of a journey as short as possible and find a local playground or even just somewhere the girls could climb and burn off some energy.
It became a game to see who could spot a playground first. Another thing the girls loved was to stop in at second-hand/charity shops along the way.
It was easy to give them about $5 to spend on a something 'new' to play with on the road. Books, toys, games or whatever appealed to them. After a few days or so we would stop again and donate the items to another shop and find something else.
Even on trips through Central Australia and from Los Angeles, up the Pacific Coast and across to the Grand Canyon we found 'op' shops and playgrounds for the kids.
Tip from Jane at Wicked Walkabout.
Looking for a cheap and fun way to entertain kids on a road trip?. Click to find our super easy no cook play dough recipe.
Comfortable Family RV Trip
When you are downsizing and living more minimal I think it is vital to splash out on some items that really add value to your life. This will be different for every member of the family.
My personal favorite is a small coffee machine, my husband makes sure he always has a good sound system to listen to music on the road and at camp.
Another thing that was vital to us during our RV travel with kids was a small outdoor table setting so we could enjoy the beautiful places we set up camp in with an outdoor dinner.
Let each child pick their own special treat item too and make for a smooth RV family life.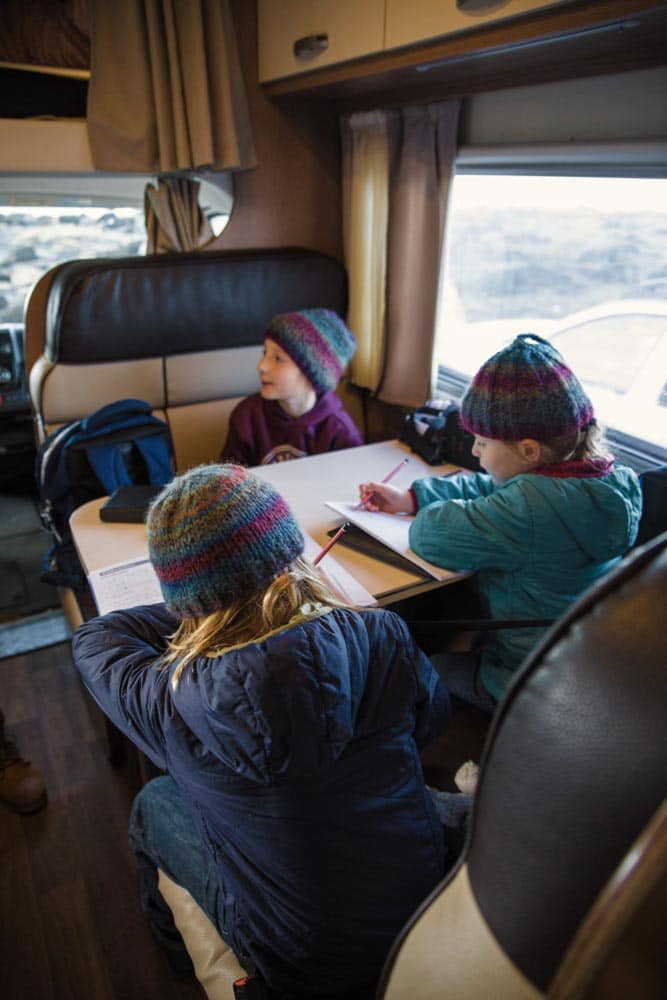 Tip from Kirsty at Travel With Meraki
Looking for some inspiration for travel with kids? Check out these
family vacation quotes
for reasons why you should book that adventure NOW.
Be Organized With Travel Gear
My advice is to be organized when packing your clothes/travel items. One tip to help organize your travel gear and clothes is to use packing cubes. They essentially act like drawers and help you find your items quicker. With more than one person, You can organize your clothes however you want.
For example:
Each person in your family has a different color cube
By item type (one cube for tops, another for bottoms, etc…)
There is no right or wrong way to use them. They come in various sizes, which allow you to be creative in how you want to use them. I highly recommend families use them to help organize kids books, clothes, socks, etc… When living or traveling in a small area, it is vital that you maximize all possible space, and packing cubes help you do just that!
Here's a great outdoor packing list!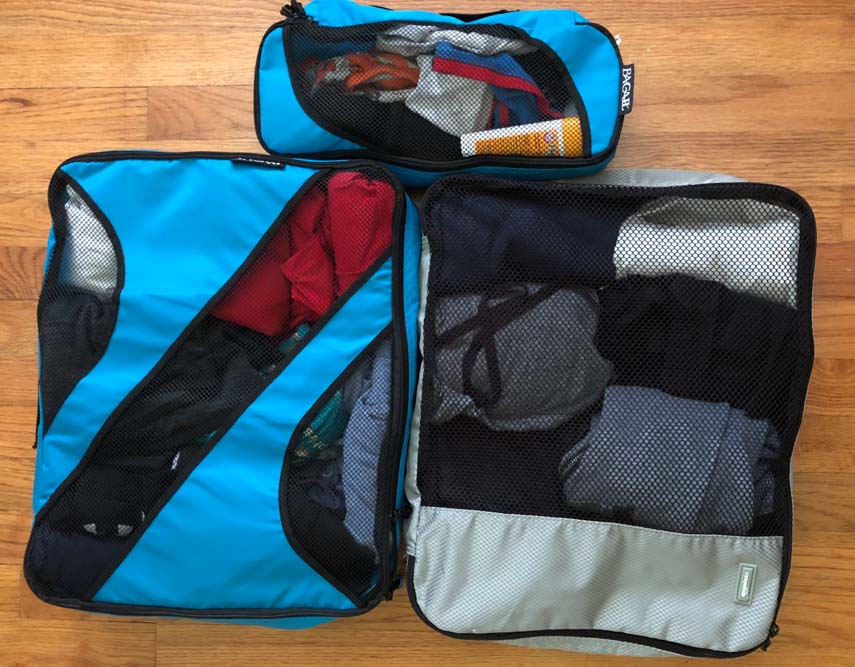 Tip from Marg at DQ Travel
Get The Right Entertainment For Your RV Road Trip With Kids
One of the greatest advantage of RV road trips for families is that you have more space to take along your favorite games and entertainment from home.
We always take outdoor play, toys and sport gear with us so everyone can have fun even when we decide to camp on the wild or in case the campsite doesn't have a lot of entertainment to offer.
Our favorite outdoor toys and sport gear to take are bicycles, football, tennis racket and balls, fishing rod, skate board, surf and boogie boards, wet-suit, swimming mask and and snorkel.
We also have plenty of indoor entertainment for when the weather is not great or we are traveling in the winter months. If your RV has a television I would definitely recommend getting a Fire TV stick and bring along all your favorite TV programs and films to watch as a family.
With that in mind I also advice you to have a generator at hand, specially if you are an off-grid type of camper. This is a life saver when you find a good spot that everyone loves, you don't need to find a campground next day to hookup to electricity.
Get your solar generator here to keep all your electronics charged day and night!
We always have a pack of cards, UNO games, travel games and creative activities too.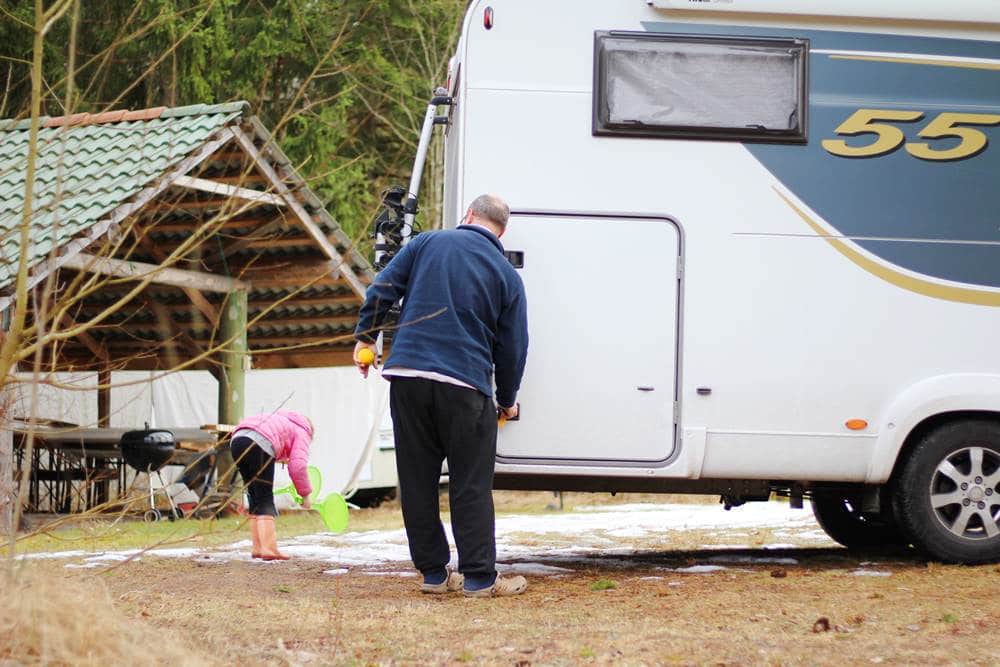 Tip from Family off Duty
Click here for some great audio books for the whole family to enjoy on your next road trip.
Feed Your Family Well
Before you drive off into the sunset on your RV family travel, be sure your kitchen is properly stocked.
Also be sure you have a way to keep the food in your RV fridge cold while driving as some RVs don't have that feature. We froze ice packs and moved them to the fridge while we drove long distances.
There are so many fun meals and treats that you can cook in an RV. Check to see what kind of cooking equipment your RV has. You may want to bring some of your favorite kitchen things from home, such as a good frying pan or sharp knife.
This portable propane grill is also amazing for cooking outside on a hot day.
I like to have easy breakfasts on hand like individual yogurts that can be opened and eaten quickly without a lot of mess or fanfare, but it's also fun to cook breakfast over a campfire or on an outdoor grill if your RV has one.
Here is a list of my favorite RV meals: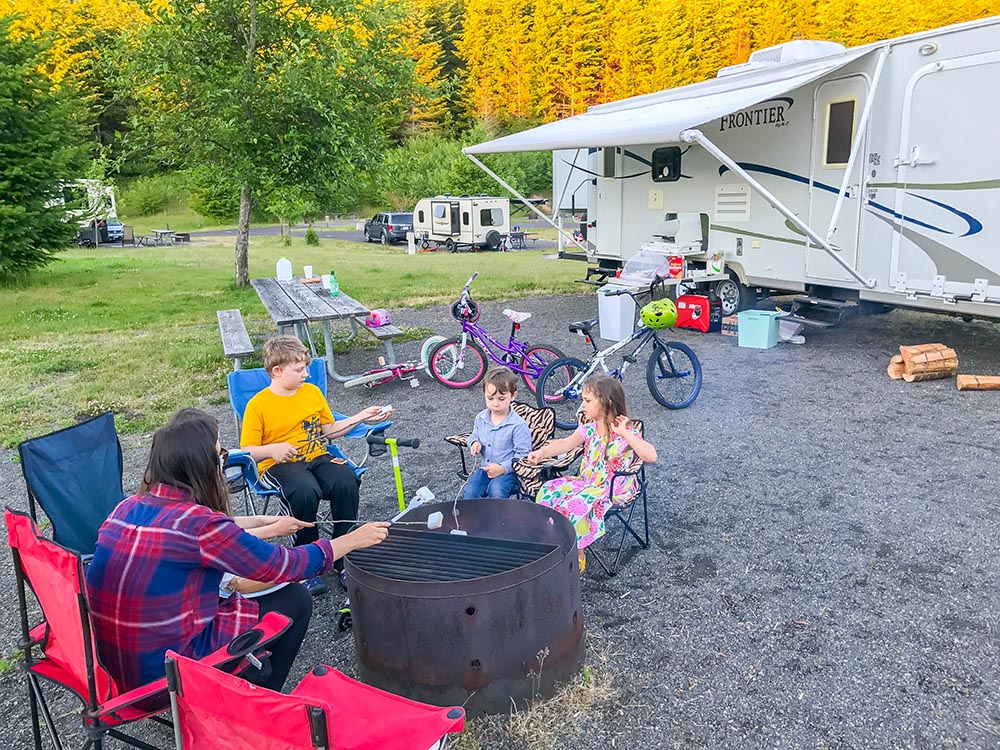 Tip from Wanderlust Crew
Be Safe
For a happy and healthy road trip with kids keep safety in the forefront of your mind when choosing your RV. All children should travel in an approved child restraint and how you will install these in the vehicle you chose is an important consideration.
Car seats are only designed to be installed in a forward-facing seat and most also require a 3 point "shoulder" belt. In some vehicles, the seats may be facing sideways or backwards.
Look for an RV that has a second row of forward facing seats. This style of seat can also be turned around to become dining seats when the vehicle is parked so space doesn't need to be compromised.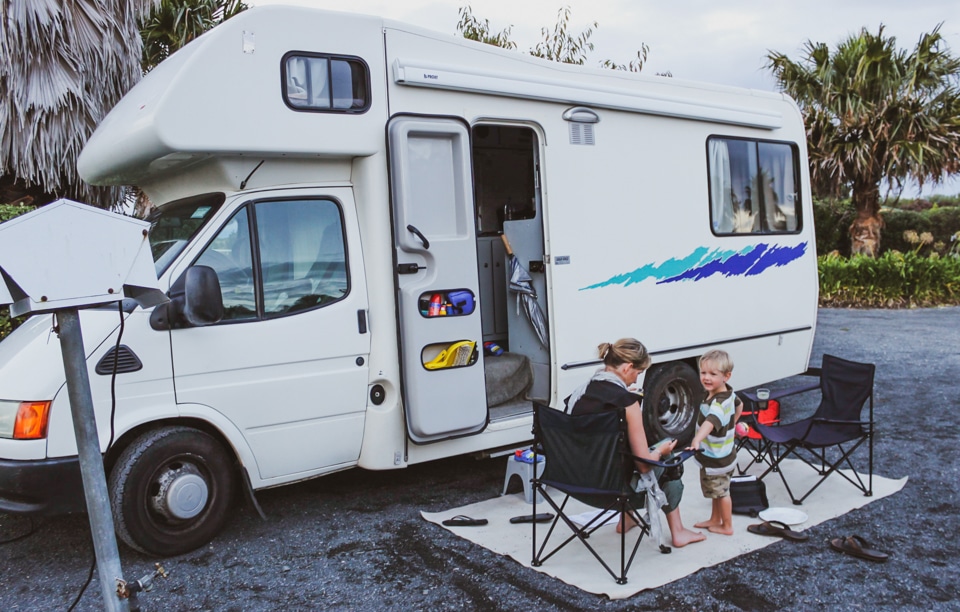 Tip from Kaylie at Happiness Travels Here.
Going on a RV travel with toddlers? Find the best deals on Child Safety Seats here
Thinking of taking a Family Road Trip? Here are some amazing kid-friendly destinations to explore: