This Zesty Quinoa Salad with mangoes, blueberries, and cucumbers is the perfect salad to add more quinoa, fruits, and vegetables into your diet in a truly delicious way.
Zesty Quinoa Salad with Mangos, Blueberries, & Cucumbers
There's nothing like getting your January off to a good start with some New Year's resolutions.
One of my resolutions this year, along with millions of people in the world is to live a healthier lifestyle. I've been eating a lot of Keto lately and that has really helped me feel better.
I'm not trying to lose a ton of weight or build a crazy amount of muscle, but I would just like to feel healthy by moving daily eating a balanced diet.
That balanced diet includes adding more fruits and vegetables, more healthy grains and proteins, a little less meat, and way less processed food and refined sugar!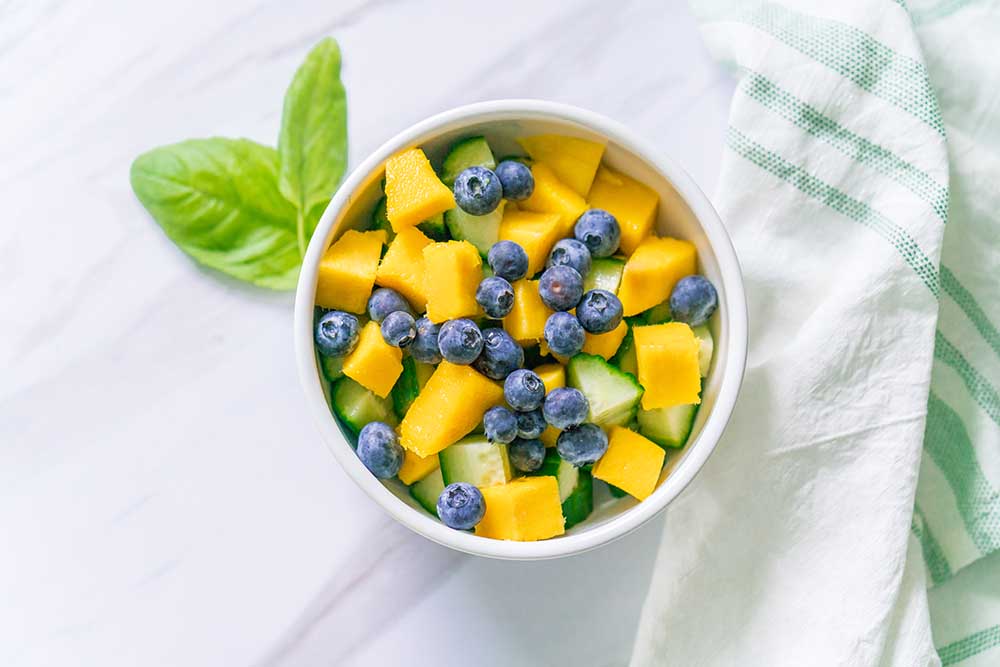 If there's one thing that the holiday season does to me, it's turn me into a sugar addict! But honestly, by the new year, I am ready to ditch the cookies and chocolate and start fresh. One thing I really wanted to do this year is to add more salads into my diet.
Don't get me wrong, I love salad…green salads, fruit salad, pasta salad, quinoa salad, give me all the salads!!! I don't know why I have a hard time eating them at home. Is it the extra effort of putting them together, buying the ingredients? Probably! But no more!
What is Quinoa?
One thing I want to add to my diet more this year is quinoa. Quinoa is a gluten-free, whole-grain carbohydrate, as well as a whole protein (which means it contains all nine essential amino acids).
Quinoa is actually a seed! The quinoa benefits are numerous and it can be easily incorporated into your diet by adding it to foods you already eat or by making easy healthy quinoa recipes. Just one cup of quinoa contains:
How Healthy is Quinoa?
Protein: 8 grams
Fiber: 5 grams
Manganese: 58% of the recommended daily allowance (RDA)
Magnesium: 30% of the RDA
Phosphorus: 28% of the RDA
Folate: 19% of the RDA
Copper: 18% of the RDA
Iron: 15% of the RDA
Zinc: 13% of the RDA
Potassium 9% of the RDA
Over 10% of the RDA for vitamins B1, B2 and B6
Small amounts of calcium, B3 (niacin) and vitamin E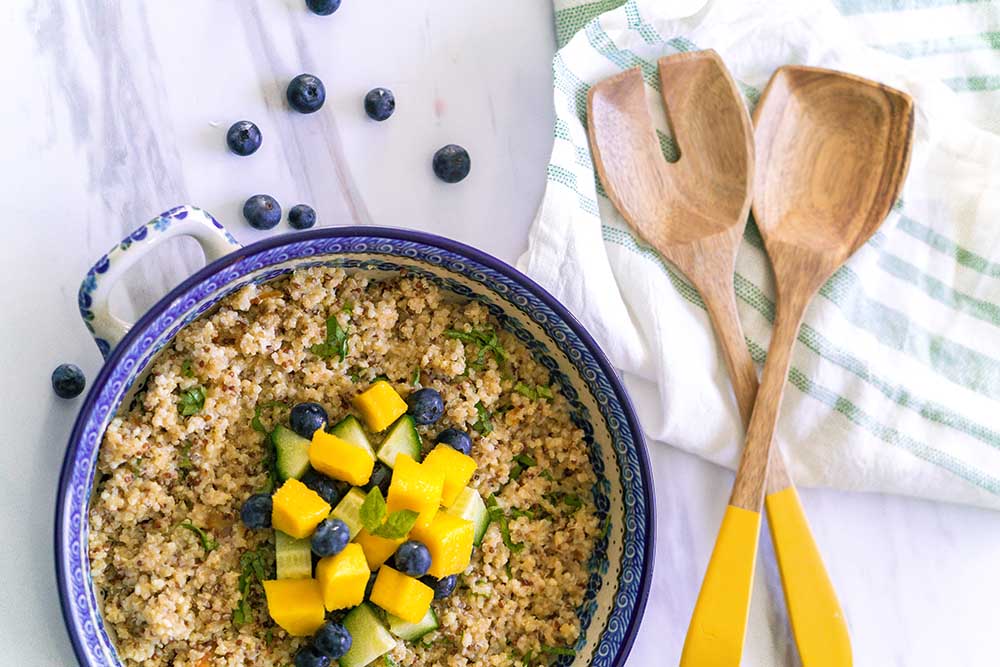 Other Quinoa Benefits:
Quinoa is Gluten-Free
Quinoa contains quercetin and kaempferol, which are trace nutrients found to be anti-inflammatory, anti-cancerous, anti-viral, and anti-depressant according to many studies.
Quinoa is high in fiber.
Quinoa is high in protein.
Quinoa has a low glycemic index which means its good for blood sugar.
Quinoa is high in Iron and Magnesium
Quinoa is high in antioxidants

How to Make Quinoa Salad
I forgot how much I liked quinoa. I remember back in the early 2000s when it first became a "thing" but no one really knew how to cook quinoa or what to do with it! Now of course quinoa is old news and there are a million quinoa recipes online!
But do you know how to prepare quinoa? You cook quinoa much like you would cook rice, with a quinoa to water ratio of 1:2.
How to Cook Quinoa
Boil 2 cups of water
Add in 1 cup of quinoa
Cover and boil on low for 16 minutes
Remove from heat and allow to cool for 10 minutes
Fluff with a fork
Instant Pot Quinoa
If you have an instant pot (and if you don't, you should), you can even cook your quinoa in there. Here are some tips for cooking your quinoa in an instant pot:
Use less water: there is less evaporation in an instant pot so use about a 1:1.75 ratio of quinoa to water.
Use chicken broth instead of water for more flavor, or use vegetable broth for vegan quinoa salad recipes.
Rinse your Quinoa: this will help it not be as bitter.
Spray your Instant Pot with oil: This will prevent the quinoa from sticking to the side of the pot.
Add salt and pepper for flavor.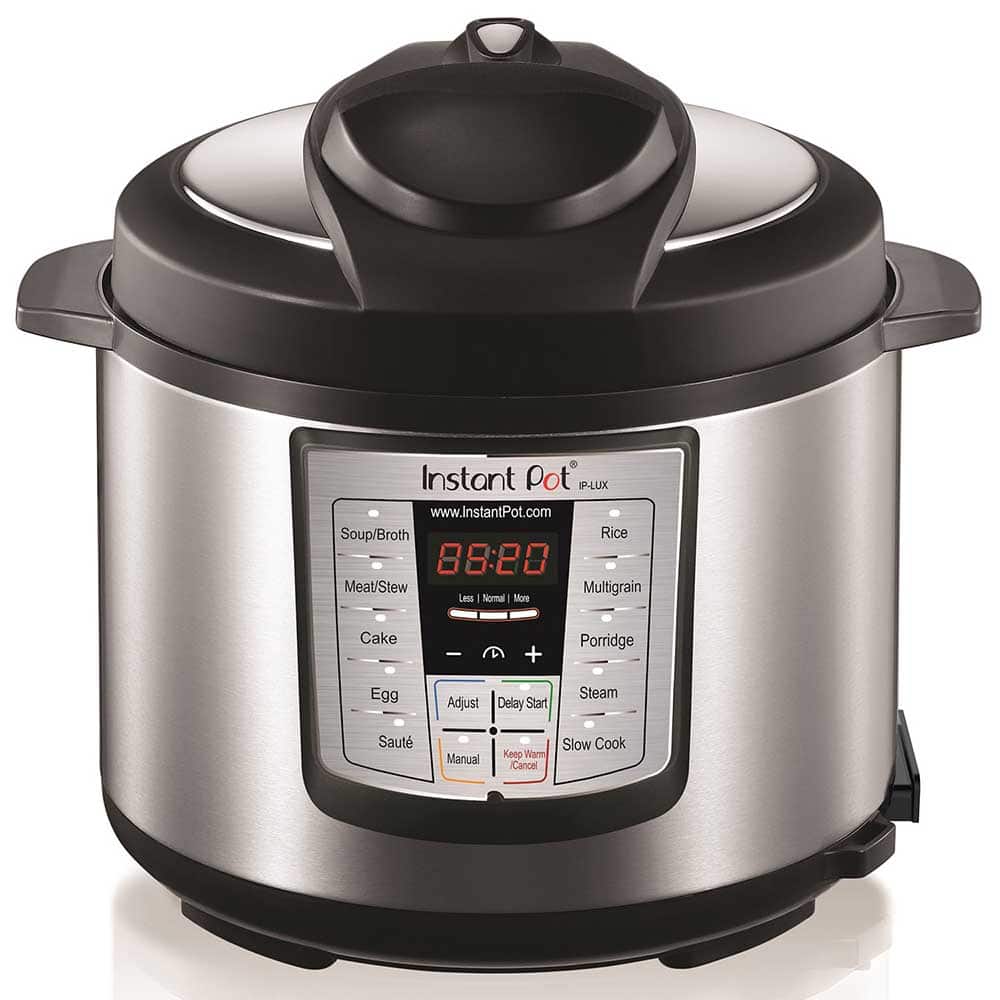 Quinoa salads are an easy way to incorporate it into your diet, so I've been experimenting and think I've come up with one of the best quinoa recipes ever!
Since I'm trying to kick my sugar addiction this year, I wanted to start slowly instead of going cold-turkey. I've been trying to create a healthy quinoa salad recipe that was also sweet enough to satisfy my sugar craving in the middle of the day.
I also wanted a cool quinoa salad that could be made ahead and stored in the fridge for a few days. I have almost zero free hours in my day, so anything I can do while the kids are in bed is a must!
I love mangos, blueberries, and cucumbers, so thought it would be fun to incorporate it into some cold quinoa salad recipes for a tasty treat.
The combination of the ingredients in this salad is amazing! It's light, but filling and makes a great winter or summer quinoa salad. I think it would actually be gorgeous as an Easter dinner side in the spring too!
Depending on your preference, I think it might actually be delicious as a quinoa breakfast bowl! Even my kids love this quinoa salad, which is great becaue I've really been trying to offer them more healthy snacks each day.

What You Will Need to Make Blueberry Mango Quinoa Salad
Cook your quinoa, prepare your fruit and dressing, and add it all together for one of the best quinoa recipes I've ever made.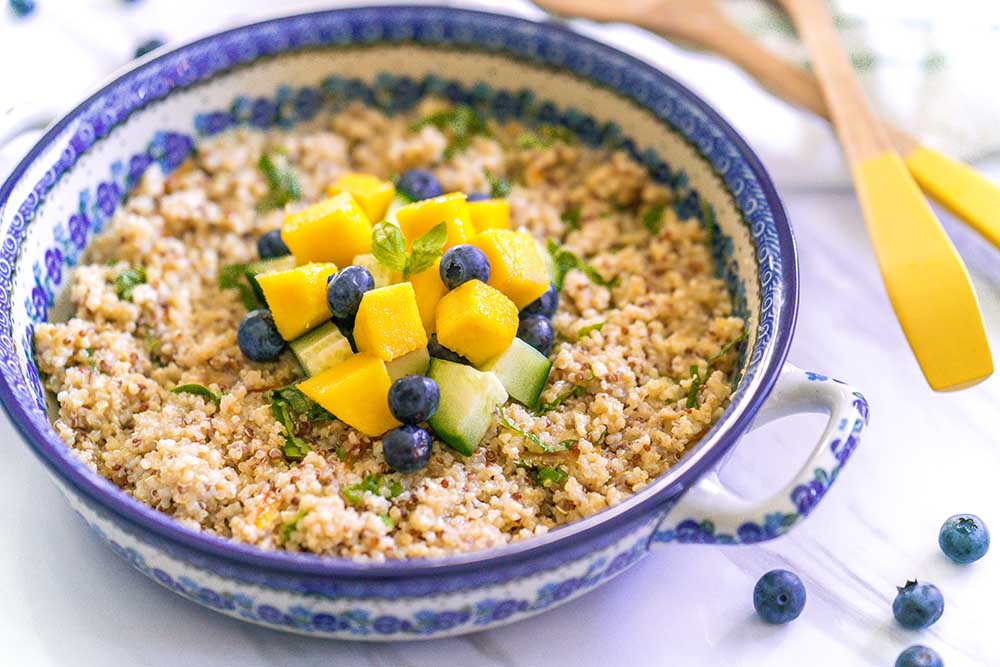 Save this recipe for later!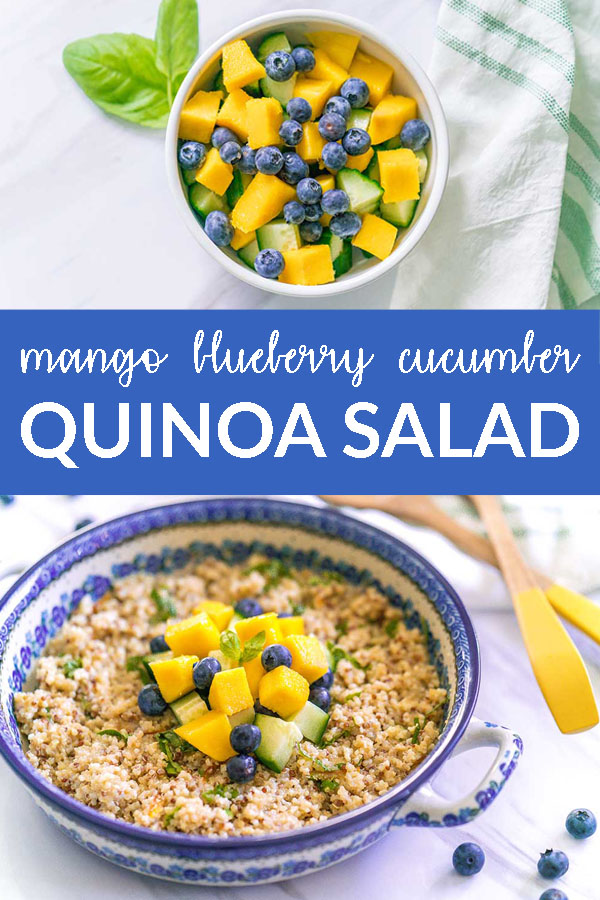 Yield: 4 servings
Zesty quinoa salad with mangos and blueberries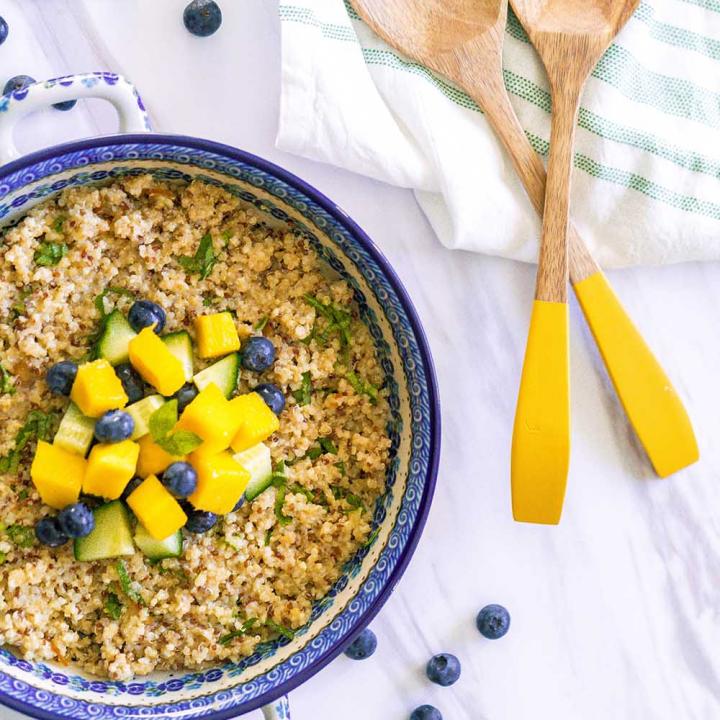 This incredibly tasty zesty quinoa salad with mangos and blueberries is a perfect breakfast, lunch, or dinner for anyone looking for a healthy quinoa salad recipe. It has just the right amount of sweet and savory!
Ingredients
For the Quinoa:
1 Cup Quinoa
2 Cups water, chicken broth, or vegetable broth
For the Salad:
1 cup fresh blueberries
1 cup peeled and cubed mangos
1 cup small cubed cucumbers
A handful of Basil leaves chopped
1/4 cup dried cranberries (optional)
For the quinoa salad dressing:
3 Tablespoons Olive Oil
2 Tablespoon Lemon Juice
1/4 Cup Orange Marmalade
Zest of 1 lemon
Dash of salt
Instructions
Cook the quinoa according to package directions or in an instant pot. Let cool
Chop the mangos, basil, and cucumbers. Wash the blueberries
Mix all quinoa salad dressing ingredients together.
Once quinoa is cooled, pour dressing over (add as much or as little as you like) and mix well.
Add mangos, blueberries, basil, cucumbers, and cranberries, and mix gently so not to squish the fruit.
Serve immediately or save in the fridge for up to 3 days.