Learn how to make brown sugar coconut oil scrub, its benefit for the skin and how to use it.
Tired of spending a fortune on expensive beauty products that may contain some harmful chemicals that damage your skin?
This homemade facial treatment is super cheap to make and you can whip up a batch in 5 minutes.
Read on to learn everything you need to know about coconut oil and sugar face scrub.
PIN FOR LATER!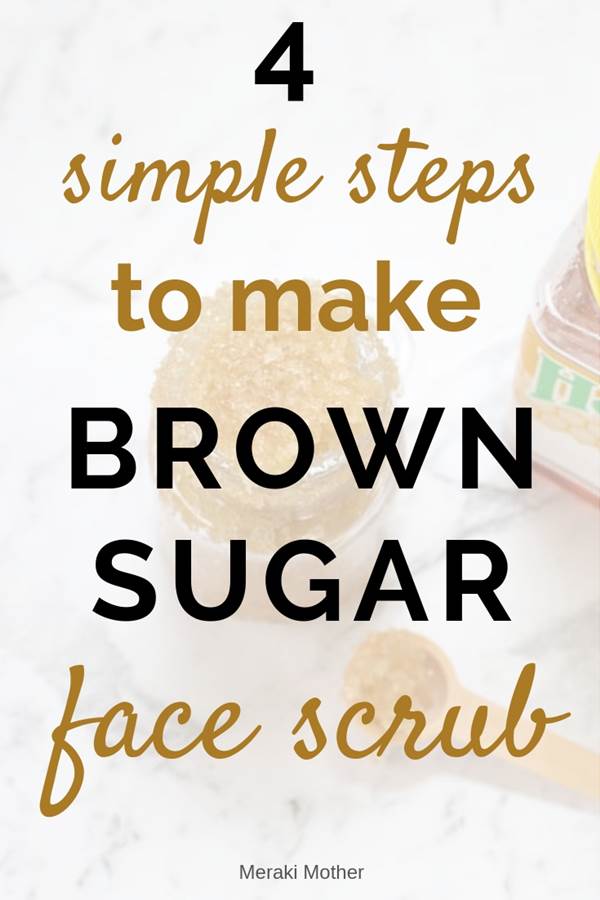 Brown Sugar Coconut Oil Scrub – Homemade Face Scrub
Coconut Sugar Scrub Benefits
Brown sugar and coconut oil scrub benefits are related to the fact that coconut oil is widely accepted as an effective skin moisturizer.
The brown sugar face scrub with coconut oil will exfoliate and help to unclog pores while the honey and vitamin E add amazing moisturizing effect.
Beyond the brown sugar facial scrub benefits, this recipe can also be used to make brown sugar body scrub, scrub for hands, strawberry legs and/or oily skin, scalp and brow sugar scrub for lips.
Adding the amazing properties of honey we promise you're going to love this so much you will be making it as a homemade gift for all your friends too.
Are you convinced about the coconut oil and brown sugar scrub benefits? Then read our step by step instructions for the easy sugar scrub recipe below.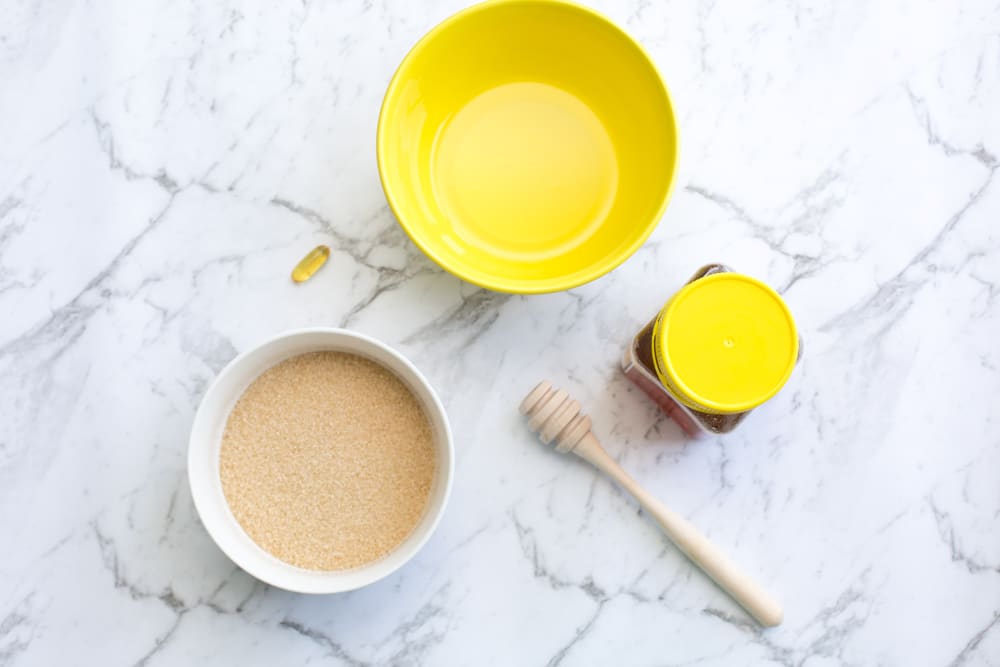 How To Make Brown Sugar Face Scrub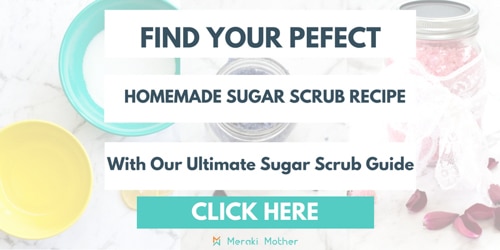 Step One
Mix some of the sugar and all of the oil in a bowl.
Step two
Add the Lemon essential oil, Vitamin E and honey while stirring the mixture. For our sugar scrub recipe, we found about 10 drops but this will vary depending, how strong you would like the scent,  the quality of oil you use and the type of oil.
Step Three
Add the rest of your sugar until it is the consistency is right. As you will be using this on your delicate facial skin, don't make the mixture too rough.
Step Four
Put your sugar scrub into a container. Make sure that it is airtight so that your scrub keeps for longer.
Note: We suggest you do a small skin test patch and wait 24 hours if you have super sensitive skin.
Simple, right? No wonder this coconut oil and brown sugar scrub for face is one of my favorite scrub recipes!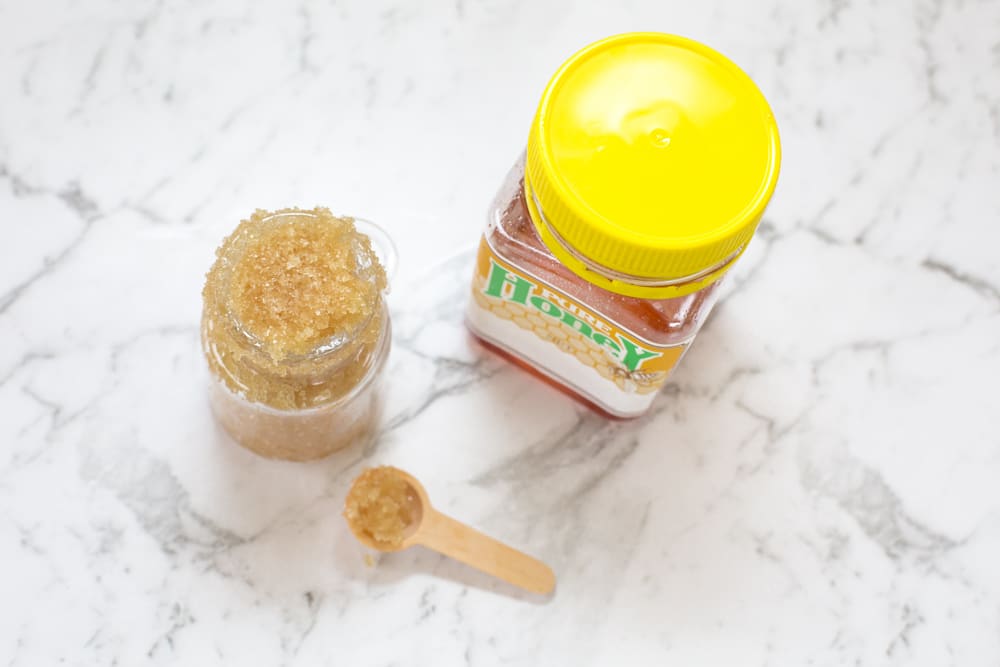 Looking for some homemade sugar body scrubs to go with your facial scrub? Check out our gorgeous recipes below.
How to apply brown sugar scrub on face
Gently wet your skin with warm water. If scrubbing your face make sure your hair is in a bun or ponytail first.
Take a little bit of scrub and massage your face and neck gently with circle movements for 1 minute (don't rub your skin too hard and watch out for any skin irritation).
Rinse the scrub with water. Your skin should feel hydrated and smooth.
Dry your face with a towel by patting your skin gently.
Make sure to moisturize your skin with your favorite moisturizing products to lock the healthy benefits of scrubbing.
We recommend you to scrub your face once per week (max twice!), you don't want to scrub too often and leave your skin to delicate.
Other Sugar Scrub Recipes You Will Love
And there you have your homemade sugar scrub recipe! Have you tried this at home? Or maybe you have another great recipe? Let us know below in comments.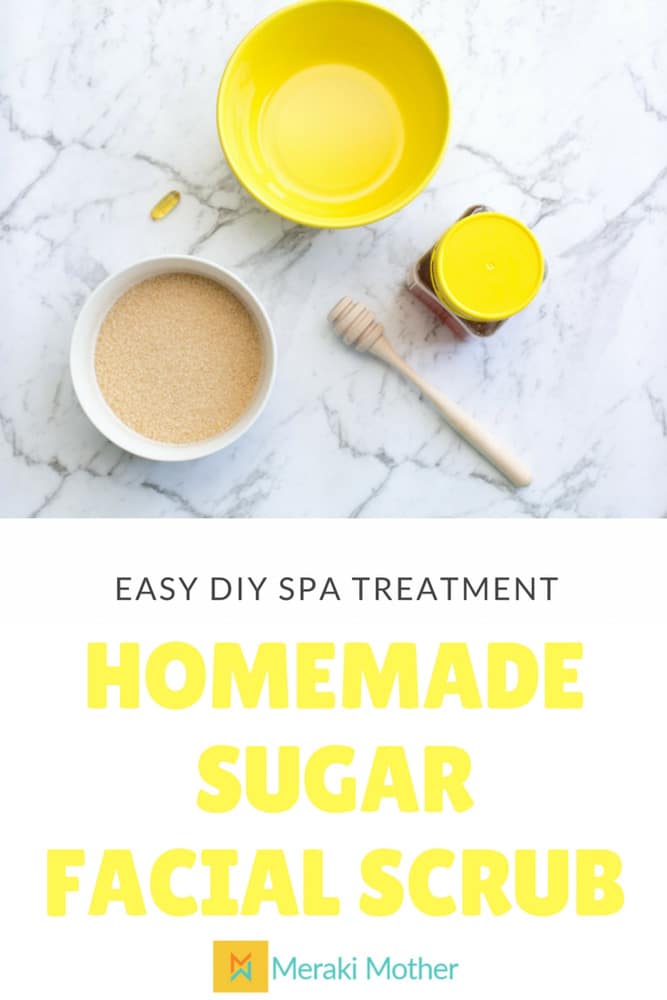 SaveSave