We all want to make our house a home that is warm, welcoming and a place of happiness. One of the easiest ways to do this is through creating amazing aromas in your home.
Our sense of smell is an important sense that tends to get overlooked, especially in the home. But think back to your childhood and we bet there are some smells that can take you straight back to a magic memory, like your grandma cooking Choc Chip cookies or that fresh clean smell after your mum had washed and changed the sheets.
So the question is how to make your home smell good?
There are plenty of scented products for sale but lots of these can be filled with nasty chemicals and synthetic products. To keep our home safe and still smelling lovely we recommend using good quality essential oils. Not only are these best essential oil scents for home natural, but as we will show you they are also great for your health through Aromatherapy. 
So keep reading and we will show you everything you need to know about creating an amazing home through such things as essential oils that smell good, the best room air freshener and the best smelling essential oils for diffusers.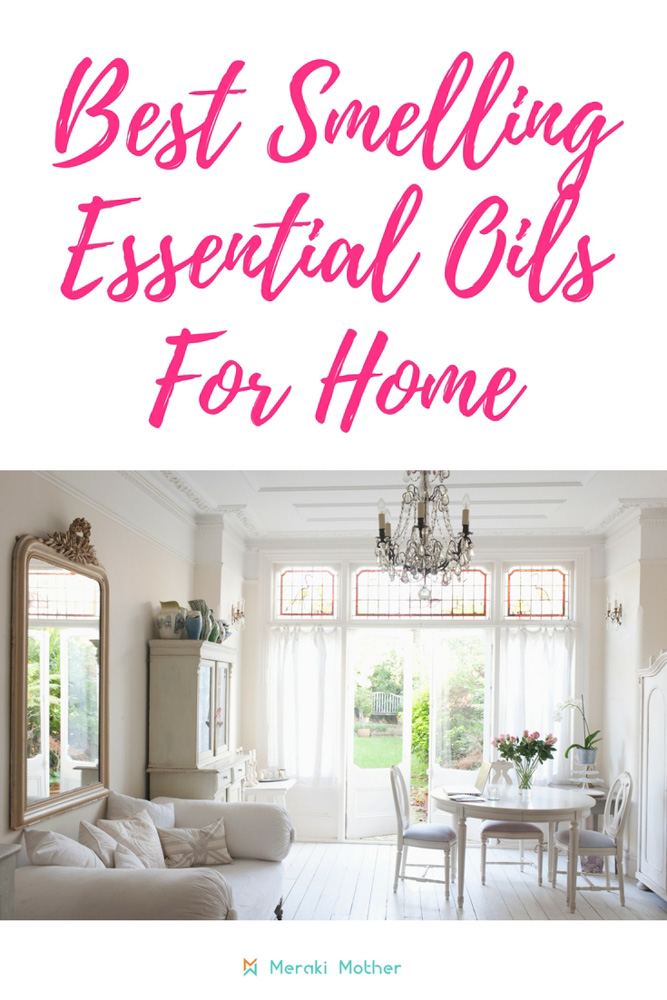 Best Smelling Essential Oils for Home
There can be so many oils to choose from that it can be overwhelming, especially if you are new to essential oils. Luckily we can help you keep it very simple. Here are some must-have essential oils for your home.
Strong Smelling Essential Oils
When you are searching for the best home fragrance products, strong scented essential oils are a great start for how to make your house smell good.
Lemon Essential Oil
Lemon is on of the best oil diffuser scents. It is a strong fresh scent that is perfect for killing any nasty odors in the home. Just add 5 drops of Lemon Essential Oil into your diffuser. As an added bonus this oil is perfect for lifting the mood of anyone in the home.
You could also use this in the laundry room as a laundry freshener by adding a few drops to a cotton ball and placing it in your dirty washing basket.
Frankincense Essential Oil
Frankincense is a wonder oil with a rich exotic scent. As well as helping to create a wonderful environment in your home it is also one of the best oils to reduce stress. 
After you have used this oil in your home check out our gorgeous Rose and Frankincense DIY Spa treatment that will leave your skin feeling amazing.
Wild Orange Essential Oil
This scent is brilliant for the home and is the perfect oil to make your house smell amazing. You can use a few drops in your diffuser as is or even mix it with another scent like lavender. The strong orange scent cuts through any lingering odors in the home while the lavender adds a wonderful soothing effect to your home's atmosphere.
If you need help choosing the best diffuser, check out our post on diffusers for large spaces. 
Lemongrass Essential Oil
This citrus aroma packs a punch. A few drops in a diffuser will leave your home smelling super fresh and clean. It is also a great stimulant for your mind, so is a perfect scent to use if you have a busy day ahead.
Cinnamon Essential Oil
This scent brings back so many amazing memories for people. Most people associate Cinnamon with baking, childhood and a feeling of being cozy, which makes it a great scent to use in the entrance of your home to welcome guests.
Clean Smelling Essential Oils
We all want to know how to make your house smell good and clean, right? These essential oils not only have amazing scents that cut through any odours in your home but they leave behind a lasting, clean aroma.
Eucalyptus Essential Oil
Not only does Eucalyptus make your home smell clean, it actually does freshen and clean the air, making it one of the best smelling oils for diffusers. Simply add around 5 drops of Eucalyptus Essential oil to your diffuser. This oil is also amazing for helping to open up an individuals airways if they have respiratory problems.
Peppermint Essential Oil
Not just for tasty tea, peppermint is a great oil to use in your home. As well as creating a fresh and peppy aroma, this scent helps boost energy levels. The perfect oil to use in your diffuser in a morning for busy mums to increase your energy and it will leave your house smelling fantastic all day long.
Tea Tree Essential Oil
We think this is one of the very best essential oils to have in your home. We suggest using this oil as a disinfectant for homemade cleaning products. It has amazing germ killing properties and leaves behind a clean and lasting aroma.
Grapefruit Essential Oil
We love Grapefruit essential oil in the home as it leaves behind a clean and crisp scent with a hint of sweetness. Perfect to use in cleaning products like the Tea Tree oil or in your diffuser to leave your home smelling fresh.
Sweet Smelling Essential Oils
Sweet smelling and floral oils make the best essential oil for home fragrance. Here are some of our favorites.
Lavender Essential Oil
Lavender is a beautiful essential oil to bring a welcoming and soothing scent to your home. Be sure to also use the best quality essential oils to get a scent that really lasts. As well as bringing the scent of summer into your home, Lavender is perfect for helping to create a calm and peaceful mood.
Jasmine Essential Oil
Jasmine is a firm favorite as one of the nicest smelling floral oils with its rich aroma. It will keep your home smelling sweet and welcoming. It is a strong oil so we recommend only a two or three drops in your diffuser.
 Douglas Fir Essential Oil
Not only is this scent sweet but it is also relaxing. Making it a great essential oil to use in your home. We love that it also brings a touch of nature into a house.
Ylang Ylang Essential Oil
While being floral we find this scent to also be a little fruity and not as over powering as some of the other floral scents. With its delicate and fresh scent, it is perfect for use in a diffuser to make your home smell good.
Let us know which ones you have loved to use in your home to make it smell amazing.
Medical Disclaimer
This post is for informational, educational and entertainment purposes only. The information here is not intended to diagnose, prescribe, treat, cure, or prevent illness or disease. No information here has been checked by the US Food and Drug Administration. Please check with your doctor or medical professional before using essential oils.