If you are wondering what is a bullet journal?, then you need to read all these amazing Bullet Journal Page Ideas to see how this magic little notebook can make your life amazing.
Already a Bullet Journal addict?
Then you already know how some amazing bullet journaling ideas for pages can help with everything from getting organized to understanding your moods, to creating a travel journal for your next big adventure!
We have collected some of our favorite and most useful bullet journal pages all in one easy guide.
Keep reading to find out why you need to start Bullet Journalling and get bullet journal inspiration to help you create a journal that will help you get the most out of life.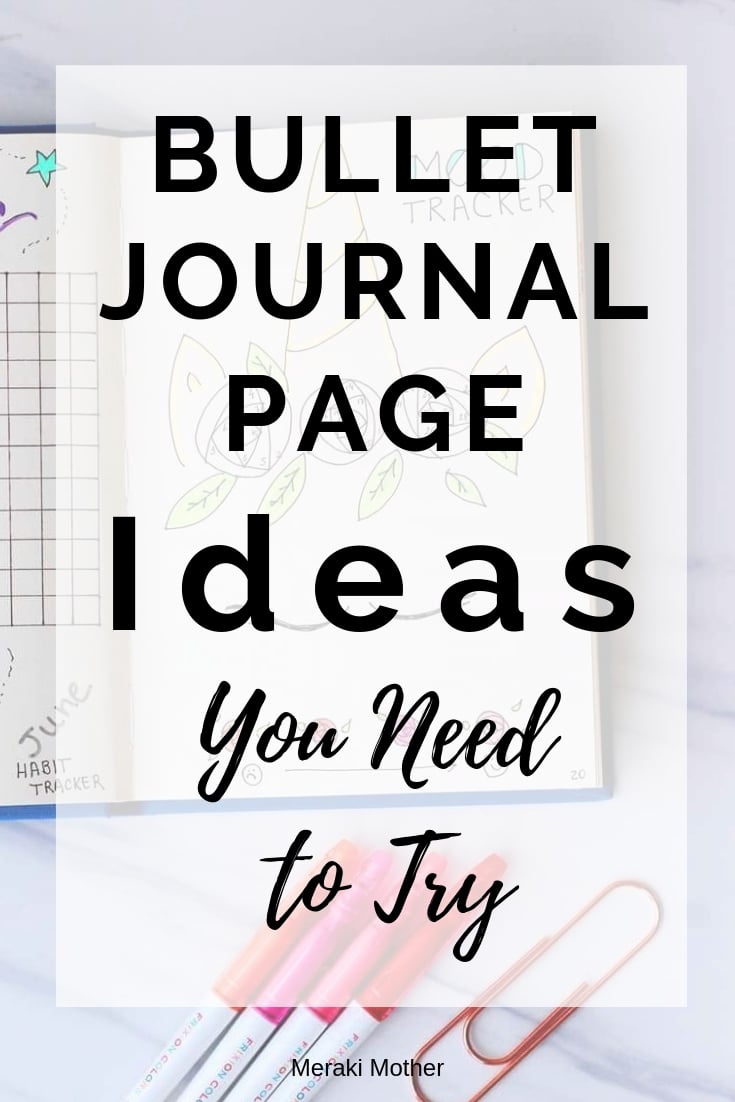 How To Bullet Journal
The best thing about the bullet journal method is that it is unique for every person. It is a brilliant life hack that can be customized and personalized to work exactly for YOU!
When you start all the bullet journal how to guides it can get a little overwhelming. There is a huge amount of information, new terminology to learn and amazing artwork.
If you really want to know about the bullet journal method, the best place to start is with this book by the creator of the Bullet Journal, Ryder Carroll.
The good news is that the best bullet journal isn't necessarily the prettiest or the one with the most pages. It is the one that helps you stay organized and keeps you on track for becoming the person you want to be.
So what does a bullet journal starter kit need?
Bullet Journal Setup
Another great thing about Bullet Journaling? You don't need a lot of expensive bullet journal supplies.
Although you can go nuts with Washi Tape ideas, bullet journal stickers and expensive art pens. You can actually start with only a few bullet journal basics.
Want to know where to buy bullet journal supplies? We get all our supplies online! Super easy and great prices.
Bullet Journal Amazon
Bullet journal pens. There are so many debates on the best pens for bullet journal. It really is a personal choice and depends on the journal you use, and your style. One of our favorites is the Sakura Pigma.
So you have your blank journal and pen..what next? Keep reading to see journal entry ideas you can use to make your ideal Bullet Journal.
Bullet Journal Page Ideas
If you are new to Bullet Journaling you may already be wondering what exactly bullet journal layouts and bullet journal spreads are?
Simply put, a layout and spread are similar in that they are a number of pages that come together to help you organize related information.
You create a spread or layout when you dedicate pages in your Bujo ( short for Bullet Journal) to a topic.
So what are some page ideas that can help you get super organized?
Bullet Journal Index
A Bullet Journal index is like a contents page for your Bullet Journal. A Bujo can't get you organized if you can't find the pages you need, right?
You can organize your index page like a traditional contents page with numbered pages. We think an even better way is to organize by collections or "like" groups of pages.
Here are some bullet journal index ideas that will make setting up an index easier.
Have a rough plan for your Bullet Journal before you start adding content.
Think about what is going to be most useful for you and plan to have those pages within easy reach.
Make a draft index before adding it to your Bullet Journal
Put the Index either as the first page or the last page so you can quickly find what you need.
Bullet Journal Key
This is like a bullet journal legend. You create simple symbols to save you time and effort when you use your Bullet Journal.
Here are some bullet journal key ideas:
Think about things you will be adding regularly to your Bujo. Maybe Notes, Tasks, Appointments?
Create a simple symbol for each of these.
Create a symbol to remind you if something has been completed.
Create a key at the start or end of your Bullet Journal so you can always remember what your symbols represent.
For example, you may put a simple * near a note to remind you it is an appointment. An x may mean a task has been completed.
You can also use colors instead of symbols. Whatever works for you.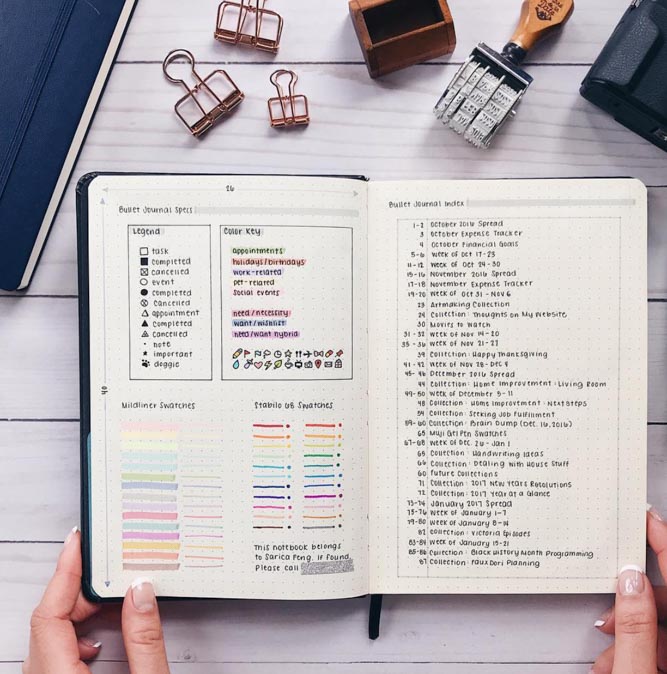 Bullet Journal Monthly Spread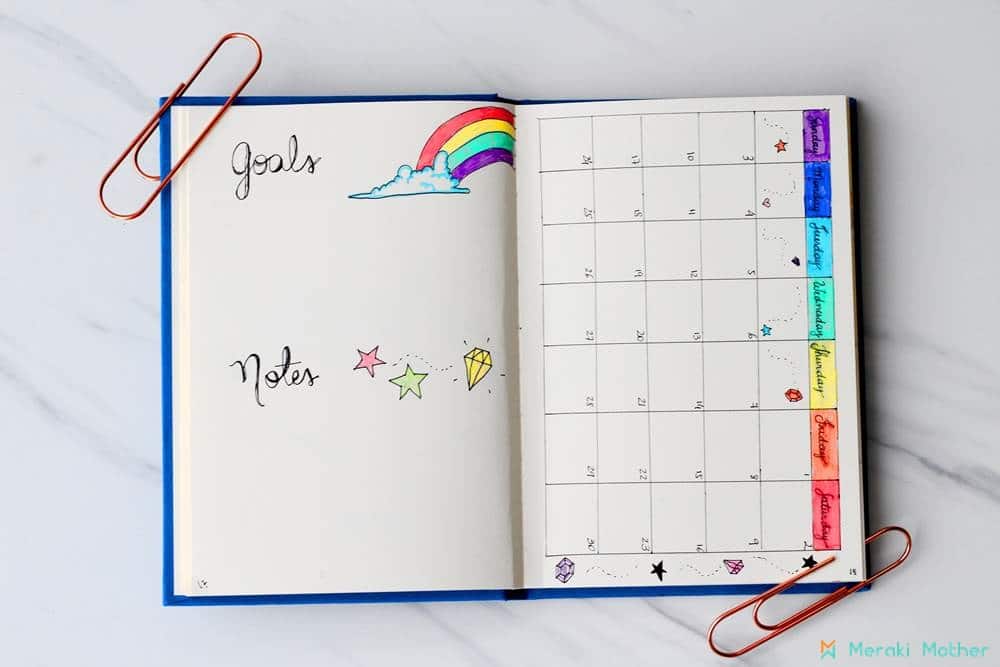 A bullet journal monthly is a great way to quickly look over your whole month.
Some things to add to your monthly log bullet journal:
Bullet Journal calendar
Monthly goals.
Appointments for the month
Any regular monthly payments or bills.
A quote or saying to motivate you for the month.
Bullet Journal Weekly Spread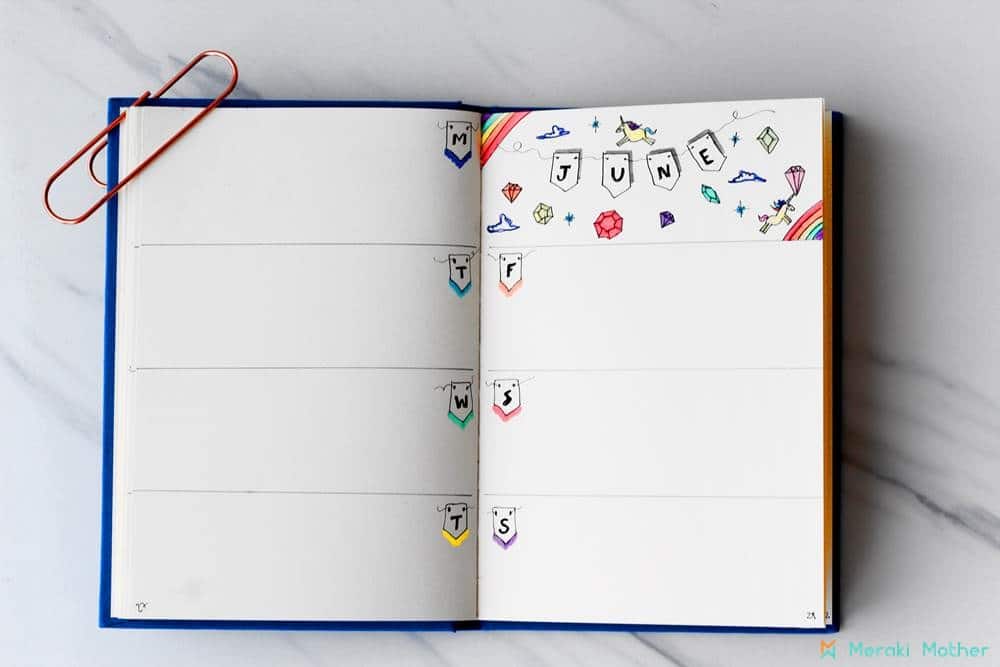 A bullet journal weekly layout is more detailed than a monthly and allows you to add more tasks, and items.
Here are some ideas for your weekly spread bullet journal:
To-do list
Small habit trackers for habits you are trying to break or start.
Meal Plans
Shopping list
Weekly goals
Need more ideas? Head to our great post on inspiration for weekly layout bullet journal.
Bullet Journal Daily Log
A bullet journal daily spread is the next page if you find a weekly spread is still not detailed enough for your needs.
Some ideas for bullet journal daily pages:
Daily tasks
Appointments
Health counters like water intake and steps
Work tasks
Time blocking for productivity.
Bullet Journal Habit Tracker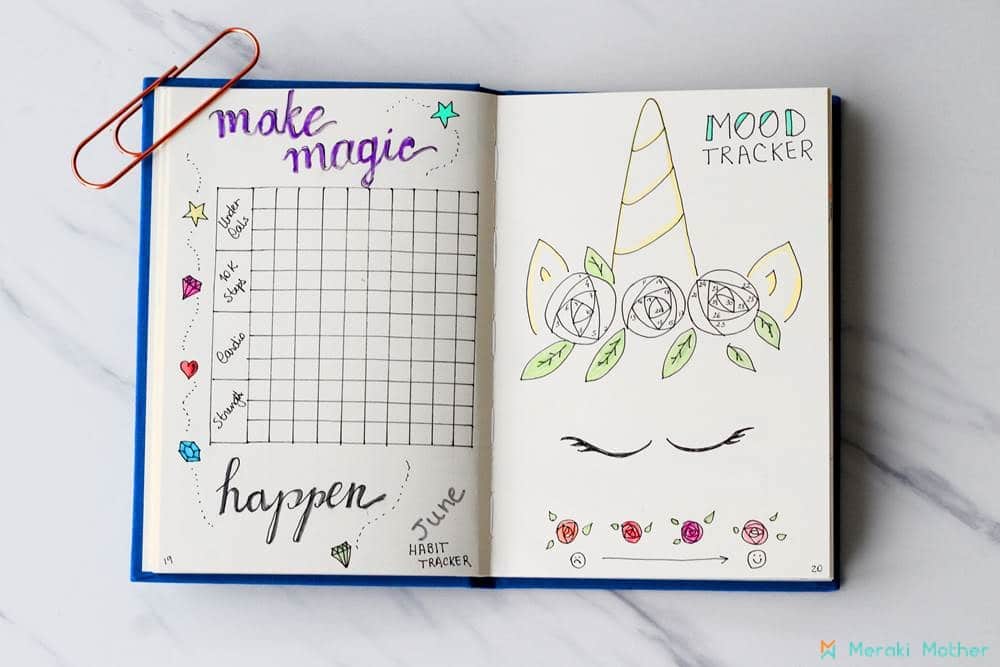 You can use a habit tracker bullet journal to keep track of nearly anything. It is the perfect tool to help you start a positive habit or break one that is not serving you.
You can use a tracker to also gain more self-awareness by keeping an eye on anything from your health to your goals.
Here are some habit tracker ideas:
Bullet Journal sleep tracker
Bullet Journal weight loss tracker
Fitness tracker
Period Tracker
House cleaning chores
Head to our Habit Trackers For Bullet Journals post to find even more ideas.
Love this Bullet Journal Theme? Find out how to do a unicorn Bullet Journal Theme here.
Mood Tracker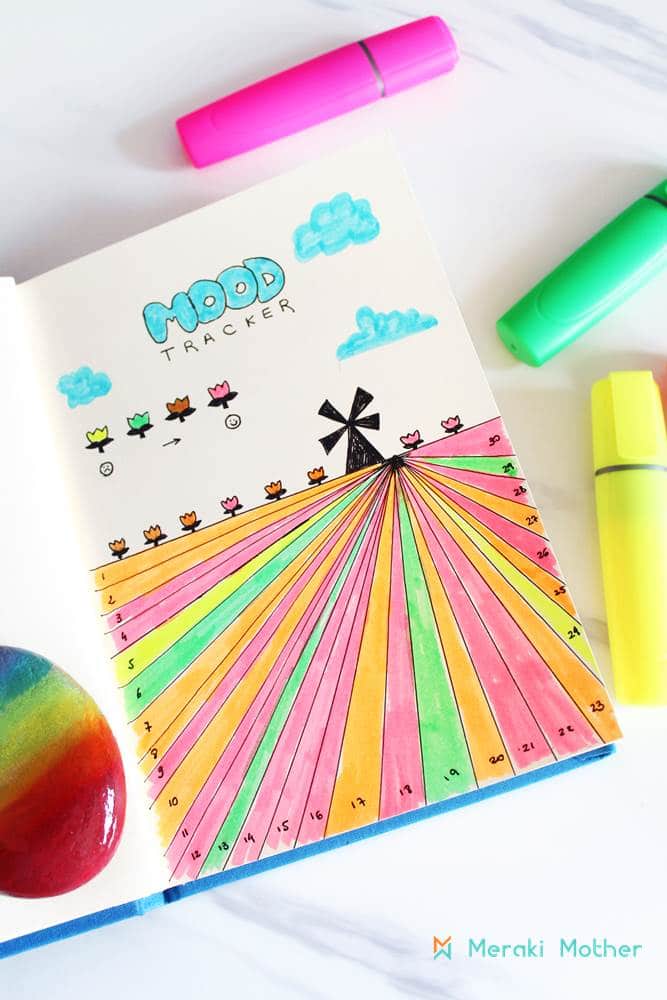 A Bullet Journal Mood Tracker is the perfect tool to help you learn more about yourself. By keeping track of your moods you can see what effects how you feel, from hormones to certain events.
Click to learn how to create this easy mood tracker spread.
Bullet Journal Future Log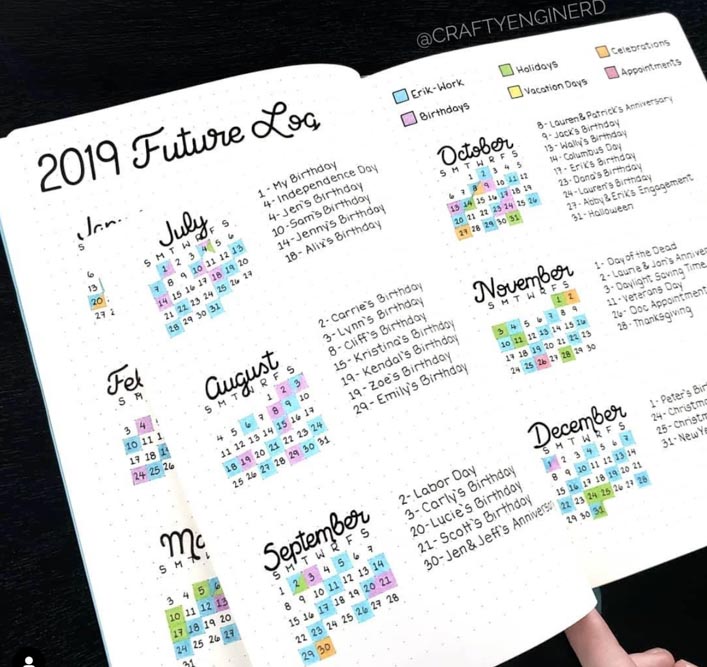 A future log is a kind of bullet journal year at a glance. It is an easy way to plan your year, keep track of goals and complete year tasks.
This example is color-coded, which is such a fantastic idea.
Bullet Journal Tracker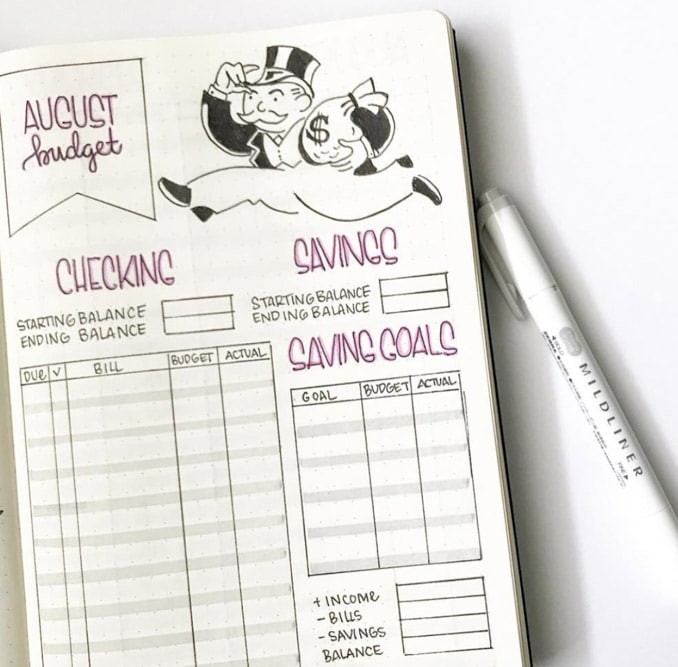 There are so many bullet journal tracker ideas, but one of the most useful is one to keep track of your finances.
Some ideas for a Bullet Journal finance spread are:
Bullet Journal budget
Bullet Journal expense tracker
Savings Tracker
Spending Tracker
Bills Tracker
Bullet Journal Meal Plan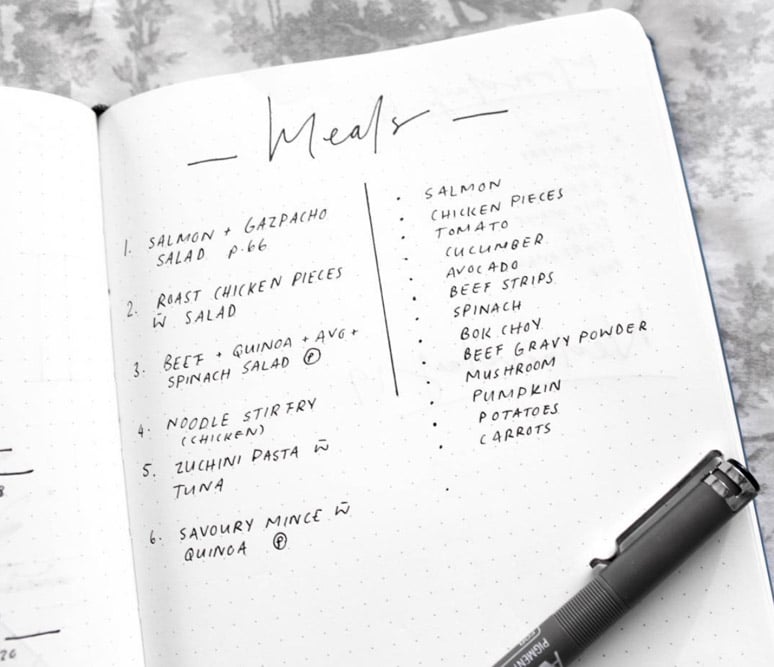 This is a great Bullet Journal hack for Moms. Creating a meal plan is the best way to make mealtimes easy, healthy and to save you a whole heap of time.
Some Bullet Journal Meal Plan ideas are:
Master shopping list
Weekly shopping list
Meal Prep
Favorite recipes
Never tried meal planning before? Check out this beginners guide to meal planning.
Bullet Journal Goals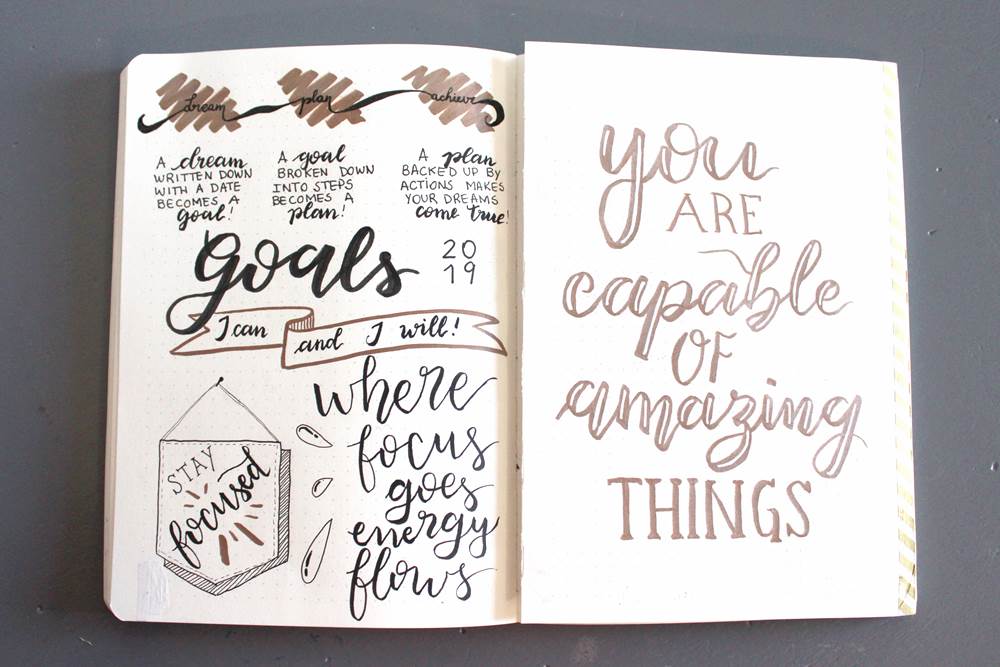 Perhaps one of the best ways to use a Bullet Journal is for making your goals and dreams really happen.
A Bullet Journal can be used in every step of goal setting. From creating a Bullet Journal vision board to making a detailed action plan.
Here are some ideas for Goal Setting using a Bullet Journal:
Create a Vision Board
Break down your goals into action steps and add to your daily, weekly and monthly spreads.
Create Habit trackers that help you with accountability towards your goal.
Review your Bullet Journal at the end of each month. How did you move towards your goals? What can you improve or change to get to your goal quicker?
Want to be really effective at goal setting with your Bullet Journal? Find out the best goal setting hacks here.
We hope you have loved all our bullet journal layout ideas. Which ones will you be using in your journal?
More Bullet Journal Ideas
Organize all your Bullet Journal supplies with this DIY stationery station.

Don't feel creative? Try these simple mood trackers that anyone can create.

Looking for Holiday Ideas for your Bullet Journal? Check out these Christmas Buso spreads.