June is looking pretty magical with the Unicorn Bullet Journal Theme!
Once upon a time I used to make unicorn headbands for a living.
I love unicorns and anything to do with them; all the magic, fantasy and merchandise. How not to love it? Everything is so cute and adorable.
So when I was faced with a new month in my journal to set up, I thought; why not a unicorn themed month with some gorgeous Bullet Journal doodles.
Couple of weeks ago I had seen this unicorn tracker on Instagram and that gave me some food for thoughts. My style is quite different though, I like the kawaii looking drawings and I personally can't draw as well to even think to replicate something quite like this.
So I had no option but make it my own way. I sat outside on a lovely sunny afternoon and spent a couple of hours thinking back on the days I used to make the unicorn headbands and decided to finish my monthly layout then and there.
Have a look at how it turned out.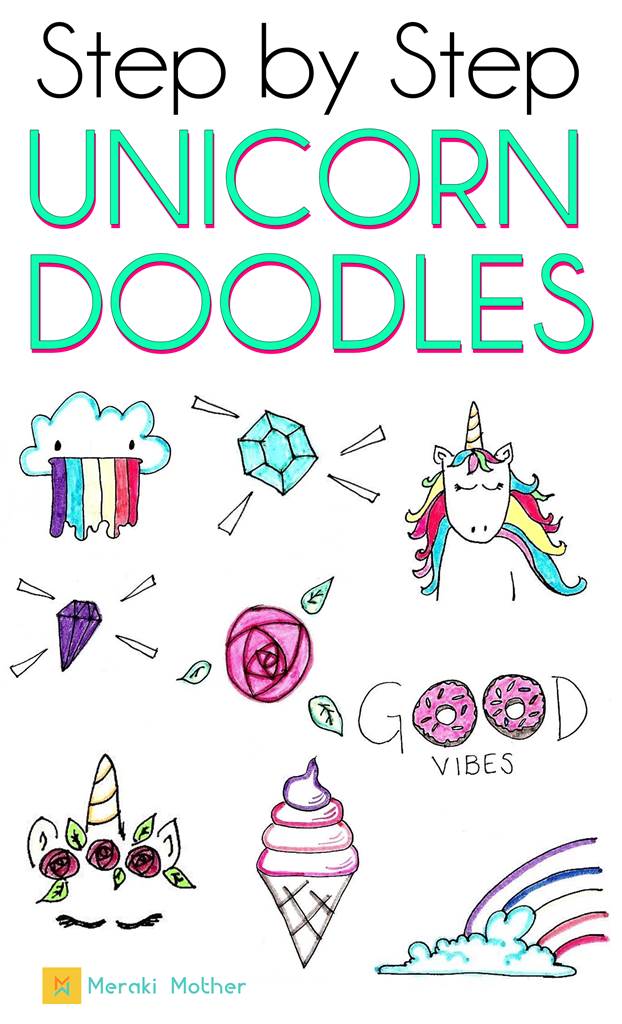 Unicorn Bullet Journal Theme
I spent about 2 hours making all these pages. I am not gonna lie; at the end I was quite tired and wanted to finish it asap!
I am normally not that organized regarding my monthly pages and definitely don't think that you need to spend a lot of time on your bullet journal. I actually leave the weekly spreads to be done as they come.
I am also not usually invested in making my journal look artistic or pretty but this month I did make an effort!
Even though I don't believe you need to be artistic to succeed with journaling, it is sure rewarding to have some pretty unicorn pages on my journal. I am super happy with the result.
I have some step by step hand drawings at the bottom f you feel like trying something like this.
So here we go:
Bullet Journal Monthly Cover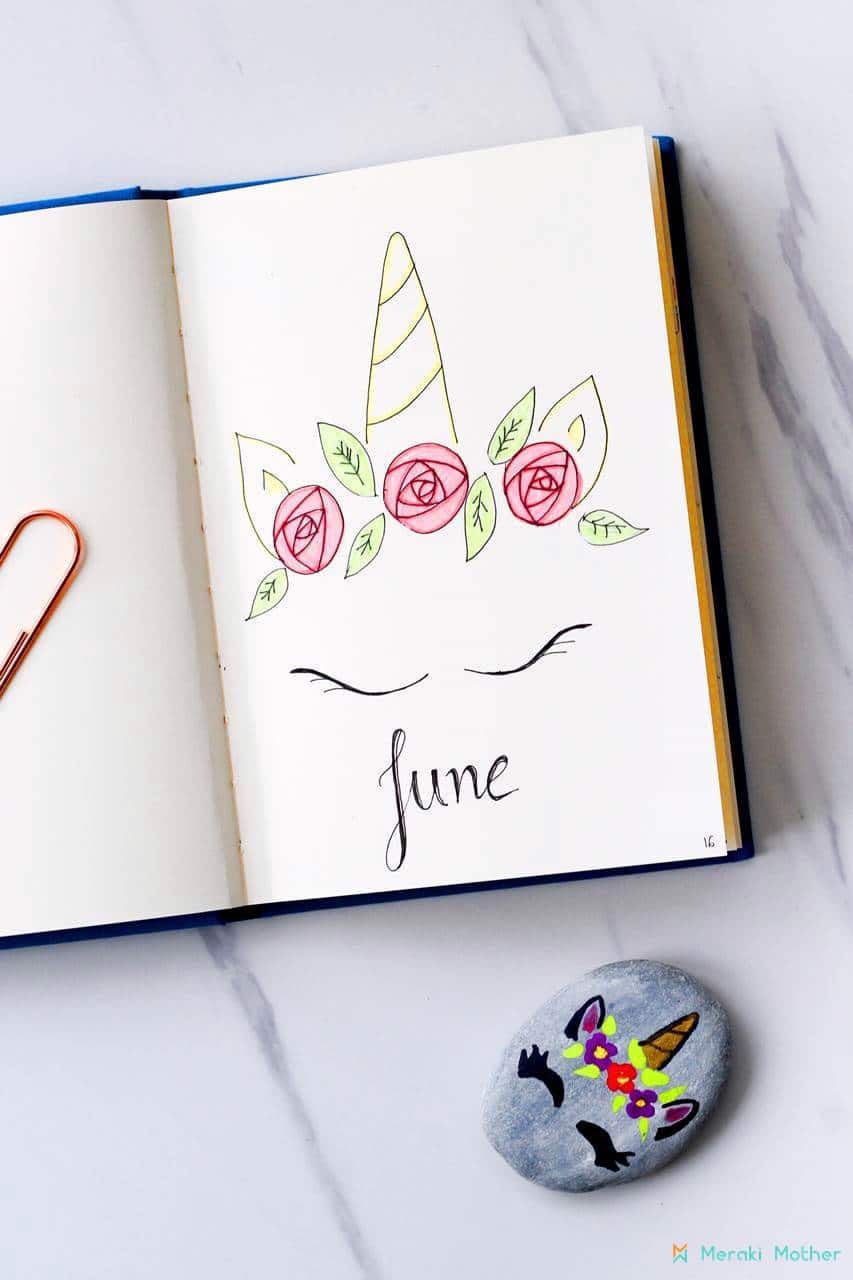 To start the month off I created the first page inspired on the unicorn floral headbands I used to make myself.
It was the first time I had the opportunity to use my new frixion color pens and they have suddenly become my favorite bullet journal supplies!
I love felt tip pens but ghosting can be a real problem and some bleed so much through the pages.
These don't bleed at all on my new bullet journal. Plus, they are erasable! What can be better?
One reason why my bullet journals don't always look so good is because I make loads of mistake!
But these will sure help me with that. It just takes a little friction with the rubber attached to the lid and the mistake is gone. They also seem to come off easily using normal erasers.
In addition, they come in pretty varied colors. With the 24 color set you can create plenty of pretty layouts. The colors are vibrant but they have that see-through effect of highlighters.
So for the spreads of the entire month of June the only supplies I
used were mypencil, black gel pen and the Frixion Color felt tip pens.
Here I started by making the 3 rounded flowers, then the unicorn horn, leaves and eye lashes last.
I draw everything first with my pencil and followed with the black gel pen. I then erase the pencil before I color the Frixion pens, because if I do after I have used the Frixion color pens, they will come off with eraser too – at least surely when they have been just used.
Added the month name and I was done here; pretty and effective.
Bullet Journal Monthly Spread and Goals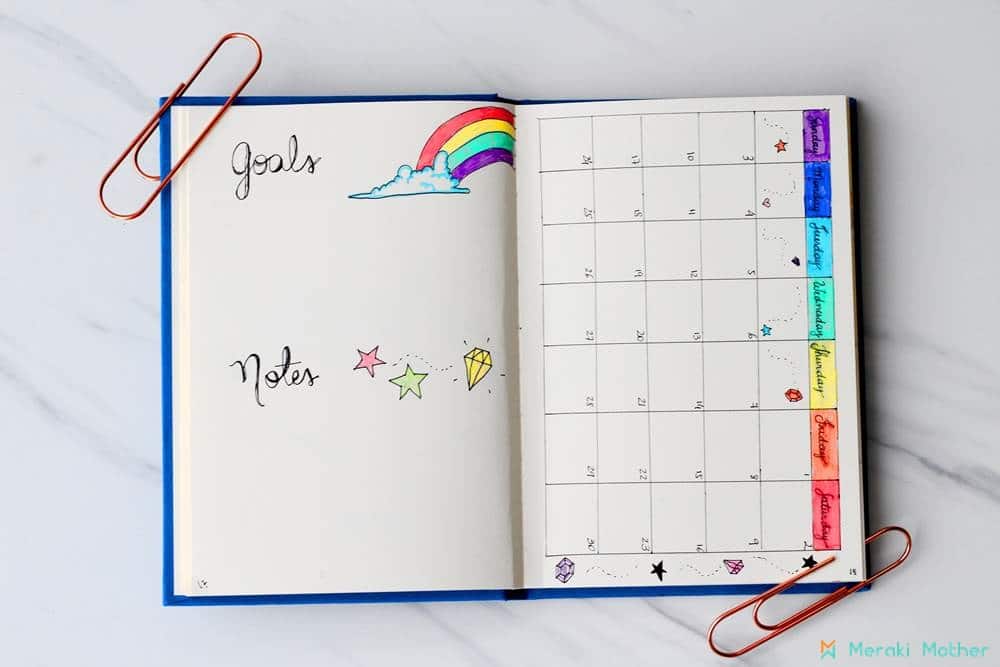 I normally follow with my monthly spread, goals, and note.
On my monthly setup, I only write important appointments, bank holidays and make some remarks about school meetings or events. Basically I write here anything that doesn't require me to add any other note, otherwise, it will go in my weekly spread.
My goals are mostly related to healthy lifestyle this month. In notes I add birthdays coming up, reminders to get cards/presents and any supplies needed for work or my child's sports classes.
The doodle elements were all inspired by unicorn theme. You can see the hand drawing doodles below with the unicorn template and drawings.
Bullet Journal Habit Tracker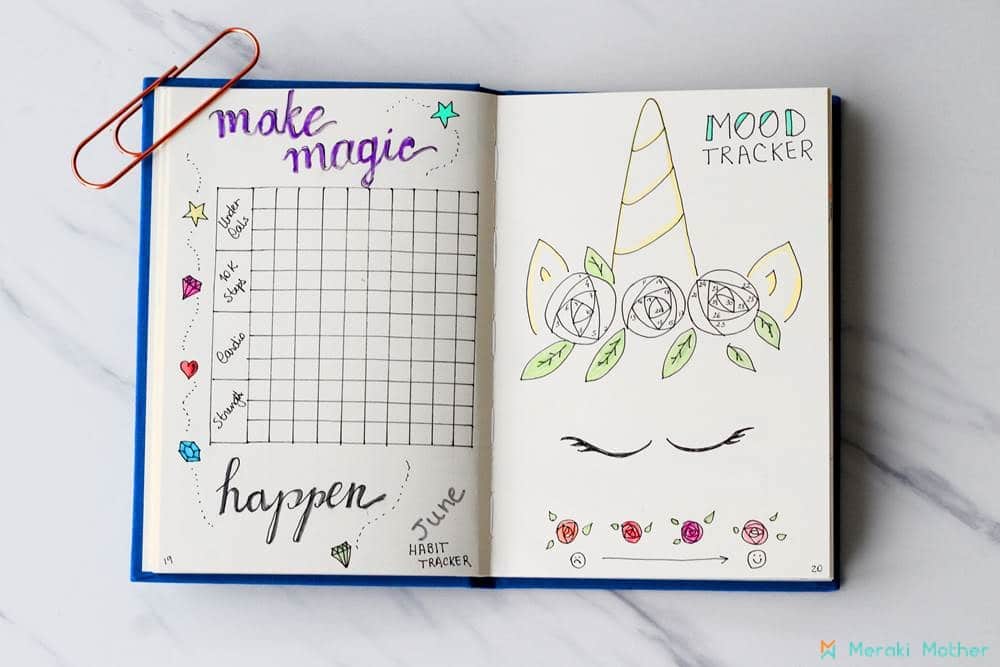 I used to track many things on my bullet journal. But time has helped me figure out exactly what's is important for me to keep tabs of.
I am seriously concentrating on my health lifestyle for now. I am planning to use my journal to keep me motivated and accountable, to track the results and to document the journey too.
I am using it to track my daily calorie intake under my goal, steps, cardio and strength training. All of which will help me achieve my health objectives.
I haven't made a keto journal yet but it is in the plans.
This is a simple spread, I just used the ruler and some easy unicorn inspired doodles.
Unicorn Mood Tracker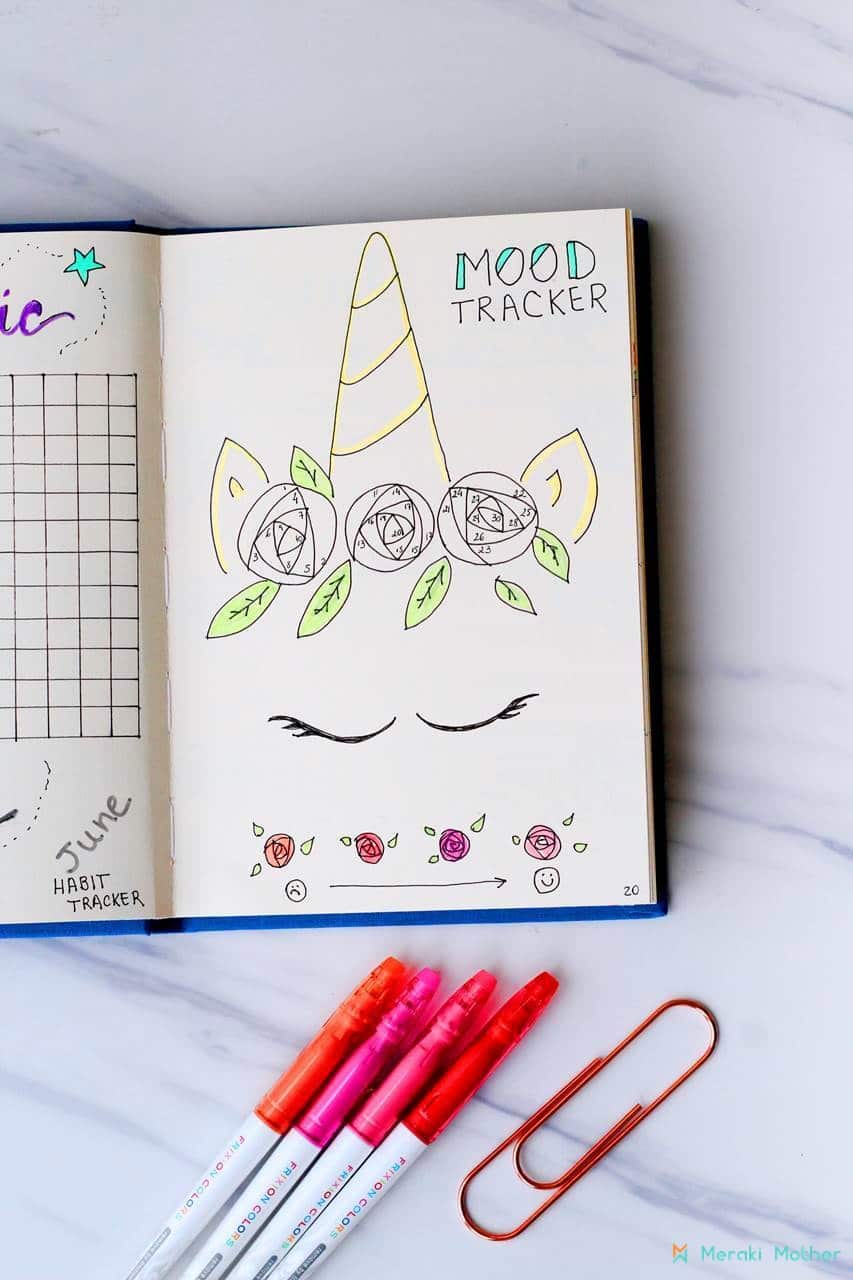 Mood trackers are present in every single month I set up in my bujo. It is the one page I always give a little bit of love every month, even when my bullet journal month setup has no theme. My tulip mood tracker was a very popular one a couple of months ago.
So thought about making the hair locks to represent each day of the month like in the example I mentioned before but again my drawing skills (or lack thereof) would make it so hard.
I thought for a bit and decided to use the same style of my monthly cover page for the mood tracker.
Here I haven't colored the flowers yet. Each petal will be colored with my moods of the day.
I picked 4 gorgeousfrixion color pens to set the mood keys below, and it ranges from sad face to smilie face, meaning bad day and good day respectively with a couple of in-between mood.
My mood tracker is not to pick one single feeling of the day, also because that mood swings during the day (so easy to be a woman…) but instead I look at it as a relative measurement and I compare days to the ones before, how I felt physically and emotionally in relation to the previous couple of days.
I am hoping this month will be filled with smilie faces! The weather is getting better, kids on vacation and plenty of time off work so it should be good!
EDITED TO ADD: Here is the completed tracker: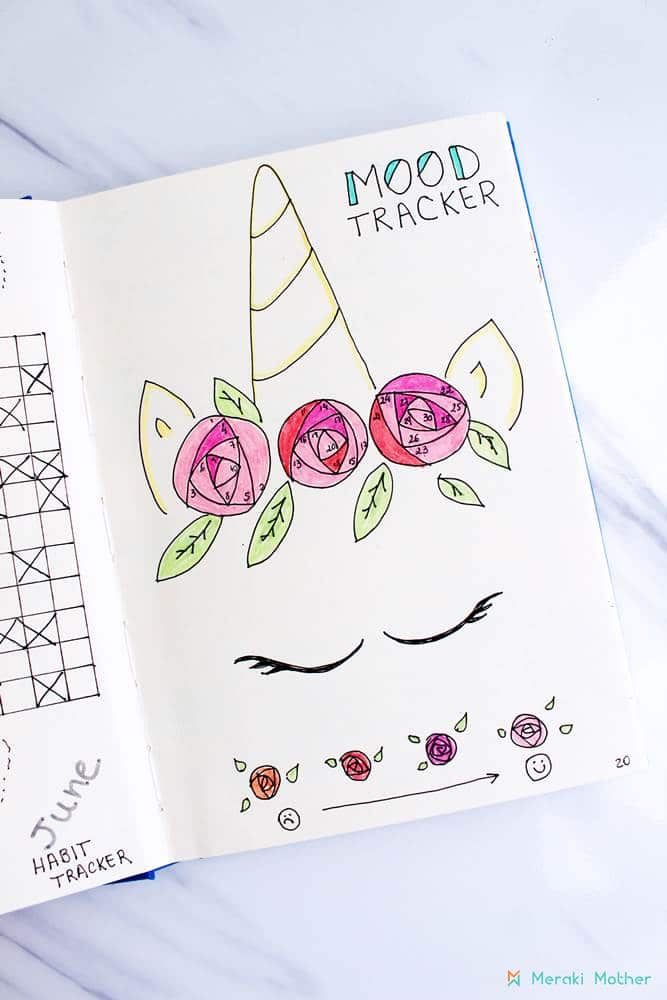 First weekly spread of June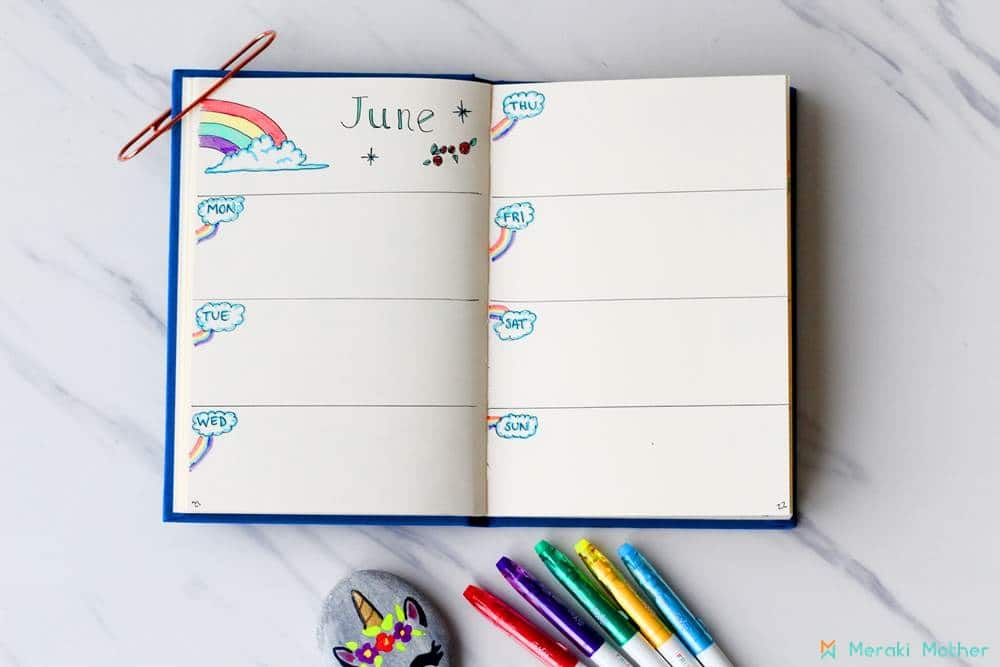 The first weekly for June is all about rainbows.
June will officially start on my weekly planning on the 4th because the first 3 days are included in my May weekly.
I again used some of the gorgeous colors on my frixion color set for the color of rainbows.
My weekly layout are almost always the same, I use the width of my ruler to make 8 blocks in each page. I seem to need quite a lot of space for my daily notes but not so much to have to use dailies.
Even though there are many of different weekly layouts for bullet journal to be used, this is what works for me. This month I haven't tried a new weekly layout but might do next month for summer vacation.
Second weekly spread of June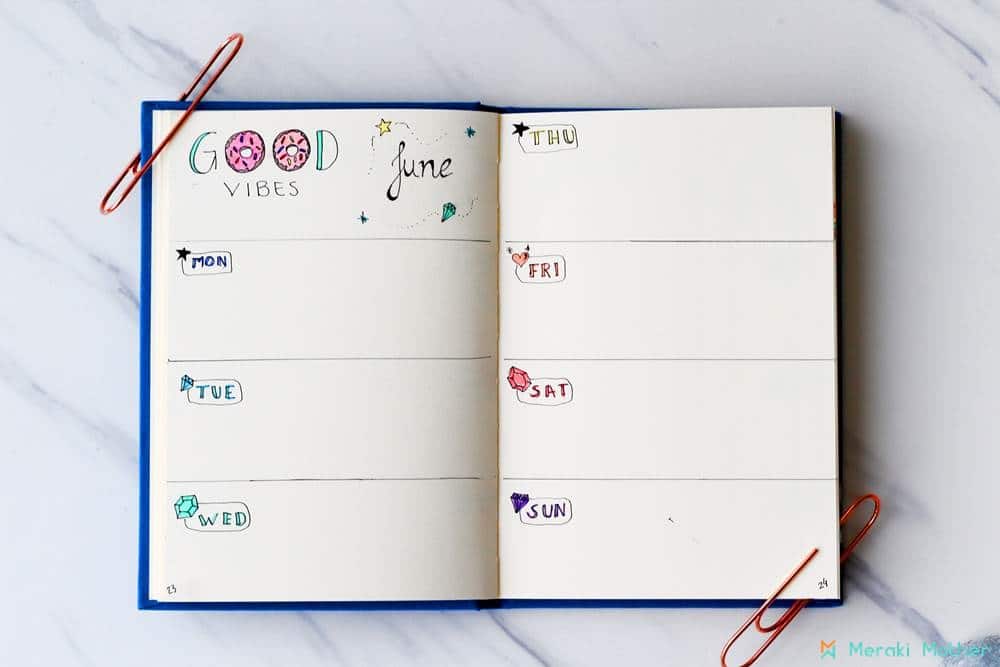 I might have pushed it with the donuts but aren't donuts magical too? Lol.
I love donuts and thought they would go hand in hand with this month unicorn theme. Used the rainbow colors to decorate the dates and voila.
Same weekly layout as previous, just changing some doodle elements in the spread.
Third weekly spread of June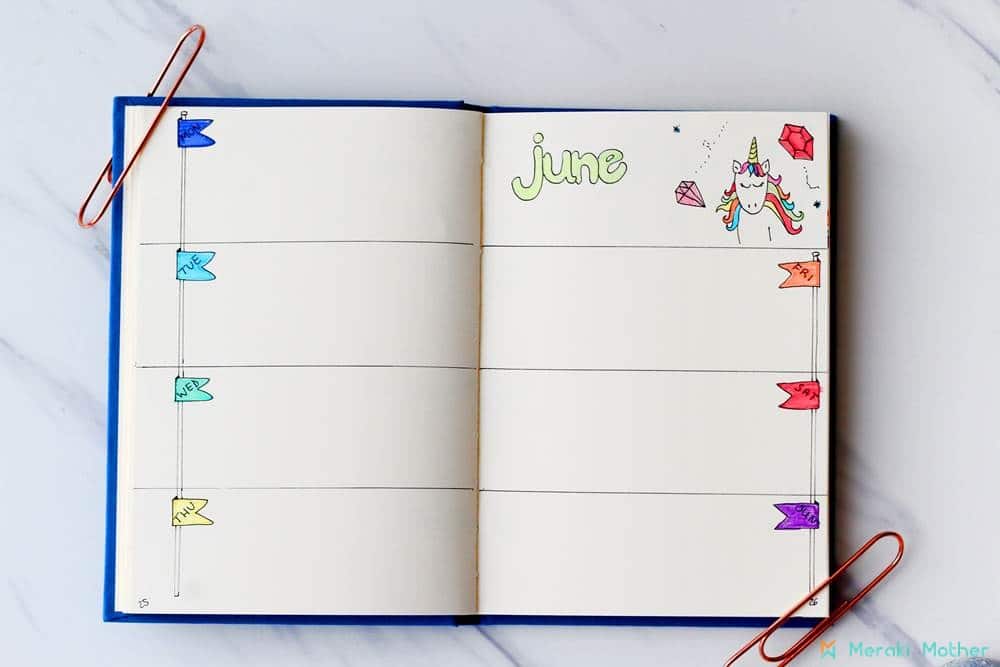 I finally attemped to create a hair colored unicorn drawing. I will share the handdrawing doodle process below in case you want to make something similar.
I added unicorn and crystals to the header and used a banner doodle technique to add the dates to the week calendar.
I love how it turned out!
Fourth weekly layout of June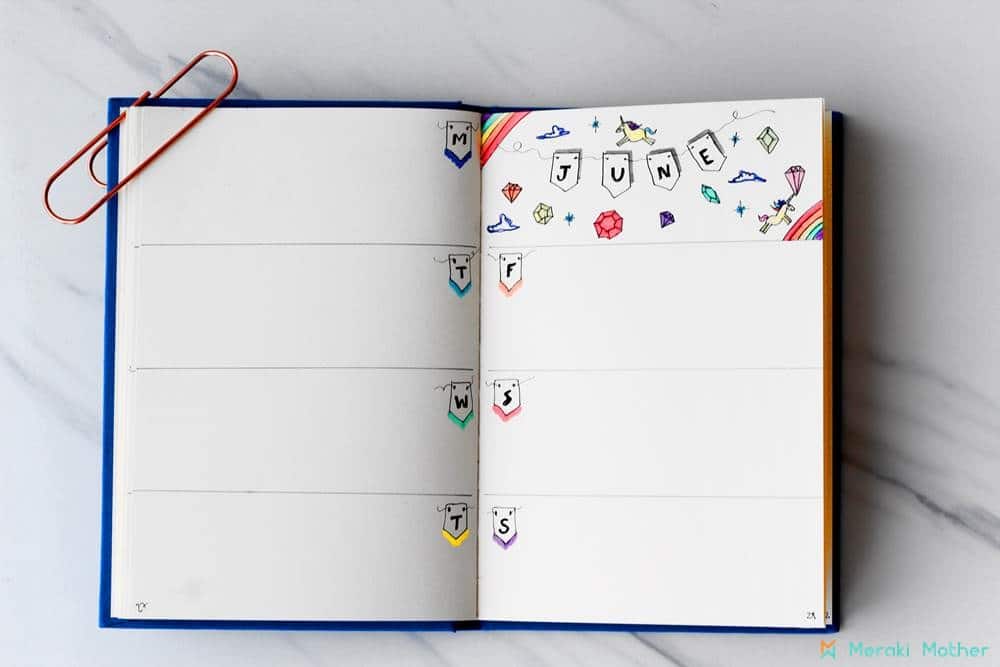 The header of this spread is just a mix of many unicorn inspired elements; rainbows, clouds, crystals and unicorns of course.
I added the date banner in the inner part of the page just to change a little and give me more room for writing. The closer it gets to the binding, the harder it is to write on the page.
And that is my set up pretty much ready for the month, ahead of time, which is something quite extraordinary.
If I have to add any other page to my set up, or migrate old pages, it will be added after all 4 weekly pages. This varies per month.
Make your Unicorn Bullet Journal
Here are a few things to help you make a unicorn inspired bujo monthly theme too. Keep reading, the unicorn inspired doodles are below.
Washi Tape:
Unicorn Notebooks:
Unicorn Pen Holder:
Unicorn Journal Doodle: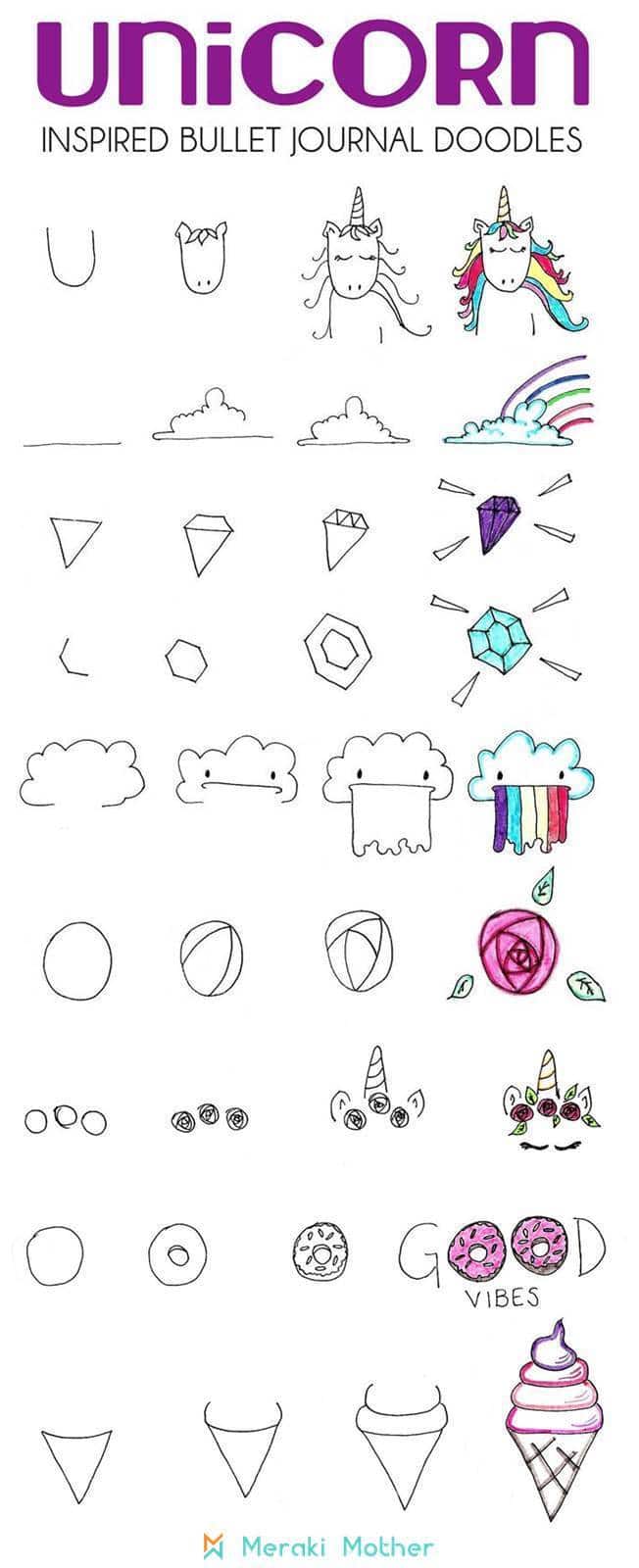 Do you like the unicorn theme?
Please let me know in comments below.
Also please share your creations with me on Instagram using the hashtag #merakimother. I hope to see you there!