Looking for some fun Dr Seuss' crafts for toddlers?
We have put together a list of amazing crafts, treats and Dr Seuss ideas to keep preschoolers entertained and having fun for hours.
So pick your favorite Dr Seuss book and choose some fun Dr Suess crafts to get creative with. They are the perfect way to encourage children to love reading or celebrate Dr Seuss's birthday on March the 2nd.
Dr Seuss Handprint Craft for Preschoolers
One of the most fun Dr Seuss craft projects to do with your toddler is handprint activities. They're messy fun, look amazing and are super easy.
Fun Thing One and Thing Two Handprint Craft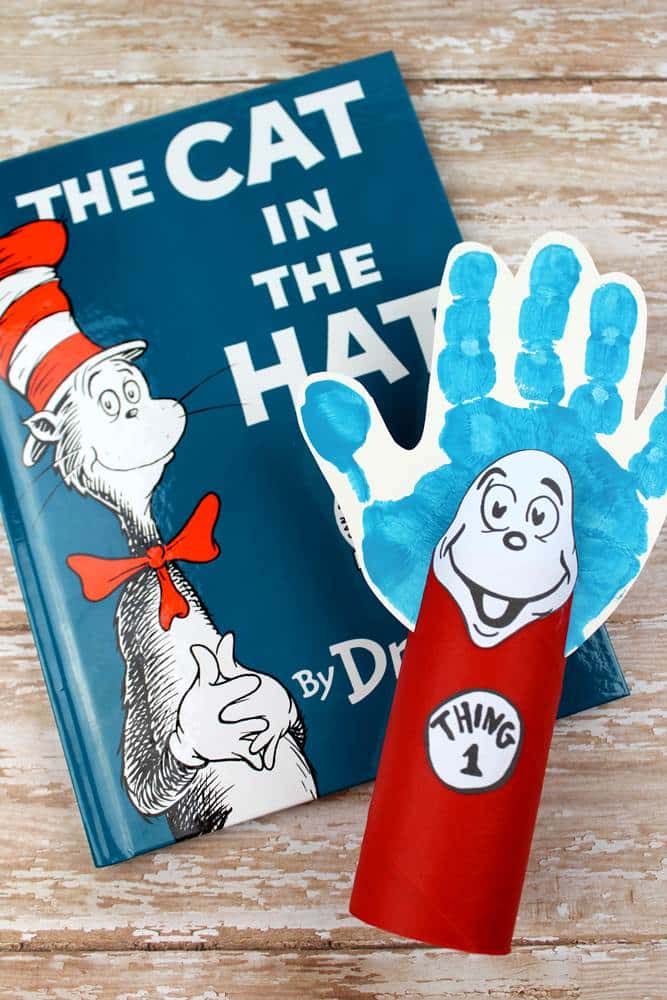 This fun and easy Thing 1 and Thing 2 Handprint Craft from Meraki Mother is a great Cat in the Hat art activities for preschoolers.
Handprint Lorax Craft with Microwave Salt Dough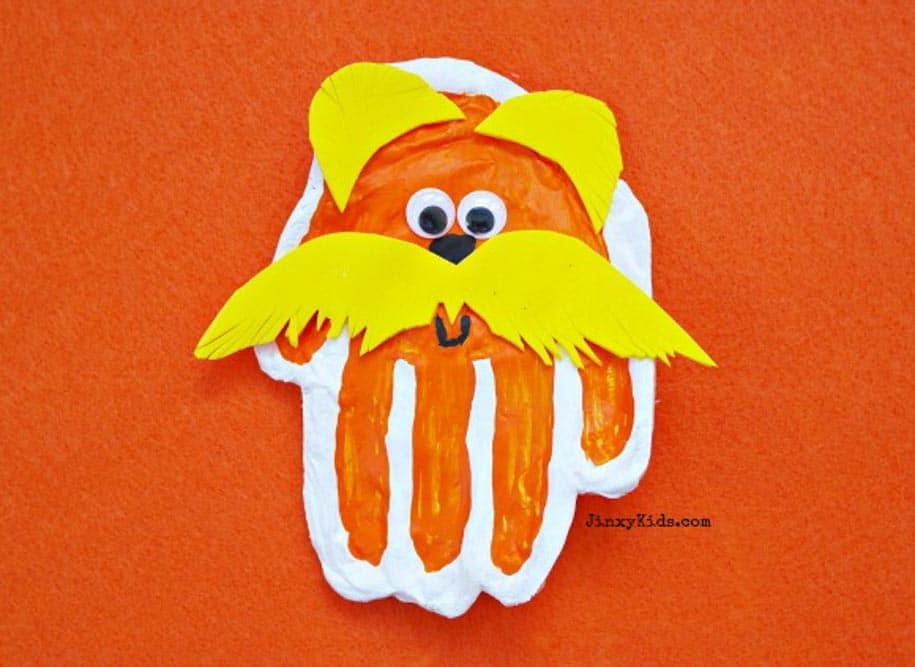 Handprint crafts are one of our favorite Dr Seuss children's activities crafts. They are so simple and a great way to treasure how little your children's hands are when they grow so fast. We love this Handprint Lorax Craft with microwave salt dough from Jinxy Kids.
Cat in the Hat handprint craft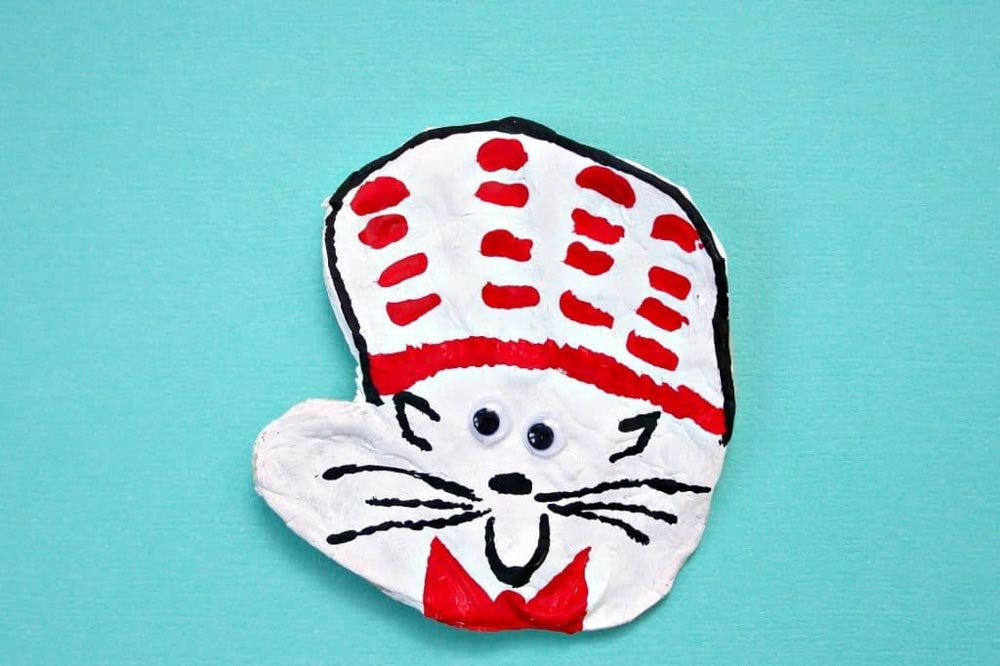 Discover more Dr Seuss handprint crafts, with this cute Cat in the Hat handprint craft from Nellie Bellie.
Dr Seuss Craft Ideas for Preschoolers
Keep reading for some amazing and easy Dr Seuss crafts. There's cat in the hat craft but also a gorgeous Lorax craft activity.
Lorax Truffula Tree Seed Craft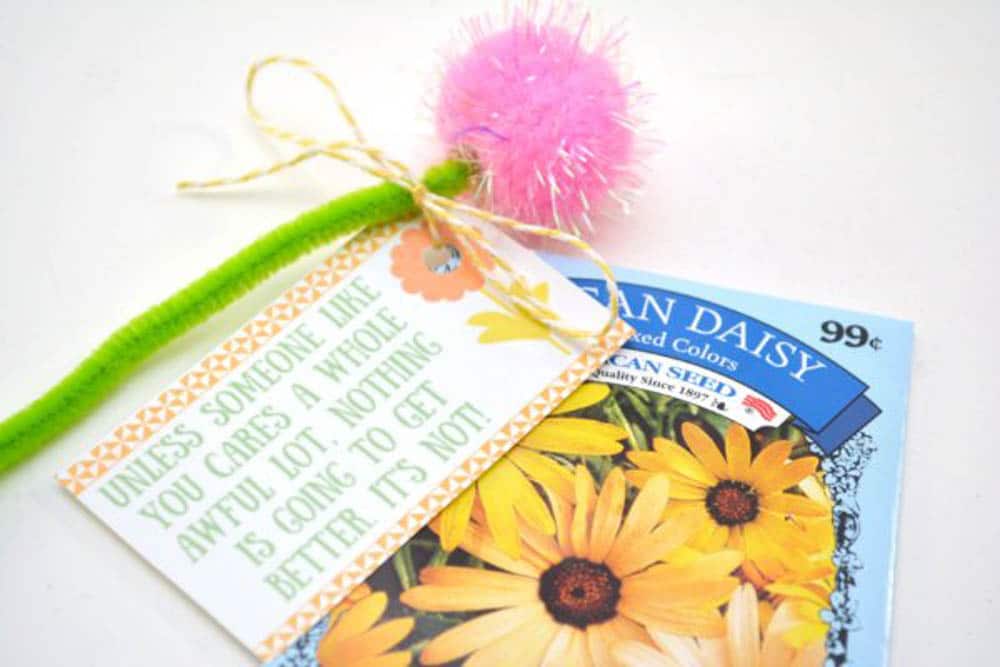 This Lorax Truffula Tree Seed Craft is one of our all-time favorite Dr Seuss craft ideas. Jinxy Kids has created Dr Seuss preschool crafts that are perfect for Dr Seuss' birthday, Read Across America Day, a Dr Seuss party favor or a beautiful gift for Earth Day.
Thing 1 and Thing 2 Blow Painting Dr Seuss Craft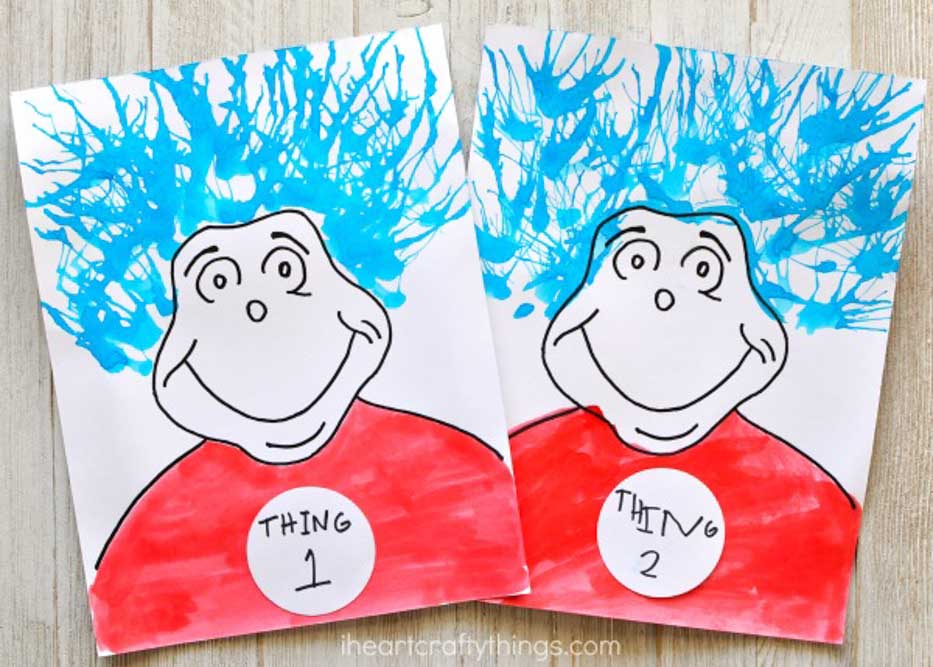 Thing 1 Thing 2 craft is the perfect way to introduce children to Dr Seuss. i Heat Crafty Things, Thing 1 and 2 Blow Painting Dr Seuss Craft is one of the simple and fun Cat in the Hat art activities for preschoolers. Check out that fun hair.
Dr Seuss Bookmarks – Thing 1 & Thing 2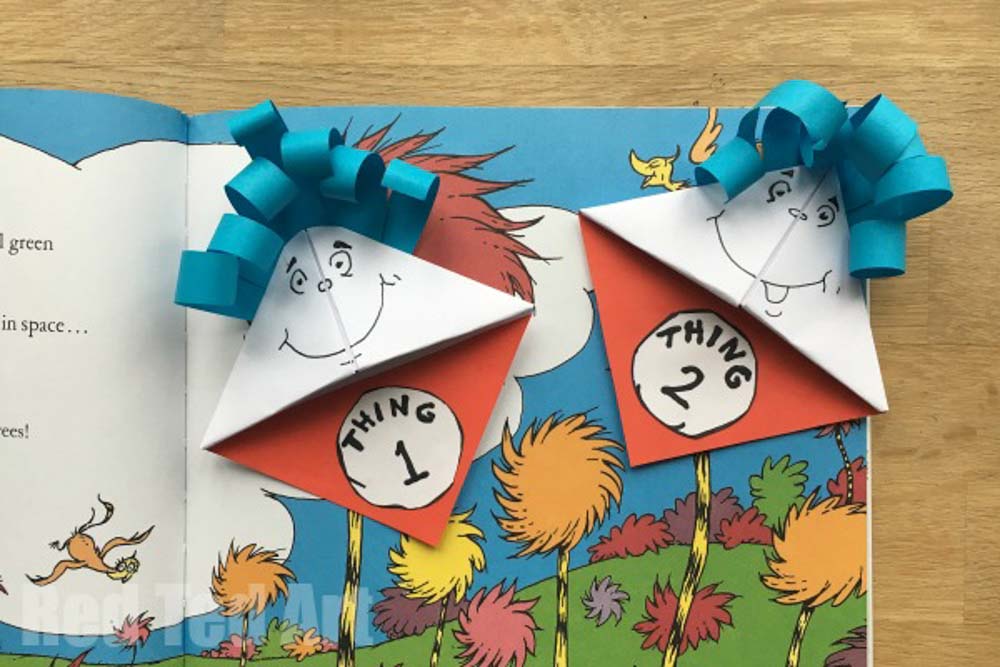 The perfect bookmark for Dr Seuss lovers and Read Across America Day. This Dr Seuss Bookmark Design from Red Ted Art is one of the best Cat in the Hat crafts for preschoolers. We also think these Thing 1 & Thing 2 Bookmark Corners would make pretty cute Dr Suess party favors.
Cat in the Hat Projects – Sensory Activities For Kids
Sensory activities are perfect for younger children. Not only do they encourage imaginative play but also help develop fine motor skills. These Dr Seuss arts and crafts for preschoolers are simple to make and will give hours of enjoyment.
Cat in the Hat Slime – Dr Seuess Book Activity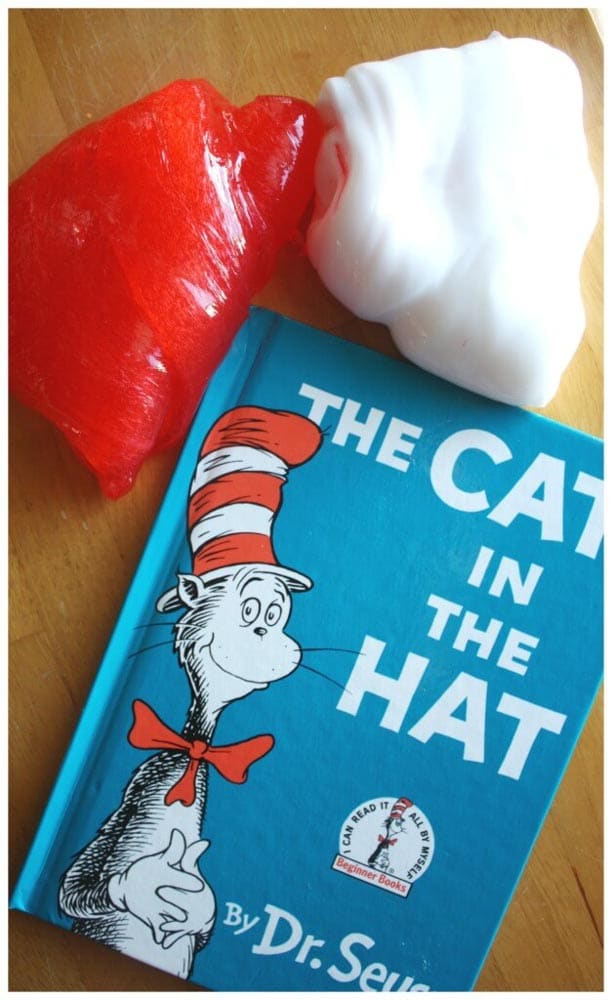 Your toddler will love making and playing with this easy cat in the hat slime from Little Bins for Little Hands. Not only is it a great sensory activity for toddlers but makes a fun learning experiment too.
Dr Seuss Sensory Play With Kinetic Sand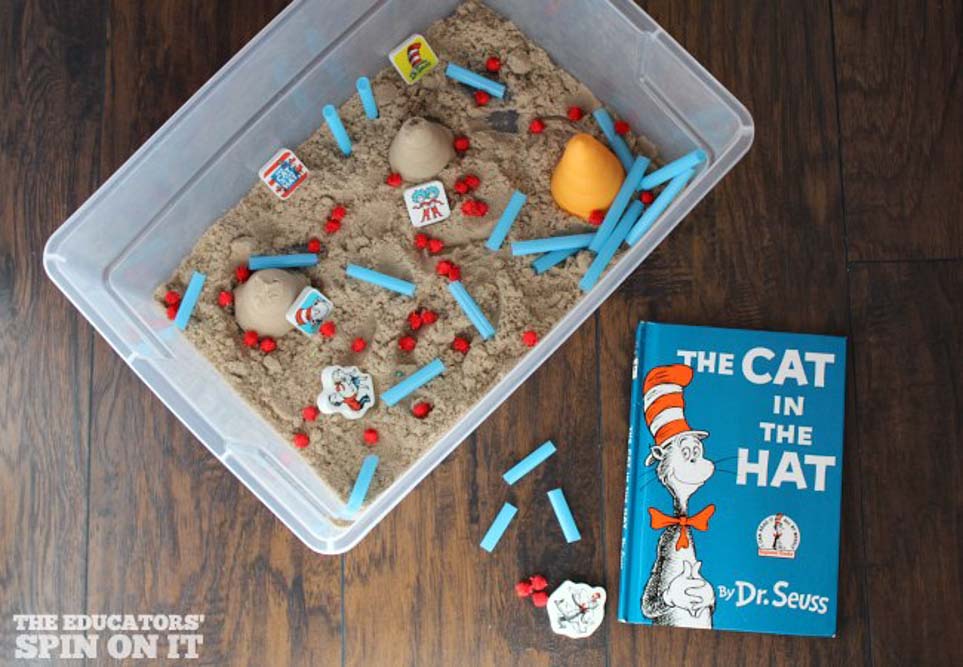 This Dr Seuss Sensory Play with Kinetic Sand is such a fun and easy Dr Seuss crafts for toddlers. The Educators Spin On It helps you create an amazing place for your child to let their imagination run wild.
Dr Seuss Inspred Cat in the Hat Sensory Bin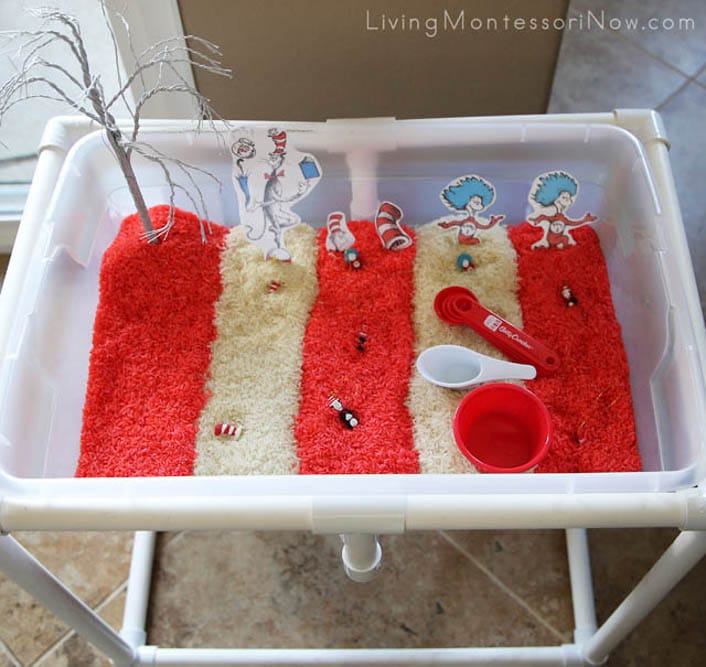 Living Montessori Now has created this Cat in the Hat sensory bin. It makes an exciting cat in the hat art activities with your toddler being able to explore color, touch and texture while enjoying the fun characters from the book.
Love these cat and the hat activities for preschoolers? Head over to our Ultimate List of Sensory Activities for Kids
Dr Seuss Inspired Food
Creating in the kitchen with your little one is a brilliant way to bond while teaching them great life skills like how to cook. From Dr Seuss cat in the hat activities to Pink Ink Drink, find lots of fun and delicious Dr Seuss food. They also make the perfect Dr Seuss party food to celebrate your little one's birthday or Dr Seuss Day party on 2nd March.
Cat in the Hat Cupcakes Perfect For a Dr Seuss Day Party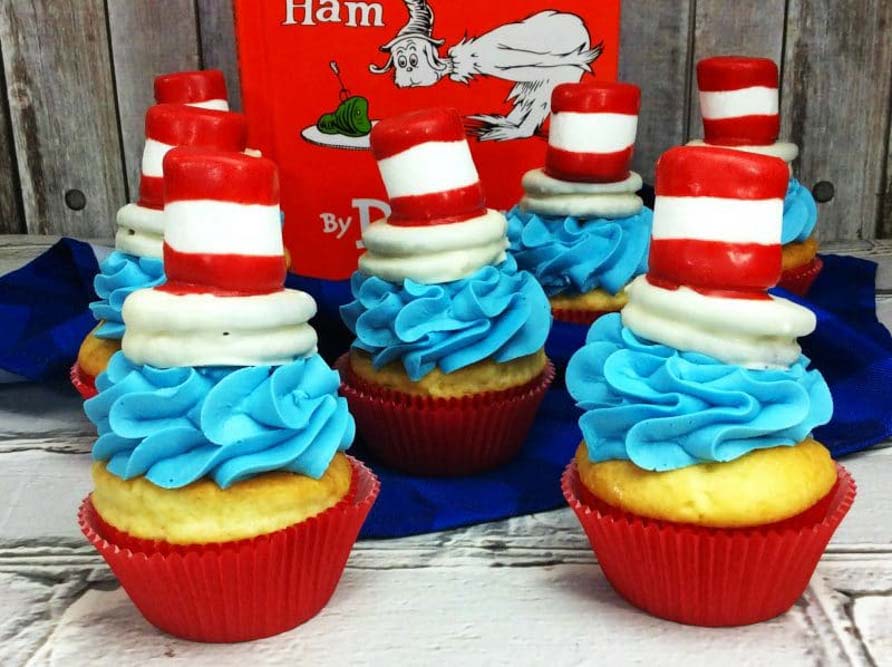 We love Dr Suess Day ideas and these too cute Cat in the Hat cupcakes are the perfect way to celebrate. Crayons & Cravings shows you how to create these Cat in the Hat cupcakes over on her blog.
Put Me in the Zoo Themed Snack Mix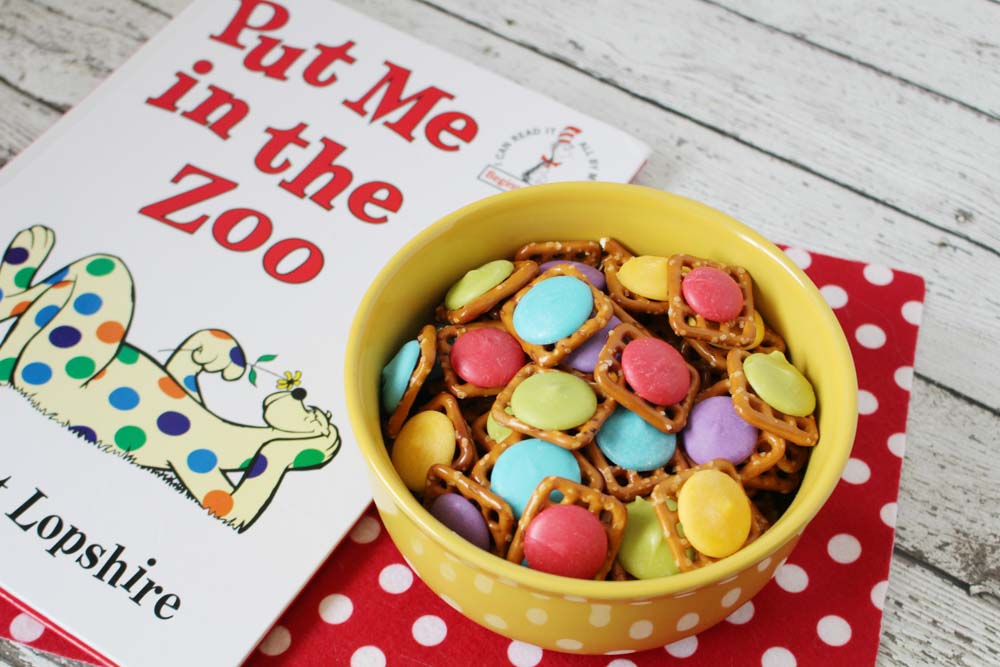 Take Time For Style have taken their favourite Dr Seuss book and created a tasty Dr Seuss arts and crafts for preschoolers. This colorful and delicious Put Me In the Zoo themed snack mix also makes a perfect Dr Seuss birthday crafts for preschoolers and perfect party snack.
Dr Seuss One Fish Two Fish Jello Cups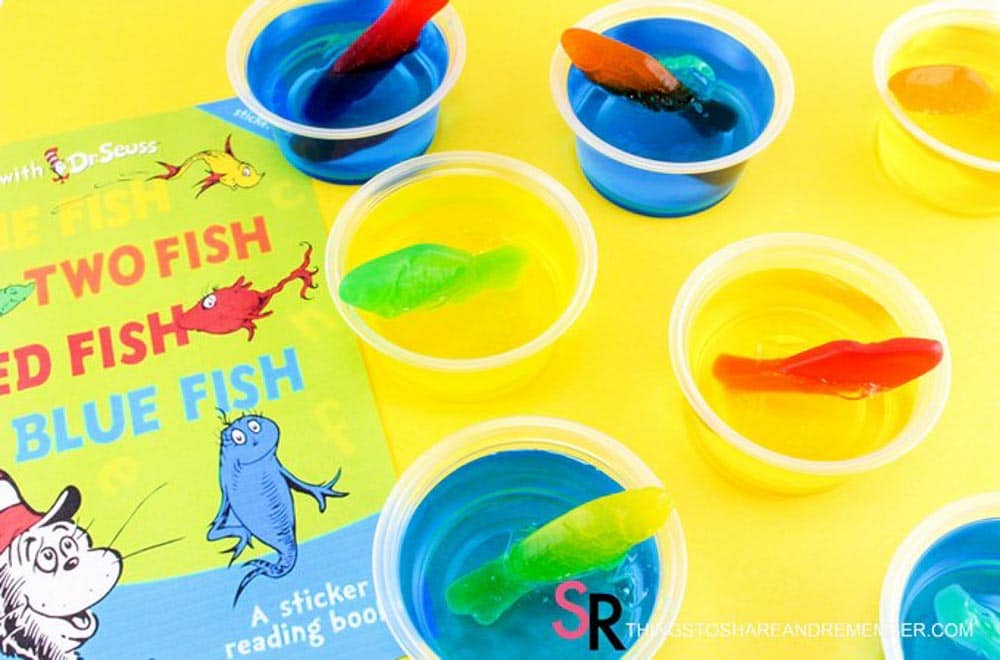 Things to Share and Remember has created these fun and bright Dr Seuss One Fish Two Fish Jello Cups. Have fun making these treats with your toddler then sitting down together to read the book while enjoying your handiwork.
Dr Seuss Fun Food Recipe: Healthy Pink Ink Drink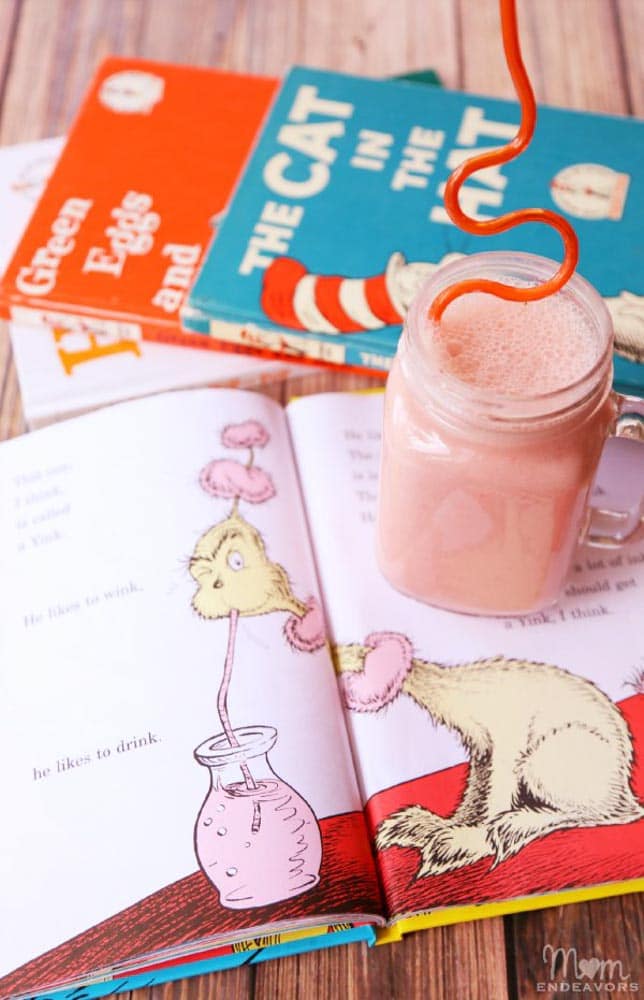 Yink's pink ink drink from One fish, Two Fish is a fun and very easy Dr Suess idea to enjoy with your toddler. Head over to Mom Endeavors for more.
Dr Seuss Printable Crafts
We have found some fantastic free printable Dr Seuss crafts. Which one will your preschooler love?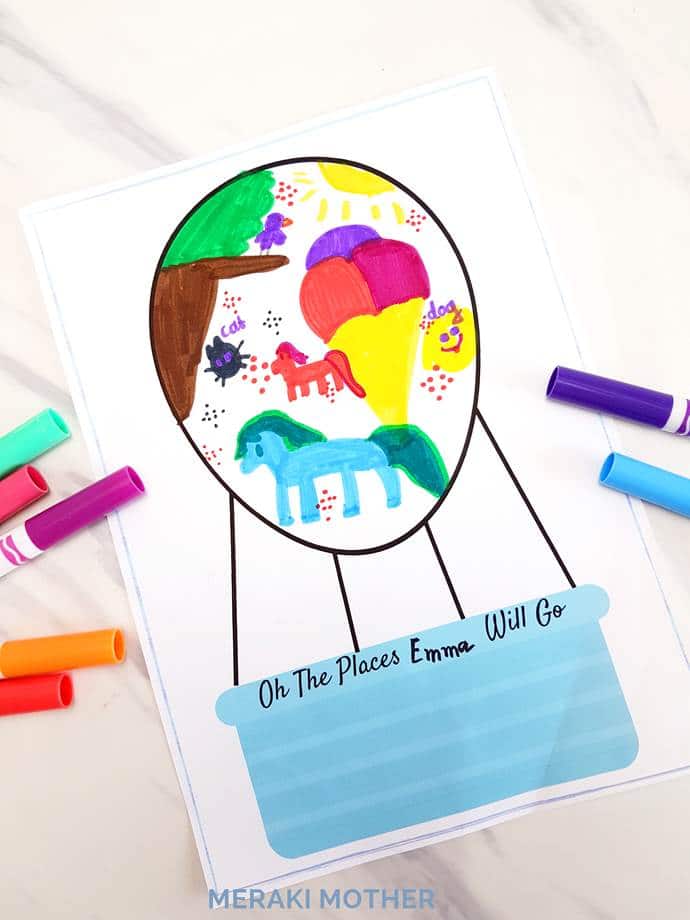 Get a free Oh The Places You'll Go printable and let your child's imagination take them amazing places. This would also make a gorgeous Dr Seuss classroom decoration idea!
Dr Seuss Word Family Hats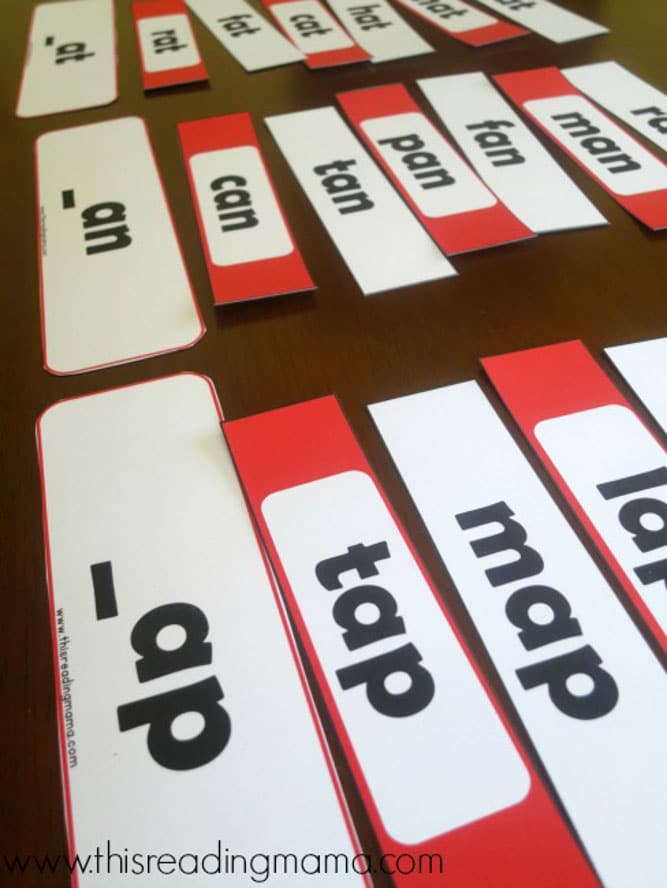 There's no denying that Dr Seuss had an amazing way with words so what better way to help your child learn to read than with these Dr Seuss word family hats from This Reading Mama.
Free Printable Seuss Super Reader Certificate Kit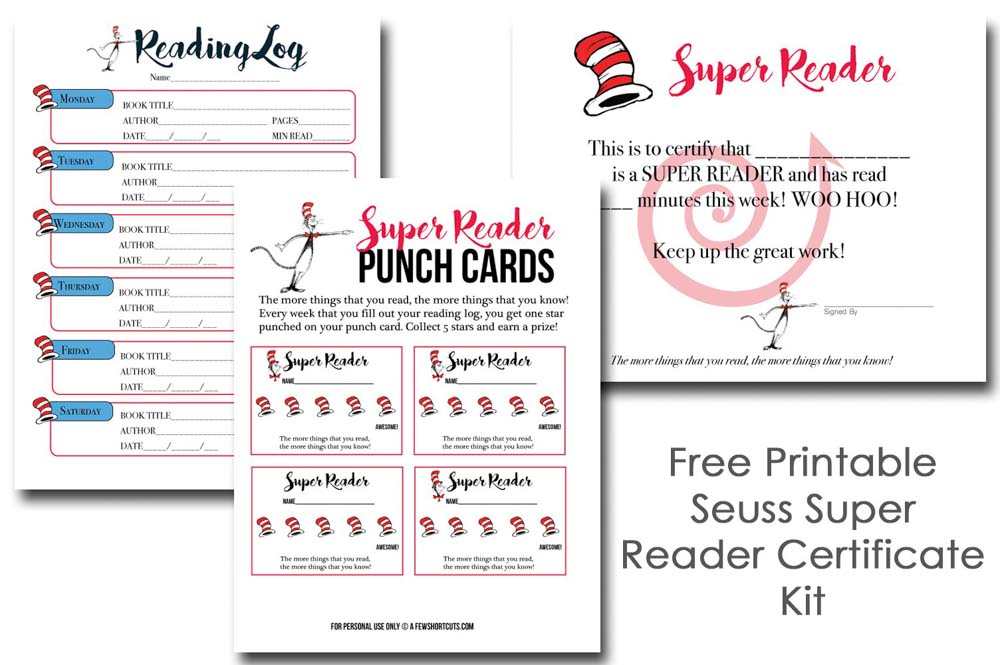 Devlop a love of reading early with this fun Free Printable Seuss Super Reader Certificate Kit from Fancy Shanty. It includes a Weekly Reading Log, Super Reader Certificate and Sheet of Super Reader Punch Cards.
3 Free Printable Dr Seuss hats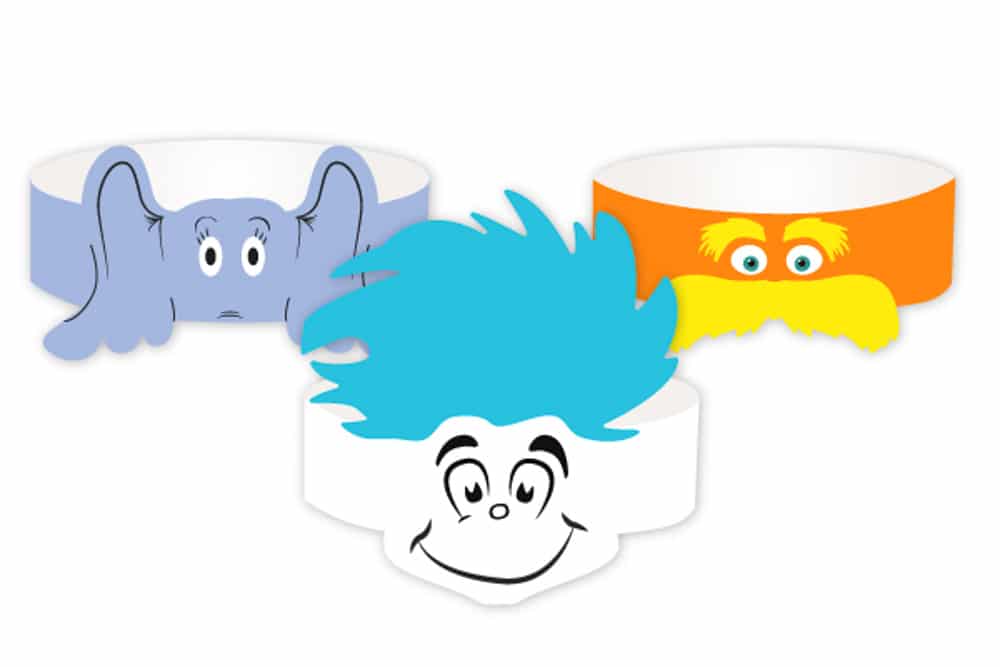 Simple Every Day Mom has these cute free printable Dr Seuss hats. Choose from Thing 1 & Thing 2, Horton and The Lorax.
Dr Suess Scavanger Hunt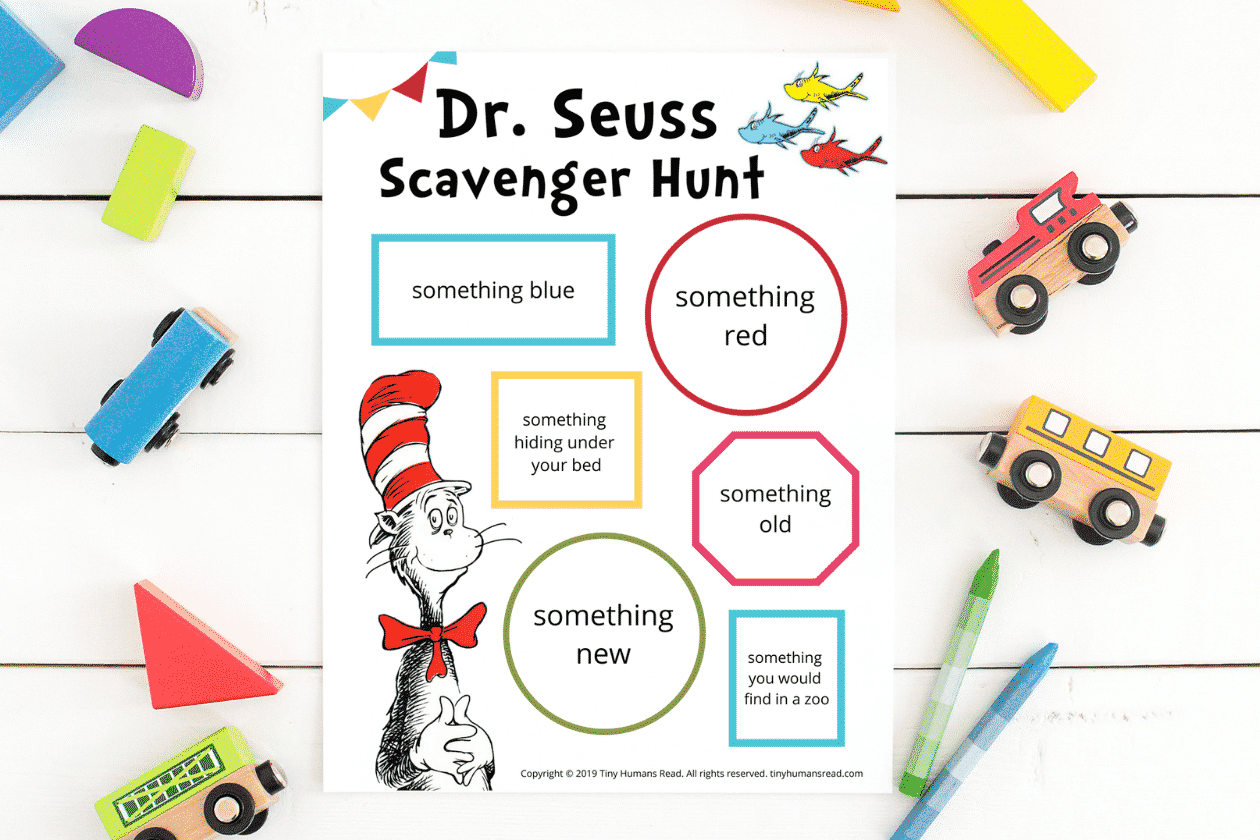 Tiny Humans Read has this gorgeous Dr Suess Scavenger Hunt Printable. It makes for a fun learning activity based around the Dr Suess books.
Our final share isn't another Dr Seuss crafts for toddlers but we couldn't leave out this gorgeous Whimsical Dr Seuss bedroom from One Happy Housewife. We think any young child would love to have a bedroom like this.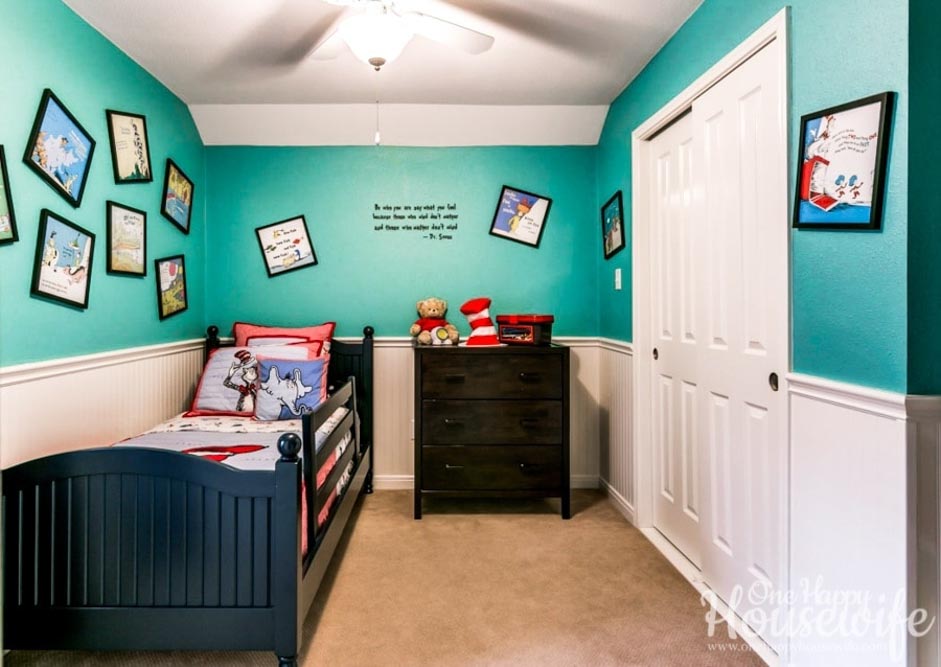 Looking for more Kids' Bedroom Decor Ideas? Click to discover The Best Kids Bedroom Ideas on Instagram.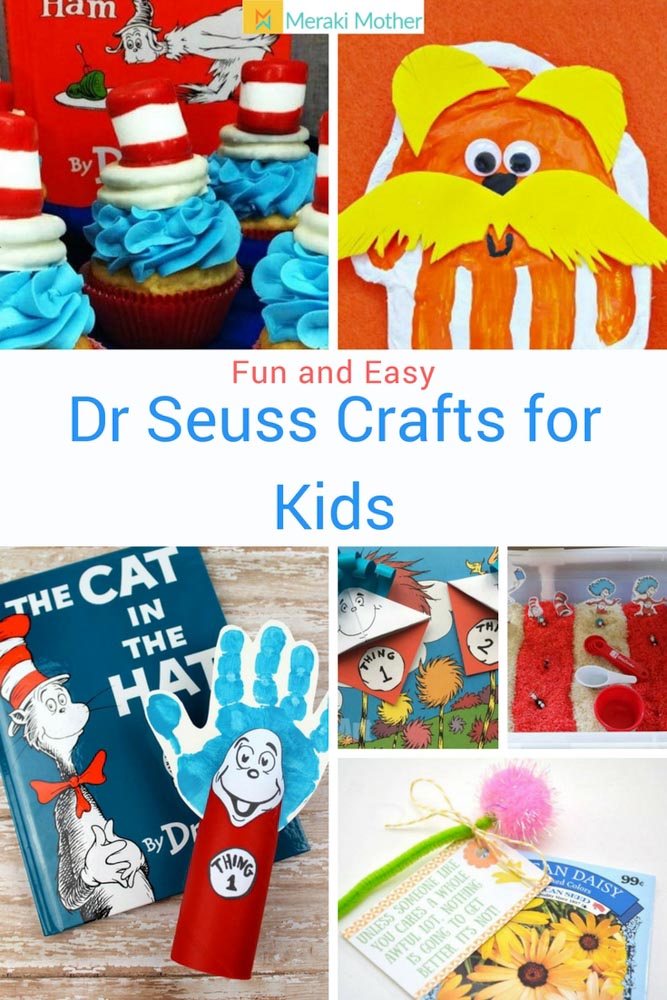 Be sure to Pin for inspiration later!
SaveSaveSaveSave
SaveSave
SaveSave
SaveSave
SaveSave
SaveSave
SaveSave
SaveSave
SaveSave
SaveSave
SaveSave
SaveSave