Learn how to make your own dream catcher with this fun Paper Plate Dream Catcher Craft For Kids!
Dream catchers are beautiful objects that have become very popular in recent years.
They are often used to decorate the nursery and kids bedrooms.
These mobile objects are, as the name itself suggests, intended to catch dreams. But there is a lot more to dream catchers than you probably know.
Read on to learn about these handmade items and use this diy dream catcher craft opportunity to talk about dreams, nightmare and the significance of the object.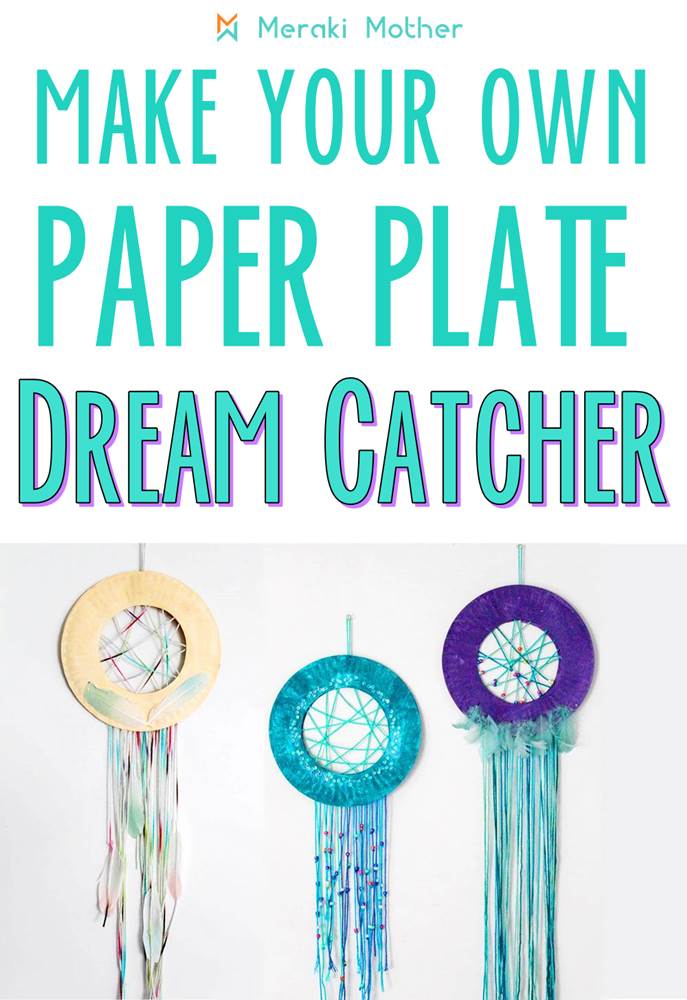 Paper Plate Dream Catcher Craft For Kids
What Is A Dream Catcher
Despite the modern versions of this object, dream catcher use comes from indigenous origins.
So what is a dream catcher exactly?
According to Psychology Today a dream catcher is a handmade mobile object used by Native Americans. Making dream catchers and hanging it up in the teepees is believed to ensure a good night sleep.
This beautiful object is made of a hoop and strands woven as a sort of web and adorned with other natural materials such as feathers, crystals, and beads.
The legend associated with the dreamcatchers is that nightmares get trapped in the web while the good dreams pass through the holes.
When daylight comes, bad dreams are dissolved. Therefore, a homemade dream catcher is often used to help children from having nightmares.
With all the significance of dream catcher, we think that this is an easy craft that could be perfect to be done with a child who is going through a nightmare phase or is curious about dreams.
If you are worried about your child's nightmares, this dreamcatcher can also be part of a soothing sleep routine or used to help them cope after having a nightmare with a little "magic" as suggested by Kidshealth.
It is also a great opportunity to teach kids a bit more about Native American culture and how to respect it.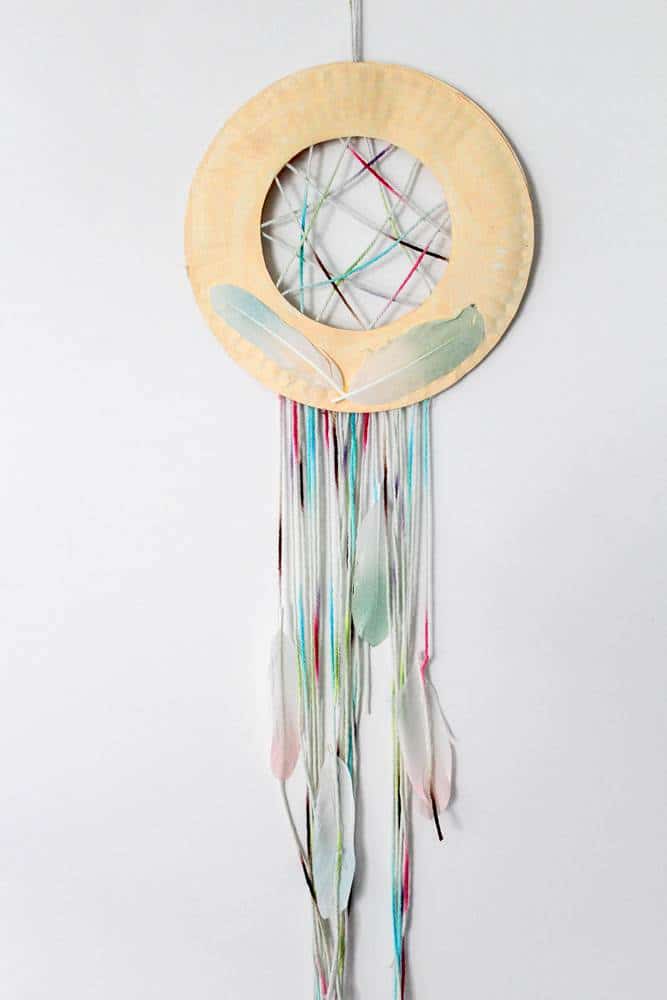 Dream Catcher Supplies
Find below the list of dream catcher materials to create your own children's dream catcher.
How To Make A Dreamcatcher For Kids
When you see all the beautiful dreamcatchers in photographs you may be asking how to make a dreamcatcher? It can seem a little daunting, right?
The best part of our diy dreamcatcher is that it is for a simple dream catcher. But you can make it as intricate or as easy as you like.
This dream catcher tutorial shows you how to make a dreamcatcher with yarn. But for older children, or teens you could use beautiful embroidery thread,, or even fishing wire covered with beads.
Paper Plate Dream Catcher
To make this paper dream catcher we will use paper plates to make 2 small dream catcher hoops.
Start by marking and cutting out the center of two dream catcher party plates.
.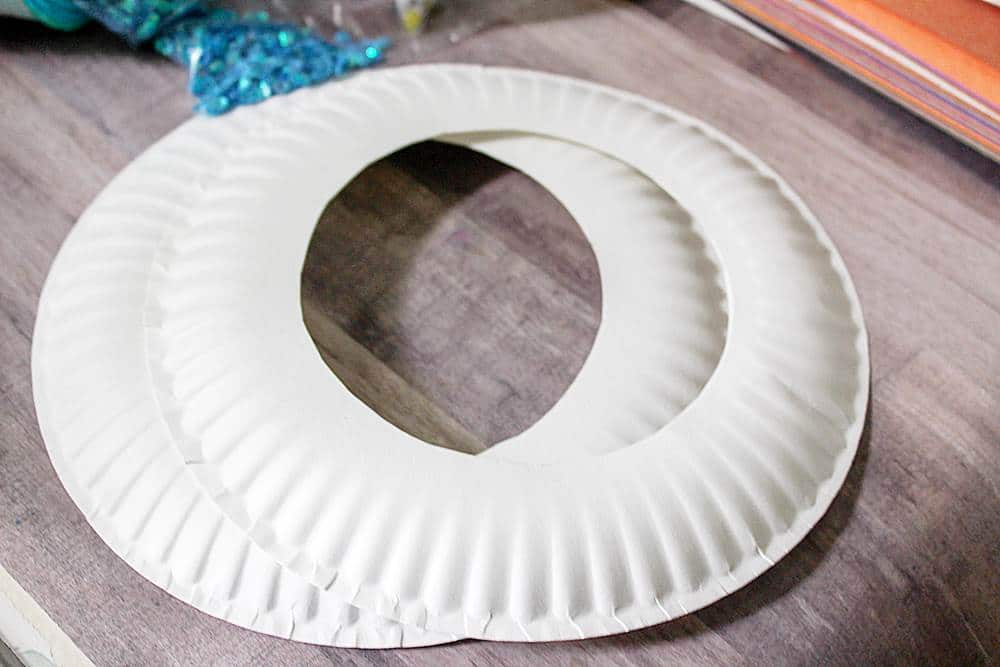 Both plates are used together in the same craft so paint them, front and back, in the color(s) of your choice. Allow them to dry completely.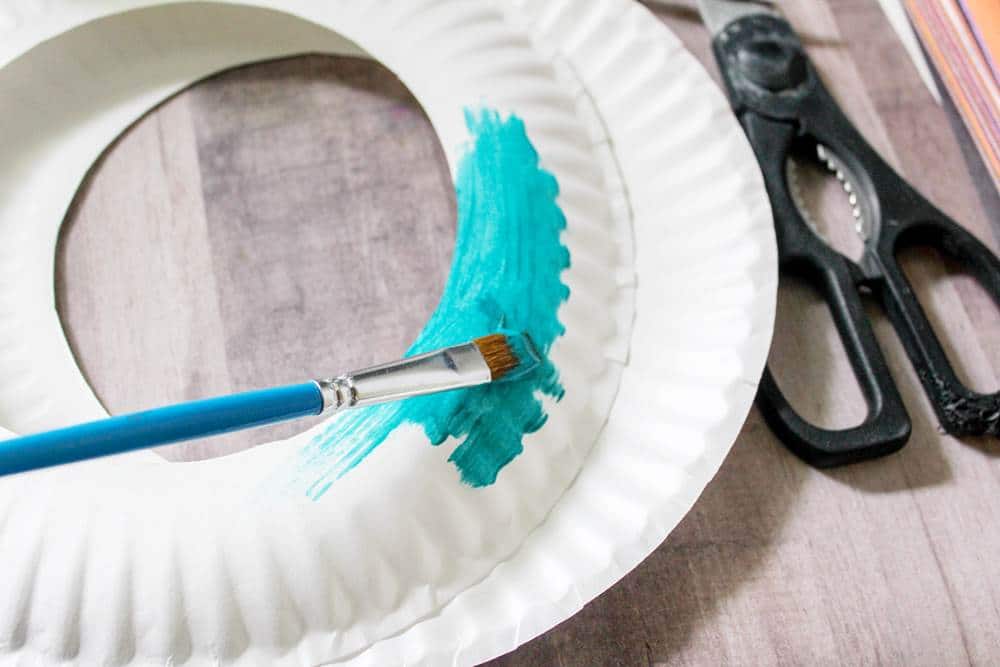 Place a little bit of glue on the top and attach the end point of your yarn. Loop it up and back down into the glue to create a hook for you to hang your dream catcher.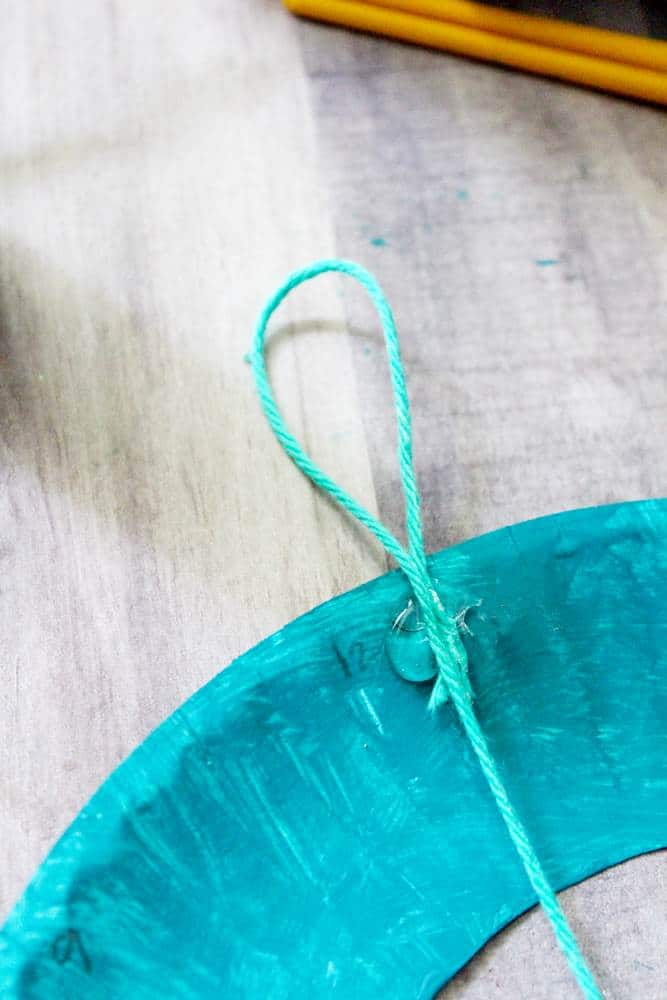 How to Make a Star Dreamcatcher
Now its time for the dreamcatcher weave patterns – which we will make in a star-like design.
This easy diagram here will teach you how to weave a dreamcatcher. You could also print it to help you mark the plate.
After you mark the inside of your plate, add a bit of glue to secure the yarn. Follow the pattern and use the glue and yarn to create a beautiful star woven shape.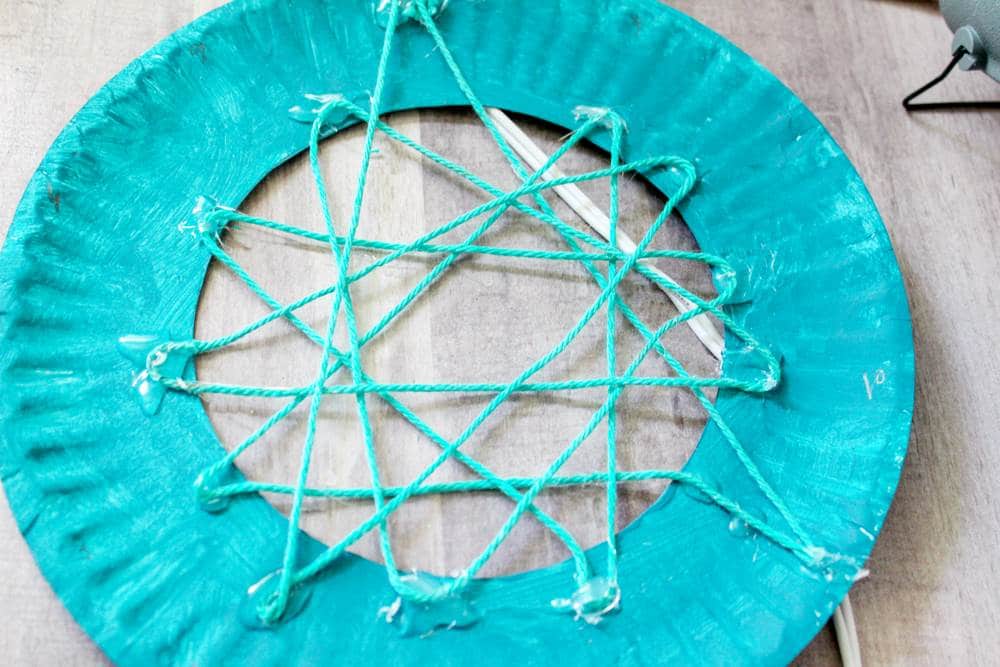 To make a Beaded Dream Catcher first string beads through the yarn and use a variety of beads as you weave the yarn into the dream catcher!
Find beautiful beads for your craft project here.
Cut long pieces of yarn to hang in the dream catcher.
On the bottom of the plate, add a strip of glue and glue the yarn in place.
You can also use ribbon, lace and any other string that you like to create a fun dream catcher. Decorate the strings with dream catcher feathers as you wish!
Secure with a top layer of glue and glue the second painted plate on top of the first.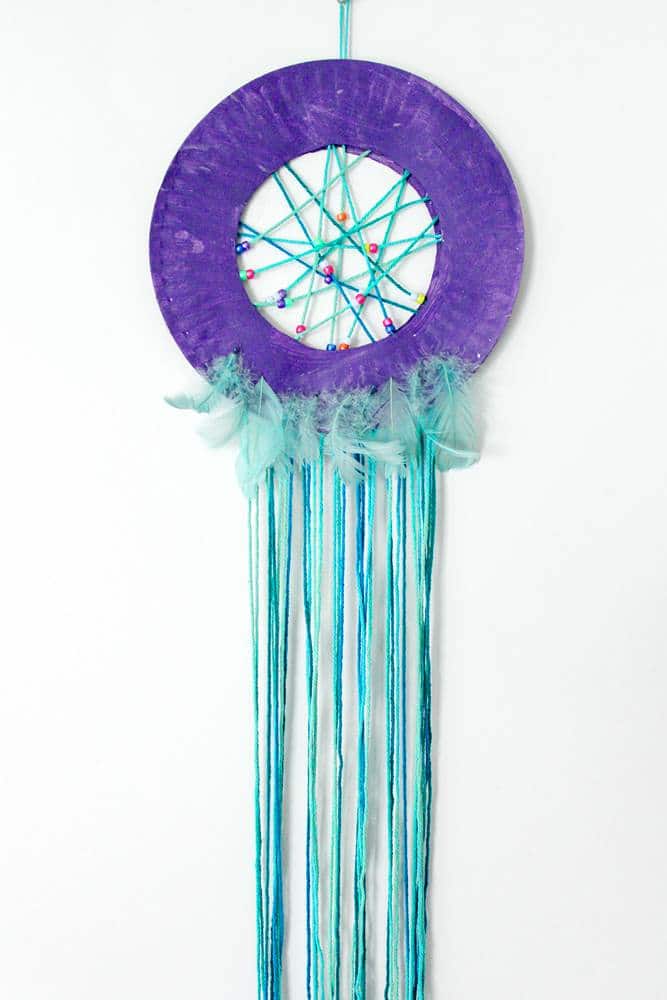 How To Decorate A Dreamcatcher
On the plate you can add more feathers, beads or sequins.
The best part of this diy dreamcatcher for kids is how unique each one can be!
Just have fun and made it to suit the room or favorite color of your child!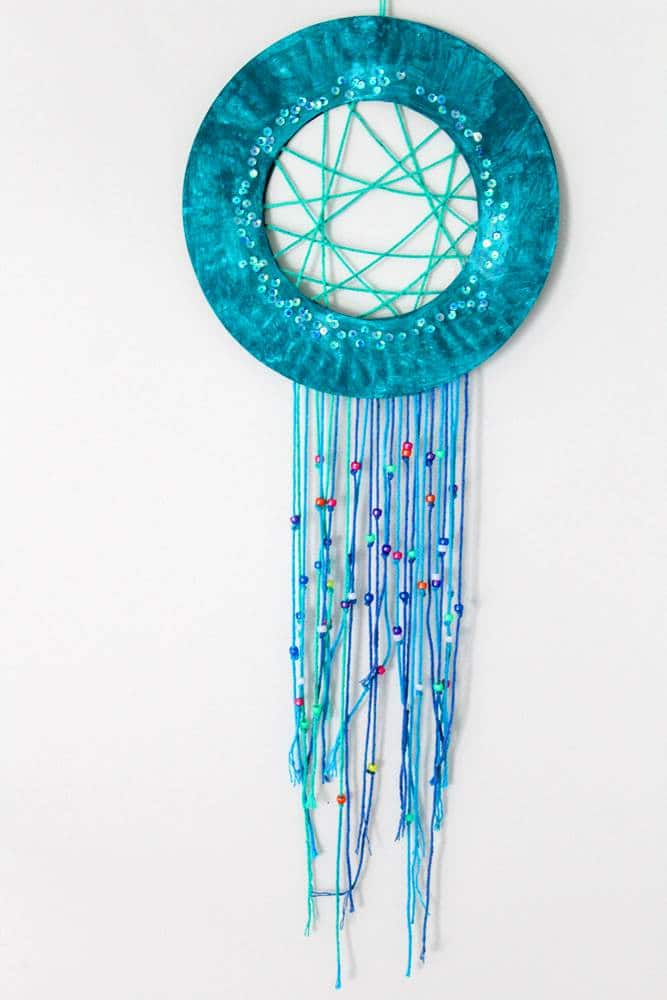 Where To Hang A Dreamcatcher
The best place to hang your dreamcatcher is in the bedroom, close to where the child sleeps.
If your child has a bed canopy then that would be a perfect place to hang the dream catcher.
Alternatively, you can hang it on the wall of the room or on the headboard of the bed.
We hope you loved creating this paper dream catcher craft. We would love to see some of your creations so don't forget to share in the comments below.
More Crafts For Kids Ideas
Make your own cute Unicorn with this unicorn paper craft
Encourage imaginative play with these colourful DIY butterfly masks
Perfect for developing find motorskills. Try this paper weaving craft for children