Best Kids's Playroom Organization Ideas
Need better playroom storage ideas? In this post I am sharing all the best kids' playroom organization ideas to help you keep your house organized.
Let's all be real here, probably one of the most unorganized and messiest places in a house is a kid's playroom.
Lord knows that as soon as they walk into that room, whether you just cleaned it or not, it's going to be a disaster in minutes (sometimes seconds, depends on how talented your kids are, ha).
Although I can't help you much with keeping it clean, I definitely have a few kid's playroom organization ideas that will help you out. Keeping a playroom organized not only helps and encourages kids to put things back where they belong but, it helps us as parents to make it a quicker cleanup.
Also if you need toy storage ideas for the living room many of the solutions below will work out too.
9 Cool Playroom Storage Ideas
Stuff n' Sit Organization Solution
Alright, I don't know one parent that hasn't struggled with the stuffed animal issue. Whether they've gotten them as gifts over the years or begged for them at the store, etc. stuffed animals always seem to be in large supply in playrooms.
I used to think that they were not the easiest things to store especially, in a cute and easy way.
Well, that was before Stuff n' Sit! This genius playroom organizing idea is perfect and works in your favor in many ways:
So cute and helps decorating the playroom
It's a perfect playroom storage bin for stuffed animals
It can be used as a kid playroom furniture
Whether you get this one or purchase something similar online, it will change your life. No longer will you have to suffer with stuffed animals taking up the toy chest or being left scattered everywhere.
Grab your playroom storage furniture here!
Fabric Boxes as Toy Storage Ideas For Small Spaces
Using Fabric boxes may come back to bite some of us in the butt since they may have to be washed at some point. However, you can use this same idea and use something similar that can just be wiped off if it gets dirty.
Or, for organizing toys on a budget, you could just used plastic boxes.
I have a friend who used this idea and it made cleaning up a lightning fast task rather than taking forever. Plus, they can match the room and look chic and cute rather than bulky and out of place.
Use Pegboard Panels To Store And Organize Smaller Toys On The Wall
Often times, many toys that are just tossed into a box can become broken or still end up looking a little messy, or you can never find the rest of the pieces.
For those toys such as blogs and smaller toys, they can be stored on the wall! I am a huge fun of pegboard and like to use them in our garage and for my craft room but it works juat as well for smaller toys in the kids nursery or playroom area. This is a cute and stylish way to store them rather than just toss them where they could get broke and take up too much space.
Plus, it makes it super easier to put toys away for both you and the kids. And they are perfect toy storage ideas for small spaces.
Reading Nook and Playroom Storage System
I have to say that books can be just as burdensome as stuffed animals are. A lot of them get stacked up and can take up a lot of space.
Of course, a book shelf is always nice but, can get full fast. Have a book shelf but, then also create a book corner where kids can read and also where you can store more books in either decorative tubs or a cute little selection shelf on the wall.
Grab you cool reading nook furniture here!
Although I don't find this as brilliant as the other ideas, I think it would be great for kids who aren't so tiny anymore. Wooden crates are sturdy and can be stacked allowing for an awesome storage idea as well as a décor idea.
But the kids must be big enough to be able to move them alone. Cute and fun but, can still cause a hazard if not careful.
Magnetic Board Children's Playroom Furniture
All of us have been there with a ton of those number and letter magnets for our kids to play with. However, it's easy for them to get in the way if you're in the kitchen and they're wanting to play with them. Also, they're not usually as apt to play with them since it involves playing in the kitchen which isn't often the most comfortable place to play around.
Having a small metal furniture on a kid's playroom wall is brilliant for adding as many letter and number magnets as possible. It double up as a table as you adjust it's format, brilliant!
This way, they can practice counting and spelling more often and in a more comfortable environment.
Grab your metal table and board here!
Playroom Storage Bins for Craft Items
Markers, crayons, colored pencils, etc. can end up all over the place.
This bin is a nice idea for keeping these separated and makes it easy for the children to find what they're looking for while also returning it to the right place. Avoid confusion on where these items get stored by labeling the front of the drawers.
Let's face it, LEGO takes over a place if you are not careful. I totally encourage my kids to play with them because I think those toys are amazing for inspiring creativity and play. However, eventually the kids might collect more pieces than you can store!
This is where this handy table comes in. It is a 2-in-1 LEGO play table and storage bin, how cool is that?
Check out this LEGO table here!
---
There are so many fun, cheap, and easy kid's playroom organization ideas out there. It was hard to narrow down which ideas I wanted to share with you.
I know that I can't wait to change up my plan for my kid's playroom organization ideas that I already had. So many to choose from!
More home organizing posts:
PIN FOR LATER!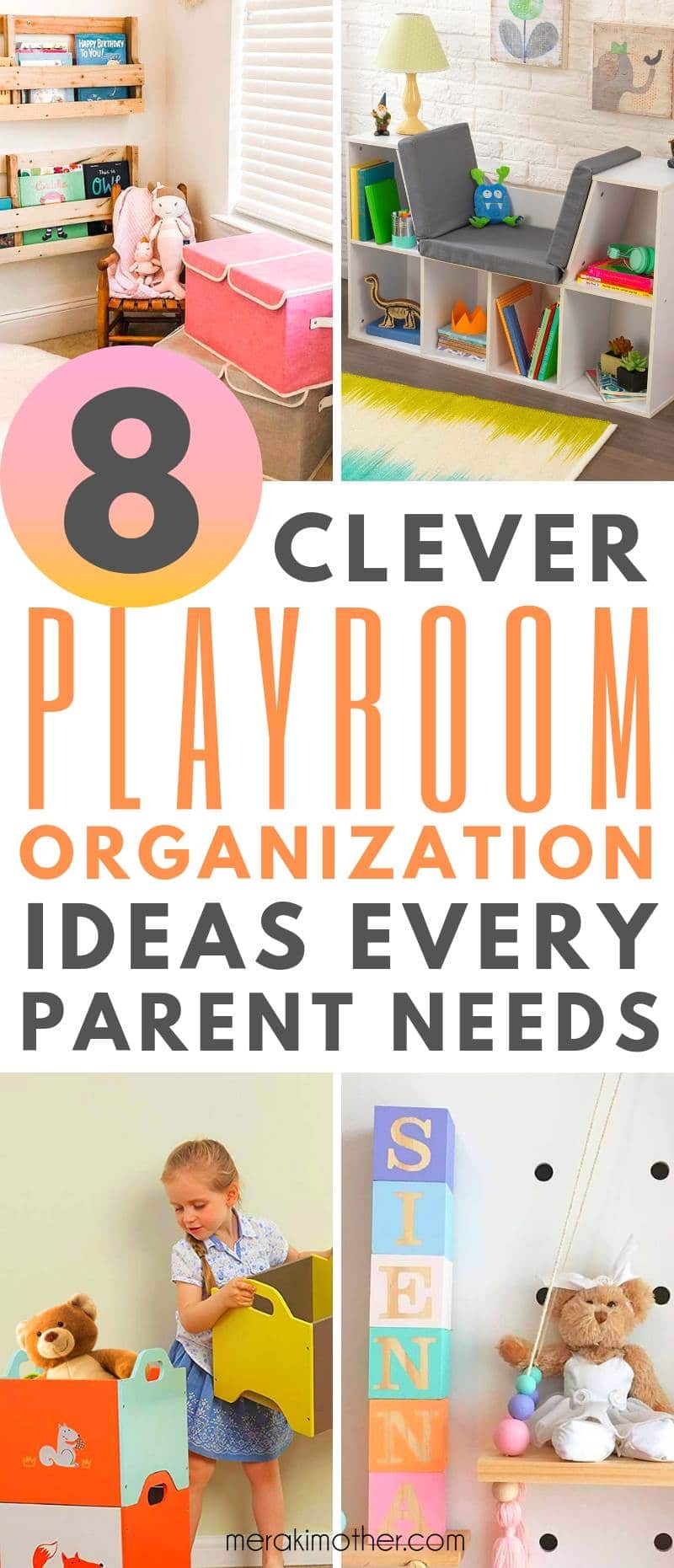 Toy Storage Furniture