The Ketogenic diet or Keto diet is huge right now and for good reason. The keto diet is a great way to loose weight fast, feel full for longer and become full of energy.
As with any new eating plan it can be easy to fall of the bandwagon and go back to old eating habits. The best way to prevent this is to plan ahead and have lots of delicious recipes you love on hand.
We have put together this ultimate list for easy keto dinner meals to give you a huge variety and lots of dinner options. There will be recipes that all members of the family will love and we are sure some will become your new dinner favorites.
Check here for the most yummy make ahead ketogenic breakfast recipes!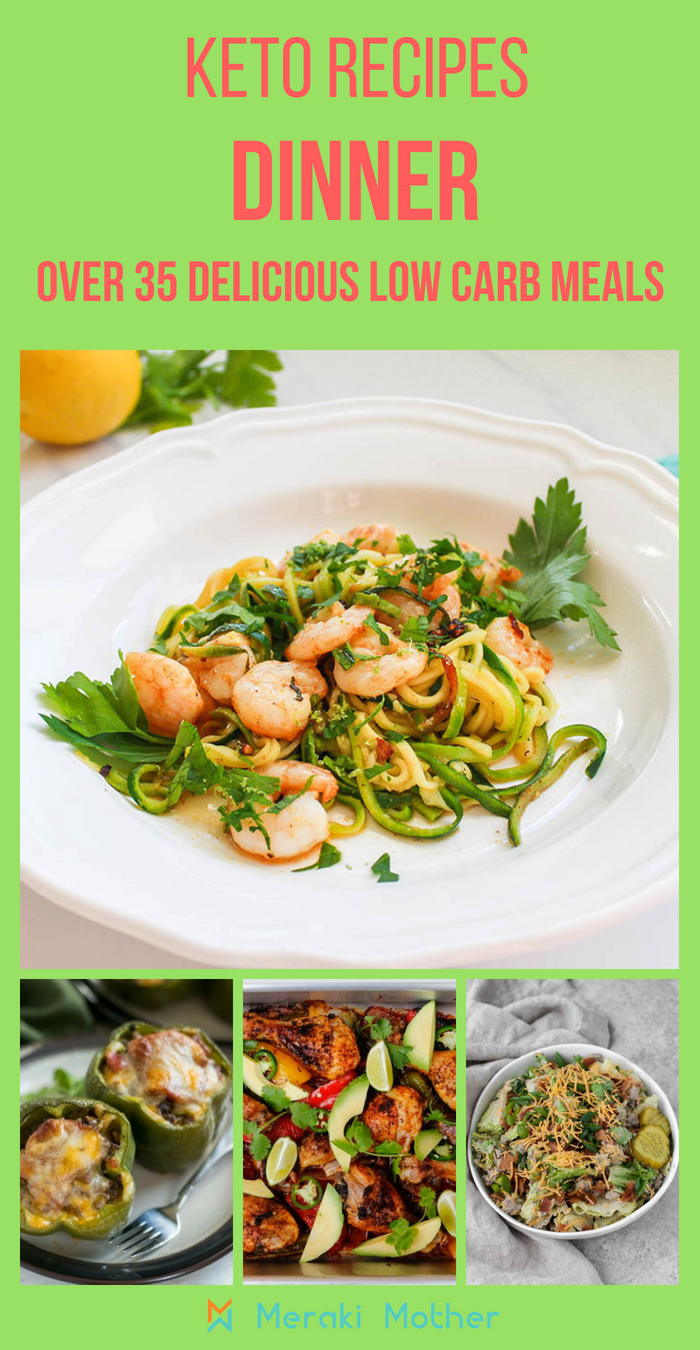 The Best Keto Dinner Recipes
The hardest time to stick to a healthy eating plan is when we are busy or rushed for time. It can be all too easy to quickly grab the nearest fast food, take-out or snack on unhealthy options. Unfortunately, if you are following a Keto diet then these food choices usually have high carb content as well as other unhealthy ingredients.
It is easy to overcome this obstacle to a healthy lifestyle though. The answer is making sure you do keto food prep ahead of time and have options both in the fridge and freezer that are quick to prepare when you are short on time.
We have found some delicious ketogenic dinner ideas that can be made when you have time, and quickly available when you need them. And even though these are low carb dinner recipes you will find that they are so delicious the whole family will love them.
Before we get to the ketogenic dinner recipes here is some info on the keto diet.
What is the Keto Diet?
The keto diet is a Low Carb High-Fat diet ( LCHF ). When you start to change your diet, your body goes into Ketosis. This means when you have a low carb diet which is higher in fat, your body starts to use fat as an energy source instead of sugar (carbs). Because you are changing your lifestyle and how your body works, it's the perfect way to have more energy as a mom. It is also a great for weight loss.
Benefits of a Ketogenic Diet
Your body produces Ketones when you lower carb consumption. This means you body burn fats much more efficiently than carbs. And this leads to fast and healthy weight loss.
Your appetite reduces naturally and you feel full for longer with more fat in your diet.
Increased energy
You reduce the risk  factors of diseases like,  stroke, epilepsy, heart disease and diabetes.
Improved brain function.
Things to know about the Keto Diet
When you first start the Keto Diet you may experience Keto Flu.These will pass after a while but symptoms can be feeling sick, stomach cramps, fatigue, headaches and bad moods.
If you do not increase your fiber intake or drinking enough water you may become constipated from not eating enough. Make sure you do both on the keto diet.
Your diet may become low in vital nutrients like Magnesium, Calcium and Potassium. Keep an eye on these nutrients and make sure you are eating wholesome food high in them.
If you have any concerns or health issues be sure to visit your doctor before starting any new diet.
Now that you know more about this diet let's check some of the best keto dinners.
Check here for the Best Keto Recipe Books for you!
The Best Keto Dinner Ideas For the Whole Family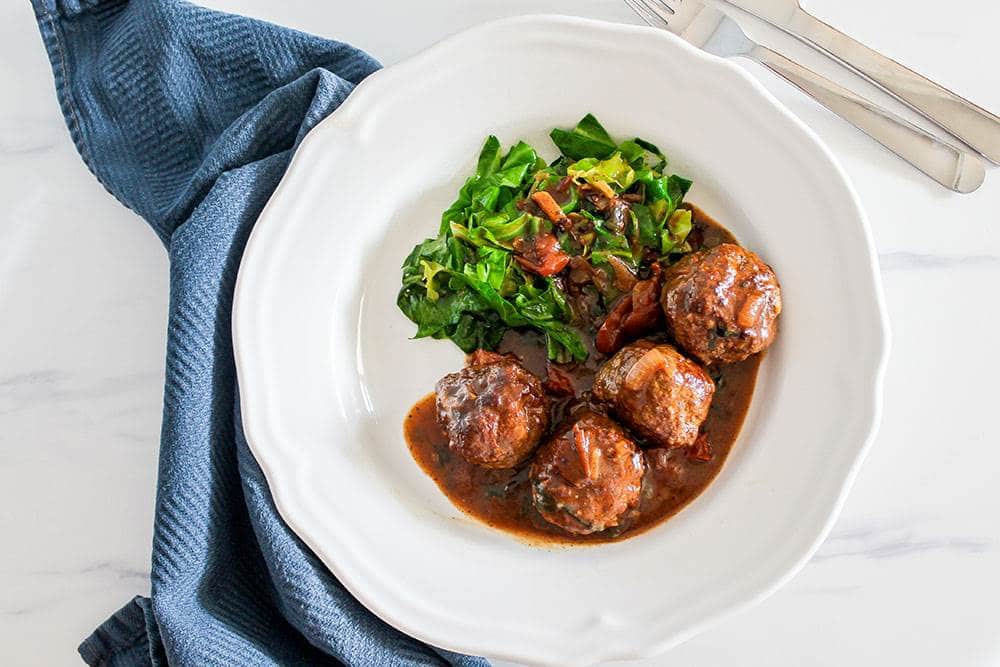 Find below the top rated low carb dinner ideas for you and your family to enjoy.
This meatballs recipe is a delicious keto dinner that the whole family will enjoy. You can make a big batch of the meatballs to eat over a couple of days or you could easily freeze them. We have 2 options of side dishes to be served with this recipe and either version of side dishes only takes a couple of minutes to prepare! You can follow this keto meat recipe here.
Brazilian Fish Stew (Moqueca Baiana)
This quick and easy traditional Brazilian fish stew from Bintu at Recipes From A Pantry, is a riot of color and taste. It is great to make ahead as a new family favorite or even to cook up for your next gathering.
Slow Cooker Taco Soup
We love this tasty low carb soup that is perfect if you are looking for frugal keto meals. Not only is it a budget-friendly recipe but full of goodness and nutrients. Intoxicated On Life create this in the slow cooker, meaning you can make in the morning on those hectic days and come home to dinner already to serve.
Low Carb Keto Lasagna
Pasta is one of the main foods that people on Keto diets miss and finding Low Carb dinner meals to replace pasta can be hard work. Peace Love and Low Carb have come to the rescue with their amazing keto lasagna. Not only does this look like the real deal but it even tastes like the real thing! You can make this delicious low carb lasagna ahead of time and freeze so you always have some ready when you have a pasta craving.
Keto Pizza Crusts
The Big Man's World may have just made all your dreams come true, Keto Pizza! These Pizza crusts are simple, clean eating and you can make them up in batches to freeze ahead. Just top with your favorite keto pizza toppings. These are also perfect if you have family members with different diet requirements as everyone can create their own pizza toppings.
Keto Ground Beef Recipes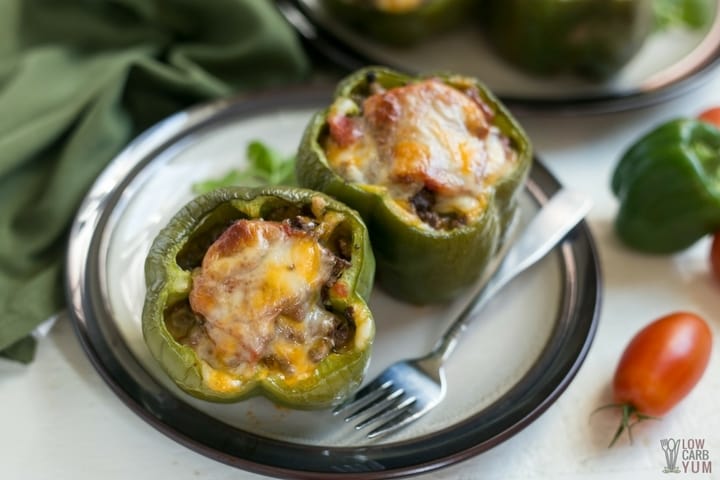 Enjoy these ketogenic meals below made with ground beef.
Stuffed Peppers With Cheese
Low Carb Yum has created this tasty low carb stuffed peppers recipe that everyone will enjoy. We also love that it is a great recipe to create ahead for those dinner times you are too busy to start cooking from scratch.
Keto BLT Burgers
Who says you can't have a burger on the keto diet? This low carb burger from Delish is easy to create and full of all your favorite burger flavors like Bacon and Mayo.
Paleo Sloppy Joes
Not only is this paleo but also an amazing keto sloppy Joes Recipe. Full of great flavors and easy to make, this low carb meal from Paleo Flourish is sure to become a meal time hit.
Beef Taco Recipe
Low Carb Maven has created this yummy ground beef tacos. These low carb Taco Bell style meals are so easy to make and an affordable family dinner using ground beef. Don't forget to include our keto friendly guacamole side dish to complete the tasty cheese taco shell.  Yum!
Stuffed Spaghetti Squash
This pasta style keto meal from The Cookie Writer has all the tastes and flavors of your favorite pasta meal without the carbs! The dish is also served in the Spaghetti Squash so looks fantastic too if you are cooking to please your guests.
 Keto Chicken Dinner Recipes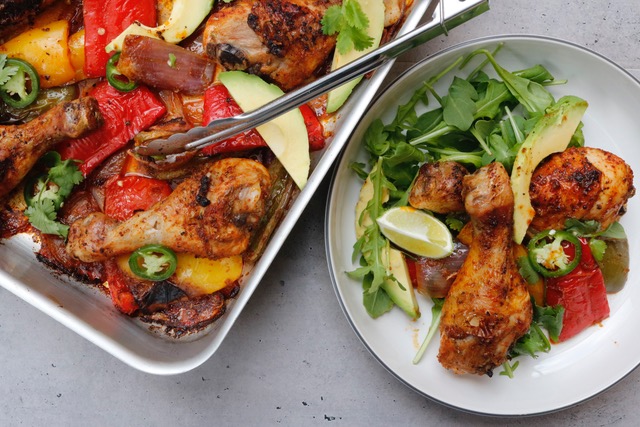 Looking for mouth watering chicken keto meals? Check our selection below.
Miss the taste of Mexican on the keto diet? This super easy fajitas keto chicken meals are full of Mexican flavor while also being a great budget keto recipe. And for all those who are looking for a easy keto meal then this not only is a one pan low carb meal ( hello! no washing up) but once prepped, can be placed in the oven while you get busy doing all those other things on your to-do list.    
Mozzarella Chicken Keto Easy Dinner
Cafe Delites has created a  quickLow Carb Chicken Parmesan with no breading. Honestly this tastes so good you will wonder why you ever had it with breading to start with!.
Perfectly Baked Keto Chicken Tenders
Need a great low carb breading recipe? Keto Connect has created an amazing almond flour breading recipe that is perfect for these delicious Keto Chicken Tenders.
Shredded Chicken Chili
This keto chicken chili puts a twist on your normal chili meal and is full of flavor and great macros. Head to Ketogasm for more keto dinner ideas easy.
Keto Chicken Tikka Masala
We love healthy low carb dinners from around the world and this keto indian dish from Simply So Healthy creamy, tasty and low-carb and grain-free.
Check our kid approved list of keto snacks here!
 Keto Seafood Recipes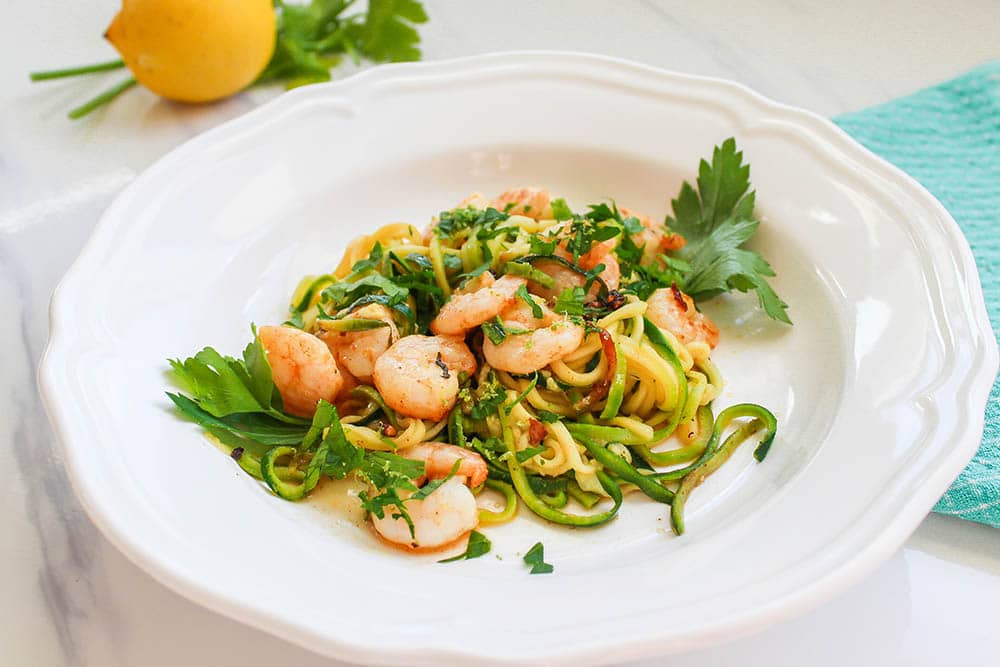 Enjoy our list of keto diet dinner ideas using seafood.
A delicious keto seafood dish to enjoy when you are craving pasta. These zucchini noodles from us at Meraki Mother are a healthy, light and super tasty alternative.
Thai Fish Curry
When you start a new eating plan it can be easy to really miss your favorite restaurant meals. This mouth-watering recipe from Diet Doctor is a great take-away style keto meal.
Keto Seafood Chowder
Think you have to quit Chowder when going Low Carb? Think again with this Keto Chowder from Paleo Leap. 
Easy Keto Salmon Cakes
These are the best salmon cakes and they only take 15 minutes to make! Head to Hey Keto Mama for more.
Gluten Free Pad Thai
Yes, Keto pad Thai with noodles. It is possible and what's even better is Gnom Gnom has created this dish that only takes 15 minutes to make. Another win for Take-away inspired Keto recipes.
Keto Instant Pot Recipes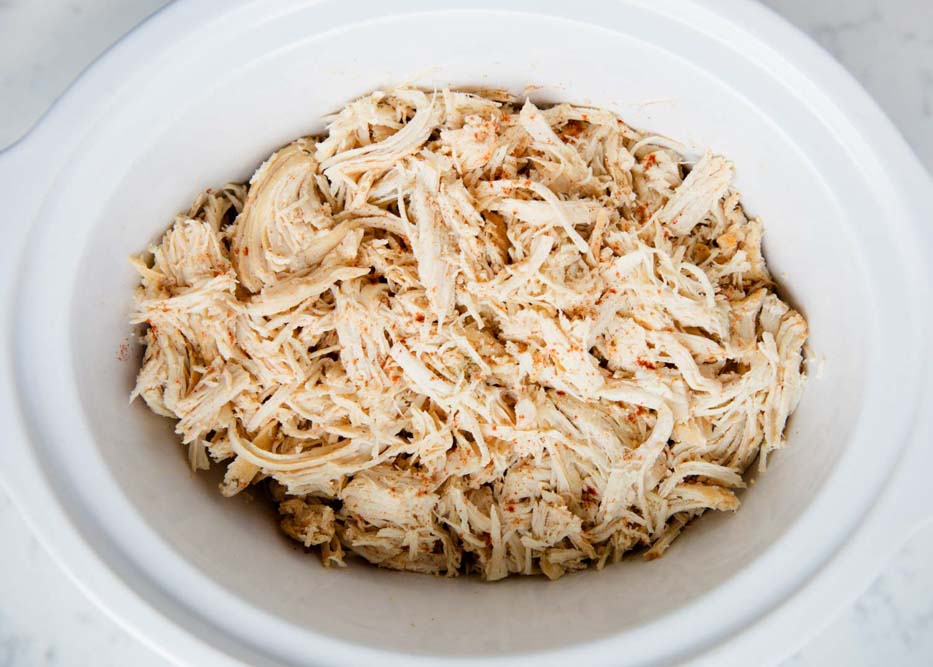 Try out these easy low carb dinners that you can make on your instant pot.
Easy Shredded Chicken
We love this easy and delicious shredded chicken from I Heart Naptime. The magic behind this keto insta pot recipe is that you can create so many amazing dishes using the chicken. From Keto Tacos to a yummy salad. It makes a perfect family meal too as those not following keto can always create a easy non keto meal with the chicken.
Instant Pot Cabbage Soup With Beef
The perfect additon to your keto dinner menu in winter months. Great way to use up any spare vegetables you have in the fridge. Savory Tooth created this hearty low carb soup which you can have on the dining table in less then an hour!
Low-Carb Cauliflower Soup
Does dinner loaded with cheese, sour cream, bacon, and sliced green onions sound amazing? This creamy cauliflower soup from Kalyn's Kitchen has exactly that and is sure to become one of your families favorite meals.
Balsamic Beef Pot Roast Ketogenic Dinner
Not only is this an easy make ahead meal but it freezes well too so you can make a keto batch meal. I breathe I'm hungry always makes the tastiest keto dinners and this is no exception.
Chili Texas Keto Insta Pot
If you are looking for a basic but tasty chili recipe then this super quick keto dinner insta pot chili from Two Sleevers is perfect. This keto chili only takes 25 minutes to make…total but tastes like the flavors have been simmering for hours.
Low Carb Oven Baked Recipes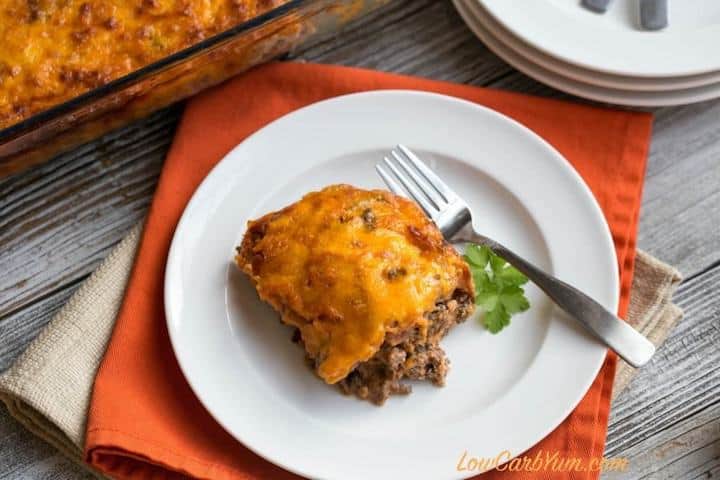 Find below healthy low carb dinner recipes to make in the oven.
Bacon Cheeseburger Casserole Keto Friendly Dinner Ideas
Even though this casserole is a keto friendly meal, we are sure the whole family will love it. Low Carb Yum shows just how easy it is to make this keto casserole…and the best part, it's a great option if you are looking for frugal family meals. Definitely win-win keto supper ideas in our opinion.
Cabbage Roll Casserole
This super easy low keto casserole from Wholesome Yum, takes hardly any prep time. Honestly, if you need a hearty and filling keto meal the whole family will love…without spending hours in the kitchen, this recipe is for you.
Bacon Wrapped Jalapeno Popper
I love this simple keto dinner from Briana at Moms Gone Keto. Depending on your hunger you can make this as either a light filling main meal or just as a side dish. You can get creative and change the ingredients to your preference too.
Keto Tuna Mornay
Looking for a kid-friendly keto dish? This retro classic tuna mornay with a keto twist from Have Butter Will Travel  is super delicious and their keto cheese sauce is amazing.
Chicken Bacon Caesar Casserole
Joy filled Eats created this tasty low carb and gluten free casserole which is perfect for any occasion. It can also be made ahead or even makes a great keto crockpot meal.
730 Sage Street shows that going Low Carb doesn't mean you have to miss out on your favorite foods. Try this keto Chicken Enchilada Casserole for when you have craving for Mexican enchilada's. 
Keto Salad Recipes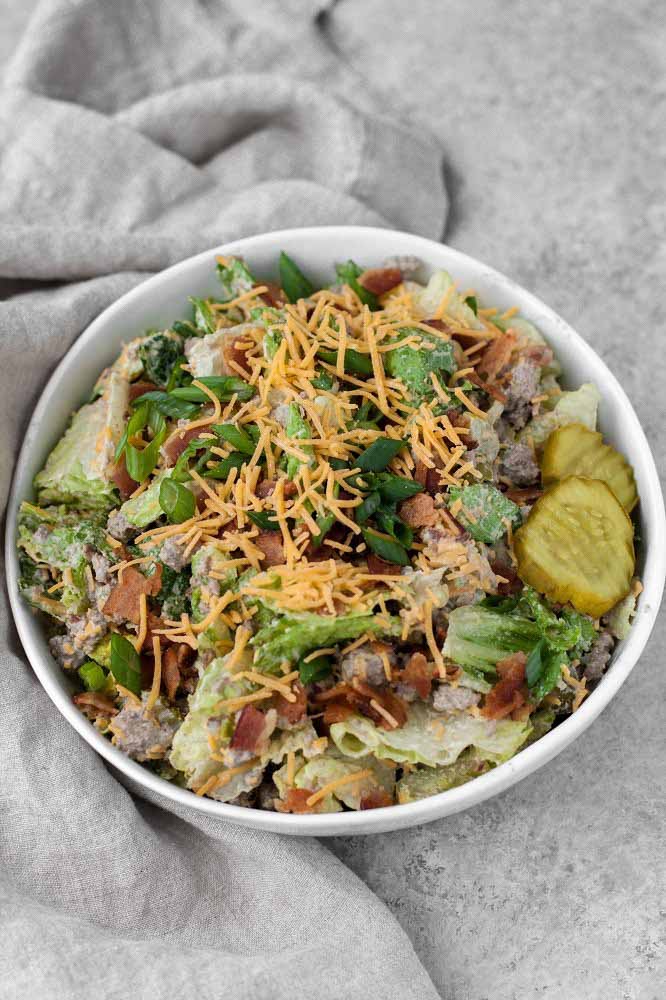 Salads can be amazing low carb easy dinner recipes, check these meals below.
Keto Bacon Cheeseburger Salad
Real Balanced has created this amazing salad. If you miss your fav cheeseburger then this low carb and grain free cheeseburger salad should be your next dinner recipe. We also love it as it has simple ingredients and needs hardly any prep.So it saves you time!.
Monster Wedge Salad
With blue cheese crumbles, hard boiled eggs, greek yogurt, mayonnaise, sour cream, bacon and more, this keto salad recipe from Laurens Latest is sure to leave you full and satisfied.
Coastal Cobb Salad
Keto cobb salad with a difference. Kits Coastal has added shrimp, avocado, and a creamy cilantro lemon dressing to take this low carb salad to the next level. Full of so many tastes and textures.
5 Ingredient Keto Diet Dinner Salad
This simple but delicious Keto salad from Keto Diet Blog is so quick to make and a great mid week or low carb summer salad.
Keto Pastrami Salad
Full of all the best keto ingredients, this LCHF salad from Diet Doctor will have you full and happy within minutes. The perfect keto salad for dinner.
---
What's your favorite recipe on your low carb dinner menu? Let me know in comments below.