Need a fast but beautiful skincare homemade gift? This fresh and bright homemade body scrub can be made in 5 minutes and makes an amazing mason jar gift.
It is no news that we love Homemade Scrubs over here. If you don't rely on mass produced cosmetics to care for your skin you will love this recipe below.
You can also read everything you need to know about homemade sugar scrubs in our comprehensive guide here.
PIN FOR LATER!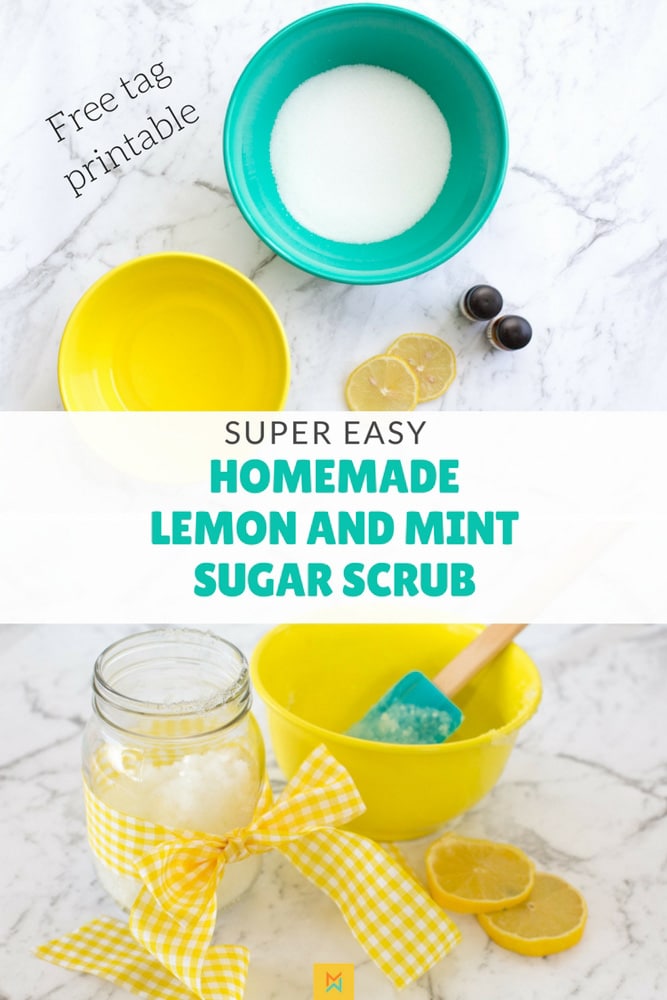 Mint and Lemon Sugar Scrub
Mint & Lemon Sugar Scrub Benefits
Lemon is great for lifting your mood. It is a natural astringent that tightens pores and brightens your complexion so using this scrub in a morning shower is a wonderful way to energize for the day.
Lemon is also naturally rich in Vitamin C, which is used to lighten age spots and even out the skin tone. Therefore, it is very common to use lemon sugar scrub for skin lightening.
Lemon is also one of the best essential oils for oily skin which would make this perfect for the teenager in your life. Keep reading to find out just how easy our homemade sugar scrub is.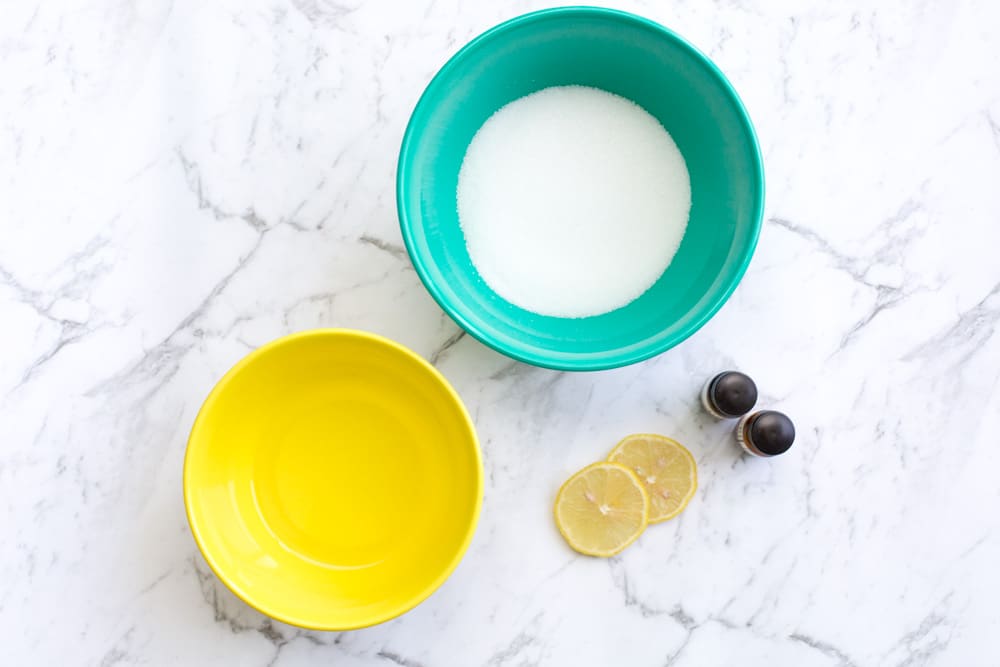 How To Make Sugar Scrub
Step One
Mix some of the sugar and all of the oil in a bowl.
For the best homemade body scrub, we used fine white sugar as it is gentle on all skin types and can be dyed to make an extra pretty homemade gift.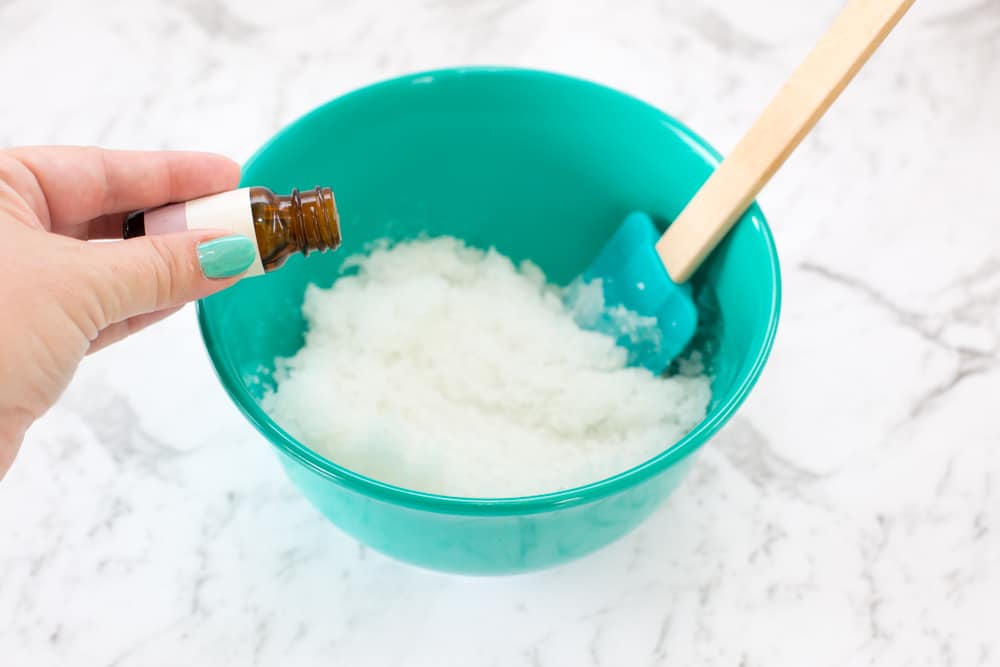 Step two
Add the Lemon and Mint essential oils while stirring the mixture. For our sugar scrub recipe, we found about 10 drops but this will vary, depending on the type of oil and the quality of oil you use.
You may only need a few drops of the stronger scented Mint but a few more for the Lemon oil.
If you wish to color your sugar scrub add the food coloring at this point. The lemon peel can be added now too.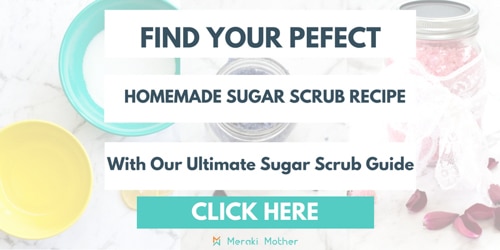 Step Three
Add the rest of your sugar until it is the consistency you want. If you have dry skin you may want an oilier consistency.
Step Four
Put your sugar scrub into a container. We love to put ours in mason jars to give as gifts. Be sure to decorate with a gorgeous ribbon or use our printable tags here.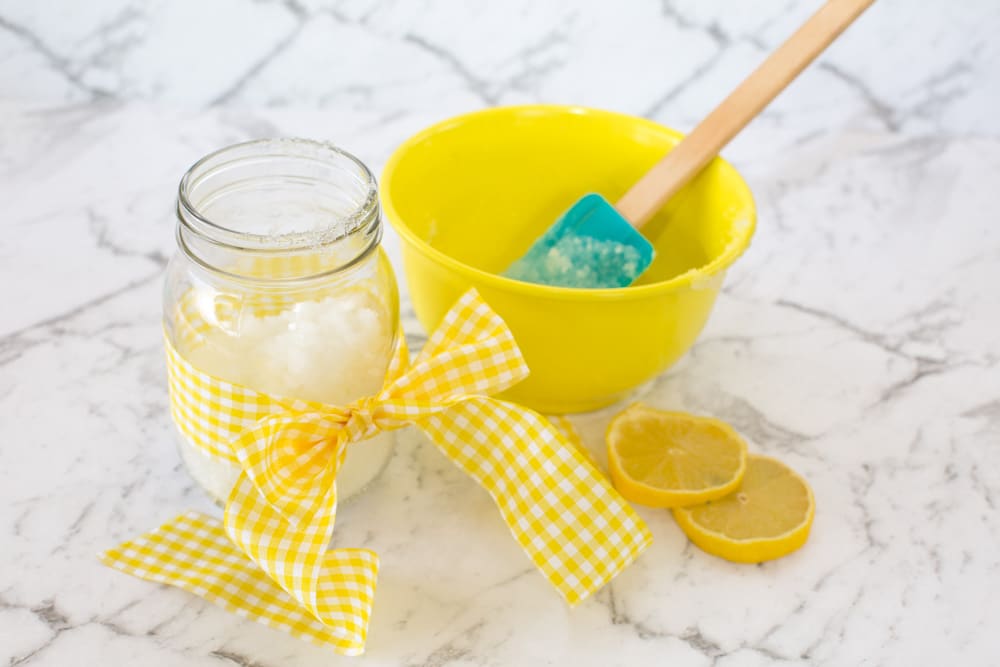 Other Sugar Scrub Recipes You Will Love
SaveSave
SaveSave
SaveSave
SaveSave
SaveSave